ULTIMATE BLACK SPORT WATCH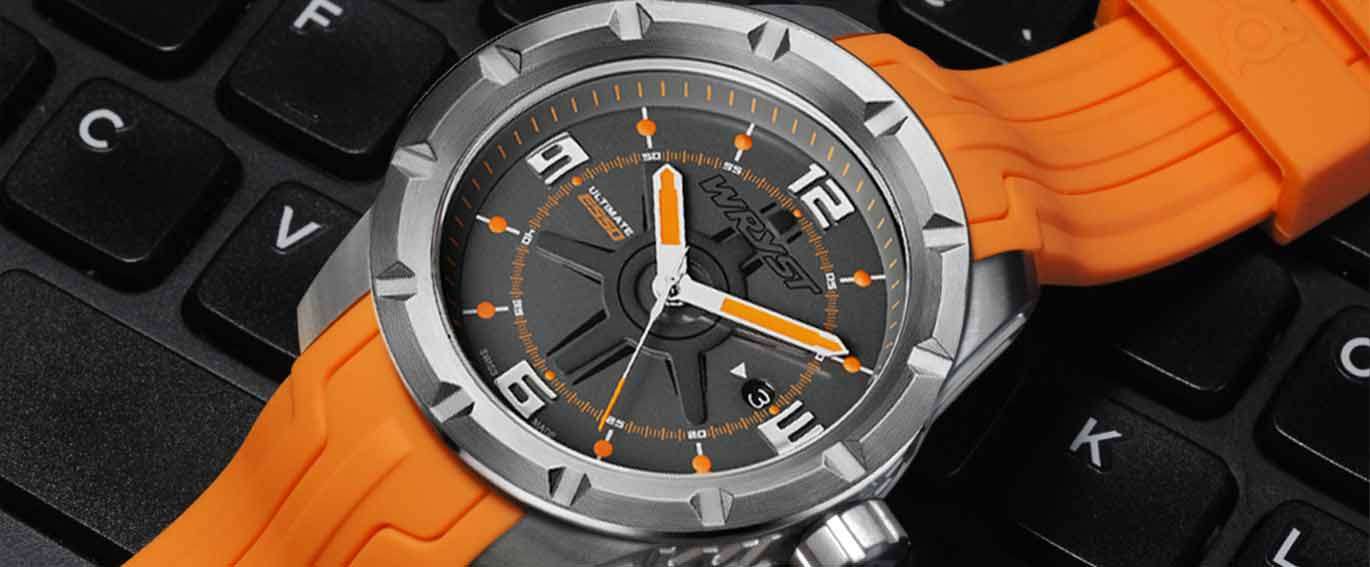 BLACK SPORT WATCH ULTIMATE FOR MEN
Your Ultimate black sport watch for men designed for extreme sports and outdoor sports is here at WRYST. Engineered, built and assembled in the Swiss traditions these sport watches with black DLC coating offer the best value for money. Choose to purchase today an exclusive black Swiss watch with the best specifications ever, all in one place.
EXTREME SCRATCH-RESISTANT BLACK DLC COATING
The 45 mm diameter watches are protected with the black DLC coating which makes them literally scratch-resistant. The Diamond-Like Carbon technology offer hardness much higher than stainless steel. The recent addition of carbon fiber genuine leather bracelets add some versatility to this unique collection. The references Ultimate ES40 and ES60 are fitted with a black leather bracelet with Carbon Fiber for a more car racing and motorsport feel. Another limited edition version Wryst Ultimate ES30 with black casing and green details is offered with Military Camouflage khaki-green bracelet.
DURABLE WATCHES DEDICATED TO SPORTS
Perfect for athletes, professionals or sportives, this watch has it covered. Are you a windsurfer, rock climber, sailor, rider or skydiver? This sport watch has all the features that are required in a hostile environment. Like you the Wryst Ultimate black sport watch is designed to endure and conquer. Endure rough environment, and conquer time, years after years.
BREATHTAKING SPECIFICATIONS
Reliable Swiss Quartz Movement
Large 45 mm Case, 22 mm Band
Toughest Black DLC Coating Ever
200 Meters Water Resistance
Two Straps Included
Limited Editions of 99 Pieces
Secured Screw-Down Crown
WHICH SPORT ARE YOU?
Our objective at Wryst is very simple! Offer the most resistant sport watch possible, at the best price possible. This includes having a lot of fun and adrenaline rushes while:
Bungee Jumping, base Jumping, Wingsuit Flying, Proximity Flying, Sky Surfing, Skydiving, Indoor Skydiving, Hot Air Ballooning, Paramotoring, Paragliding, Hang Gliding, Microlight, Jet-Powered Flight, Skiing, Snowboarding, Ski Jumping, Snowmobiling, Speed Flying, Windsurfing, Kitesurfing, Skimboarding, Jet Skiing, Big Wave Bodyboarding, Surfing, Big Wave Surfing, Waterskiing, Wakeboarding, Kneeboarding, Stand Up Paddle Boarding, Whitewater Rafting, Whitewater Kayaking, Scuba Diving, Cave Diving, Freediving, Adventure Racing, Endurance Racing, Trail Running, Triathlon Racing, Obstacle Racing, Mountaineering, Rock Climbing, Ice Climbing, Mixed Climbing, Abseiling, Free Climbing, Bouldering, Slacklining, Mountain Biking, Cycling, Unicycling, Bicycle Polo, Motocross, Motorcycle Racing, BMX, Skateboarding, Longboarding, Mountainboarding, Rallying, Inline Skating, Street Luging...
FAULTLESS AFTER SALE SERVICE
We guarantee 100% full satisfaction. So let us make a deal here and now! Buy an exclusive Wryst Ultimate black sports watch today. We guarantee a full refund of your timepiece within 14 days if you are not totally happy with your new watch. Most of our customers feel the urge to buy another Wryst sport watch when they receive their first one.
HOW DIFFERENT ARE WRYST SPORT WATCHES?
First and foremost the Swiss sport watches Wryst are a true statement of unique lifestyle. The accents of green, red, yellow and orange color details on the dials and silicone bands will suit you. Ideal to match your sports car, your surfboard of your mountain bike color, pick yours to feel complete and assorted. Time and date clear reading is also essential for sportives wheeling to extend the day after the sunset.
In conclusion, the black sport watch Wryst Ultimate is designed by you and for you. You can find more watch visuals in high resolution by googling Wryst in your favorite browser.
ALSO AVAILABLE WITH METAL BRACELETS HERE: