MENS BLACK WATCH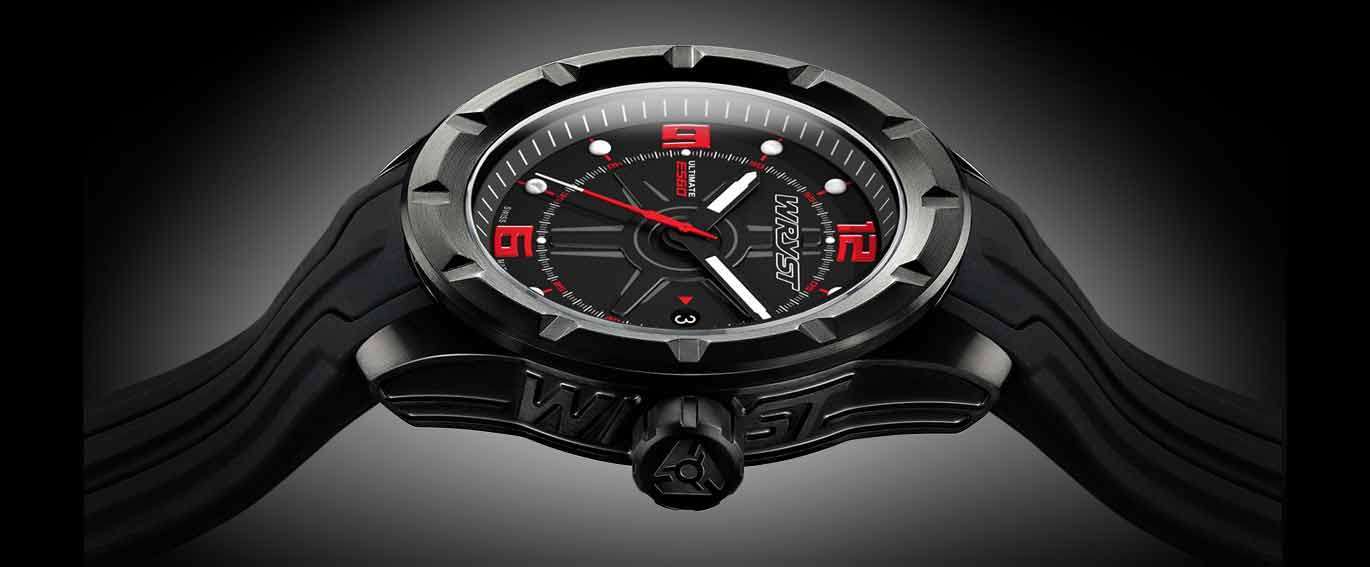 WATCHES FOR MEN WITH BLACK DLC COATING
Wryst manufactures stylistic and ultimate sports timepieces in unusual and unexpected configurations. One sure thing about Wryst timepieces is that you have never seen anything like them before. These massive, sturdy sports watches are purposefully designed to appease extremely demanding and adventurous, outdoors-loving customers.
A unique beautiful watch for sports designed to withstand harsh environments. The atypical watch brand Wryst now offers the addition of a robust and scratch-resistant black DLC metal bracelet for ULTIMATE Swiss collection dedicated to outdoors. With a 45mm diameter case size and 22mm width bracelet, the black wristwatches are a real statement of individualism. The timepieces devoted to outdoor sports benefit from sapphire crystal, Diamond-Like Carbon coating (DLC), 200 Meters water resistance, and screw-down crown. The ideal specifications for a dive watch. More exclusive than ever, wear a timepiece produced exclusively in a limited edition of 99 pieces with serial number engraved on the case-back. This Ultimate features more strength attributes than will will ever need during rough recreational outdoor activities.
THE BEST OF SWISS WATCHMAKING
The exclusive limited edition black Wryst ULTIMATE are available with green, yellow, red accents. Reference Wryst ES20 is the all-black version with also black DLC coating on the case back. Wryst also offers the brushed stainless steel finish with the slate grey and orange dress watch Wryst ES50 for a more casual look. The wristwatch for men benefits from deep engravings on the side of the case at 0.6mm tooled by CNC for an unprecedented look.
BLACK, BOLD AND BRAWNY
Featuring the popular round case design, the Wryst ultimate collection is designed for men who are independent, strong-willed, and determined. It is also a preferred destination for the brand's highly distinctive black Swiss timepieces. In these unique models, the primary color theme used is black, which represents strength, power, and authority. Also, black is a versatile color that can be paired with a variety of dressing styles.

Black color is known for its light-absorbing properties. It absorbs all wavelengths of light and reflects none. Due to this property, black is typically considered as the least visible color. It is also the most preferred color for providing an underrated or stealthy appeal to any product.

The opulent color theme of the Wryst mens metal watches are the result of combining modern technology with superior quality materials. This bold timepiece is as robust as it is handsome. All Wryst timepieces are made from the 516L stainless steel. It is the amorphous carbon coating that provides each of these specific Ultimate for extreme sports an elegant black color. The most modern surface coating method, known as DLC coating, combines the hardness of diamond with the smoothness of graphite. This process makes the timepiece exteriors extremely hard like a diamond while its surface maintains smoothness to ensure pleasant wearing.
THE NEW SOLID BLACK METAL BRACELET
The round face three hands and date sports timepieces are now available with the large solid black watch bracelet for enhanced style. The bold feel of this watch is evident when you add the total weight of 209 grams to your wrist. A quality three blades clasp will secure this luxury accessory nicely with analog display with luminescent hands and hour markers. Black DLC coating is the most scratch-resistant protection for Swiss watches. With a robust feel and good weight, your Ultimate black DLC watch will be more reliable and durable than ever. Wryst also offers for each reference of the Ultimate collection an extra double injection quality silicone strap and signed square buckle.
Providing optimum scratch-proof properties for timepieces, Black DLC is the most superior surface coating method used in the watchmaking industry. With this sophisticated technology, Wryst makes each of these men's wrist timepieces a statement piece. Proudly reflecting a rich black color, these timepieces come with utmost specifications preferred for a masculine and robust sports wristwatch.

The all-black men's sports watches made by Wryst are fantastic and elegant. They feature a black dial inside a rock-solid black DLC case. These timepieces maintain an all-black and stealthy appeal.

Based on dial details, this collection is interpreted in two exclusive categories. All black variants and the versions enhanced with bright color dial details. The first one is for those who prefer an underrated fashion style, and the second one is for those who seek attention.
BLACK ON BLACK
These Wryst all-black men's watches will enthrall the customers who love to wear rigid and stealthy sports timepieces. The ES20 model is a blacked-out model featuring a black DLC case and a wholly blacked dial. All external parts (Case, crown, bezel, case-back, and bracelet) of this Ultimate wristwatch are treated with black DLC coating.

The Wryst ES20 all-black men's sport-watch models do not feature any luminescent coating. Also, devoid of any intense colors on the dial, these versions maintain a unique monochrome theme all the time. Every detail on the dial, including hour markers and hands are in alternating black shades. A contrasting grey paint is applied on their top instead of using the luminous coating to highlight the visibility of the
hands. The white numerals on the black background provide the bright display of the date.

In total, three all-black men's variants are available based on the type of bracelet fitted. The first one features a black DLC-coated stainless steel bracelet that reaffirms the aggressiveness of this timepiece. Measuring 22m width and appropriate size of 176/230mm, the solid black DLC bracelet maintains brushed finishing just like the black watch case.

The other Wryst ES20 variants feature either an all-black double-injection silicone bracelet or an all-black carbon fiber leather strap. These black wristwatches are lighter, and sleeker timepieces compare to the model fitted with the black DLC steel bracelet. Wryst's signature double-injection silicone bracelets are known for their casual appeal. The carbon fiber leather strap provides a sportier appearance featuring a distinctive pattern inspired by motorsports.
BRIGHT LIGHT ON BLACK SHADOWS
Whereas in the other category, you can discover some eye-catching mens watches adorned with a decorative touch of attractive colors. Placed under the references ES30, ES40, and ES60, these timepieces also have black dials but enhanced with highly visible color details. The color themes used for the black watch for men are fiery red, joyous yellow, or refreshing green. Depending upon the version, one of these bright colors is used to highlight hour markers, indexes, seconds hand, and model number.

The precise application of bright colors infuses a touch of vibrancy into these black wristwatches. It also improves visibility. These models also feature glowing, luminous coating on hands and hour markers. Made with 516L stainless steel, the case, crown, bezel, and bracelet of these versions are treated with black DLC. The case back, however, maintains the original finish of 516L stainless steel. These models are worn on a super-strong black DLC bracelet. The customers can also opt for versions fitted with the brand's popular bi-color double injection straps.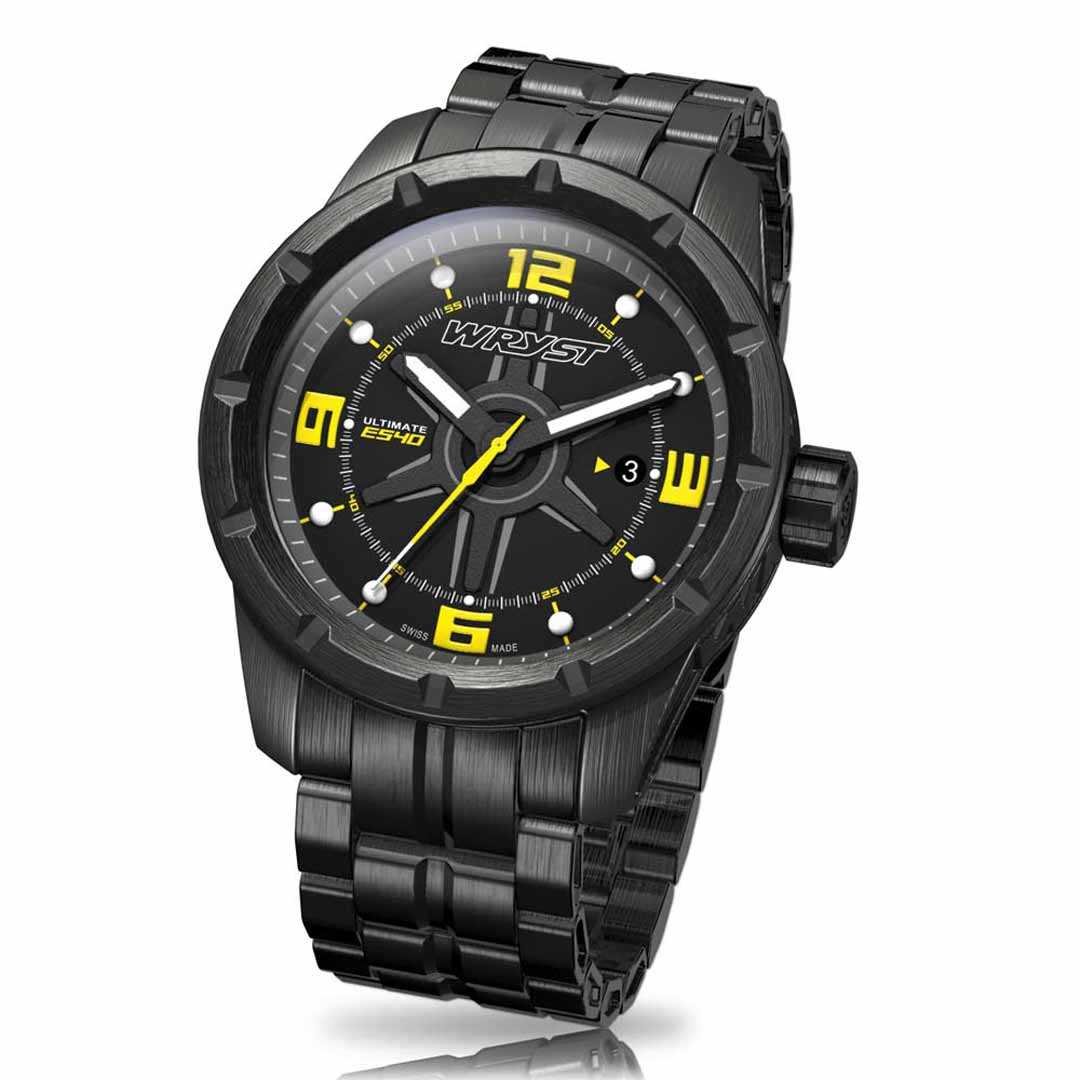 BUILT FOR EXTREME PERFORMANCE, HANDY TO USE
These Wryst Ultimate are capable of performing in varying environments ranging from your day-to-day life to the most extreme missions. It can be worn during your professional, leisure, and sports activities. The DLC coating is tough, and it can protect the timepiece from damages and scratches while working with heavy machinery. The quartz Swiss movement also has excellent anti-magnetic and shock-proof features for protecting from magnetic interferences, extreme shocks, and vibrations.

For an extreme sports watch, excellent visibility of the dial is a must. Although dressed in a dark theme, the Ultimate timekeeper ensures an easy time reading. It is possible due to the large dial with large hands and markers, allowing a bright display of indications. The systematic and clutter-free dial design ensures quick and effortless reading of time and date. The anti-glare sapphire crystal front glass also provides a clear view of the dial.

The screw-fitted case back and screw-in crown maintains the impressive water-resistance of 200 meters for each timepiece. Black DLC coating also protects the timepiece from corrosion due to the exposure of salty ocean water. These features enable the timepiece to be comfortably worn during any aquatic sports events, sailing, and other nautical activities.

Enabling the timepiece for its all-round chronometric performance is a Swiss made, Ronda quartz movement three-hands with day date. Manufactured according to strict Swiss made quality standards, the Ronda 515 is a workhorse and has an impressive 45 months of battery life. This quartz caliber is well-suited for day-to-day usage, highly precise, and requires no maintenance.

The bracelets and straps fitted with all Wryst timepieces are anti-allergic, dustproof and water resistant. They are appropriately sized, rigid, and also ensure seamless integration and wearing comfort. The supplementary strap provided with every Wryst timepiece can be utilized for replacing the bracelets whenever necessary.
ALSO AVAILABLE WITH TWO SILICONE STRAPS
You can also purchase one of the Wryst Ultimate mens metal watches with two double injection straps for a lighter, softer, and more casual feel. There is aslo a vaste choice of leather strap HERE:
In conclusion, the stunning shock resistant matte black sports watch with rubber strap Ultimate is timeless and durable. These are an ideal match for British Army and Royal Regiment of Scotland alike. Only 99 units of each reference are produced and stocks are becomming low. Since 2012 Wryst watch company has released over 25 models which are now totally discontinued and sold out. The Ultimate is a first choice for individualists choosing to make the most of their investment with all-round mens metal watches combining the best of watchmaking with high specifications at an affordable price. Wryst also produce Swiss Chronograph and Mechanical Watches in limited series with automatic movement.