Isle of Man TT sports watch Wryst TT last pieces available
Published : 04/29/2019 10:27:25
Categories : Latest Motorsports News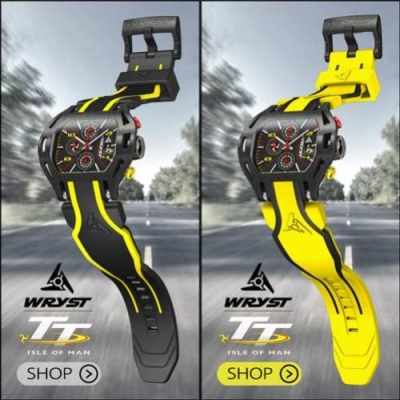 The Isle of Man TT Watch
Last luxury Swiss sports watches Wryst TT available
The Isle of Man TT sports watches Wryst TT are still in stock. But how long for? Through an amazing partnership with the Isle of Man TT, Swiss watch brand Wryst contributed to making this world's fastest motorsport even more unique and memorable! The last special edition highly collectible sports watches Wryst TT are still in stock. Wear a brutal looking racing sports watch chronograph during the next Isle of Man TT race.
Five different versions are available!
Wryst Isle of Man tt watch
With black and yellow bracelet:
Wryst Isle of Man tt watch
With black and red bracelet:
Wryst Isle of Man tt watch
With yellow and black bracelet:
Wryst Isle of Man tt watch
With black-on-black bracelet:
Wryst Isle of Man tt watch
With red and black bracelet:
Most probably your last chance to purchase this epic watch!
Only a few Wryst Isle of Man TT sports watches have been produced... It is very likely that this could be your last opportunity to take the jump and own this extraordinary watch paying tribute to the extraordinary race! At this time the chronographs are on special offer with -25% discount.
The exclusive Wryst TT watch is protected with a black DLC coating which is scratch-proof. The bold 50 mm timepiece also has a domed crystal sapphire with anti-reflective coating. Two chronograph pushers are with red and yellow IP coating, and the dial is signed with the TT races logo, and triskelion of the Island. The emblematic triskelion is also engraved on the case back of this unique Wryst TT watch, and also the serial number. The special editions are all 100 meters water resistant and have a manufacturer warranty of 18 months.
Like all other exclusive timepieces from the brand, this reference has a bold futuristic and aggressive design. Originally, Wryst DNA is strongly inspired by Motorsports and Racing as described in this Wryst review blog page.
DISCOVER THE WRYST ISLE OF MAN TT WATCHES:
The TT races have inspired and attracted many brands in the motor racing industry. The frenetic annual motorcycle race is a real buzz in the world of motorsports. So much so that we wanted to share two vehicles paying tribute the Isle of Man TT 2019.
THE MOTO GUZZI V85 TT
Classic Enduro Motorcycle
In March 2019 the Italian brand launched the Moto Guzzi V85 TT Classic Enduro Motorcycle. The new motorbike offers premium standard features for touring and off-road adventures in order to gratify the rider. The bike is also a great daily commute as well. Much awaited innovations such as the multimap ride-by-wire throttle control and traction control. Another novelty is the possibility for riders to connect their smartphone to the motorcycle.
Audi TT Sports Car
The 2019 Audi TT was announced during 2018 summer and is now available. Compare to the previous year's Audi TT car it is almost impossible to spot a major difference. The Audi TT takes its name from the successful motor racing tradition of NSU in the British Isle of Man TT (Tourist Trophy) motorcycle race. NSU marque began competing at the Isle of Man TT in 1907 with the UK manager Martin Geiger finishing in the fifth position in the single-cylinder race.
The truth is, there is only one TT races memorable item that you can wear, live with every moment of your life even when you are in bed. That is, of course, the stunning Wryst Isle of Man TT Special Edition Swiss chronograph sports watch...!
 25% OFF...
Share this content
Add a comment
3 comments