Questions about the exclusive watches Wryst answered
Here are several questions about the watch company Wryst we have recently received by email. We felt it was appropriate to inform our readers and potential customers, by the way. All questions are very pertinent and will help potential buyers choose to buy their exclusive sports watch.
What is the accuracy of the Wryst timepieces?
All quartz Wryst timepieces run exclusively Swiss Ronda movements to this day. Ronda has been committed to time for decades. The company is one of the world's largest manufacturers of precision electronic watch movements of innovative design. Their quartz movements tick away in a vast range of watches from the elegant to the sporty, in the models of numerous fashion brands, and in the exclusive timepieces produced for the luxury market sector.
The chronograph watches Wryst Airborne, Shoreline, and Motors, hold the Ronda 3540, and Ultimate 3 hands collection run Ronda 515 movements. The accuracy is approximately 2s to 3s per month. This can vary depending on how long the chronometer is active over a certain period of time for the Ronda 3540.
The model Wryst Automatic 2824 runs the workhorse Swiss ETA 2824-2 mechanic movement with approximately 3.5s to 4s accuracy, constantly running for several weeks.
Do you offer only Quartz or also Automatic models?
Today Wryst only offers one exclusive luxury Automatic sports, the Wryst Automatic 2824, Launched in 2014. This extremely exclusive luxury watch has only been produced in a minimal edition of 50 pieces. Today a few references are still available.
What is the power reserve of the Automatic movement?
The ETA 2824-2 (Wryst Automatic 2824 watch) is a 25 jewel movement at 28,800 beats per hour, 8 beats per second, or 4Hz. The ETA movement comes in with factory direct second-hand drive. It will not stop for moments at a time due to wrist movements. It comes in at a very respectable 40 hours of reserve.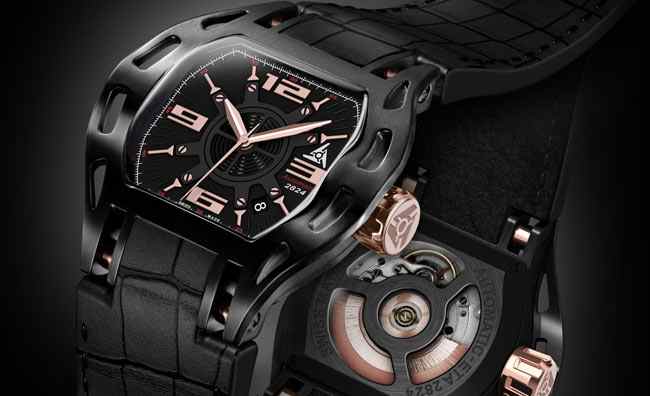 How are the watches affected by extreme heat or cold temperatures?
Please find out more about this on the topic developed in-depth here if you want to know what water resistance means exactly for a watch.
The enemy of your watch is more about temperature differences than water itself. With on average 60 to 70% humidity in the air worldwide, worries can come from inside the watch much easier than from the outside.
Do the watches have good illumination in the dark?
All our existing references have luminova hands and hour markers as seen on the picture below except for the references:
- Wryst Automatic 2824 - no luminescent details
- Wryst Ultimate ES50 with bright orange non-luminescent dial details and ES20 in all-black.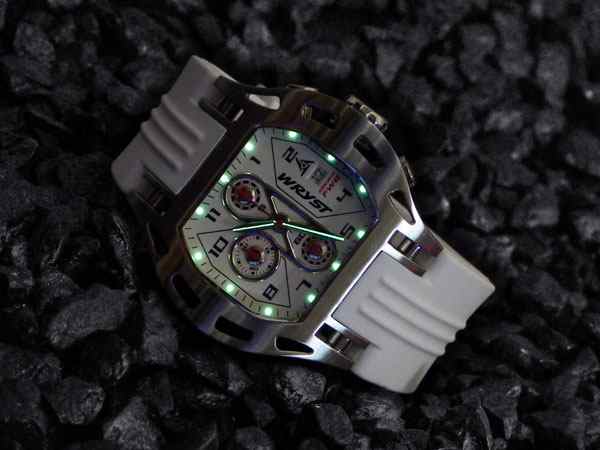 What makes it better than other watch brands?
Switzerland has earned itself an enviable reputation as a manufacturer of the finest watch movements. Our value for money today is unique, and we believe unbeatable on the watch market. If you can find a timepiece with scratch-resistant black DLC coating, 200M water resistance, screw-down crown, sapphire crystal, and Limited Edition for retail prices close to the Wryst watches, we would be extremely interested in discovering this mysterious competitor.
Furthermore, if you require a particular serial number for your limited edition watch, please contact us, and we will be able to take a look and see if this piece is still available.
What is the weight of the watches?
The Wryst Ultimate watches weigh 124 grams. All other models are just under 100 grams except the Wryst Automatic due to the movement's slightly heavier weight.
Does it have an optional metal bracelet?
There is no Wryst metal watch bracelet in existence. We are considering this for future watch design development, with black DLC coating, but this will need to remain consistent and comply with our highly competitive retail prices.
If you have any questions about the exclusive Wryst please send them by email or contact us directly from this page