New version of the Wryst Isle of Man TT watch in Yellow
Unveiled Just Before the Classic TT Races
A couple of days away from the Classic TT races, official timing partner Wryst unveils the forthcoming Wryst Isle of Man TT Special Edition with a yellow bracelet. Another addition to pay tribute to the epic greatest show on earth is the new larger 50mm luxury motorsport Wryst TT design. A new bright yellow look to showcase your good taste. The Classic TT will take place from 19th August and until September 1st, 2017 on the world renowned Isle of Man Snaefell Mountain Course.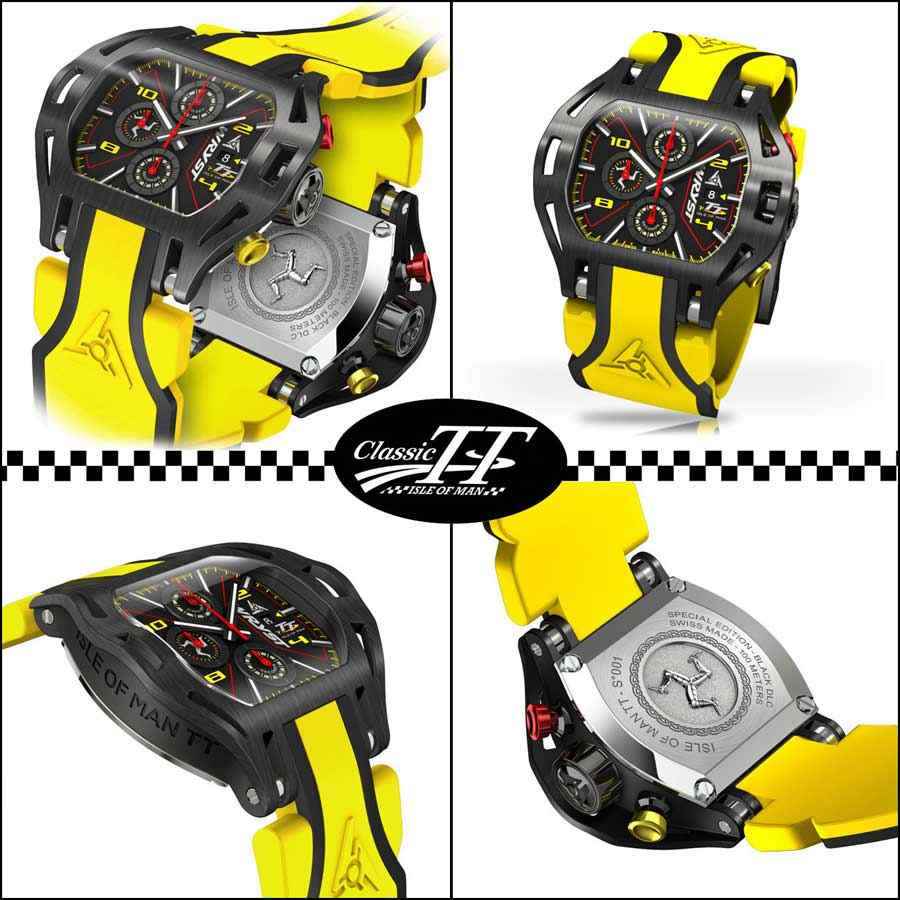 Another look, but Overall the Same Watch
The new version is not so much different than the previous creation revealed in May 2017. Actually, it is the same timepiece but has a more extravagant and flashy look. Watches from the exact same special edition can be delivered with now a choice of either the black bracelet with yellow side lines or the yellow bracelet with black side lines:
The Classic TT is an opportunity for more amateur and collectible motorcycle riders to spin-off on the Isle of Man TT race course. This allows fans and enthusiasts to test and have a feel of the world's greatest motorcycle road race.
Pictures from the Isle of Man TT race in 1970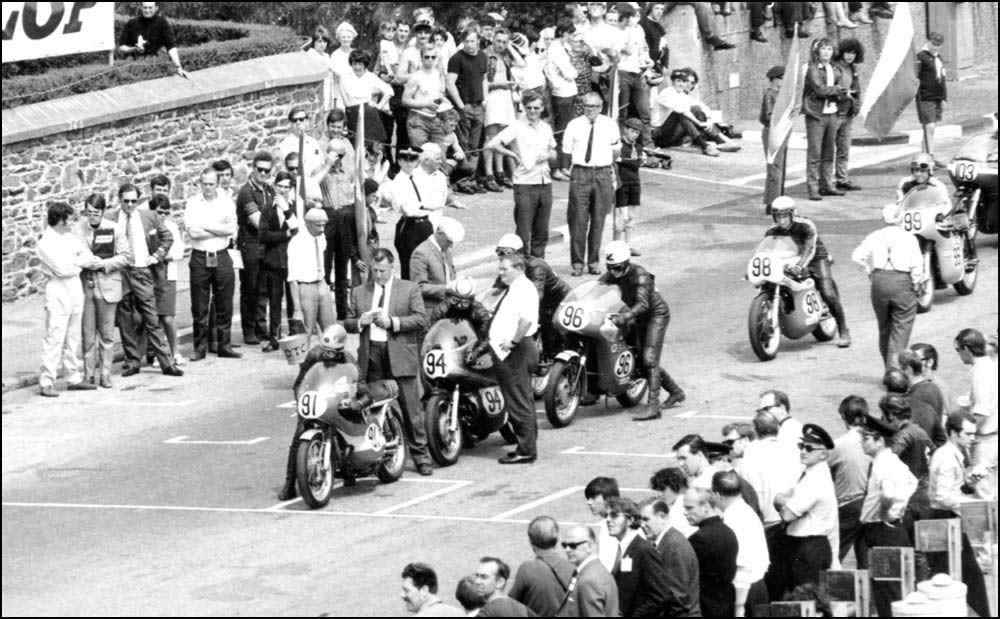 1970 Isle of Man TT - 500 GP
1970 Isle of Man TT - 350 GP
Info and Details About the Classic TT 2017 Festival
FRIDAY 25TH AUGUST
12:00 hrs Classic TT Paddock Carnival
18:00 hrs Classic TT Final Qualifying
20:30 hrs Sundown Cinema (Closer To The Edge)
SATURDAY 26TH AUGUST
11:30 hrs Bennetts Senior Classic TT Race
13:00 hrs Classic TT Main Stage Paddock Show
14:30 hrs Bob McIntyre 100mph Lap Anniversary by Michael Dunlop
15:30 hrs Dunlop Lightweight Classic TT Race
17:15 hrs Isle of Man Steam Packet Company Classic TT Vintage Parade
19:30 hrs Classic TT Party
20:30 hrs Sundown Cinema (World's Fastest Indian)
SUNDAY 27TH AUGUST
10:00 hrs VMCC Festival Of Jurby
19:30 hrs RST Heroes Dinner
20:30 hrs Sundown Cinema (On Any Sunday)
MONDAY 28TH AUGUST
10:15 hrs Sure Junior Classic TT Race
12:00 hrs Classic TT Main Stage Paddock Show
12:55 hrs Honda 6 Demonstration Lap by Steve Plater
14:00 hrs Motorsport Merchandise Superbike Classic TT Race
16:15 hrs Classic Racer Magazine Classic TT Retro Parade
19:30 hrs Classic TT Prize Presentation
20:30 hrs Sundown Cinema (Road)
If you are a fan of the TT Races and would love to wear a motorsport chronograph inspired by the fastest race on earth, pre-order the special edition Wryst TT watch today - Delivery scheduled for mid-October 2017. Only 75pcs will be available for the time being until the next serials will reach us in 2018. Even if more timepieces will be available in the future, there may not be enough TT references in stock to last until December 2017...

Discover also the Wryst Force Watches with Chronograph:
WRYST FORCE CHRONOGRAPH WATCHES
The Wryst automatic series for Motor Racing:
Discover also the Motorsport-inspired racing watches Wryst Motors:
Racing Chronograph Watch MS630