Ablogtowatch giveaway the Wryst Airborne FW3 follow-up and review
Published : 10/10/2013 11:14:41
Categories : Wryst Latest News
Follow-up Wryst review from Derique Y. in Singapore
Winner of the Wryst Airborne FW3 giveaway watch on aBlogtoWatch in May 2013
After receiving the Wryst Airborne FW3 won through Ablogtowatch giveaway, Derique says: "I have been following ABlogtoWatch (formerly aBlogtoRead) for many years now. Lapping up sweet images of watches that I could probably never afford, and half the time trying to imagine that hairy arm of Ariel's is mine instead".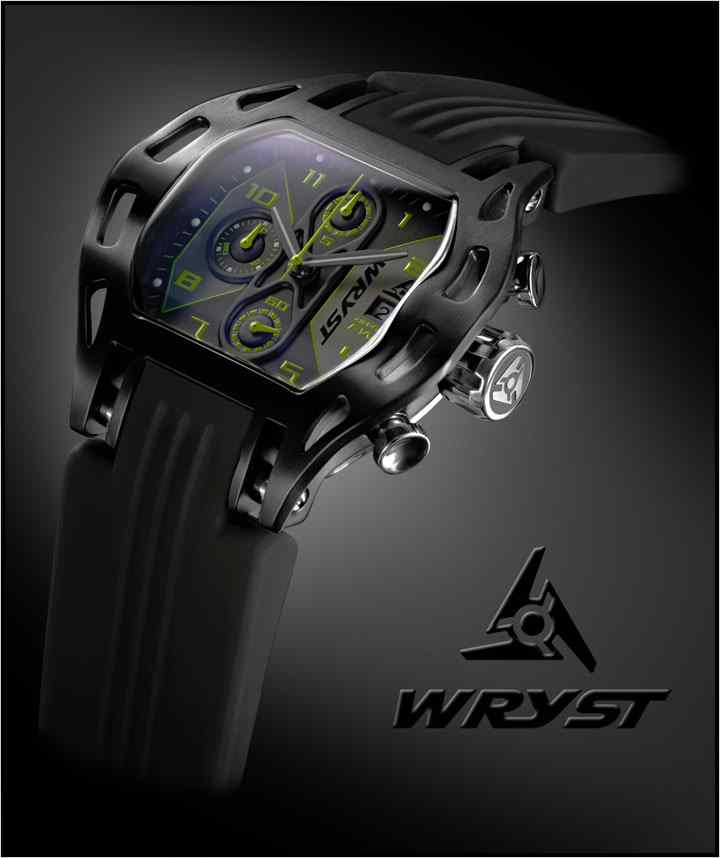 Now and then, Ablogtowatch giveaway will throw out a watch for someone to win. Participating was simple, commenting on the post and liking some pages. I once commented on a giveaway, and just like every other lucky draw I've participated in, I always came out an empty, little surprise. Then there were other giveaways that I never bothered with simply because I could not care less about those watches.. dull and bland with no ounce of uniqueness.
One day, along came a wildly designed watch from WRYST, in striking green and black. The case was unique; flared exoskeleton in DLC coating protecting the crown and pushers. I like big watches, and this one was an excellent 45mm. What's more, it's limited to 75 pieces.
The question posed was whether you like your sports watches conservatively or wildly designed - with an example or two. Frankly, I couldn't resist answering this as it hit an acupoint in my heart, whether or not there was a free watch to be won. My reply:
"Quite frankly it came to a point when I'm finding most watch designs boring, especially the case design where everyone seems to be so lazy and use what's available. You have brands like Harry Winston with deliciously nice dials and faces and everything else, but just lacking in the case design. Why? Love how Linde Werdelin takes the effort to make the case and strap exciting. So yes, more brands should make their watches 'wildly designed'.

 
A month passed, and then I received an email from Kristin saying that I was picked as the winner of this watch. I could hardly believe my eyes. Somewhere at the back of my head, I kept linking it to those 'Congratulations you won 10,000,000,000.00 and a Toyota Prius' emails I've been getting. Of course, I replied, and then Ariel replied, congratulating me. I started believing it. 
The next day, WRYST contacted me and followed by posting a neat banner of the watch against the Singapore Marina Bay Sands backdrop with my name on it. Ok, now this win on  Ablogtowatch giveaway has to be real now.
Finally, the package came. I had to pick it up from the post office as no one was home the day before when it was delivered. Unboxing it was a delight, it came nicely packed in a brown box cushioning a well-made black watch box with the WRYST logo printed on top. The size of the box feels like it would hold something expensive, not a sub 1k watch. Very cool.
If you think the watch looks good in the pictures, it looks even better in real life. I was pleasantly surprised with the weight. I like watches that have some weight to them. It's not heavy, just solidly reminding you of its presence.
Love how the curved K1 mineral crystal with anti-reflective coating made the dial looked sharp at any angle. The wavy DLC coated case was really well made, WRYST paid attention to fine details. I would think most other watchmakers would have just gone with a curved surface instead. On second thought, most other watchmakers wouldn't have even come up with a case like that. I've always been a fan of Linde Werdelin's Spidolite case, and this is just as unique! Furthermore, for some strange reason, I wear my watches on my right hand even though I'm a right-hander, and the fact that the case extends over the crown and pushers made the watch look like it is a lefty!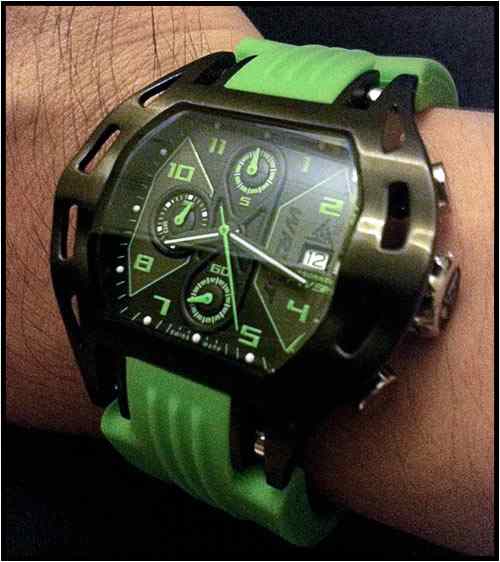 The dial has a stunning design. I like how the 12 and 6 counters look identical. I have a preference for watches with two registers (like Monacos, Autavias). The 9 o'clock counter somehow reminds me of the Spidospeed with the white indexes, in a right way. My only gripe was why the date dial is white instead of black.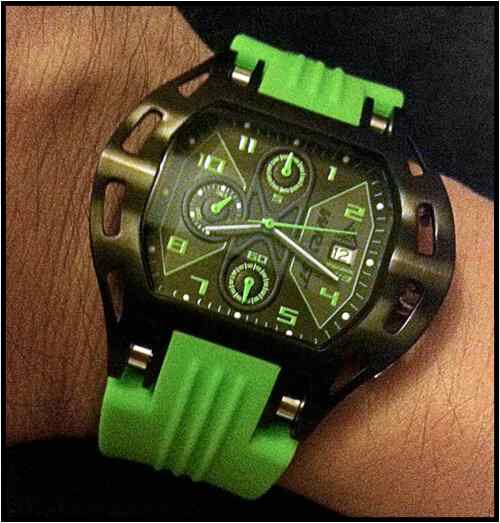 The Ronda swiss movement with split functions has a solid feel when pushing in the buttons. The back case is a screw-in, and I love the 30/75 printed there! Thank you, WRYST, for even choosing a nice number for me!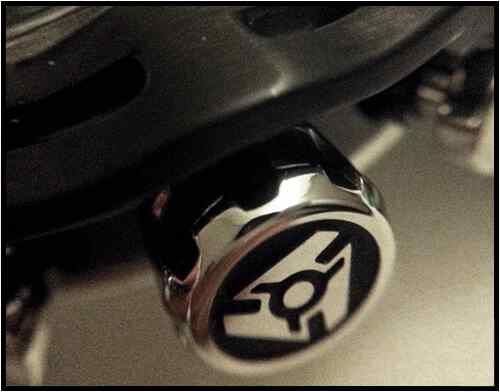 The FW3 comes with a spare thick silicon black band, very thoughtful since the band is unique, and it would be hard to find a replacement. Besides, I think the FW3 looks excellent in both Green and Black too.
Frankly, the watch grows on you the more you look at it. And it'll be a conversation piece when I wear it out tomorrow. I am blessed to have gotten this free, but I think this watch is worth more than the price that WRYST is asking for, especially since there are only 75 pieces in the world!
Once again, thank you, WRYST, and Ablogtowatch giveaway for this remarkable timepiece! Here is a drawing I made for you:
Thank you, Derique, for this great review on your winning! We will offer watches through ablogtowatch giveaway hopefully soon. The details of how you felt about receiving your watch means a lot and add to the watch reviews Wryst Swiss watch brand needs.
Source: Winner of a Wryst watch - Ablogtowatch giveaway
Share this content
Add a comment
1 comments