FORCE Swiss Watches Chronograph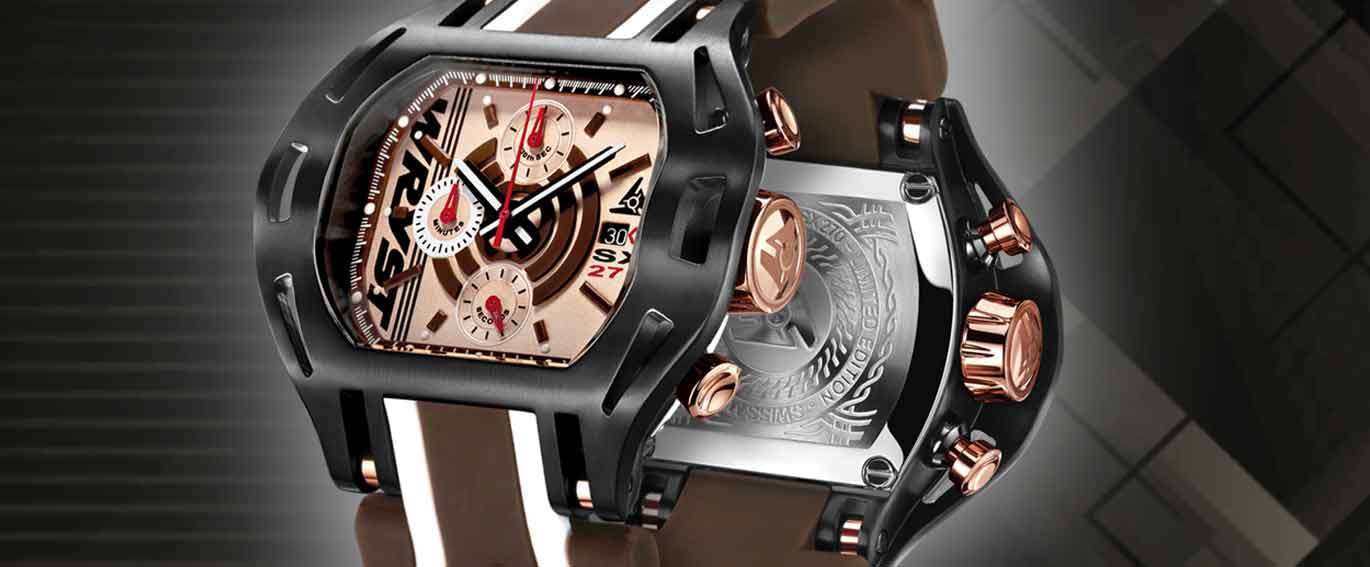 The Swiss Chronograph Watch Collection Wryst Force
Larger, Bolder, and Ultra-modern Luxury Watches
The Swiss watches Wryst FORCE is the latest collection of sports wristwatch with chronograph functions. The exclusive Swiss brand is now offering this luxury collection with a slightly larger 50 mm size against the 45mm width for most previous series. The genuine motorsport and extreme sports-inspired style of the limited edition watches are bolder, stronger, and more masculine. The height of these masculine timepieces is now also a little bit thicker, measuring 1.55 cm height.
The technical and complex aired watch case sides have three holes on each side against four previously. This rugged shape protects the crown and the chronograph pushers. Every aspect of the timepiece is pure engineering, with proportions overall increased and a more significant size bracelet attachment. The soft double injection silicone bracelet is now also more significant at 25mm (Previously 22mm). Wryst is producing the world's only bicolor, twin-layer, and double injection watch bracelet.
Why calling this sports watch collection Wryst "FORCE"?
Definition - FORCE: "Strength or energy as an attribute of physical action or movement."The Swiss watches Wryst Force are dedicated to the forces of nature. The nature around us is in constant movement, constant changes, and continuous evolution. Winds in the sky, waves on the sea, erupting volcanoes, snow avalanches, earthquakes, and, most importantly, the force of gravity. Gravity is a pretty awesome fundamental force. The force of gravity is an attraction that pulls two objects towards each other. And this is making all kinds of extreme sports enjoyable for us humans as it attracts everyone, everything and anything towards the earth. Have you ever tried skydiving? What makes you go down a ski slope? What makes a ball bounce? Most of every sport we will ever practice is revolving around the forces of nature and gravity.
Some may relate the word Force to Military, Armed forces, and Navy. Wryst has a more peaceful approach. As such, the watch brand tends to avoid conflicts and anything related to it. Wryst is celebrating nature and peace through this bold and robust large size watch collection "Force."
These four new sports watch references Wryst FORCE are all running the durable gold plated five jewels quartz Swiss chronograph movement Ronda 3540D. Produced with perfection in mind, manufacturing, and assembly process are at the forefront of watchmaking know-how.
1/ Exquisite Wryst FORCE SX210 in Black and Gun PVD
We are introducing the Force SX210 with black DLC coating Swiss chronograph watches. The hour markers, hands, crown, and chronograph pushers are in shiny gun PVD coating. This exclusive timepiece has a more casual feel and includes an extra double-injection 25mm large bracelet in Moka color with two Camel thin lines. Enjoy this exquisite Swiss sports watch while defying the laws of gravity through adventures and outdoor sports.
2/ A Stunning Wryst FORCE SX230 with Polished Casing and Blue Dial
The elegant luxury watch Wryst Force SX230 with black, blue, and shiny polished details. With a mesmerizing galvanized blue dial, the SX230 casing has a luxurious polished Stainless Steel grade 516L finish. A Shiny, dazzling, and sophisticated limited-edition timepiece. Enjoy wearing this Swiss chronograph timepiece for any daily activities of casual nights out and fine dining on wear on fine dining from New York City to Sydney Australia.
3/ Luxurious Wryst FORCE SX270 Black and Rose Gold
Indulge yourself with the Black, Rose Gold, and Chocolate luxurious Wryst Force SX270 Swiss watch. The refined Rose Gold plated dial reveals the shiny red stop-watch and subdial hands. The well contrasted hour and minute hands are in black. The style of this SX270 is a real head-turner in any occasion. A light beige bracelet is an alternative option for a brighter look.
4/ A Modern Swiss Watch Wryst FORCE SX300 with Blue Casing
Wryst dare the unthinkable with the blue anodized Swiss sports watch Wryst Force SX300. This atypical timekeeper is exclusive as no other Swiss watch brand has ever produced a quality blue timepiece with such class and refinement. Shiny polished hands and hour markers enlighten the dark grey dial.
Finally, the new bold Swiss watches Wryst FORCE chronograph are exclusively available for online purchase and produced in Limited Editions of 75 units. Contact us with your required serial number between #01 and #75 to find out if you can purchase it.
OTHER WATCH COLLECTIONS FROM WRYST HERE