Luxury Mens Watches Motors MS630 Chrono
Luxury mens watches Wryst Motors MS630  with black dial and carbon fiber bracelet inspired by motorsports and racing cars. This exclusive bold racy watch offered in a limited series of 75 pieces is at the forefront of luxury fashion design. Wryst makes no compromise offering atypical strongly built chronograph watches with groundbreaking style. Contact us if you require a particular serial number.
TWO BRACELETS INCLUDED!
No tax
Delivered within 3-4 days
100% secure payments
The Luxury Wryst Motors MS620 for Men
Watches Inspired by Motorsports and Racing Cars
The aggressive luxury mens watches Motors MS630 is inspired by all type of racing sports and high-speed, adrenaline seeking individualists. Racers, Supercars owners and Formula 1 fans will have a particular interest for this timepiece with carbon fiber leather bracelet. Furthermore, only 75 persons will ever be given the chance to wear one. A stunning reliable Swiss chronograph responding to two large start/stop pushers with polished finish
The crown is also secured with a bold screw-down system. The bracelet attachment is just as tough with an innovative 8-parts system unique in the watch industry. Nevered be worried again that your watch may become undone from your arm.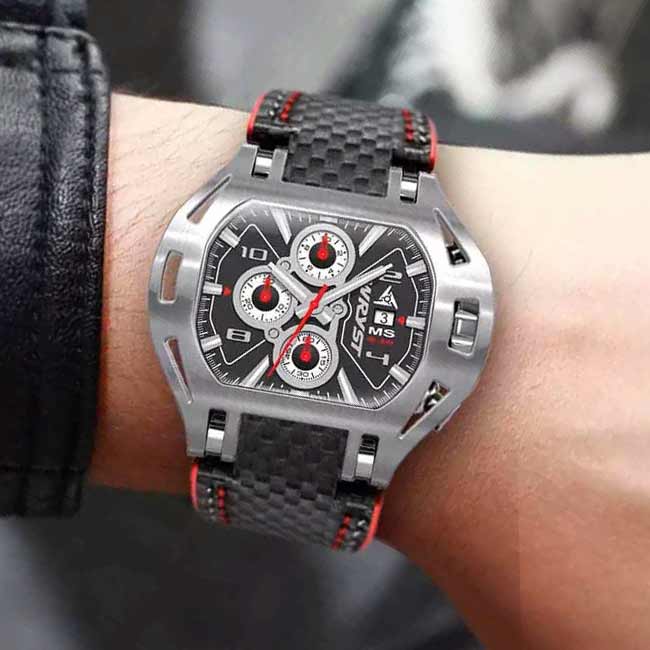 Only 75 Motors MS630 Watches will Ever be Produced
The luxury Wryst Motors MS630 mens watch has a well contrasted dial with black hands and a stunning racing chronograph function. The brushed watch case, brushed square buckle and shiny crown are CNC machined in grade 516L steel. All Motors references are marked 10ATM for 100 Meters water-resistance and are protected by a thick domed scratch-resistant sapphire crystal.
The unique MS620 is produced in a very limited edition of 75 pieces. Contact us to request your selected serial number as long as stocks last.
Exclusive Opportunity for Exclusive Customers
Swiss brand Wryst dedicated to professionals proves once more to be at the forefront of atypical luxury mens watch design with unprecedented style. Wryst offers ultra-competitive value for money on an exclusive, non-retailed basis. The limited edition timepieces are only available for purchase from the manufacturer.
Wryst offers one of the most reliable and devoted customer service globally. We are one message away to answer any request you may have, promptly.
Imagine holding the Motors MS630 in your hands:
Data sheet
GENDER

Men

PRODUCTION

Limited Edition of 75 pieces

MATERIAL

Stainless Steel

COLOR

Silver

CRYSTAL

Sapphire Crystal

MOVEMENT

Swiss Chronograph with Date

SIZE

50 mm

CROWN

Screwed Crown

BRACELET

Black Carbon Fiber Leather

EXTRA STRAP

Black and White

WRIST SIZE

Wrist 170mm to 210mm

RESISTANCE

100 Meters (10ATM)

WARRANTY

18 Months
Yes an other pure beauty ?
I can stop feeling amazed by the timeless design of these superb creations. Yes another wryst added to my collection. This one is brilliant and yes the idea to use a plain steel case is better for me. I have 2 others the force 230 and shoreline LX5 and wear them often. This one will be for driving ?.
Can't stop looking at it
I just can't stop looking at my new Wryst MS630. It really is an intriguing design and the dial is clear and beautifully decorated. Fantastic chrono so well done!
Just wow!
I was so glad to secure the serial number I wanted. The racing style of this watch is at the top. Thank you again for your excellent customer service and friendly help.
Received in 3 days, as promised
Very happy with my purchase which was delivered very quickly with free shipping to California. thank you Wryst team
Très originale et moderne
Cette montre est une réelle immersion dans le monde des sports automobiles. J'ai plusieurs autres montre inspirée des courses mais pas comme celle-ci. La forme de la carrure pour commençer est ahurissante. Va savoir comment ils ont pu fabriquer un design aussi complexe, avec les côtés usinés comme ça... Je lis que chaque boîtier est usiné par CNC et je n'en doute pas une seconde. Ca change totalement de la montre ronde ordinaire. En plus j'ai pu faire mon achat grace au "pay later" je paye la plupart du prix par échéances. Plus pratique pour ne pas avoir à attendre. Bravo belle prouesse de modernité. J'aimerai en acheter une autre mais j'hesite car elles sont toutes magnifiques. Gaëlan, Morbihan.
 Write a review