Leather Watches for Men Force SX270 with Gold Dial
The mens leather watches Wryst Force SX270 with a genuine leather bracelet are your everyday head-turner. A Swiss chronograph with a brushed black case and gold galvanized face. The world's most scratch-resistant black Chrono watches. The handmade brown leather bracelet gives a unique feel to this coveted luxury chronograph with a gold dial. Designed to last, the limited edition leather watches for men benefit from a sturdy black DLC coating throughout and scratch-proof sapphire crystal. Wear a bold black watch for men with both unique style and durability. This SX270 is one of the world's most robust watches ever produced.
No tax
Delivered within 3-4 days
100% secure payments
Mens FORCE SX270 brown leather watch with a Gold Dial
Durable watch with black DLC coating and a genuine leather bracelet
These Wryst luxury leather watches for men Force SX270 benefit from the world's most durable hard black coating. This sophisticated chronograph for sports, outdoors, and adventure with gold dial, polished rose gold crown, and pushers are captivating. This version benefit from a sturdy and comfortable brown genuine leather bracelet with double stitchings. A gold-plated quality Swiss movement provides accuracy with an attitude. You can be proud to be looking at a small edition Swiss black wristwatch because only 75 pieces will ever be available.
Style, Charisma, and Unicity
One statement is evident with Wryst: There is no other watchmaker in the industry offering such trailblazing designs. This model SX270 is no exception, and the combination of black with gold sunray on the dial is timeless. Most importantly, the materials deliver reliability, robustness, and precision. Which timepiece today pulls together so many specifications?:
New modern, futuristic, and sports-inspired technical design. Black scratchproof diamond-like carbon coating on the case and the square buckle. A domed 2 mm thick Swiss sapphire crystal with an anti-reflective coating. Handmade genuine brown leather bracelet with three leather layers signed black back and double stitchings—a screw-down crown and bolted case back, allowing 100 water resistance for watersports and outdoors. A second bracelet is included in a different silicone material for versatility. Polished gold plated crown and pushers. A gold-plated Swiss quality quartz Chrono movement with 1/10th of a second precision and 45 months battery life. An exclusive 18-month manufacturer warranty. There is a black wooden luxury box with black leather inlay and a bespoke USB card for the manual instructions. And all this is produced in exclusive worldwide limited series of 75 units.
Most and foremost, Wryst creates the luxury fashion wristwear of the next generation. Wearing a Force is unlike anything you have ever worn before, empowering, reassuring, and indeed an excellent long-term investment. Make the most of your budget today with this highly collectible timepiece.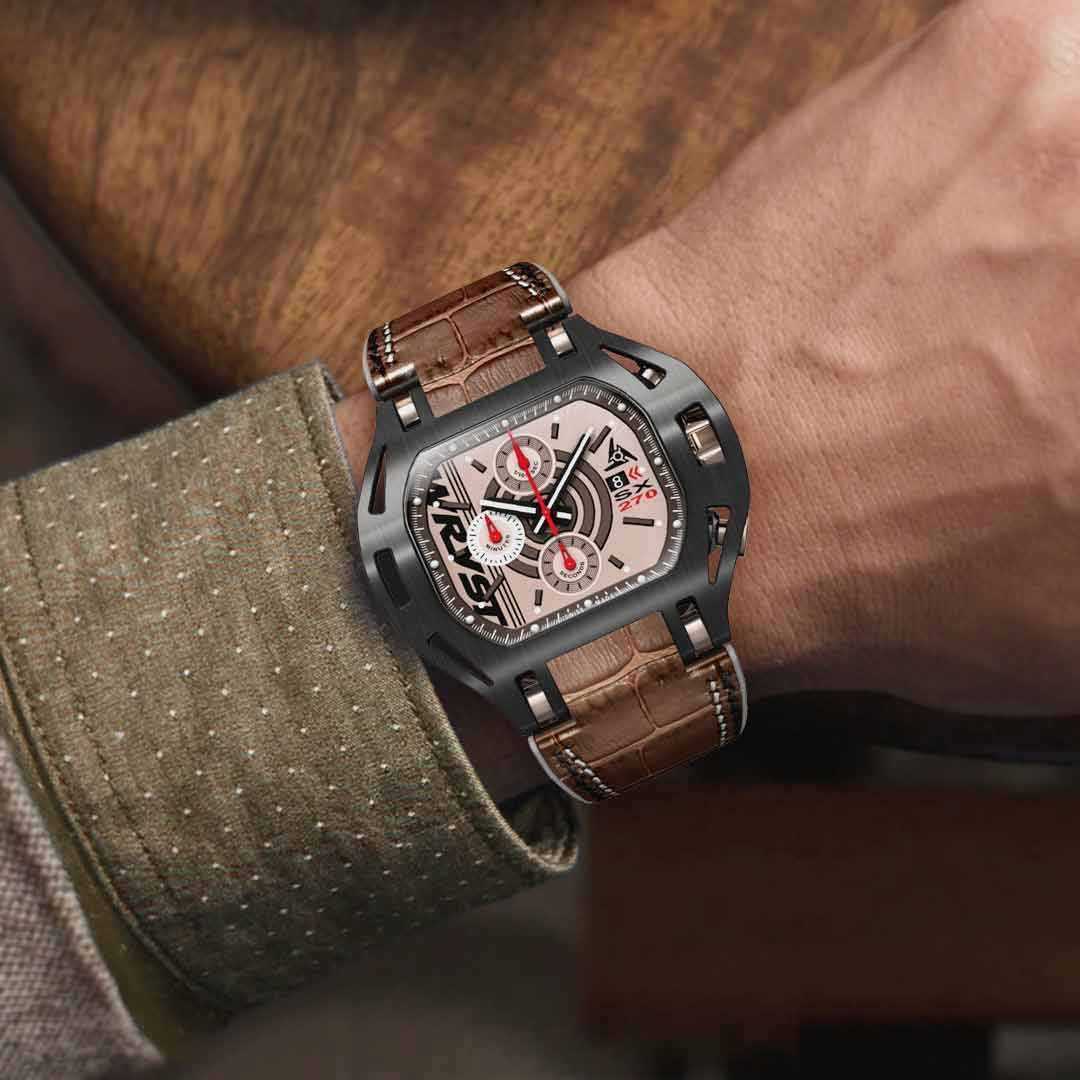 Combining advanced machining and handmade craftsmanship
The complex shape of this designer timepiece is only possible with CNC tooling and machining. Wryst's case design is unique and requires Swiss know-how and engineering. Conventional doing will not satisfy all the details of this futuristic and aggressive 50 mm chronograph design. Combining new technologies and manual expertise, the brown leather bracelet watch is cut, assembled, and stitched by hand.
The "Made in Switzerland" reputation is known worldwide to define quality and must be kept sustainable. This can only be obtained with a real passion for details. The dedication of the brand Wryst for these unique small series is pushing further the boundaries possible. Wryst is far from mass production series and possible mistakes during the production chain. Every part is subject to thorough quality checks to qualify for the next stage. The result is fascinating and spectacular — a timeless, quality luxury black chronograph with a gold toned dial. Only a select few lucky individuals can pretend to own one of them. Nothing can replace the human eye.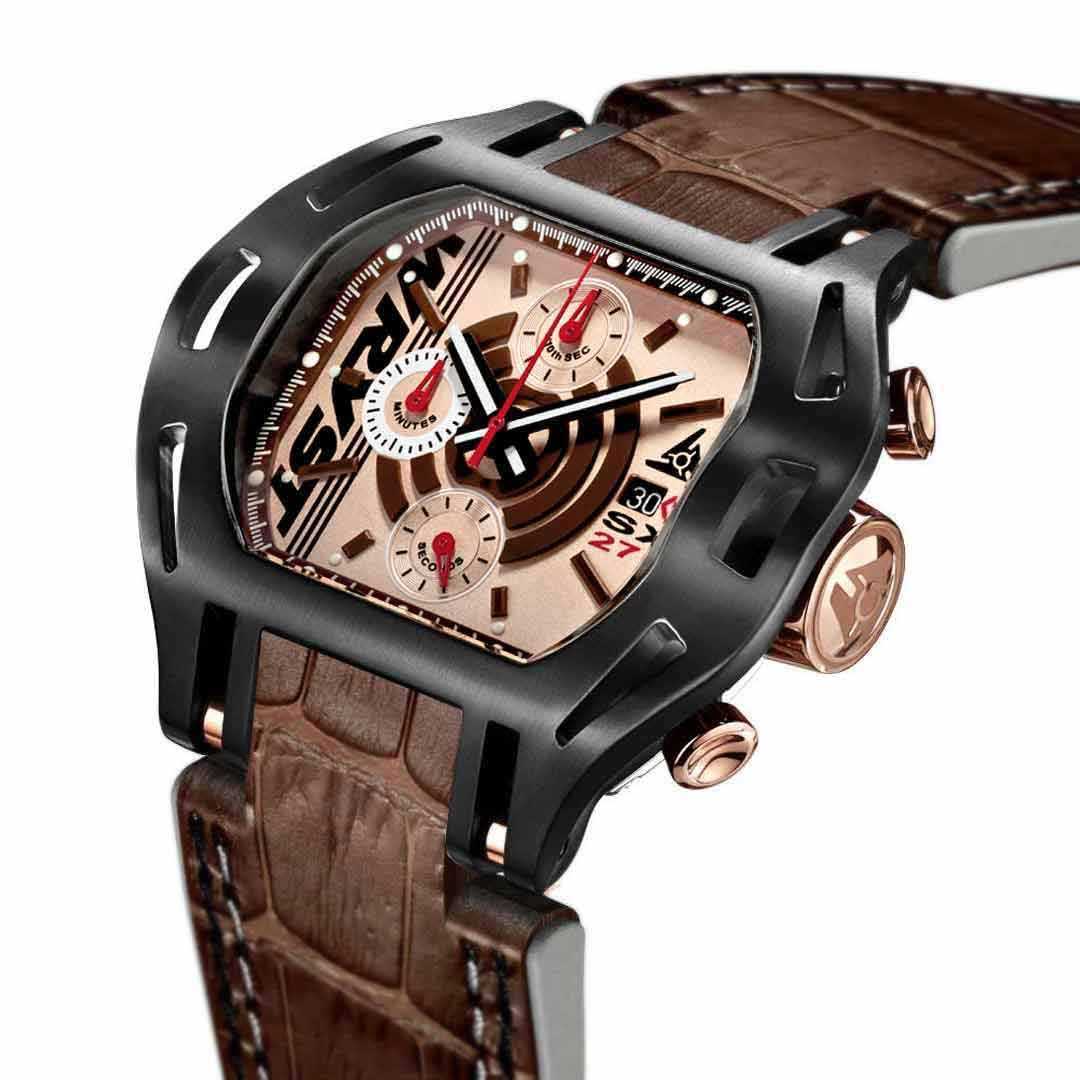 Intuitive and Precise Chronograph Functions
You can time any of your adventures or adrenaline-seeking activities with a precision of 1/10th of a second. All references from the Wryst Force Collection offer accurate chronograph functions. The chronograph second hand and subdial hands stand out in red color. The black hour and minute hands with white Luminova are well contrasted against the gold sunray dial for an authentic reading experience.
This stainless steel wristwatch with a leather band does not have a black dial but a black stainless steel case with a high-quality leather band and luminescent hands. The mens brown leather watch with gold chrono presentation has brown color details, raised black minute track with white printing and double luminova white dots, and well contrasted white hands. The Swiss quartz movement corresponds to a demanding crowd looking for technical precision and reliability. Wryst offers total transparency in supply chains as the limited edition chronographs are only available online. We provide professional customer service and the coupon Free Shipping, which you can use in your cart to grant you the DHL prompt delivery costs.

Another version of this SX270 small series is also available with two silicone bracelets. One is brown with white lines, and the other is Moka with brown linings on the sides. Check out the Wryst timepieces in black and rose gold with a brown bracelet. By sending us an email, you can also request that we fit any of the two bracelets included while placing your online order. Your order will be processed and dispatched within two working days worldwide. Shipments are usually delivered the next day to the United Kingdom, and the usual delays for other destinations are generally 72hrs.


An extra double injection silicone bracelet
You will also enjoy a second option and swap the leather strap fitted on your mens watches leather band. This unique double-injection bracelet is a signature of the brand Wryst and requires several months of development. The silicone bracelet in brown with white lining can replace the men's leather watchband. The bracelet is firmly attached to the case with an 8-pieces patented unique system. The silicone and the brown leather strap watch bracelet fit nicely into the case. The timepiece will fit comfortably and securely on any wrist between 170mm and 210mm in size. Make a bold statement with the oversized Wryst Force.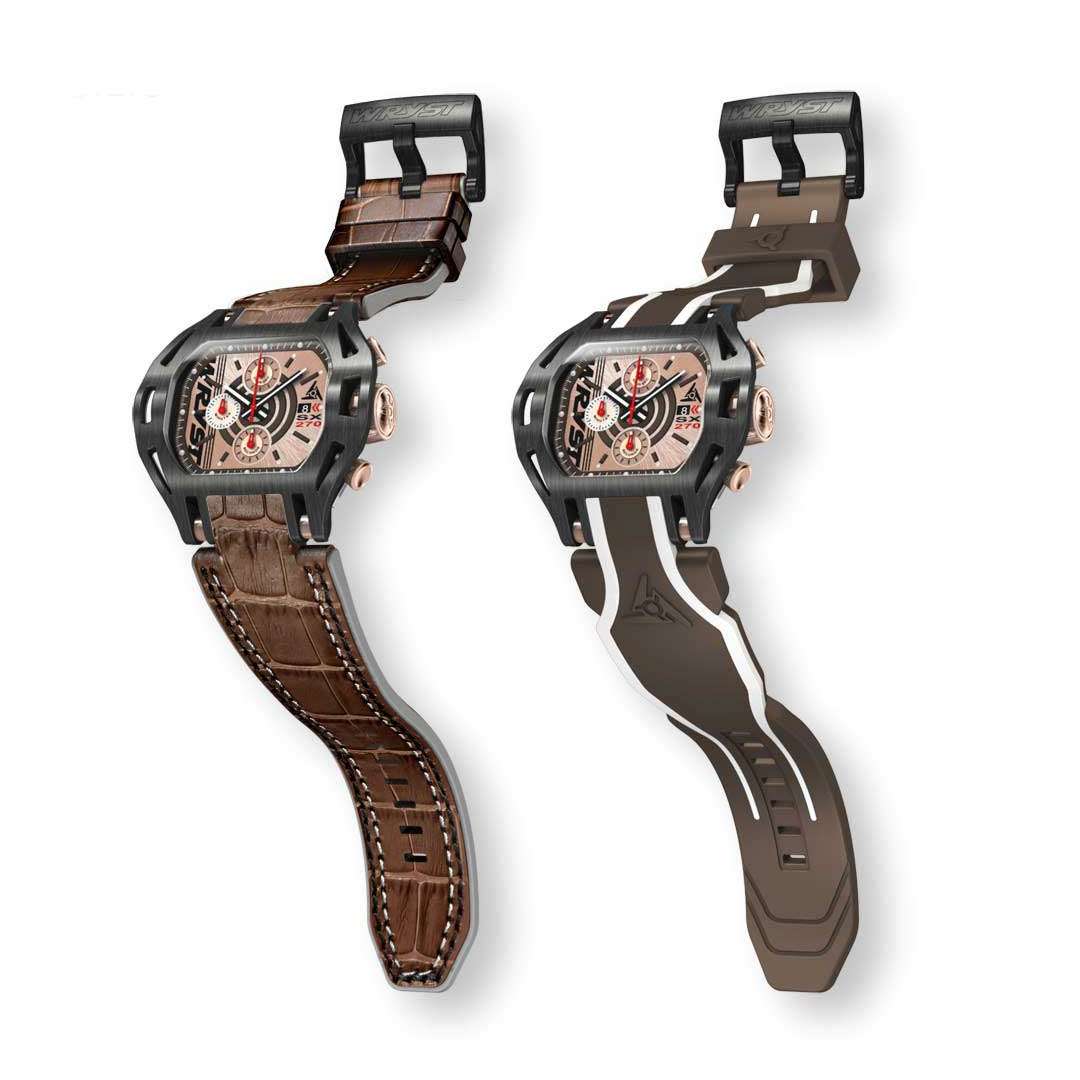 Swiss watch brand Wryst offers one of the most empathic, dedicated, and friendly customer services you will ever experience in the watchmaking industry. Wear a stylish luxury timepiece for men designed to win in the United States or worldwide. If the number you wish to purchase is still available, you can buy it. Contact us for all requests regarding serial numbers availability.
Another advantage of wearing the small series Wryst SX270 is that you will hardly ever meet someone wearing one. Even if you do, it can then be a subject of discussion - Each luxury leather watch for men has a unique number engraved on the back. Which serial number would you prefer? Please get in touch with us today to see if your lucky number is available. You can also choose a remembrance piece for any special occasion such as a birthday, a first grade, or any other event that needs immortalizing.
Many references "Force" with silicone bracelets are available:
Data sheet
GENDER

Men

PRODUCTION

Limited Edition of 75 pieces

REFERENCE

Wryst SX270 Force

MATERIAL

Stainless Steel

CRYSTAL

Sapphire Crystal

MOVEMENT

Swiss Chronograph with Date

SIZE

50 mm

CROWN

Screwed Crown

BRACELET

Brown Leather Bracelet

EXTRA STRAP

Brown and White

WRIST SIZE

Wrist 170mm to 210mm

RESISTANCE

100 Meters (10ATM)

WARRANTY

18 Months
Three bands, top-notch!
Received quick in Colorado with express DHL delivery thank you. I just love it and they offered me an extra black free rubber strap so I end up with 2 bands extra as well as the brown leather bracelet already fitted on it. Great quality product with a luxurious contrast of black and rose gold. Brilliant!
Client très satisfait de son achat
Je voudrai dire que cette montre est inouïe. Une creation qui fait preuve d'un charisme vraiement hors-norme. J'ai plusieurs autres montres et celle-ci resplendit dans ma collection comme aucune autre. Pendant l'achat j'ai demandé à avoir un bracelet noir silicone à la place du brun et le service client à accepté et triater ma commande comme prévu. L'écrin noir en bois avec cuir noir à l'intérieur démontrent toute la finesse que j'attendais après avoir passé ma commande. Une expérience sans faut pas avec livraison DHL relativement rpaide (Il y avait un week-end au milieu). Merci et très bonne continuation. Ca fait plaisir de voir que des petites marques indépendantes se donnent autant de mal pour faire plaisirs à leurs clients. Cordialement. Nathan, Nantes
Case covering the crown and pushers
My new acquisition is growing in me everyday. I wear it everyday and the precision is very accurate as this is a Swiss quartz. Colors brown and rose gold together work a charm. Leather bracelet is super comfortable to wear after only a few hours. I also love the small red details on the dial. Brilliant mysterious design with case covering the crown. Loving it thank you.
Eine tolle Uhr!
Eine tolle Uhr! Ich hatte das Glück, die Seriennummer 04/75 zu sichern. Vielen Dank!
Very good service
Absolutely delighted with my watch! Excellent service from start to finish. Communication by email was clear and swift. I would definitely recommend Wryst to anyone.
Great timepiece
Very pleased with my purchase. The large bracelet is much better than I though. Overall the case is well built and give a feel of high-end timepiece for a more affordable price than I am used to. I have other luxury brand watches and this one has a totally different style and I receive a lot of compliments for it.
Compelling timepiece
Just received my SX270 and I have no words to describe it! Totally insane looking watch. To my surprise the watch looks compelling when you wear it. I do have high expectations when I purchase a new watch but I never felt before the way I feel about this one. Thxs
 Write a review