Discount Watches Wryst | Buy Watches on Sale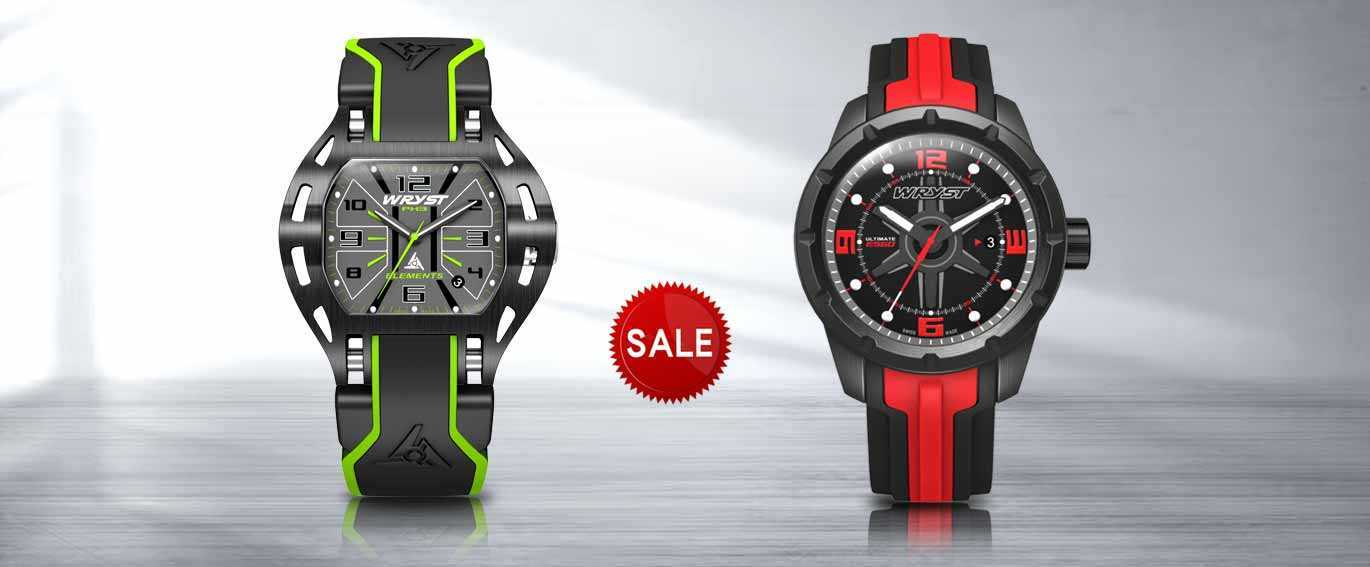 Wryst Watches on Sale
Special Offers and Exceptional Men's Watches on Sale
Buy watches on sale online at the best price! Find on this dedicated page our exclusive offers, best deals, and unique opportunities for a lower price on the Wryst of your dreams. Some offers on this page can be for various reasons. Live discounted offers for a limited time, discount on the last pieces of a collection that will soon be sold-out.
Our discount watches online page is also showing some of the models now discontinued and out of stock. When the small series of 75 or 99 pieces produced are all sold, there is no way back. We never manufacture twice the same reference. We are exclusively selling watches online. Discounted prices on small series like never before, far from the supply chains, and excellent customer service. Browse discounted men's watches on sale Wryst, watch sale now on!
Our reduced prices on selected watches on sale are coming from time to time. We strongly recommend signing in to our Newsletter to receive the latest information about future opportunities. Since the exclusive small series are only available in limited quantities, it is crucial that you sign in to make the most of the upcoming exclusive offers. Wryst is the only watch brand in the world to produce very limited Swiss durable timepieces in such little quantities.
Make the Most of our Discounted Watches
To date, already over 26 models from different watch series are unavailable and already sold out. You can also contact us by email and be interested in a particular watch reference, as we will be happy to know. We are flexible enough to consider offering free shipping worldwide, swapping a bracelet you prefer for a particular watch, or why not offer one extra band for free. Your answer is just one email away.
The existing collections in stock are available as follow:
- Wryst RACER Automatic Watches: Limited editions of 75 units

- Wryst FORCE Chronograph Watches 50 mm: Limited editions of 75 units

- Wryst ELEMENTS Watches for Sports: Limited editions of 75 units

- Wryst ELEMENTS Watches for Women: Limited editions of 75 units

- Wryst ULTIMATE Quartz Watches for Men: Limited editions of 99 units

- Wryst ULTIMATE Black Watches DLC Coating: included above
ALL REFERENCES WRYST PRODUCED TO THIS DAY
Here is a list with details of all the Wryst ever produced since the brand launch is 2012. So far, the collections Wryst Airborne, Wryst Shoreline, Wryst Motors, Wryst Automatic 2824 limited editions, and Wryst Isle of Man TT 2015/2016 Special Edition are sold out and discontinued.
If you have already purchased a timepiece from us, thank you for your loyalty. Please contact us if you wish to purchase a second or third timepiece as we may reward your good business. The same applies if you plan to purchase two, three, or more pieces in one order. It is likely we may be able to grant you a unique voucher code for this. We use DHL Express service for prompt delivery worldwide, and Royal Mail Special Delivery for the United Kingdom. Get your order delivered fast, and with the peace of mind, you expect. Buying a quality timepiece online in the future!
Here is a list of all Wryst collections ever produced:
Racer Automatic

Force Collection

2017/2018 - Isle of Man TT(Discontinued)

Ultimate Metal

Elements Collection

2016 - Isle of Man TT (Discontinued)

Ultimate Collection

Automatic 2824 Collection (Discontinued)

Motors (Discontinued)

Shoreline (Discontinued)

Airborne Bicolor (Discontinued)

Airborne Collection (Discontinued)