Mens watches Wryst | Best Watches for Men
Discover a New Men's Fashion Lifestyle
A Modern out of the Ordinary Men's Design
Buy mens watches from an independent brand established in 2012 and only produce exclusive small quantities of 75 and 99 limited edition timepieces. The motorsport and outdoors-inspired Wryst are also at the forefront of the luxury lifestyle.
The watches for men, Wryst RACER automatic, FORCE chronograph, MOTORS for racing, ULTIMATE black DLC, and ELEMENTS for sports are available in limited quantities. More than 29 references produced by Wryst are sold-out and discontinued.
Men's Watches Like Never Before
Today, choose to wear a disruptive fashion accessory from a durable and reliable unique brand. The unique brand Wryst offers unusual and aggressive-looking steel watch collections with resistant materials without breaking the bank. The "K1" shockproof crystals, black DLC scratch-resistant coatings, date window, and Sapphire Crystal are some of the toughest and most reliable in the industry. Each piece is dedicated to men and designed for your everyday luxury fashion lifestyle.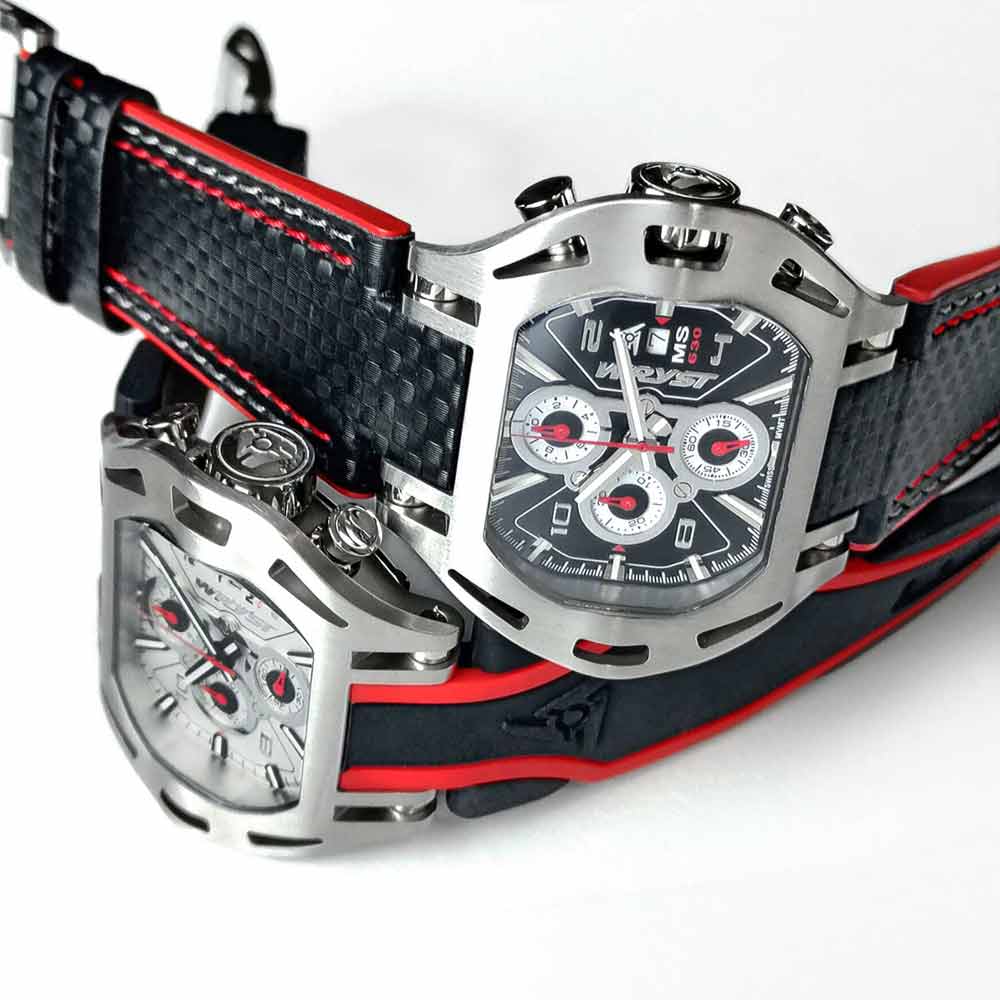 Series Wryst Elements for Sports
Optimize Your Choice and Get a Quality Men's Wryst
Ask yourself: Would you prefer style over functions or the other way around? The market has offered many plastic electronic wristwear in recent years, but they have many downsides and look cheap. Also, many dearly priced timepieces use insufficient black PVD coating, mineral crystal, and Japanese quality movements. Wryst offers the best of both worlds: Durable and reliable quality sports wristwear for men with modern style and design.
Your style is who you are through what you wear.
Before someone can know who you are, they will first see your look. This evaluation includes your clothes, style and colors, face and hair, and accessories. These consist of necklaces, earrings, bracelets, and, most importantly, your choice of wristwear. However, most electronic wristbands and gadgets have a black screen, which only activates when touched. Apple and Samsung gear has limited power, requiring to recharge nearly enough daily. You must also update it regularly and purchase a new one to keep up with new technologies.
Collection Wryst MOTORS for racing
Be an individualist, not a follower.
People who have a personality usually choose very carefully what they wear. No one ever wears a smartwatch in the world of luxury and fashion. People who choose to wear them have very little to no style. The reason is digital and electronic wrist devices have no class. They have only megabytes and electronic parts inside them. No pulse, no heart beating. You will discover you already have enough data and artificial intelligence inside your smartphone! Only just data, and it shows.
Not many other luxury brands will ever offer you a look that is an essential tool for success. We provide luxury timepieces with silicone or leather straps and gold and black DLC casing combinations with a white or black dial. Wear a stunning timing accessory you love and simultaneously enhance your modern daily lifestyle. These latest models are much more affordable than other high-street names like Tag Heuer, Patek Philippe, Audemars Piguet, Victorinox, and Vacheron Constantin. Unlike a cheap electronic ticker, a quality analog timepiece is like you. It lives through a heart, whether Luxury timers with quartz movement, chronograph movement, or automatic mechanical movement.
"Wryst enhance your daily lifestyle and contribute to your success through stylish quality timepieces with unprecedented style".
Black DLC Wryst ULTIMATE Watches
ENJOY CHECKING THE TIME EVERY TIME
All men's watches references include long-lasting battery life (For quartz movements), easy-to-read hour and minute hands with luminova, and several extra features. The face offers a wide dial window. Most references provide the user with a precise date function. Contact us if you purchase one of the striking sports timepieces, Wryst, for your free shipping code. In conclusion, we can demonstrate your style can improve with quality, reliable wristwear. Electronic wristwear has very little to no class and many functions available with your smartphone.
A strong personality and self-minded person will instead be buying luxury quality timepieces. Your Wryst will make your character more charismatic and allow you to shine daily. Remember, your smartphone will process the data and be your communication companion.
Automatic Limited Editions Wryst RACER
A LONG-LASTING EXPERIENCE WITH NO FUSS
Another interesting fact about the heavy-duty timepiece offered by Wryst Timepieces is that they are a long-term investment dedicated to last for many years. The brand provides perfect production and assembly with extensive experience and know-how. Again, the dial detail, curves, materials, and colors are chosen carefully and constantly to please the eye. Wryst sells disruptive creations far from mass production and regular supply chains.
There is only one way to purchase a timekeeper from these best watch brands for men: Online. This way, you have the guarantees we can offer you professional and emphatic customer service up to your standards and expectations. Comparatively, there will be no more waiting for spare parts or servicing your timepiece. We can guarantee one of the world's fastest and most friendly customer services for your buying experience.
THE HIGHEST SPECIFICATIONS:
✓ Scratch-Resistant Sapphire crystal
✓ Screw-down crown holding tight against the case
✓ Water resistance between 100 and 200 meters
✓ Ideally, an exclusive limited edition is always more unique
✓ A black scratch-resistant DLC coating
✓ Details, shapes, and all elements are carefully designed with style
✓ A genuine intention to offer a reliable and durable wristwear experience!
WHO ELSE CAN TALK BETTER ABOUT A WRYST THAN ONE OF OUR CUSTOMERS?
Review from Derique Y. in Singapore after receiving his Wryst Airborne FW3:
"Quite frankly it came to a point when I'm finding most designs boring, especially the case design where everyone seems to be so lazy and use what's available. You have brands like Harry Winston with deliciously nice dials and faces and everything else, but just lacking in the case design. Why? Love how Linde Werdelin takes the effort to make the case and strap exciting. So yes, more brands should make their latest models 'wildly designed. If you think the Wryst Airborne FW3 looks good in the pictures, it looks even better in real life. I was pleasantly surprised by the weight.

I like watches that have some weight to them. It's not heavy, just solidly reminding you of its presence. Love how the curved K1 mineral crystal with an anti-reflective coating made the dial look sharp at any angle. The wavy DLC coated case was really well made, WRYST paid attention to fine details. I would think most other competitors would have just gone with a curved surface instead.

On second thought, most other brands wouldn't have even come up with a case like that. I've always been a fan of Linde Werdelin's Spidolite case, and this is just as unique! Furthermore, for some strange reason, I wear mine on my right hand even though I'm a right-hander, and the fact that the case extends over the crown and pushers made it look like it is a lefty!".

 
And Derique keeps giving compliments:
"The dial has a stunning design. I like how the 12 and 6 counters look identical. I have a preference for timepieces with two registers (like Monacos, Autavias). The 9 o'clock counter somehow reminds me of the Spidospeed with the white indexes, in the right way. My only gripe was why the date dial is white instead of black.

The Ronda movement with split functions has a solid feel when pushing in the buttons. The back case is a screw-in, and I love the 30/75 printed there! Thank you, WRYST, for even choosing a nice number for me! The FW3 comes with a spare thick silicon black band, very thoughtful since the band is unique, and it would be hard to find a replacement. Besides, I think the FW3 looks excellent in both Green and Black too.

Frankly, the design grows on you the more you look at it. And it'll be a conversation piece when I wear it out tomorrow. I am blessed to have gotten this timepiece, but I think it is worth more than the price that WRYST is asking for, especially since there are only 75 pieces in the world!"
In light of this formal review, make a difference a wear a fabulous fashion accessory that stands out and reflects your personality. Men want a unique style that corresponds to their excellent taste and dress code. We demonstrate this is not always down to your budget. Buy today a charismatic luxury lifestyle timepiece much more affordable than most. There is only one place where you can purchase one unique limited edition piece - Online in the boutique Wryst Swiss Watches.
Men's Wristwear with a Modern Look
We've designed exceptional men's watches, a timeless new look you can enjoy for years. This ideal accessory is only available in small series of 75 and 99 units. Furthermore, exquisite timepieces with a range of bold and manly sizes from 45mm to 50mm are suitable for individualists. They have a pronounced taste for ambitious lifestyles, motorsports, and adventure. Wryst produces quartz models, unique clocks, and also high-end automatic creations. These accurate tickers with Swiss precision are just a click away from enhancing the future of your lifestyle.
Live a New Lifestyle
Our extensive and versatile collections represent Wryst's DNA and have come to life inspired by your needs and demands. Whether you are looking for a companion for your night out or outdoor activities, you can browse our selection online to find an ideal model that suits you. Robust, resistant materials and Swiss certification make the timepieces exclusive and will be a perfect addition to your collection. Find your ideal with creations adapted to all seasons and water resistance between 100 and 200 meters. Moreover, the integrated leather straps or colored double-injection silicone straps are ideal for your sportsmanship, allowing you to express yourself fully.
Only the Best Materials
All Wryst timepieces are robust and ready to meet all your challenges. Scratch-resistant sapphire crystals, shatter-proof mineral crystals, rugged black DLC protection, or even the screw-down crown on our models are the proper specifications for your peace of mind. Nonetheless, each reference includes two rubber straps for added versatility and freedom of expression. The result is a choice of men's rugged styles that you can fully enjoy with every passing second. Unlike our competitors offering electronic devices and gadgets, we have achieved a more conservative approach to sincere and modern analog wristwear styles.
Be tempted by men's chronograph with elegant automatic movements or our standard gents watch with three-hand and date functions. Our latest adventure-ready version is a new and modern "Racer" in an audacious and bold stainless steel case, CNC machined. All models also run either an automatic or quartz movement of extreme precision. Be one of the lucky 75 or 99 to wear one of Wryst's all-new Force, Racer, Elements, or Ultimate benchmark references.
Nice Watches for Men With Forever Lasting Style
Additionally, the timeless finished look and bold curves took years to perfect. We have worked hard to provide the ideal balance of style and function. From water sports to mountain adventures, our design's brutal and edgy look is superb for men who need their daily dose of adrenaline. The Force series is the ideal outing wristwear, and the Racer line is the most daring race-ready. Two other Elements and Ultimate series with more classic and standard features in precise antimagnetic and shockproof quartz movement versions also correspond to smaller budgets. In addition, our automatic and mechanical wristwear experience adds a new level of innovation to the classic traditional style.
Most importantly, the masculine look on offer can be yours for a fraction of the usual price for precise functions. Add to your collection a piece that will stand out! Wryst independent brand will meet all your needs and satisfy the most demanding.
One of Your Top 3 Men's Accessory
According to the 10 Men's Accessories That Will Never Go Out Of Style, the watch comes third. Bold individualists express themselves through their all-important investment, just after the sunglasses and the leather billfold wallet. A stainless steel timepiece will be passed through successive generations and last an entire lifetime. Steel has its roots in gun making and is as flattering as it is durable. It's also equally fashionable with a suit and ties as a T-shirt and chinos combination. All Wryst references pretend to propel your style much beyond the above, And people will gladly ask you for the time to have a better view of your arm and engage with your limited edition timepiece.
Choosing an independent brand is guaranteed to benefit from friendly and emphatic before and after-sales customer service. In addition, it can also be frustrating to be another customer within thousands of others ones. In contrast, with Wryst, you can count for 1/75th of your particular timepiece Wryst for men because only 75 people will ever wear each of our models.
Discover the Watches Wryst:
The Magic of a Fashion Accessory
Watches are magic because they are precious, beautiful, technical, and still useful- just a few reasons. Yes, in an age where the time is constantly visible on our cell phones, computers, and other screens, you shouldn't need a bracelet to tell you what time it is. Paradoxically, your watch is your best companion because it only provides this information. It is the first point: a watch is simple.
It doesn't matter how many functions it has. They will always be limited compared to a miniaturized computer. You don't have to scan a screen to spot the time or explore your phone's countless applications to access it. No, the transmittal of information is direct, easy, and natural with a watch. And that's not even considering the frantic feeling when you don't remember where you put your damned cell phone! Yes, it's so much easier to glance at your left or right wrist to read the time without connection or electricity. It is the reason, pragmatically speaking, why they are still necessary and valuable tools today. You might also be surprised by how much you'll miss it when you don't wear one.
Watches can make us dream and feel good.
Yes! This tiny object is much more than an accumulation of its parts. It's also an expression of ourselves-of, our tastes, of our personality. A luxury ticker tells a lot about the person who wears it. It's also a fashion item. It links people, together-creating informal contemporary tribes. It can be an instrument of personal achievement because it might be precious, if not very charming. Why not translate a professional or personal success into something valuable that you can keep close to you, anywhere and anytime? Yes, your wristwear is one of your talismans, an object that, in a way, helps to record your life. Besides your wedding ring, if you have one, this is the object you will spend most of your time with.
Technology and Personality
Watches are also magic because they are complex, hard to build, and sometimes hard to find. Did you know that the most precise mechanical movement contains fewer than 150 parts? And everyone is produced with a precision of one-thousandth of a millimeter? Did you realize that you can find materials otherwise only used in spaceships and Formula 1 cars in some extreme models? And what about the fact that if you change the battery when it's low, a standard plastic watch might still last dozens of years without any other care until the plastic itself begins to disintegrate?
The Choice is Yours to Make
Proper timepieces combine unique and robust technology and carry a brand's personality from the most basic to the most complicated. Just as every vineyard specializes in a particular grape grown under certain circumstances and provides a specific taste to wine, every brand has its own, often strong, personality to create the necessary aura around the product. So, considering this, let's discover why and when Wryst started and what makes their perfect watches.
A style "out of the ordinary."
If you are wondering why Wryst was created, here are some facts:
From a young age, the guy behind this groundbreaking design frequently visited shops in Geneva, hoping to see the timepiece of his dreams. But he never really found an affordable "cutting-edge" creation that would make him take the jump.
In 2012, designer extraordinaire Jacques Fournier at Horology Design Limited decided to launch his brand after designing many different groundbreaking timepieces for international luxury brands. The fashioner creates a unique new style and offers five atypical and durable Swiss watch collections. From quartz to chronographs and onto automatic timepieces, the limited editions of 75 units are all sculpted by CNC machining.
Each piece running a precision Swiss movement benefits from the toughest materials and a unique, exclusive feel.
Men Choose Wisely and Make Intelligent Investments
A statement to take seriously: "A watch is like a piece of art." You should choose a model because you love it and not just for investment because you think it might make money. Wristwear is personal and tells a lot about yourself. They are emotional and mark your passage through time. Nevertheless, you have to be practical. For example, functional, aesthetic, like rugged sports models, go with anything and take the tough unintentional knocks of everyday wear. Most importantly, a watch must still fit you comfortably in size and depth relative to your wrist and be reliable and accurate. It should feel comfortable on your wrist and, most importantly, feel suitable for YOU.
The Soul of a Collector
Sometimes a simple yen for watches can take on massive proportions. It can become so absorbing for the passionate that some mutate into hunters tirelessly chasing their prey worldwide. But this intensity only concerns a minority, and most nice watches for men collectors live their passion quietly. They spend all their time on sales platforms and carefully watching auctions. Competition heats up among them as they all run for the same models.
Have What it Takes to Start a New Collection
Building a collection is like creating the story of the author. There are many ways of framing a group, but most collectors focus on one brand. Some choose to buy what they like. Others focus on certain complications. Some people pick models produced for specific occasions, and some look only for customized possibilities. There are no rules outside of the fact that you must like it. A collection is a personal expression. And it also naturally evolves throughout time. Many collectors decide to sell a piece to buy the next one. If you want to start a new collection of valuable Wryst timepieces, it can be rewarding to contact us beforehand to see if any discount perspective is within reach.
Seven Reasons Men Should Get a Quality Watch
1-Value
Is getting a watch worth it? Or, in other words, shouldn't I put my money into something else? The value of any object is defined by objective factors like the cost of production or the materials used and less pragmatic ones. The brand's prestige or the rarity of the product-something in watchmaking can create intense interest and competition among fans and make prices explode.
Watch companies set the prices of their products considering all these elements. Today, the brand's positioning (the price segment in which it sells its watches) is one of the most critical factors. Nevertheless, reputation, history, market presence, and visibility on powerful platforms such as mass media and events can be valuable clues to your objectives.
On a different note, buying a watch as if investing is playing a risky game. Take the secondary market for vehicles as an example: almost any good investment loses at least one-quarter of its value when it leaves the shop. At the same time, some collector items sold at auction indeed reach stratospheric prices. But these are exceptional circumstances created by rarity, particular specifications, and positive market momentum.
The right attitude is to expect to pay a specific price for a product that is of a quality that inspires you. It's almost impossible to expect more from fine watches than the great happiness and pride you feel when you wear the object of your dreams. Remember how many people buy one daily if you discount that as a valid reason. A product attracting hundreds of millions of customers per year is not a peripheral phenomenon. In the end, the real value of a watch six is located in its owner's eyes and heart. If you love it, then it will be worth the cost.
2-Beauty
Defining beauty is an art in itself. As the Oxford Dictionary states, it could be the pleasant feeling one experiences while appreciating an object or a representation that releases harmony, excellence, truthfulness, and originality. This entry asserts, above all, that beauty remains firmly in the eyes of the observer. Thus, beauty is not natural or commonly shared; it mixes culture, education, and personal taste. Consequently, beauty is as subjective and different as the number of humans in this world. Several elements combine to create beauty in watches, and you must consider most of them. We can point out the design that will seduce the shapes and functions at first glance or later.
3-Personality
Who are you? What do you want to show the world about yourself? Discreetly, a timekeeper reveals facets of its owner's character. You are what you wear. So what are you going to wear?
As with any item you wear, you will feel more comfortable balancing your watch and yourself. Some enthusiasts are even luckier if they own several models and can pick the one that reflects their day's mood.
One day, people will pay attention to what is on your wrist. Finding the watch that reflects your personality takes time, patience, and willpower. Friends and professionals can be helpful in this quest. Don't give up until you're delighted with your choice.
4-Passion
Timepieces can initiate intense passion because of their design, complexity, rarity, age, value, and artistic objects. Over time, many models, knowledge, and exchanges between specialists have created a culture surrounding watches above and beyond what could be termed "an exclusive club." The phenomenon has become more intense globally, thanks to new online communication tools. Some forums dedicated to horology and specialized media have existed for decades now. So, getting an informal education on watches is not a problem and helps better understand the refinements of a timepiece until simple leisure becomes an actual mission.
5-Patrimony
The heritage dimension of wrist watch for men matters a lot. Wearing the souvenir of one's grandfather or grandmother makes us feel closer to him or her. It is also a family history that goes from generation to generation. The most prestigious traditional independent brand that has been used since 1996 is no coincidence. So, if you are looking for something particular you might leave for posterity, put a watch on your list.
6-Dream machines
A watch can make your dream. It works like a little window to a little universe in motion. It can be a fascinating and even hypnotic show for those keen on architecture, science fiction, industrial realization, or art. Some people love observing the design details, the mechanism at work, the wheels in motion, and the pulsations of the hairspring on a mechanical watch. The metronomic pulses of the movement can also have a relaxing effect. The regular activity of the movement's parts catches the attention and encourages your mind to roam.
7-Perfect gift
The best watch brands for men make perfect gifts, and many are sold weekly for this purpose. What is nice is that there are men's watches for all tastes and all budgets. Some people like offering inexpensive, fun gadgets, primarily plastic, as spontaneous presents. When the price goes up, it's usually a gift for a milestone or a special event: religious celebrations, reaching voting age, graduations, weddings, professional citations, and awards.
In conclusion, the collections Wryst are a perfect gift and if your man is looking for a showstopper fashion style on the arm, look no further - The references offered in the small series may show exactly that. Moreover, the materials and designs are remarkable and timeless for a long-lasting experience. Contact us if you want to celebrate a milestone in his life, such as a professional promotion, birthday, or any event requiring him to be immortalized. We will let you know if a specific number is still in stock.