Black and Green Watch Elements PH3 Black Bracelet
This black and green watch Wryst PH3 in a limited edition with a dark grey dial for sport offers a brutal and innovative sportive look. This unique, solidly built timepiece benefits from the watchmaking industry's most challenging materials. The scratch-resistant black Diamond-Like Carbon coating for sports car engine parts and aerospace guarantees a durable and reliable black Wryst timepiece with green details.
Includes two different bracelets.
No tax
Delivered within 3-4 days
100% secure payments
The Black Casing Green Watch Wryst PH3 for Sports
The Green Timepiece Wryst Elements
The Swiss black model with green details Wryst PH3 for men includes two double injection silicone bracelets. With this reference, receive a black/green strap and a second Green and Black bracelet. The design is timeless and futuristic to suit perfectly charismatics and individualists.
Feel exclusive with these limited edition green watches. All luxury dark green wristwatches are unique, with a serial number engraved on the case from 01/75 to 75/75. These three super luminova hands and white-on-black date windows are perfect for outdoor and water sports. This PH3 will make you feel unique and privileged while you can freely concentrate on your next move.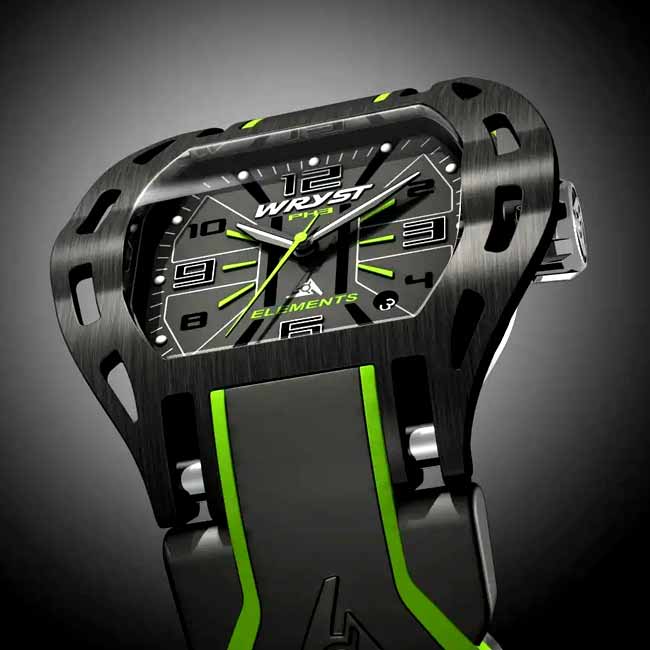 The models Wryst for sport are only available on the official online shop. We offer excellent reactive customer service. Buy a black Wryst with green details today for a stylish, long-lasting, luxurious feel without breaking the bank. This reference has Arabic numerals at 12h, 3h, 6h, and 9h. Dials and straps have deep green details, just like the previous Wryst Airborne FW3 chronograph produced many years ago. The FW3 was the first reference to become sold-out from the first Airborne watch series released in 2012.
Why Choose An Independent Manufacturer?
Wryst is passionate about making durable quality products designed to last. Many brands nowadays produce very high quantities of units, decreasing your chances of making the most of your investment. Industrial supply chains and high-quantity production lines often pay less attention to details, quality check controls, and thorough inspections.
World-renowned Swiss watchmakers make every customer less essential, and you are just one of many thousands of other customers. Choosing a smaller independent is your best chance to obtain your high standards and the quality finish you want for your money. Producing smaller units within a family-owned business means paying for what you get.
Tough Men's black sport tickers
A green luxury Wryst Elements PH3 with brushed black stainless steel casing, green watch dial details, and glowing hands. A "K1" crystal strengthens this exclusive luxury timepiece. This material is more scratch-proof than mineral crystal and harder than sapphire. The sports and outdoors-inspired collection Elements proves to be dedicated to individualist people with energy, style, and charisma.
Built and manufactured in the Swiss traditions, Wryst Timepieces excel in watchmaking and redefine elegance and finesse. You will enjoy wearing your lifestyle for your favorite outdoors. The PH3 is designed to endure sportive activities with a whopping 100 meters of water resistance. Make the most of water-related activities such as windsurfing, kitesurfing, jet-skiing, and many other watersports. These can also potentially be fantastic dive watches.
Black Coating Harder Than Steel
This new revolutionary protection is more stringent than steel watches. Carved by CNC machining in a grade 516L Stainless steel block, the timepiece is coated with DLC technology. A thin layer of black diamond-like carbon coating makes this exclusive special edition the world's strongest.
Enjoy checking out what time it is with luminous hands and hour markers in a low-light environment. The date window is located at a 3-hour position. The crown is secured and solidly screwed against the case for safe usage while practicing any activities. Mountain biking, free-running, you name it! This PH3 is as ready as you are to face all your challenges.

Wryst Swiss brand knows how important it is for you to make the right choice. The two-tone, flexible, comfortable silicone bracelet is 4mm thick and 22 mm wide. Solidly built and firmly attached to the case with an 8-screws bracelet system, the band will stay securely attached to your arm day in and day out. Wear the attractive, timeless green luxury Elements in confidence while you can concentrate on the tasks ahead.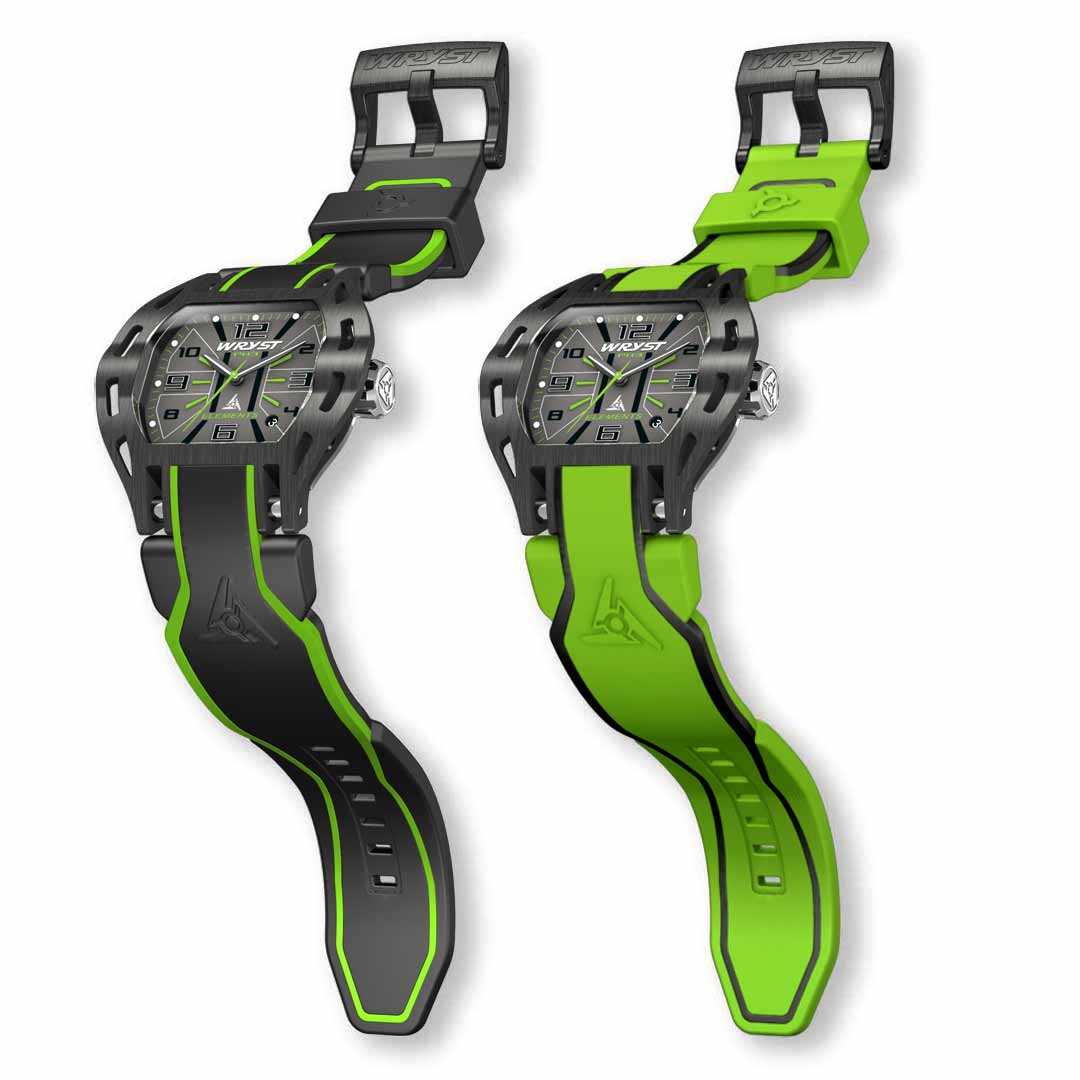 With a unique and brutal design, the PH3 is dedicated to simplicity and elegance with an ultra-sporty feel and groundbreaking look. The casing shows nicely contrasted fitted either with the bi-color black and green silicone strap or the green and black one. This black time wear with green details is more than a fashion accessory - It is a true statement of style, charisma, and individualism.
Even if the watch is stunning dressed with the original band, it can also become even greener fitted with the green silicone band. There is also the possibility of purchasing a luxurious black leather strap. Wryst has thrived on providing atypical designs in Swiss traditions since 2012.
The luxury black timepieces are in fashion this year, so go green and enjoy the fantastic outdoors with this unique limited edition green luxury Wryst Elements watch. The watch Elements deliver in style with a solid stainless steel case, quartz movement, and superluminova on the dial. The watch features surpass most other competitors for the same retail price. Also, this timepiece was produced following the immense success of a previous model called Wryst Airborne with chronograph functions, which has been a real success. Wryst was already inspired by the outdoors, adventure, and extreme sports at a very early stage.
Add to your everyday living a striking design showcasing your passion for adrenaline-rush activities. Other collections are produced in small series, such as the larger 50 mm-sized Wryst Force and the more accomplished high-end timepiece Wryst Racer with Automatic movement. Again, all the right ingredients are found in every reference produced by the watch company Wryst including solid and durable materials, Swiss quality finish, and a striking style demonstrating a powerful personality and charisma. All colorful references from this collection Elements are a perfect fit for athletic men.
Video of this Black and Green Watch:
Limited edition of only 75 units worldwide with serial number engraved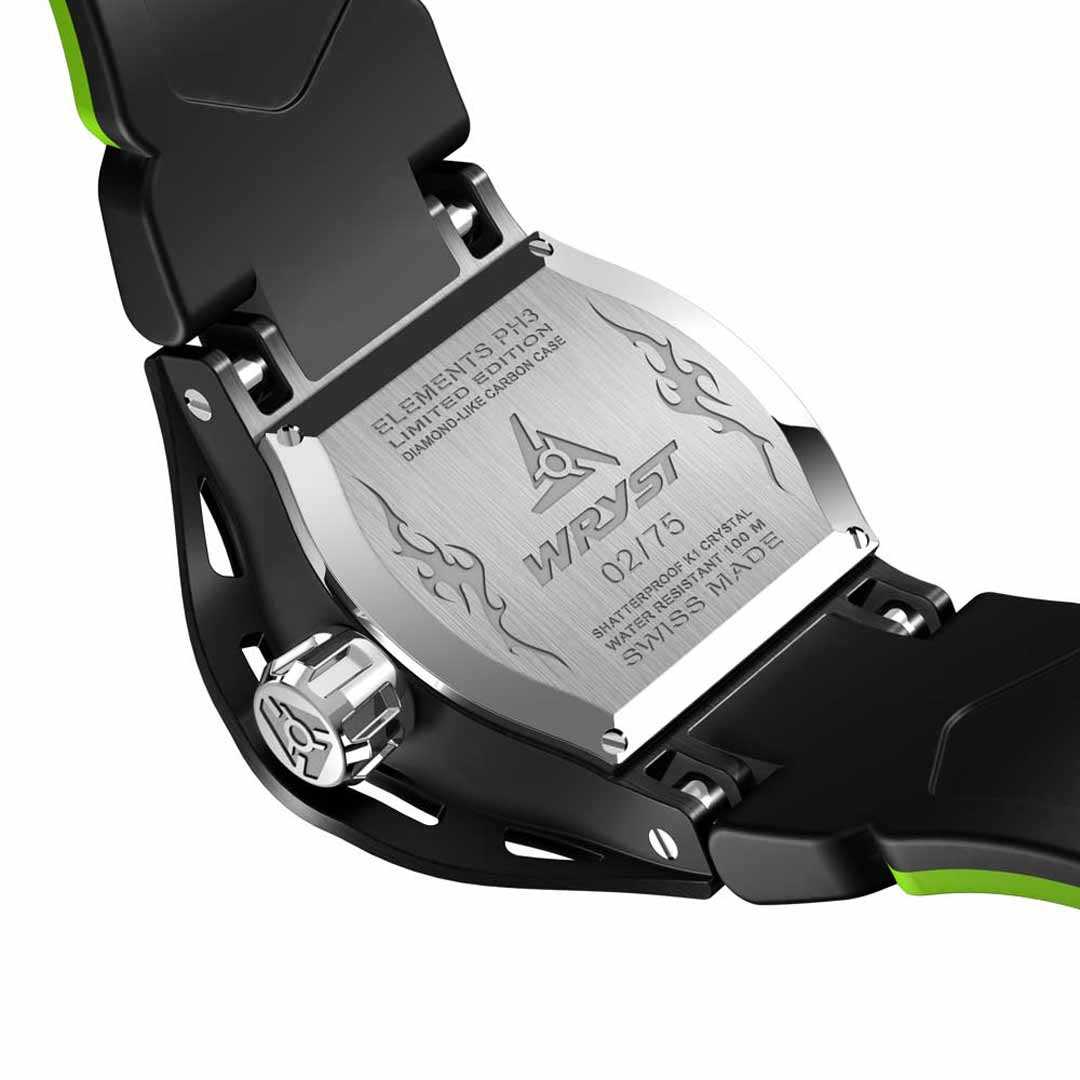 The PH3 is perfect for men looking to enjoy a comfortable accessory without the fuss of electronics, connectivity, recharging, and a dark black screen. The Swiss movement is anti-magnetic, anti-choc/vibration, and has a battery life of 48 months. Unlike the recent modern smartwatches invading the market, you can today purchase a 'piece of you.' Your success depends on your look!
The Elements Swiss green and black models are also a fantastic asset from casual nights out to formal meetings - You can also wear it while playing tennis or jogging in central park. The first choice of affordable Swiss watchmaking is one click away. Only available for online purchase. No middle man, no unnecessary distribution expenses.
There are also several other colors available, as follows:
Wryst - Luxury green & black Timekeepers Like Never Before
DISCOVER MORE REFERENCES HERE: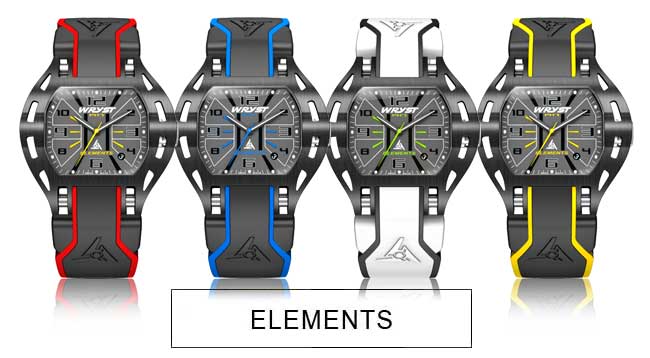 Data sheet
GENDER

Men

PRODUCTION

Limited Edition of 75 pieces

REFERENCE

Wryst PH3 Elements

MATERIAL

Stainless Steel

COLOR

Black

COATING

Scratch-Resistant Black DLC

CRYSTAL

Mineral "K1" Shatterproof

MOVEMENT

Swiss Quartz with Date

SIZE

45 mm

CROWN

Screwed Crown

BRACELET

Black and Green

EXTRA STRAP

Green and Black

WRIST SIZE

Wrist 150mm to 205mm

RESISTANCE

100 Meters (10ATM)

WARRANTY

12 Months
Looks great on the wrist
I have bought many watches in the past but this one is simply very special. I adore the way it looks on my arm. The case curved shape is fitting very nice and the silicone band super comfortable. Highly recommended for a different look.
Where are the other versions gone?
Hi, what happened to the other different colors you had before? I love this new watch but I also want to buy the one with red accents PH6? Thanks for letting me know when it is back in stock.
Design surprenant
Une montre de sport sans équivalent! C'est la plus surprenante de ma collection. Et je porte des Omega, Rolex, Tissot et Longines entre autres. C'est une vrai réussite pour une marque Suisse indépendante.
Just a brilliant design
I do not know how on earth they managed to create such a beautiful piece. Anyway, I must say I was glad to be able to secure one of them and had to squeeze my budget a couple of months to be able to afford it. Stunning exercise of craftsmanship which I admire. I would not thank you enough! Bart, from New Zealand
Great creation!
This Wryst PH3 is fantastic. At first I wanted the Airborne FW3 but soon found out it was sold-out. Nevertheless this Elements is just perfect for me. Only downside is the bracelet is a little tricky to swap. Thanks again for taking the time to send me the serial number I wanted. Sam
A true watchmaking achievement
I was actually looking for an outdoor watch with a stronger body and I am so glad to have come across this brand. It did not take me long to realise I had to take the jump. After saving for 3 months I finally gathered enough funds to buy this really unique reference. The construction is unreal - Looking at it is captivating every time. Plus I can swap the bracelets around periodically and I feel like wearing a different wristwatch everytime. Thank you so much Wryst for producing a <br /> different timepiece design. I just love mine!
Looks great on me
Lovely watch for sports and it looks better than any smartwatch I ever worn before. A great stylish shape and great to look at everytime. Minea, NYC
Mr Ali
Watch arrived today serial number 50# so happy with my purchase such a gorgeous watch, tt Isle of Man could be my next purchase many thanks Ali
Nice black sports watch
Love at first sight! We looking for a black sport watch that is more resistant to scratches... Love my new Element PH3 and will wear it unconditionally thank you
Stunning and innovative
A watch with a difference. I came across this elements ph3 watch while surfing the internet. Straight away the stunning design caught my eye. So i purchased the watch to find that it arrived in Australia in 7 days.[super quick post] This watch looks magnificent when it is in front of you. I will wear this watch with pride. Regards Lee.
Quality & design
I just order this watch today and I can barely wait to get' it. The watch is breathtaking, amazing design and craftsmanship; also the watch is build from really good materials, built to last. I am a watch collector and I can say with confidence that this watch will be the most appealing among all the other watches I own so far. I hope I will get' it in short time. Thank you Wryst Watches.
Outstanding Design
It is the design and the novel use of the materials that drew me to Wryst in the first place, and an easy decision to purchase thereafter.<br /> The quality is outstanding and the customer service from the team excellent, I have an FW3, and I recently required a battery change and service. Joanne from the sales team was excellent in her help, and the service and battery change was completed free of charge, with a change of strap also thrown in. Fantastic service, many thanks Wryst, an exceptional product.
 Write a review