Automatic Watches Wryst | Racing Mechanical Watches for Motorsports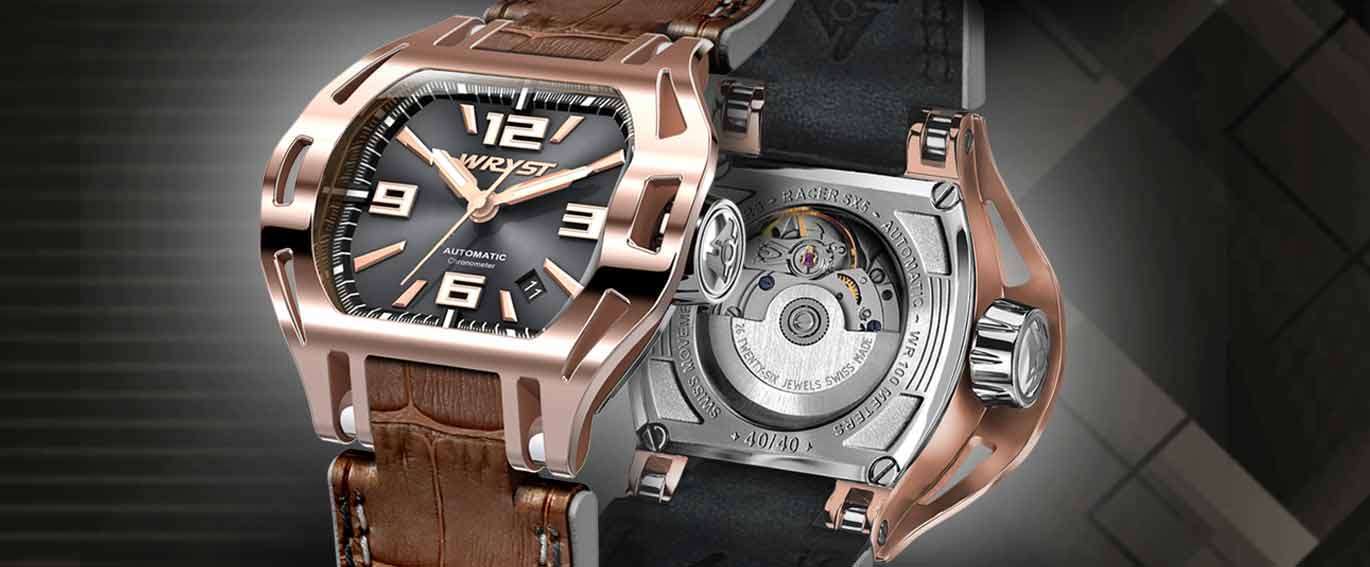 Introducing the Automatic Trailblazing Racer
Luxury Automatic Racing Watches
The automatic watch Wryst RACER is only available in a limited series of 75 pieces. Inspired by sports cars and luxury lifestyles, these Swiss racing watches correspond to demanding modern men. Reach new levels of class and fashion style wearing a modern luxury stainless steel automatic Swiss racing model. The brutal-looking automatic watch benefit from the hardest stainless steel grade 516L. A scratch-resistant sapphire crystal with an anti-reflective coating offers excellent strength and durability. Wryst produces collectible timepieces to make your investment worth it. Your next-generation Swiss racing timepieces are here at Wryst.
Stylish Men's Mechanical Watches
There are only very few durable automatic movements available today. Built, assembled, and produced exclusively in Switzerland, the watch brand Wryst has chosen the Sellita SW200 series for this premium collection. The self-winding automatic movement SW200-1 (Twin brother of the ETA2824) comes from in "La Chaux-de-Fond." Place of the world's best watchmaking precision and know-how. Also, the incredible design of the Racer collection adds value to a quality timepiece. Each model is part of a limited quantity of 75 luxury references and only available to a select few.
This durable high-end caliber with 28,800 BPH (4Hz) and 26 Jewels can be either self-winded by the motion of your arm or manually winded. With a full charge, the spring can be manual wound for up to 38 hours of power reserve. The evolution and changes from SW200 to SW200-1 is consisting of gear improvement. The Swiss movement maker found that each tooth has "slim geometry" and is known to get vulnerable to strong shocks. The new gear design provides power transmission equal to the SW200, but the tooth geometry has been reinforced to reduce the risk of damage from strong shocks.
When Watchmaking Becomes Feisty
The Wryst mechanical watches correspond to your motorsport-inspired spirit. As a result, the center's large circular hands pay tribute to the connection between pinions used inside the caliber mechanism and racing car engines. The dial features three openings that remind of a V6 engine on each side. Most importantly, the raised prominent central part is innovative. Finally, the polished yellow gold plated indexes and the manly casing will provide the wearer with a pleasing luxurious feel.
Caliber specifications of the automatic Wryst:
- Automatic Swiss movement Sellita SW200-1

- Operating frequency of 28'800 A/h (4hz)

- Number of jewels: 26

- Running time 38 hours of power reserve

- Sweeping second hand

- White on black date display at 3 hour

- Apparent oscillating weight through case back
1. Swiss Automatic Watches Racer SX1
Discover the luxury automatic Swiss Self Winding Watch SX1 with brushed stainless steel casing. This reference has a stylish black and dark grey dial with shiny polished details and a contrasted black hour hand. The industrial feel of this self-winded model is neutral yet highly fashionable. All Racer references have a screw-down polished crown. Five-pointed stars are printed on the dial and engraved on the case back. Stars are graphic symbols representing an idea or a concept. On this occasion, they represent your success and achievements. Purchase today an affordable winding automatic watch for men within this small edition. Contact us today to see if the serial number of your choice is available.
2. Luxury Automatic Wryst SX2
A more fancy version of this mechanical movement timepiece is the Mens Rose Gold Watch SX2. This polished Rose Gold case, dial details, and buckle will be ready for any challenge with style. If the modern man of the 21st century owns a luxurious rose gold plated wristwatch, it should be this Racer SX2. The self-winding timepiece features a smoked crystal on the back, revealing the Swiss movement Sellita SW200-1 rotor. Two silicone bracelets are also offered with these charismatic Swiss mechanical watches — the first in brown with white lines, the other bracelet in dark grey with brown edges.
3. Swiss Automatic Watches Wryst SX3 gold
A gold-plated version of this Racer design was necessary. The atypical curved case of this Gold Automatic Watch Wryst Racer SX3 will make the timepiece shine for years to come. Individualists often wear gold as often as possible. It is why the color gold is the color of success, achievement, and glory. As such, this SX3 doesn't need to have diamonds. The case's polished finish is more than enough to blind your opponent all along. A bright white dial with yet more halcyon details transforms this timepiece into an exciting experience. This model is successful beyond our expectations. Contact us now to request your favorite serial number between #00 and #75.
4. The Motorsport Automatic Watch Wryst SX4
As much as a luxury fashion accessory can associate with racing, the Automatic Racing Watch Wryst SX4 in shiny DLC and red accents hits the mark. Yet the most motorsport-inspired luxury design for men with a black dial and date window, these SX4 have it all. The reference is aiming at car racing, sports cars, and supercars drivers. Most of all, we have here an exclusive mechanical watch. An aggressive design takes this automatic piece to a new level in fashion style. Also, this Racer SX4 comes with two different modern silicone bracelets, both with red lines. Wryst produces special limited edition Swiss timepieces since 2012.
NEW - Handmade leather strap upgrade
All Automatic Racer references are now available with handmade quality leather bracelets. These new additions provide a luxury look for a recent acquisition or upgrade a timepiece you have already bought. All new straps provide double stitchings and a soft black leather back with markings "Genuine Leather" and "WRYST" signature. The bracelet sides are also different colors for three different types of leather to make for each combination. All square buckles available with the silicone bands are perfectly suitable for these additions. It is possible to purchase any of the four leather bands to replace yours or just a new look.
1/ Mechanical Watch with leather bracelet
The Luxury Automatic Stainless Steel Watch SX1. The most standard version of this collection with a simply-brushed finish casing and buckle. The luxurious black alligator bracelet is a perfect match for this everyday timepiece while waiting for your next motorsport experience. The dark grey edges are the exact Pantone color as the SX1 dark gray dial details. This more casual stainless steel case is the less notable of the collection yet the most sold. Contact us for the few serial numbers still available for now.
2/ Brown alligator leather bracelet with black/grey stitches
Rose gold and dark brown alligator are a striking combination for a head-turning statement piece High End Watches SX2 with polished rose gold casing and attachment buckle. The bracelet is in black leather on the back with the inscription "Genuine Leather" and the Wryst logo embossed. The band edges are in a different leather in grey color. Let your glory shine with an exceptional Racing design, perfect for formal meetings, luxurious vacations, or important meetings.
3/ Brown Automatic leather Watch
The first choice for a yellow gold mechanical watch is a brown or black color bracelet. Both brown alligator texture and elegant colors together inspire refinement and confidence. You may choose this timepiece for important meetings and cocktail nights, where you will make an impression. The Luxury Gold Watches SX3 also has a white dial and luminous white hands, and hour markers. This feature is perfect for comfortable reading in low lights and glows in the dark.
4/ Black Carbon Fiber Automatic SX4
The carbon fiber material is convenient in the motorsport industry and a logical choice for the raging Wryst Most Expensive Watch SX4 Wryst SX4. The sides and stitches in red are assorted to the dial details. This dark black DLC case and buckle are also in a shiny polished black finish. This timepiece is most likely to be part of any high-level motorcycling are car racing events. If you are looking for the perfect design to match your brutal supercar or hypercar, click on the picture and buy this unique reference while you still can do it.
Since the beginning of the watch company Wryst, several lessons are learned. One of them is that our discerning clientele is looking to purchase a luxurious RACER while making a long-term investment at the same time. High standards and quality making are a must for any business to thrive. Wryst is succeeding where most new mechanical watch companies have failed during these past decades.
The company's DNA is essential but what steals the show is always the product finish quality and details. Now strong of an eight-years long experience, we are always finding new ways to improve our products and customer service. Since the start of our venture, Wryst provides the world's best after-sale and customer service in the watchmaking industry. We consider every single one of our clients like a new friend embarking with us on a lifetime journey—empathy, honesty, and sincerity in mind. Wryst represents an attitude, a way of life, and a new fashion accessory concept. Look good - Feel good.
Nowadays, more than ever, your chances of success are directly linked with your appearance and your style. People seem to forget what it means to "go out." Our vision is as follows: "Dress like you are going somewhere better later." Wearing a Racer timepiece, you can first enjoy some adrenaline-packed sensations on the track and feel ready for any formal occasion later on.
These automatic luxury references for men include:
- Small series of only 75 units

- Hardest stainless steel grade 516L

- 50mm case size, 25mm bracelet width

- Serial number engraved on the case back

- 100 meters water resistant

- Sapphire crystal with AR coating

- Screw-in crown

- Polished luxurious finish (Except SX1 brushed)

- Assorted signed buckle

- Crown protecting case design

- World's most scratch-resistant coating (DLC coating for Racer SX4)

- Two modern double injection silicone bracelets

- Unique 4-screw strap attachment

- Engraved left case sides: "RACER Automatic."

- Luxurious wooden box with leather lining

- USB card for manual and 18-months warranty details

- Shipping available worldwide with DHL
Discover a video of the Swiss automatic SX3
(Model SX3 in Yellow Gold)
Choose your racing automatic watch serial number
(Subject to availability)
Above is a close-up on-the-fly video of the Wryst Racer SX3 in gold. You can discover every facet of this delightful creation. Enjoy also looking at the case back with refined engraving details and the see-through window revealing the workhorse Swiss movement Sellita SW200.
In conclusion, only limited quantities of these stylish luxury Swiss automatic references are available. Should you wish to know which serial numbers are available for purchase, please contact us. Also, the highly desirable and collectible Wryst mechanical watch will one day become sold-out. Therefore, upgrade your lifestyle today with the unique automatic Wryst Racer. This particular collection is not battery-powered quartz watches. The hands are easy to read, and as a dive watch, we would recommend the Wryst Ultimate watch collection with 200 meters of water resistance instead.
Choose to make a difference with an atypical luxurious piece today! Today, Wryst offers you the opportunity to make the most of your budget with a long-term investment. Add to your collection the only model only very few people will ever own. The Racer design is timeless, and your future will confirm this. Most of our customers are happy with their purchase. Actually, just under half of them have bought a second piece to add to their collection within the first twelve months.
DISCOVER ALSO THE QUARTZ CHRONOGRAPH "FORCE":