Automatic Watches Wryst Racer | Mechanical Watches for Racing Sports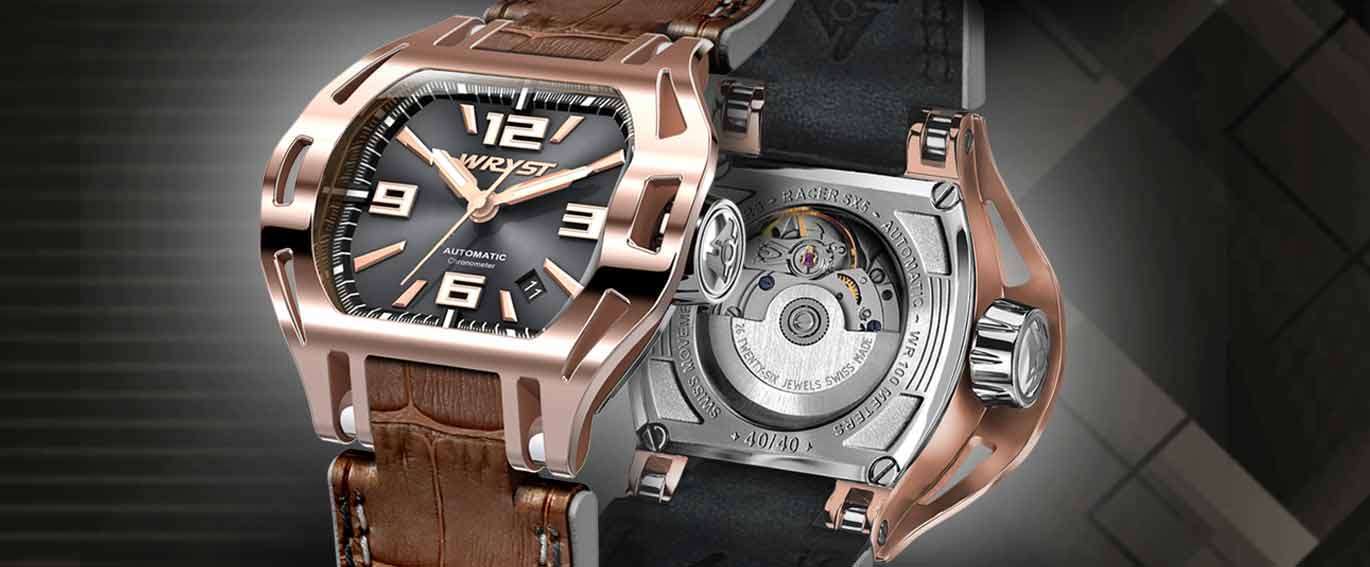 Introducing the Trailblazing Automatic Wryst RACER Watches
Luxury Automatic Racing Watches
The automatic watches for men Wryst RACER are only available in limited series of 75.
These Wryst automatic watches inspired by motorsports engineering, racing, and luxury lifestyles correspond to demanding modern men. Reach new levels of class and fashion style wearing a modern automatic timepiece for racing. The brutal-looking automatic "Racer" benefit from stainless steel grade 516L - The hardest ever produced.
A scratch-resistant sapphire crystal with an anti-reflective coating offers excellent strength and durability. Wryst produces collectible automatic timepieces that make your investment worth it. Your next-generation racing timepieces are here at Wryst.
Stylish Men's Mechanical Watches
There are only very few durable automatic movements available today. Built, assembled, and produced exclusively in Switzerland, the watch brand Wryst has chosen the Sellita SW200 series for this premium collection.
This durable high-end caliber with 28,800 BPH (4Hz) and 26 Jewels can be either self-winded by the motion of your arm or manually winded. The spring can be manual wound for up to 38 hours of power reserve with a full charge. The evolution and changes from SW200 to SW200-1 consist of gear improvement. The new gear design provides power transmission equal to the SW200, but the tooth geometry has been reinforced to reduce the risk of damage from strong shocks. The Swiss movement maker found that each tooth has "slim geometry" and is known to get vulnerable to solid shocks.
When Watchmaking Becomes Feisty
The Wryst mechanical watches for men correspond to your motorsport-inspired spirit. As a result, the center's large circular hands pay tribute to the connection between pinions used inside the caliber mechanism and racing car engines. The dial features three openings that remind of a V6 engine on each side. Most importantly, the raised prominent central part is innovative. Finally, the polished yellow gold plated indexes and the manly casing will provide the wearer with a pleasing luxurious feel at a lower price point and affordable pricing.
Caliber specifications of the automatic Wryst:
√ Automatic Swiss movement Sellita SW200-1
√ Operating frequency of 28'800 A/h (4hz)
√ Number of jewels: 26
√ Running time 38 hours of power reserve
√ Sweeping second hand
√ White on black date display at 3 hour
√ Apparent oscillating weight through case back
1. Wryst Automatic Racer SX1
Discover the luxury automatic Racer Self Winding Watch SX1 with brushed stainless steel casing. This reference has a stylish black and dark grey dial with shiny polished details and a contrasted black hour hand. The industrial feel of this self-winded model is neutral yet highly fashionable. All Racer references have a screw-down polished crown.
Five-pointed stars are printed on the dial and engraved on the case back. Stars are graphic symbols representing an idea or a concept. On this occasion, they represent your success and achievements. Purchase today an affordable men's automatic watch within this small edition. Contact us today to see if the serial number of your choice is available.
2. Luxury Automatic Wryst SX2
A more fancy version of this mechanical movement timepiece is the Mens Rose Gold Watch SX2. This polished Rose Gold case, dial details, and buckle will be ready for any challenge with style. If the modern man of the 21st century owns a luxurious rose gold plated wristwatch, it should be this Racer SX2.
The self-winding timepiece features a smoked crystal on the back, revealing the Swiss movement Sellita SW200-1 rotor. Two silicone bracelets are included with these charismatic Swiss mechanical watches — the first in brown with white lines and the other in dark grey with brown edges.
3. Swiss Mechanical Gold Watch SX3
A gold-plated version of this Racer design was necessary. The atypical curved case of this Gold Automatic Wryst Racer SX3 will make the timepiece shine for years to come. Individualists often wear gold as often as possible. It is why the color gold is the color of success, achievement, and glory. As such, this SX3 doesn't need to have diamonds.
The case's polished finish is more than enough to blind your opponent all along. A bright white dial with more halcyon details transforms this timepiece into an exciting experience. This model is successful beyond our expectations. Contact us to request your favorite serial number between #00 and #75.
4. The Motorsport Black Automatic Wryst SX4
As much as a luxury fashion accessory can associate with racing, the Automatic Racing Watch Wryst SX4 in shiny DLC and red accents hits the mark. Yet the most motorsport-inspired luxury design for men with a black dial and date window, these SX4 have it all.
The reference aims at car racing, sports cars, and supercars drivers. Most of all, we have here an exclusive automatic or manual winding watch. An aggressive design takes this automatic piece to a new level in fashion style. Also, this Racer SX4 comes with two different modern silicone bracelets, both with red lines. Wryst has produced special limited edition Swiss timepieces since 2012.
NEW - Handmade leather strap upgrade
All Automatic Racer references are now available with handmade quality leather bracelets. These new additions provide a luxury look for a recent acquisition or upgrade a timepiece you have already bought. All new straps provide double stitchings and a soft black leather back with "Genuine Leather" and "WRYST" signature markings.
The bracelet sides are also different colors for three different types of leather to make for each combination. All square buckles available with the silicone bands are perfectly suitable for these additions. It is possible to purchase any leather bands to replace yours or just a new look.
5/ The brushed Wryst SX1 with leather bracelet
The Luxury Automatic Stainless Steel Watch SX1. The most standard version of this collection with a simply-brushed finish casing and buckle. The luxurious black bracelet is a perfect match for this everyday timepiece while waiting for your next motorsport experience. The dark grey edges are the exact Pantone color as the SX1 grey dial details. This more casual stainless steel case is the less notable of the collection yet the most sold. Contact us for the few serial numbers still available for now.
6/ Brown leather bracelet with black/grey stitches
Rose gold and dark brown are a striking combination for a head-turning statement piece High End Watches SX2 with polished rose gold casing and attachment buckle. The bracelet is in black leather on the back with the inscription "Genuine Leather" and an embossed Wryst logo. The band edges are in a different leather in grey color. Let your glory shine with an exceptional Racing design, perfect for formal meetings, luxurious vacations, or important meetings.
7/ Brown Automatic leather Watch
The first choice for a yellow gold watch is a brown or black bracelet. Both texture and elegant colors together inspire refinement and confidence. You may choose this timepiece for important meetings and cocktail nights. The SX3 is ideal for any occasion you need to make an impression. The Luxury Gold Watches SX3 also has a white dial, luminous white hands, and hour markers. This feature is perfect for comfortable reading in low lights and glows in the dark.
8/ Black Carbon Fiber Automatic SX4
The carbon fiber material is convenient in the motorsport industry and a logical choice for the raging Wryst Carbon Fiber Watch SX4. This timepiece is most likely to be part of any high-level motorcycling are car racing events. The sides and stitches in red are assorted to the dial details. This dark black DLC case and buckle are also in a shiny polished black finish. If you are looking for the perfect design to match your brutal supercar or hypercar, click on the picture and buy this unique reference while you can still do it.
Since the beginning of the watch company, Wryst has learned to appreciate your specific needs. One of them is that our discerning clientele is looking to purchase a luxurious RACER while making a long-term investment at the same time. High standards and quality making are a must for any business to thrive. Wryst is succeeding where most new mechanical watch companies have failed during these past decades.
The World's Best After-Sale Service
Since the start of our venture, Wryst has been providing one of the world's best after-sale and customer service in the watchmaking industry. The company's DNA is essential but what steals the show is always the product finish quality and details. Now strong of an eight-year-long experience, we always find new ways to improve our products and customer service. We consider every one of our clients like a new friend embarking with us on a lifetime journey—empathy, honesty, and sincerity in mind. Wryst represents an attitude, a way of life, and a new fashion accessory concept. Look good - Feel good.
Nowadays, more than ever, your chances of success are directly linked with your appearance and your style. People seem to forget what it means to "go out." Our vision is as follows: "Dress like you are going somewhere better later." Wearing a Racer timepiece, you can first enjoy some adrenaline-packed sensations on the track and feel ready for any formal occasion later.
These hand-winding luxury references include:
√ Small series of only 75 units
√ Hardest stainless steel grade 516L
√ 50mm case size, 25mm bracelet width
√ Serial number engraved on the case back
√ 100 meters water resistant
√ Sapphire crystal with AR coating
√ Screw-in crown
√ Polished luxurious finish (Except SX1 brushed)
√ Assorted signed buckle
√ Crown protecting case design
√ World's most scratch-resistant coating (DLC coating for Racer SX4)
√ Two modern double injection silicone bracelets
√ Unique 4-screw strap attachment
√ Engraved left case sides: "RACER Automatic."
√ Luxurious wooden box with leather lining
√ USB card for manual and 18-months warranty details
√ Shipping is available worldwide with DHL
Mechanical watches for men and how they run
Mechanical or automatic watches are all about wheels, gears, springs, jewel bearings, and oils working together with only the physical laws of mechanics to govern the interactions between all the components. This rare complexity mastered by the human brain and hands creates all the appeal, mystery, and prestige of mechanically engineered watches.
A Fascinating Piece of Engineering
All automatic watches continue to fascinate for many reasons, starting with the tiny size of their elements. Indeed, the measuring scale here is a micron or one-thousandth of a millimeter (0.001 mm). To understand a little better what that means, consider that one of your hairs measures between 0.06 to 0.07 millimeters.
Until the nineteenth century and the improvement of machining tools, building a watch was a craft in which only specialists could design the movement, manufacture the components, assemble them, and make it all work. Such individuals still live among us today, even if they are scarce. Each of their tasks has become an appropriate field with an outstanding level of specialization. The complexity of movements has also increased significantly, making it sometimes impossible to apply the traditional ways of conceiving and creating watches using pencils, paper, and blueprints. 
A Close Look at the Automatic Movements
Calibers are created by movement designers and engineers using computers similar to those found in automotive engineering. Micromechanics is in charge of programming the computer numerical control (CNC) machining tools, which carry out the actual production of parts. Then watchmakers finish, assemble, test, and adjust the movements before fitting them into cases, adding the dial and hands, and closing them up.
Many tests are necessary to check the quality at different stages because of the difficult manufacturing process and level of details required. Dedicated craftspeople can also execute the various tasks separately. For instance, the assembly of a movement can fall into subgroups of parts with specialists in charge of assembling them. The experienced watchmaker focuses only on the most sensitive operations.
Art and decorative craftsmanship also find their way into movements. Mirror polishing, beveling, engraving, and even gem-setting are the usual techniques applied in fine watchmaking to embellish the mechanics by creating visual contrasts between the various parts and their surfaces.
Evolution and Improvements
Even if it is true that the principles of their design haven't significantly changed since the nineteenth century, watchmakers and engineers always work on improving the reliability and precision of movements. They have perpetually integrated innovations at every level in this quest, whether with materials or engineering processes. Nowadays, experimental techniques have emerged that, for instance, allow moving parts to be maintained in an almost floating manner thanks to micro magnets creating a small magnetic field.
This helps reduce friction between classic metal parts. Some parts are built-in carbon fiber or ceramics-for instance, with ball bearings. Other components are coated with a layer of artificially grown diamond for protection. Silicon has made more and more inroads in fabricating crucially sensitive and thin elements like the hairspring, the pallet lever, and the escape wheel. Very rarely, these new materials allow for new mechanical watches for men.
Structure of a mechanical movement
A mechanical movement can be imagined like a sandwich with a lower part and an upper part dedicated to securing all the moving parts (like wheels) between them.
Base plate
The base plate is the stable base of the movement. It usually looks like a flat coin with plenty of cavities and holes in it to allow space for moving components and screws.
Moving elements
The moving parts are mainly located in the heart of the movement. At times, some can be placed outside the base plate to highlight them.
Bridges
Bridges are sandwiched on top of the moving parts. They can also have holes for screws to go through that secure them to the base plate. The shapes of bridges and their configurations are like pictures on ID cards. Each says a lot about the movement, and connoisseurs are able to recognize certain movements and watches by only having a look at their design and specific elements. You may be able to do that one day!
Functioning
A mechanical movement is basically a system composed of interconnected cogwheels. The forms of their teeth as well as their diameters and sizes generally differ based on the roles they play. To fit into a case, this set of components assembled much like a puzzle is conceived to occupy a minimum amount of spatial volume. That is why a caliber can look so complex and confusing. Without this constraint, a mechanical movement could be constructed in a line, for instance, with each element put end to end next to each other. At one end, you would find the drum barrel (alias the energy store); in the middle a series of a minimum of three cogwheels forming the gear train (for energy transmission); and at the other end the escapement and balance for portioning the energy into segments.
Power
As a child, did you ever play with toy cars that had to be wound using a key to run around the floor until their energy was used up or have you at least seen these in a television ad? Basically, a mechanical watch works the same way, except that the energy lasts much longer because of the regulator subassembly that portions it. (A toy car does not have this regulator, which is why the energy runs out so quickly).
In a mechanical watch, energy is stored in the mainspring, which is located inside the spring barrel, asmall round container that revolves around an axis called the barrel arbor; it drives the gear train. Made out of a special metal alloy, the mainspring is created with a very specific manufacturing process. Its mission is to unwind, releasing tension and thus energy as regularly as possible no matter the conditions and the level of tension. At one end, the spring is fixed to the center of the barrel arbor. The barrel arbor is the part that rolls the spring up around itself, thereby creating the tension. It is activated by the barrel's ratchet wheel, which is a cogwheel placed outside the barrel and directly linked with the manual or automatic winding system.
At the other end, the mainspring is fixed on the side of the barrel drum that powers the gear train thanks to an external toothing. The mainspring can end with a slip spring that glides along the barrel to avoid it breaking from excess winding. That system is often found in older watches; in newer timepieces the mainspring is usually secured to the barrel.
Power reserve
In a mechanical movement, the available power reserve (the number of hours the watch is supplied with energy) depends on various factors. The length of the mainspring has a significant impact. And in certain watches, the mainspring can measure more than one meter! Watchmakers can also add several spring barrels, a feat that can be compared to putting several gas tanks in a car. Recent high-end mechanisms can house up to eleven barrels for a total power reserve of fifty days - more than a month and a half! In comparison, a regular automatic watch caliber usually has a power reserve of about 42 hours. The winding system has a direct influence on the conception of the caliber.
Remember that a longer power reserve on a manual winding watch is a positive thing: If the owner must wind a watch less frequently, it saves the mechanism from excessive wear and tear. The benchmark set for some years now is eight days of power reserve. Why such a length? First, it makes sense because some aficionados own more than one watch and generally change them on the weekend. As they don't want to have to set a watch each time they pick it up, they like to have a power reserve that lasts for at least one week.
Last but not least: Keep in mind that the duration of the power reserve provided by the brand usually corre sponds to the period of time during in which the torque is strong enough to ensure the precision of the watch, but that it will most likely run longer.
Manual winding
The manual winding system was the first one invented, and it is the simplest version: Energy enters the movement from an external source. In old watches, owners needed a key or another tool to wind the move ment. That is still the case with many wall clocks, for instance. In 1820, an English watchmaker named John Arnold invented a little external element that allows the wearer to wind the barrel: the crown. The gold standard today, the crown is general ly positioned on the same side of the watch as the key spring barrel ele ments. Note that you can wind every mechanical movement-even auto matic examples-using the crown.
Automatic winding
Automatic movements are as clever as they are practical. It's true, turning your crown regularly to wind the mainspring can be boring and take up your time-and it goes without saying that if you forget to do it, your watch will stop working without you noticing it. Comfort and a need for a certain security regarding energy reserves inside the caliber motivated watchmakers to invent self-winding systems. The first watches including a self-winding system were invented at the end of the eighteenth century. But today, mechanical watches for men out number manually wound ones and with good reason.
From the beginning the idea was to use the motion of the owner's body, and in particular his or her wrist, to generate energy. To do so, watchmakers added a mobile element to the back of the movement that oscillates back and forth. This part, called the rotor or the oscillating mass, has the approximate shape of half a disk and revolves around an axis. The rotor is directly connected to the spring barrel via a gear. Some systems wind only in one direction of oscillation, others in both; this is a choice that the movement designer makes. The result is the same, except that it takes a little bit more time to fully wind a movement. with a unidirectional system. On certain movements the rotor makes some noise when it moves, which can be considered a kind of signature element. And if you pay close atten tion, you can usually also physically feel the motion of the rotor when you wear the watch.
Note that most of the time the axis for the rotor is situated in the center of the movement-but not always. Some models, and only some, are equipped with micro rotors. Micro rotors are smaller examples that make their revolutions not above the movement, but within it. These are chiefly created to reduce the height of a movement and are much more challenging to manufacture and adjust.
The Regulation:
Escapement and oscillator
The goal of the mechanism usually summed up as "the escapement" is to regulate the flow of energy coming from the barrel through the gear train and to split it into regular impulses to count time. You can see this action played out on the dial. Indeed, if you have a long second hand on your watch, just note that each almost imperceptible step it takes forward is the result of one impulse. The regulating system is a set of parts very accurately made and adjusted; its precision is passed on to the act of time measurement.
Strictly speaking, the regulator is divided into two major subassemblies: the oscillator and the escapement. The oscillator acts in combination with a large, light wheel called the balance wheel and an ultrafine hair spring that is rolled into coils and located in the middle. These two components are the most delicate and sensitive in any mechanical watch. Their manufacture is the biggest secret brands hold on to, and professionals able to work on them are rare, gifted, and very much in demand in the industry. One end of the hairspring is secured to the balance staff, while its other extremity is secured to an external and immov able attachment point. Its role is then to oscillate, meaning turning in one direction before coming back in the other in order to create impulses.
The escapement subassembly comprises the escape wheel, pallet lever, and pallets. It portions the energy and sends it to the oscillator. Working together, the oscillator and the escapement transform the linear flux of energy into pulsations that give rhythm to the entire movement. The speed of these oscillations provides the frequency of the caliber. And the higher it is, the more precise it becomes.
Jewels and shock absorber
The various wheels and components of a mechanical movement must turn as easily as they can; any friction represents a loss of energy and precision. For this reason, watch makers use synthetic rubies called jewel bearings to maintain the ends of the axes with as little friction as possible. These jewels are minuscule carved disks with or without a tiny hole in the middle. Historically, they were made out of natural ruby; now they are the purer synthetic ruby. Thanks to their man-made manufacture, colors can also vary from the original red. Usually, the number of jewels a movement con tains is engraved on the movement.
The rubies maintaining the most sensitive axes-like the balance wheel, for instance-are usually doubled with a shock absorption system. This component mainly has the shape of a circular micro blade spring positioned within a fixed part where the jewel is located.
Discover a video of the automatic watch SX3
(Model SX3 in Yellow Gold)
Choose your own serial number
(Subject to availability)
Above is a close-up on-the-fly video of the Wryst Racer SX3 in gold. You can discover every facet of this delightful creation. Enjoy looking at the case back with refined engraving details and the see-through window revealing the workhorse Swiss movement Sellita SW200-1.
In conclusion, only limited quantities of these stylish luxury automatic watches are available. Should you wish to know which serial numbers are available for purchase, please contact us. Also, the highly desirable and collectible Wryst watches will one day become sold out. Therefore, upgrade your lifestyle today with the unique automatic watch Wryst Racer. This particular collection is not battery-powered quartz dress watches. The hands are easy to read, and as a dive watch, we would recommend the Wryst Ultimate watch collection with 200 meters of water resistance.
Choose to make a difference with an atypical luxurious piece today! Today, Wryst offers you the opportunity to make the most of your budget with a long-term investment. Add to your collection the only model only very few people will ever own. The Racer design is timeless, and your future will confirm this. Most of our customers are happy with their purchase. Over half of them have bought a second piece to add to their collection within the first twelve months.