Black Watches for Men Ultimate ES30 Size 45 mm
The black watches for men Wryst Ultimate ES30 in stainless steel are protected with black DLC coating. This stylish scratchproof 45 diameters limited edition watch with a black and green dial is tough and robust. The ES30 is the world's toughest black steel watch out there. The sapphire crystal and 200 Meters water resistance will guarantee to resist rough outdoors and any extreme daily sports use. Wryst is the Ultimate lifestyle Swiss black sport watch. An extra double injection silicone strap in Green and Black is also included.
No tax
Delivered within 3-4 days
100% secure payments
Black Watches Wryst ES30 for Men With Green Details
Are you looking for an elegant and ultra-sporty black Swiss watch? The Wryst black watches for men ES30 in a black casing and green details with a robust and bold feel may not stay in stock for too long. Only 99 are produced, and watch out for the incredible scratch-resistant black DLC coating - The most affordable timepiece with this coating on the market! We recommend you hurry and contact us to reserve any particular serial number today.
An extra Silicone Strap in Black and Green Also Included with this Black sports Watch
Please get in touch with us if you would like to receive your best timepiece with black DLC ES30 running an exclusive quartz movement and fitted with the silicone strap instead. Note your timepiece is initially adorned with the brushed black DLC solid stainless steel bracelet. We will offer an extra free double injection silicone band in Green and Black to add more to your order.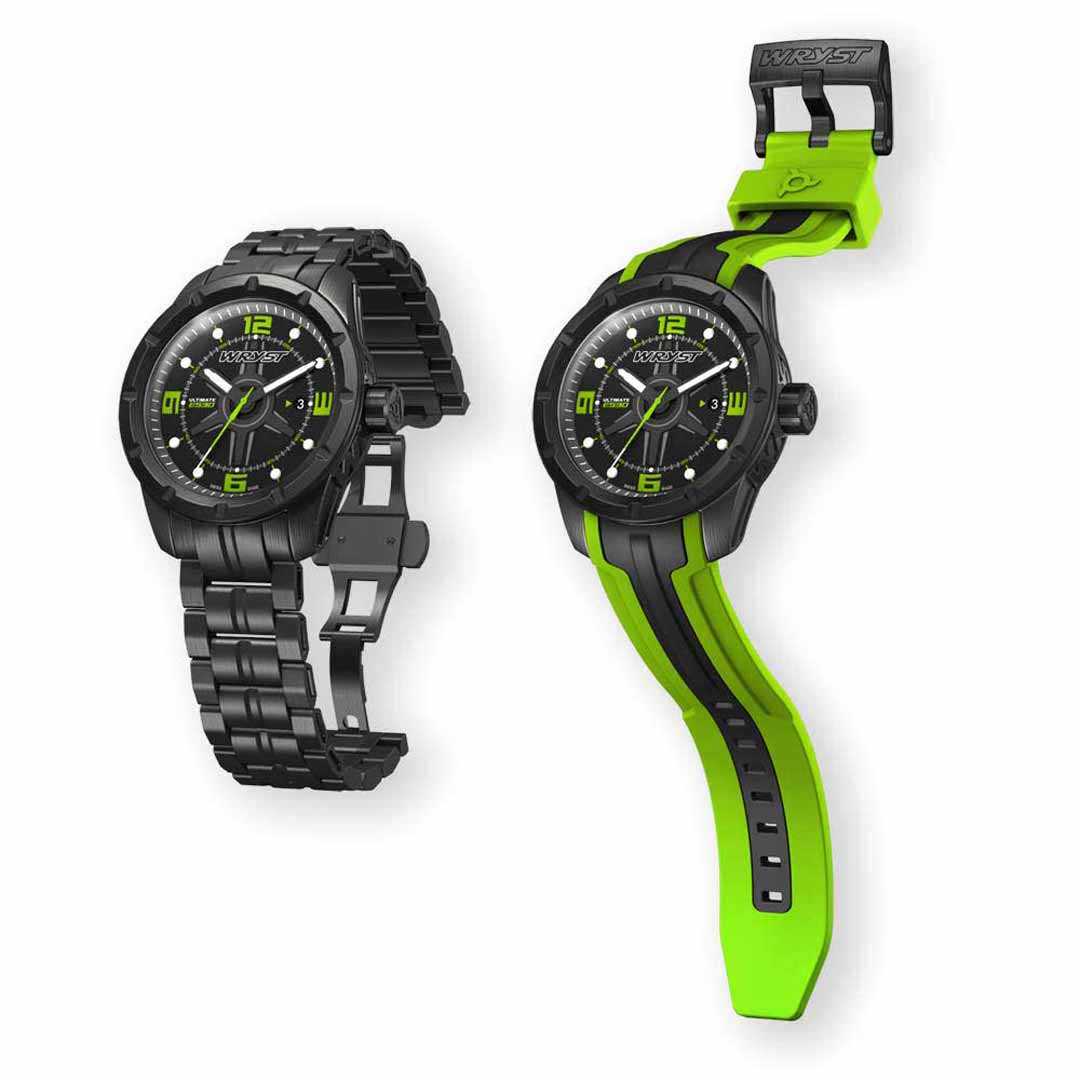 Wryst thrives on offering value for money with affordable black watches for men, combining exclusivity and high craftsmanship standards. The solid Wryst Ultimate black Swiss watch ES30 with Black DLC coating is one of the most resistant, eye-catching stainless steel watches. We also offer a selection of leather straps for this series.
Best Value for Your Money
All you need in one unique timepiece! The Ultimate wristwatch collection benefit from scratch-proof and shatterproof sapphire crystal. The matte black coating on the case, crown, and square buckle are coated with black DLC, much harder, stronger, and more durable than PVD. The stainless steel strap with DLC coating can be swapped with the interchangeable silicone straps in green and black size 22 mm. These are the only timepiece with a circular face available from Wryst. The date window is open at the 3-hour position on the black dial. With no need for transparency in supply chains, the ES30 is only available online and directly from the manufacturer.
Each Ultimate comes with an exclusive 18-months warranty. We offer one of the quickest and most emphatic customer services in the watch industry. With DHL Express service, you can use the coupon code FREE SHIPPING in your cart for prompt and secure delivery worldwide. For the United Kingdom, we will use Royal Mail Special Delivery service for next-day delivery nationwide.
Eight Reasons to choose a WRYST Black DLC Watch Over Other PVD black watches.
1/ A Hard and Strong Platform
316L stainless steel (also known as marine grade or surgical grade stainless steel) is the most widely used alloy in manufacturing sports watches. The watch boasts an austenitic stainless steel alloy with Chromium (16 to 18 %) and Nickel (10 to 14 %). In comparison, Wryst uses a more superior grade, i.e., 500 Series (516L) stainless steel, to manufacture their timepieces. This high-chromium Martensitic stainless steel alloy is more challenging, stronger, and heat resistant than the 316L grade. So the hard 516L stainless steel case provides a robust platform for DLC coating. It ensures good internal strength for every Wryst Black DLC watch preventing material damage.
2/ Enhanced Scratch resistance
Scratches are inevitably a nightmare for every luxury watch owner. Even the watches built with solid materials like stainless steel and titanium are vulnerable to scratches when exposed to other harder metals. For example, machine parts, doorknobs, doors of vehicles, and other metallic parts can induce scratches and bends on your wristwatches.
If the case material is harder, the watch will be more scratch-resistant. Therefore, Wryst has used a black DLC coating for some of its extreme sports companions. These black DLC watches with superior quality amorphous carbon coatings are more scratch-resistant than Black PVD watches.
3/ Corrosion-resistance
The chromium content decides the anticorrosion properties of a stainless steel alloy. The majority of the metals, including steel, are vulnerable to corrosion. Depending on the grade of stainless steel used, the corrosion-resistant can vary. For example, the high chromium 516L stainless steel used in Wryst timepieces has better anti-corrosion properties.
The surface treatment is widely used to protect metallic parts from corrosion due to weather, salt water, acids, or other environments. The technologically advanced thin-film coating methods like PVD and DLC can also significantly improve resistance from all types of corrosion. The black DLC coating over the 516L stainless steel case makes each Wryst Black DLC watch maintain superior anticorrosion properties to other black PVD watches available today.
4/ Smoothness and Comfort
DLC ensures comfort in wearing and handling. Despite its broad dimensions and robust character, every Wryst Black DLC watch has a smoother surface finishing than other black PVD watches. The smoothness of the case, bracelet, and other external parts reflects graphite content in black DLC coating. This smoothness factor also improves the stain-resistant of the Wryst Black DLC watches.
5/ Resistance to Heat
Black DLC coating improves the high-temperature strength of the 516L stainless steel case. Wryst Black DLC watches can survive excessive temperatures compared to black PVD timepieces from other brands.
6/ Resistance to Wear and Abrasion
Black DLC coating improves the durability factor of the case, crown, and buckle. The hardness of DLC coatings protects from accidental damages and hard particle penetrations. The robustness and structural stability of the DLC-coated watch case also protects the dial and movement from damage. These properties increase the longevity of Wryst black DLC watches compared to other Black PVD timepieces.
7/ Cost-Effective
You are far better off purchasing one black Watch Wryst than dozens of timepieces with a poor-quality black coating. Due to the complexity of DLC coating technology, only a small number of watchmakers offer DLC watches in their product range. The black DLC watches usually come at exorbitant prices. It is also costlier to go for custom black DLC coating services for your existing non-DLC wristwatch. The difference between PVD vs. DLC becomes obvious.
Wryst offers high-quality black DLC watches at an affordable price range, starting from USD 640.00!
8/ Look and Aesthetics
In addition to its protective features, DLC coating provides excellent aesthetic finishing for the timepieces. All Wryst Black DLC watches feature a superior and brilliant black surface finish suitable for various dressing styles. Compare to other Black timepieces, PVD vs. DLC is a no-brainer; choose DLC every time.
What's More?
As we have stated above in this description, there are only 99 people in the world who will ever wear this stunning black DLC ticker. At last, a Swiss manufacturer offering incredible value for money and the first-ever affordable Swiss timepiece with this groundbreaking Black Diamond-Like Carbon coating. There are also many other aspects to discover about this wristwear experience. Take the jump today! Become one of them and secure the serial number of your choice - subject to availability - and showcase a statement piece for years to come.
This groundbreaking timer also includes a free extra bracelet in green and a central green line.
In conclusion, the choice will always be yours to make. But we also have developed this strategy as we know how important it is to see frustrated customers buying watches with poor quality PVD black protection and higher prices than this Wryst ES30.
Other references with silicone bracelets from the "Ultimate" collection:
Also available with two silicone bracelets here: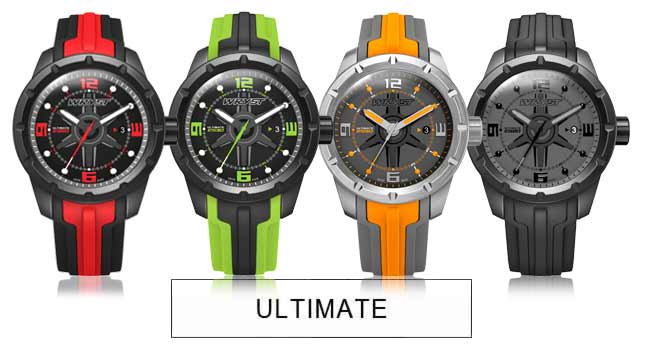 Data sheet
GENDER

Men

PRODUCTION

Limited Edition of 99 pieces

REFERENCE

Wryst ES30 Ultimate

MATERIAL

Stainless Steel

COLOR

Black

COATING

Scratch-Resistant Black DLC

CRYSTAL

Sapphire Crystal

MOVEMENT

Swiss Quartz with Date

SIZE

45 mm

CROWN

Screwed Crown

FEATURE

Deep Engraving on Case Side

EXTRA STRAP

Green and Black

METAL BAND

Solid Steel with Black DLC Coating

WRIST SIZE

Metal 176/230mm, Silicone 150/205mm

RESISTANCE

200 Meters (20ATM)

WARRANTY

18 Months
Top Army Watch
Very strong hard coatin - Have been wearing the watch for two months everyday and the coating is mint. In the past I have ruined black watches within days. Fantastic quality and has a nice presence on the arm. The sapphire and screw down crown with 200 meters are more than I expected at this price point. Thanks!
Highly recommended
Received my watch and I love it, feels and looks good, comes with 2 straps and a lovely presentation box, a lot of detail and work has gone in to this watch and I am very happy with my purchase. Good service.
Stunning
This ES30 is really different and I love the design of the case side very much. I bought the watch the minute I saw it - Due to the high-specs - and that was indeed the right choice. Also the DLC coating makes me confident it will last as opposed to other black watches I bought in the past which had the black coating all scratched and perished within several months.
Bold but a bit heavy
I love black watches but they scratch very quick. When I saw this black DLC details I had to take the jump. Yes the coating is increadibly resistant but with the metal bracelet that make a watch too heavy for my linking. I fitted the spare silicone band included and all is good now. The size is just right I would strongly recomend this wryst ultimate to anyone looking for more resistant black watch.
Very nice sport watch
I just received my ES30 in black/green with the new black DLC metal bracelet and I am very happy with the purchase. The watch feels nice and heavy on my arm. Excellent finish quality. Time reading is ultra clear with large hands - Just what I needed. Thank you so much Wryst. Highly recommended! Only downside is that I could not find any instructions on how to swap the bracelet for when I want to swap for the green/black band.
 Write a review