Swiss Army Watch | Military Watches Black DLC
The Wryst Ultimate ES30 Military "Camo"
Limited Edition Swiss Military Camouflage Watch
This Swiss army watch offered by the visionary watchmaking brand Wryst is a field watch dedicated to matching the army combat uniform. It is perfect for military veterans and recreational activities such as hunting, fishing, and shooting sports. This ES30 "CAMO" with camo pattern is an all-around quality bold timepiece with numerous strengthened specifications.
The Wryst Ultimate is an exclusive collection dedicated to the ardent devotees of extreme sports watches. The brand's other flagship watch models feature a signature barrel case design, whereas this unique collection offers round case timepieces. These reliable and robust sports timepieces for men also maintain rigorous quality standards of top-grade Swiss watches.
Shock-resistant tactical watch for military personnel
The products made with military specifications are highly sought-after in the market. Switzerland is a leading producer of military-styled products like Swiss Military camouflage watches, accessories, and knives. Some brands use Swiss Army or Swiss Military labels to highlight their expertise in delivering timepieces to the Swiss army. Sadly, most so-called Swiss Army watches lack the original specifications of an extreme Swiss timekeeper.
The Wryst Ultimate ES30 Camouflage
Genuine infantry watches are known for their quality standards specific to armed forces. They are also popular among a considerable number of watch connoisseurs. Meticulously crafted according to strict specifications, a Swiss army-grade wristwatch can also be perfect as a reliable sports timepiece. Wryst also provides devoted and excellent customer service. Like Victorinox watches, other high-end names in the watch industry can not compete with our black Diamond-Like Carbon Coating. For example, the Swiss Chronograph Maverick Black Edition has a vulnerable Black PVD coating. Such poor-quality coating is known for being scratched very quickly.
With the Ultimate black edition, your investment is protected and will only cost you a fraction of the price. Furthermore, a black DLC stainless steel bracelet is also available if you wear a high-quality analog watch with an integral stainless feel. When you are enjoying the outdoors, you certainly do not want to find out later in the evening or the next day that your beloved timepiece has a scratch mark. It will also be disappointing with a Victorinox to see the black protection fading in time on the buckle or clasp. There is only one specific way to feel safe wearing a black watch. Choose today our revolutionary black DLC coating, which is harder than stainless steel material.
Purpose of Camouflage for a Military Watch for Men
The camouflage technique has been used by armed forces worldwide as an essential part of modern military tactics. You can find it from disruptively patterned battledresses to deception techniques used to conceal arms and army equipment from the enemy. The camouflage pattern has also been an inspiration for fashion designers and stylists since the beginning of the 20th century. It is right now an established style in fashion clothing. There is also an increasing trend to equip wristwatches with CAMO or NATO straps for the military-style.
The khaki-green camouflage strap of this army-inspired wristwatch features the disruptive pattern of combat dresses. This watchstrap perfectly complements the style of army personnel's battle uniforms and camouflage pattern clothing of trendsetting civilians. Apart from its aesthetic appearance, some exceptional features also play a significant role in making this timepiece sportier and combat-ready.
The Ultimate model ES30 is a perfect timekeeping companion for air, land, and naval forces. This Wryst timepiece fusing the military-style with stringent specifications will be a significant addition to a gentleman's wardrobe. The impressive features and pocket-friendly price range make this swiss army wristwatch preferable to any top-grade Swiss mens military watches.
Featuring a 45mm case, the Ultimate ES30 model with camouflage strap is one of the boldest military-style watches in the market. The massive case affirms the boldness and warrior-like character of the wristwatch to its proud owner. The large size diameter of the dial improves the visibility of the time display. The large crown with grooves allows a quick and easy setting of time and date.
Like any army equipment, a military camouflage watch must be rugged and reliable enough to withstand harsh environments and extreme elements. Furthermore, it should survive different combat environments, whether it is land, sea, or air. The above quality standards are also applicable to an ultimate sports watch. A leading specialist in this product category, Wryst uses excellent quality, innovative, and superior grade materials to manufacture timepieces.
Robust Swiss Army Watch ES30 With Black DLC Coating
This Ultimate ES30 model features black DLC coating on its 516L stainless steel case, including bezel and crown. The protective, ultra-thin diamond-like carbon coating significantly improves the hardness and corrosion resistance of this reference. The DLC coated timepieces display superior scratch-resistant properties compared to stainless steel, titanium, etc. The modernistic DLC technology makes this timepiece exceptionally robust and long-lasting than any other outdoor army wristwatch.
A potential threat to any stainless steel Swiss timepiece is the material degradation of its parts due to corrosion. Usually, various factors like moisture and the presence of salt accelerate the corrosion of metals. For example, seawater contains a significant amount of salt, which stimulates the rusting process of alloys. As a result, constant sea exposure can increase the watches' metal parts and components' corrosion. Therefore, the timepieces used by Navy troops and sailors must benefit from corrosion protection.
The DLC coating technology also provides superior chemical resistance properties to a timepiece. The chemical attributes of black DLC coating protect the Ultimate ES30 from corrosion due to various sea elements. This feature makes the army watch perfectly suitable for naval operations, sailing, and other activities like off-shore engineering, research, and expeditions. This timepiece has an impressive water resistance of 200 meters, suitable for the missions of military divers, navy seal, marine corps, marine commandos, and of course, the Air Force.
Strength and Robustness
The modern Swiss quartz movement of each Ultimate ES30 swiss army watches men ensures precision and accuracy, a must for army force activities. Its durable battery with an impressive 45 months lifetime keeps the timing instrument ticking without interruption for more extended periods. This watch also indicates the date perfectly suitable for missions requiring staying in the camp for prolonged periods.
The Ronda 515 Swiss quartz movement can withstand violent impacts and shocks according to ISO 1413 (NIHS 91-10) specifications. It has an impressive anti-magnetic property to prevent deviations of accuracy when exposed to magnetic fields. It also can operate in temperatures ranging from 0 to 50 degrees Celsius. This quartz caliber housed inside the rugged and highly secured case of each Ultimate ES30 watch maintains accuracy and precision. The movement is also easy to replace and repair.
A legible and clutter-free dial is an absolute necessity for a military wristwatch. Also, it must provide a bright display of time, even in the darkest night. With its black dial featuring large hour markers and hands, the military watch ES30 offers easy and quick reading. The generous application of luminescent coatings on the hour markers and hands ensures excellent night vision.
Luminous Hands and Hour Markers Glowing in the Dark
The well-designed black dial is also appealing. The 6-spoke star design on the dial center is a nod to the warrior-like quality of the timepiece. The green highlights, including 3, 6, 9, 12 numerals, and seconds, perfectly complement the khaki-green camouflage strap. Protecting the dial is a 2mm thick, scratch-resistant sapphire crystal glass featuring an anti-reflective coating to reduce reflection. The black DLC bezel features 12 grooves in line with the hour markers on the dial. The elevated topmost part of the bezel protects the front glass from scratches and breakages.
Video of this Army Watch here:
More Versions on This Wryst Camo Reference are Also Available
Apart from the model with a camouflage strap, the men's watches are available in two more versions featuring green details. One variant is excellent, with a black and green double injection silicone rubber strap complementing the case and dial color pattern. This model also includes a supplementary all-black silicone strap.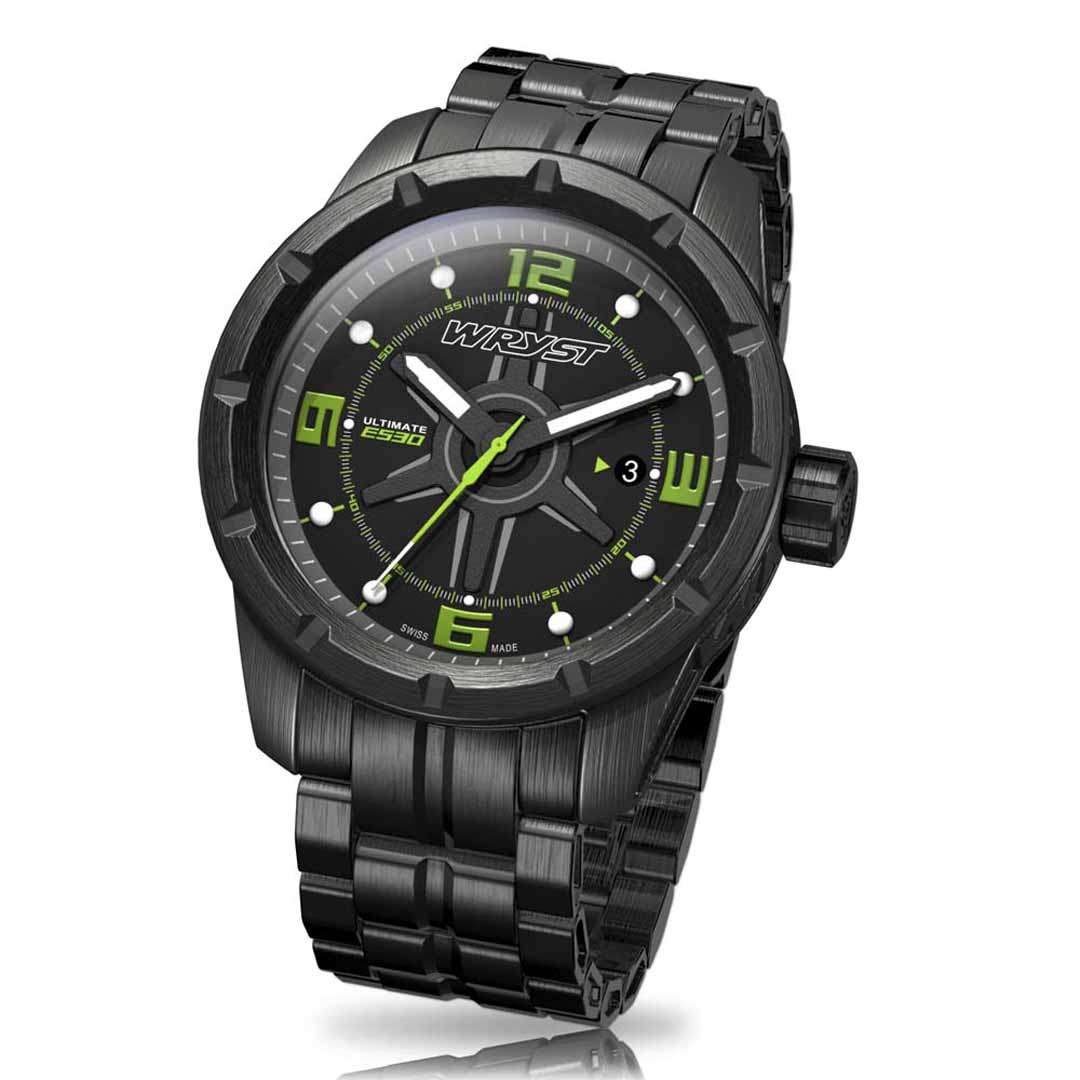 Wryst ES30 with Black DLC Stainless Steel Bracelet
The add-on replacement strap provided with this model is a green and black double injection silicone bracelet. Another variant comes fitted with a silky smooth black DLC bracelet offering a unique wearing experience. The interchangeable straps allow the wearer to choose different styles ranging from camouflage dress to sportswear and casual to office wear.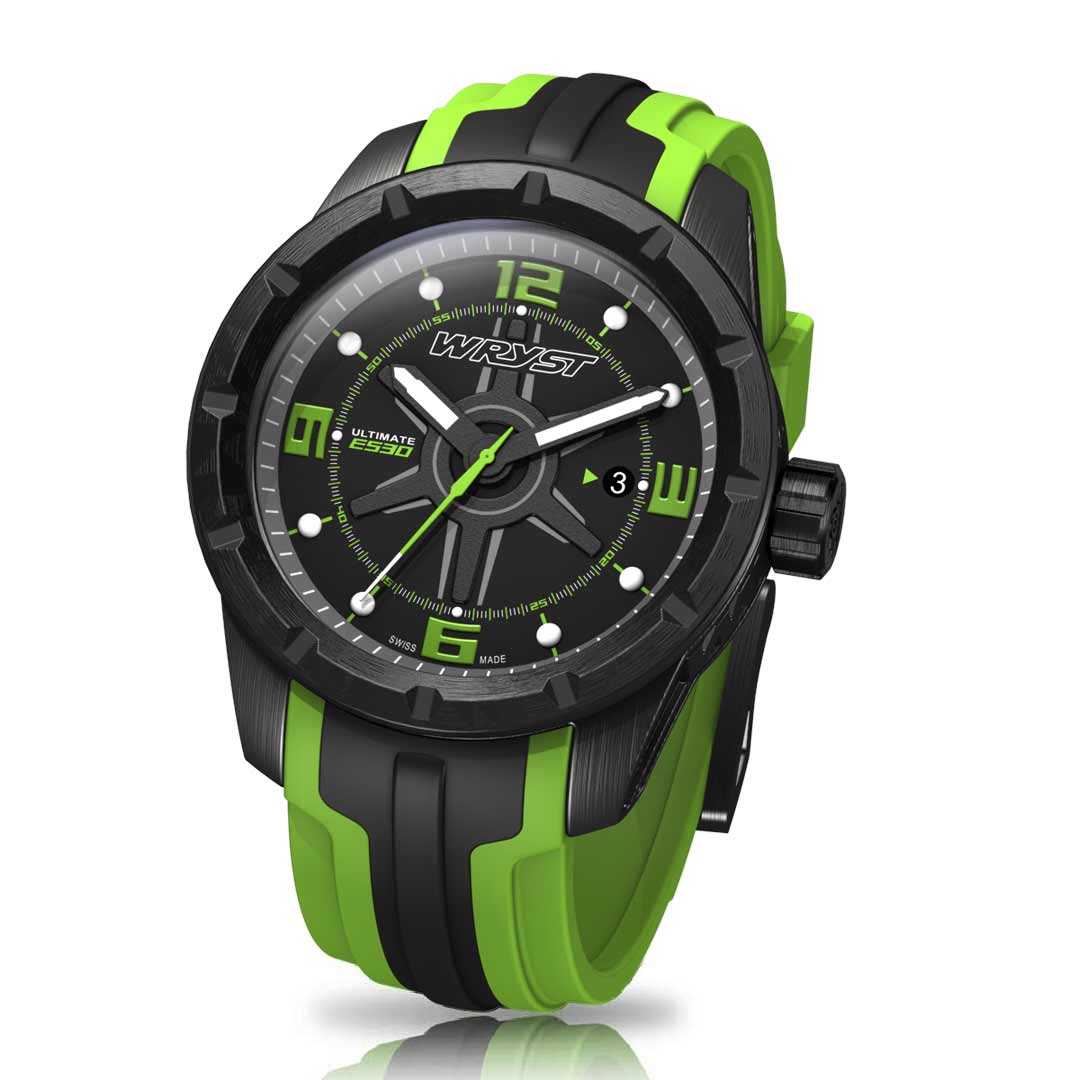 Wryst Ultimate ES30 with Green and Black Silicone Bracelet
This model is an alternative to the unique Wryst ES30 with black and green dials. It is dressed in a soft and comfortable silicone bracelet with a decorating and bright central black line. Who ever dreamt of receiving something free? Another black bracelet can be ideal as your second option for a more casual look. The black DLC square buckle is 22 mm in size and, like the case, coated with a brushed diamond-like carbon finish. Receive two different bands with this reference.
The Ultimate ES30 versions with camouflage strap, green/ black silicone strap, and DLC bracelet are presently available online. All three variants, limited to 99 pieces per style, share similar technical specifications except the bracelets' differences.