Waterproof Watch Ultimate ES30 with 200M W.R.
The waterproof watch Wryst ES30 Ultimate is adorned with a green and black bracelet. Two hundred meters of water resistance are a testimony of dedication to watersports. Be as rough as you want with a safe black watch with a DLC scratch-resistant coating. Men enjoy the 45 mm size during water sports, outdoors, and while on the go. Two different bracelets are included for more versatility. All Wryst black timepieces are only produced with 99 serial numbers.
No tax
Delivered within 3-4 days
100% secure payments
Black and Green Color Watch ES30
Make the most of your budget for watersports
The sporty waterproof watch Wryst Ultimate ES30 for watersports is bold and sturdy with a 45mm diameter. With green accents on the dial and a green bracelet, this exclusive watersport model with Swiss quartz movement is resistant, bold, and produced only in limited series. A high-grade 316L stainless steel crafted case with case sides engraved 0.6 mm deep with CNC machining. The screw-down crown, buckle, and entire casing benefit from a scratch-resistant Black DLC (Diamond-Like Carbon) coating technology. The world's strongest black protection for sports wristwear. This unique coating technology increases a timepiece's durability from only one week with standard PVD to an unbelievable 80 years period - Enough to pass it onto the next generation. Only 99 units will ever be produced.
Wryst strives to provide affordable luxury timekeepers for sports and combine high standards of know-how, craftsmanship, and unprecedented value for money. All the wristwatches are engraved with a unique serial number on the case back.
Limited Edition of 99 unique pieces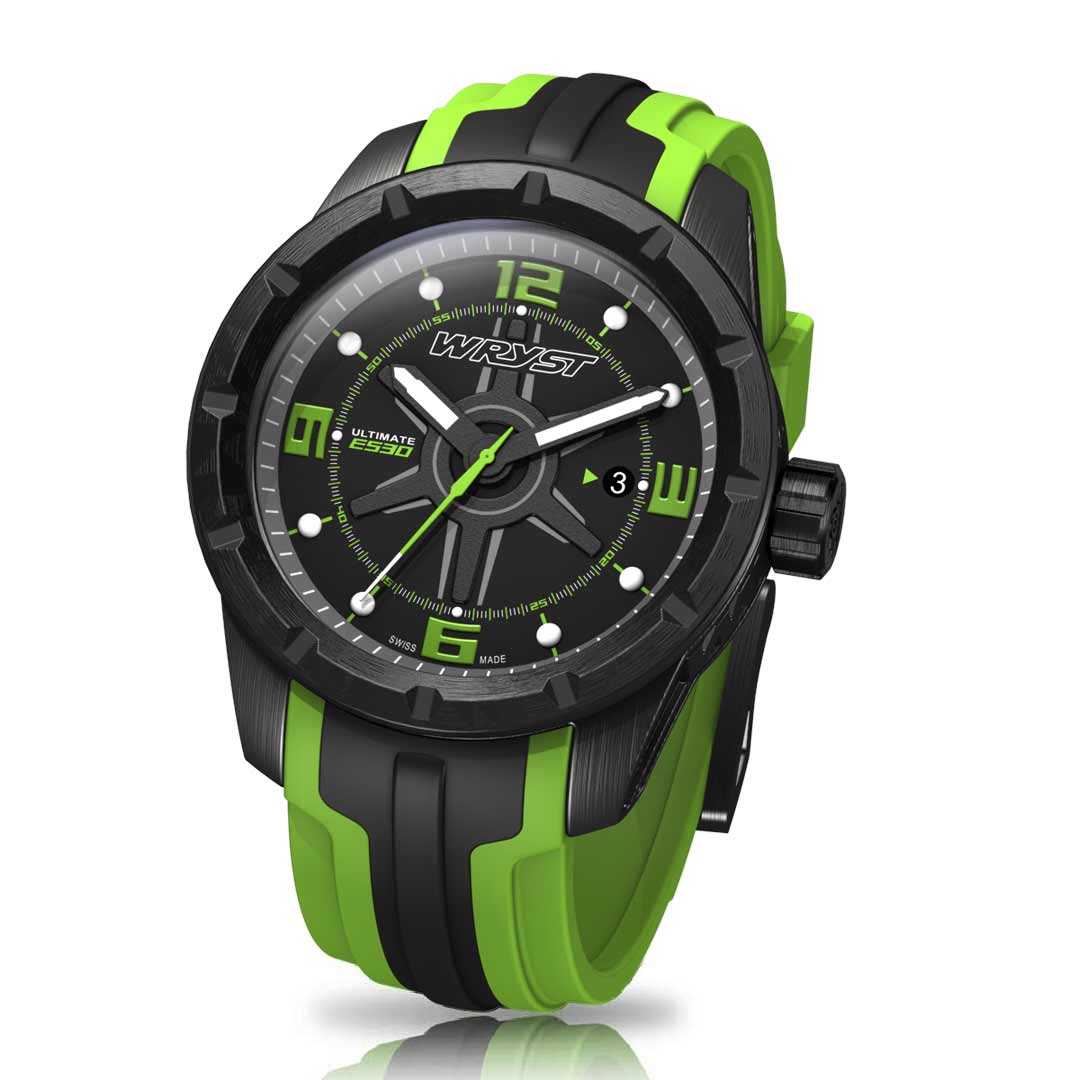 The best of Swiss Traditions
This circular wristwear has all the specifications you need for outdoors and watersports. All references from the Ultimate collections have a sportive black dial protected with scratch-resistant sapphire crystal, a secured screw-down crown, an integrated double injection soft silicone bracelet, and a case back attached to the case with four screws.
The unavoidable classic round face
Wryst Redefine the traditional round face sports watch, but with a twist. The bezel sits higher than the sapphire crystal to protect even ore your timepiece from face-down unintentional shocks. Minute, hour, and second hands feature bright white luminova and index markers. Furthermore, the timepiece is also perfect for water sports and even adventures. The ES30 is casing a reliable Swiss quartz movement with a battery lifetime of 45 months. The movement is also shockproof.
So comfortable you will forget you are wearing it
Enjoy wearing your Wryst from the first day! Both green and black and black/black silicone bracelets are anti-allergic and designed for maximum comfort. Surprisingly, and against all the odds, the bracelet is softer and more flexible than ever before. There are also four other bracelets suitable for this limited series. The first is the double injection green and black silicone version, the all-black bracelet, and the brushed black DLC stainless steel bracelet. If you wish to receive an extra bracelet with your timepiece, please submit your request before purchasing.
Scratch-resistant and with Sapphire Crystal
One of the strengths of the Ultimate resistant watch is the Sapphire crystal with an anti-reflecting coating. The glass also sits lower than the black DLC bezel, ensuring the face is not directly exposed to rough surfaces. With the anti-reflective addition, the glass is also much less shiny in the direct lights for a comfortable visual experience. More resistant to scratches than regular mineral glass, we have opted for the best cristal for this wristwear intended to be worn for challenging activities and multi-sports. Sapphire is usually found on timepieces available at a much higher retail price.
Waterproof and with Protective DLC coating
This collection features a DLC coating technology that protects the body against scratches and wears and tear. The stainless steel case, crown, and square buckle benefit from this latest black coating, usually found on higher-end models with a higher price tag. For example, if you wish to have your plain stainless steel case coated with DLC, the average price is $1500+, and the waiting list is roughly six months. This added value is one of many good reasons to purchase a Wryst timepiece.
Built to withstand the elements
You can now enjoy wet activities such as windsurf, kitesurf, surf, paddle boarding, kayaking, rafting, and many others. The black-on-black ES30 with green dial details qualifies for 20 ATM or 200 Meters of water resistance. The screw-in crown system allows this moving part to be tightly screwed against the case and secured with a circular gasket. The case's back is firmly attached with four bold screws to protect your timepiece in the best possible way.
Two bracelets included
Check out the look of this Swiss army camouflage leather strap or the metal black DLC version for a stronger feel and classic round face look. You can change the look of your Swiss accessory thanks to both bracelets. Choose either the green and black silicone strap or the black bracelet you will also receive. There are also two options to purchase separately two more bracelets for this ES30 reference.
Glowing Features on the dial
This sophisticated and sexy timepiece is also equipped with bright glowing luminova on the hands and the hour markers. Don't lose track of time before dawn and after the sunset, or even while enjoying wild sleeping nights out during your extended outdoor adventure experiences.
This ES30 is easy to read with large clear hands and has a long 45 months-long battery life. Some of the best features, including scratch-resistant sapphire and hard black coating, are an actual achievement for the price.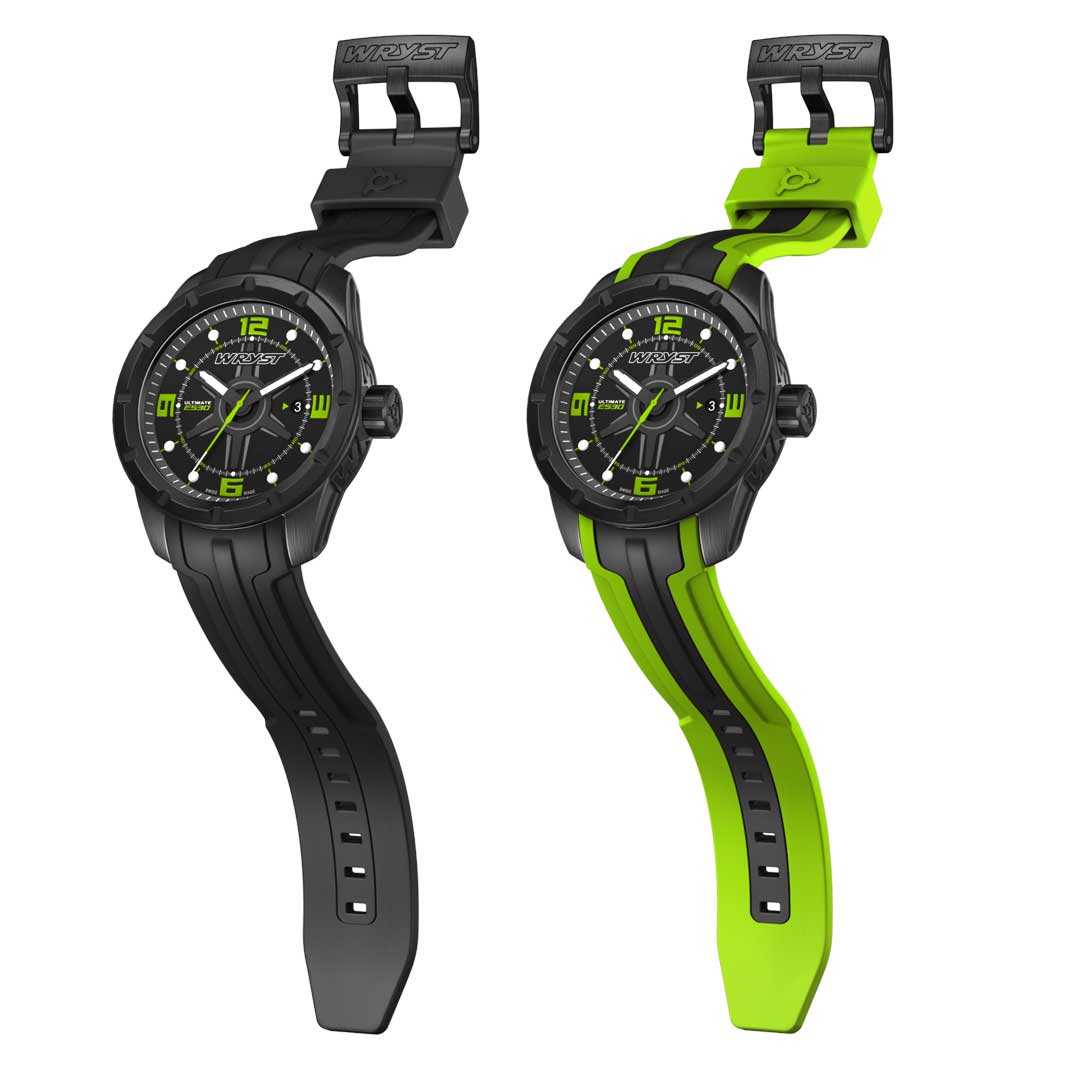 Style, accuracy, and durability. Wryst offers the best value for money with a stunning 200 meters waterproof watch for watersports to enjoy every day. You will never find a timepiece on the market offering so many high-end specifications for such a low retail price. Plus, the watches are only made in a short series of only 99 units.
More Durable, More Affordable
Wryst thrives in providing durable and affordable luxury timekeepers, combining high craftsmanship standards, Swiss know-how, and good value for the money. The ES30 benefit from a dark black face well contrasted with the hands for a comfortable and enjoyable clear reading of the time at all times. Wryst preferred the approach of delicate touches of green colors. This reference has it all if you look for men's watches.
Why Choose a Limited Edition?
A limited-edition timepiece has several advantages. First, you will hardly ever meet with one of the other 98 people in the world wearing this unique reference. Who will want to see someone else with the same timepiece? This would be kind of weird. Second, you will be guaranteed your timekeeper's quality simply because few have been produced. Producing small series means every single unit has been thoroughly assembled and tested. In this instance, the Swiss Made stamp signifies a more high-end piece because a limited edition requires the same effort as a big series. Wryst is proud to offer exclusivity at a more affordable price. Swiss names like Tissot, Bell Ross, Tag Heuer, and many more produce thousands of weekly units. Quality checks and attentive assembly always mean more time spent on each unit.
Unusual case side deep engraving
This is another exquisite tour de force from the world's most affordable limited edition Swiss manufacturer. Both case sides of the Wryst Ultimate ES30 feature deep engraving with the Swiss brand's name Wryst. This is achieved with precision CNC machining at a 0.6mm depth. A unique feature that any other manufacturer has never offered.
Impeccable Customer Service
At Wryst, we strive to offer one of the fastest and most emphatic customer services - We will help you with before and after-sale as you have never experienced before. The customer service you will obtain from an independent brand also means more time for you—no overwhelmingly busy customer service. Our reviews and average rating will testify to this.

Moreover, unicity does not have to come with the need for deep pockets. The only piece with 200 meters water resistance, sapphire crystal, screw-crown, engraved case sides, limited edition, and two bracelets included are impossible to find. Nowadays, you will not find a personalized case back with a serial number engraved on a limited edition of 99 pieces at this price. Buy a Wryst, and you will feel like 38% of our customers have decided to purchase another within twelve months. Contact us if you wish to receive a different bracelet. We have many options available for you. We provide quality Swiss collections with quartz movements and also automatic movements. The Ultimate ES30, for example, is also available with a black DLC steel bracelet. We can also suggest the all-black included bracelet for this reference which adds a more mysterious feel.
Other References with Black Scratch-Resistant Black Case & Bracelet:
More ULTIMATE models available here: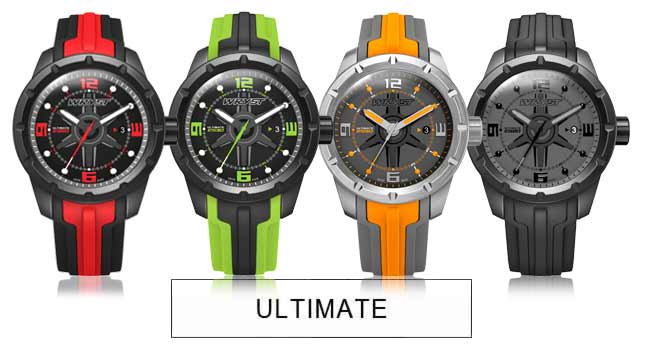 Data sheet
GENDER

Men

PRODUCTION

Limited Edition of 99 pieces

REFERENCE

Wryst ES30 Ultimate

MATERIAL

Stainless Steel

COLOR

Black

COATING

Scratch-Resistant Black DLC

CRYSTAL

Sapphire Crystal

MOVEMENT

Swiss Quartz with Date

SIZE

45 mm

CROWN

Screwed Crown

FEATURE

Deep Engraving on Case Side

BRACELET

Black and Green

EXTRA STRAP

Black

WRIST SIZE

Wrist 150mm to 205mm

RESISTANCE

200 Meters (20ATM)

WARRANTY

18 Months
Belle construction,
Belle montre noire avec un bracelet vert. Sublime finition sur le cadran et les cotes de la carrure sont unique je n'avais jamais vu ca avant. Salutations de Picardie.
Great solid timepiece
A unique reference with high-specs for the price. Definitely the right investment for my budget. Thanks
My second WRYST purchase
Fantastic look great quality met all expectations again!! Thank you WRYST!! Will highly recommend your product to others!!!
Great specs
No brainer, this ES30 in black and green has a great feel both bold and strongly built. Everything I need for everyday use. I wear it all the time and could not be happier for a Swiss watch at this price. Great customer service and warranty took minutes to register. Thank you.
Great bold feel
Big watch that feels bold and strong. 45mm is a winner size. Perfect for me with the green strap. Best one in my collection. Thank you Wryst.
ES30 green
I just love your watch brand! Thank you very much for helping me out with the payment. Great to know I have an extra black strap as well.
ULTIMATE WATCH ES30
My new Ultimate ES30 watch really is superb. Thank you so much for an excellent customer service and prompt UPS shipment to Michigan. I appreciate the free extra black strap as well. All the very best!
 Write a review