All Black Sports Watch ES20
The mens all-black sport watch Wryst ES20 is integrally coated with black DLC. Black represents a fresh look that is both understated and sleek. Produced only in a Limited Edition of 99 pieces, this ES20 is ideal for rough usage and a hostile environment. A timepiece is often used to measure a man's success and sense of style. Blacked-Out, this exclusive reference with dark dial has DLC coating on the case, bezel, crown, case back, and buckle. Buy your Limited Edition watch today. Two different bracelets are included.
Specifications
Data sheet
GENDER

Men

PRODUCTION

Limited Edition of 99 pieces

REFERENCE

Wryst ES20 Ultimate

CASE

Stainless Steel Grade 516L

COATING

Scratch-Resistant Black DLC

CRYSTAL

Sapphire Crystal

MOVEMENT

Swiss Quartz with Date

SIZE

45 mm Width

CROWN

Screwed Crown

FEATURE

Deep Engraving on Case Side

BRACELET

Black

EXTRA STRAP

Black and Grey

WRIST SIZE

Wrist 150mm to 205mm

RESISTANCE

200 Meters (20ATM)

WARRANTY

18 Months
Description
Wryst Ultimate ES20 Black Sports Watch in Limited Edition
Black Stainless Steel With Scratch-proof DLC Coating
The all black sports watch Wryst Ultimate ES20 is entirely black and produced exclusively in Limited Edition. Black is the safest yet the coolest color one would want to wear. This timepiece feature a Grade 316L stainless steel engraved case, screw-down crown, case back, and buckle. The durable and scratch-resistant DLC (Diamond-Like Carbon) technology increases the Ultimate reference durability with a 45mm case diameter.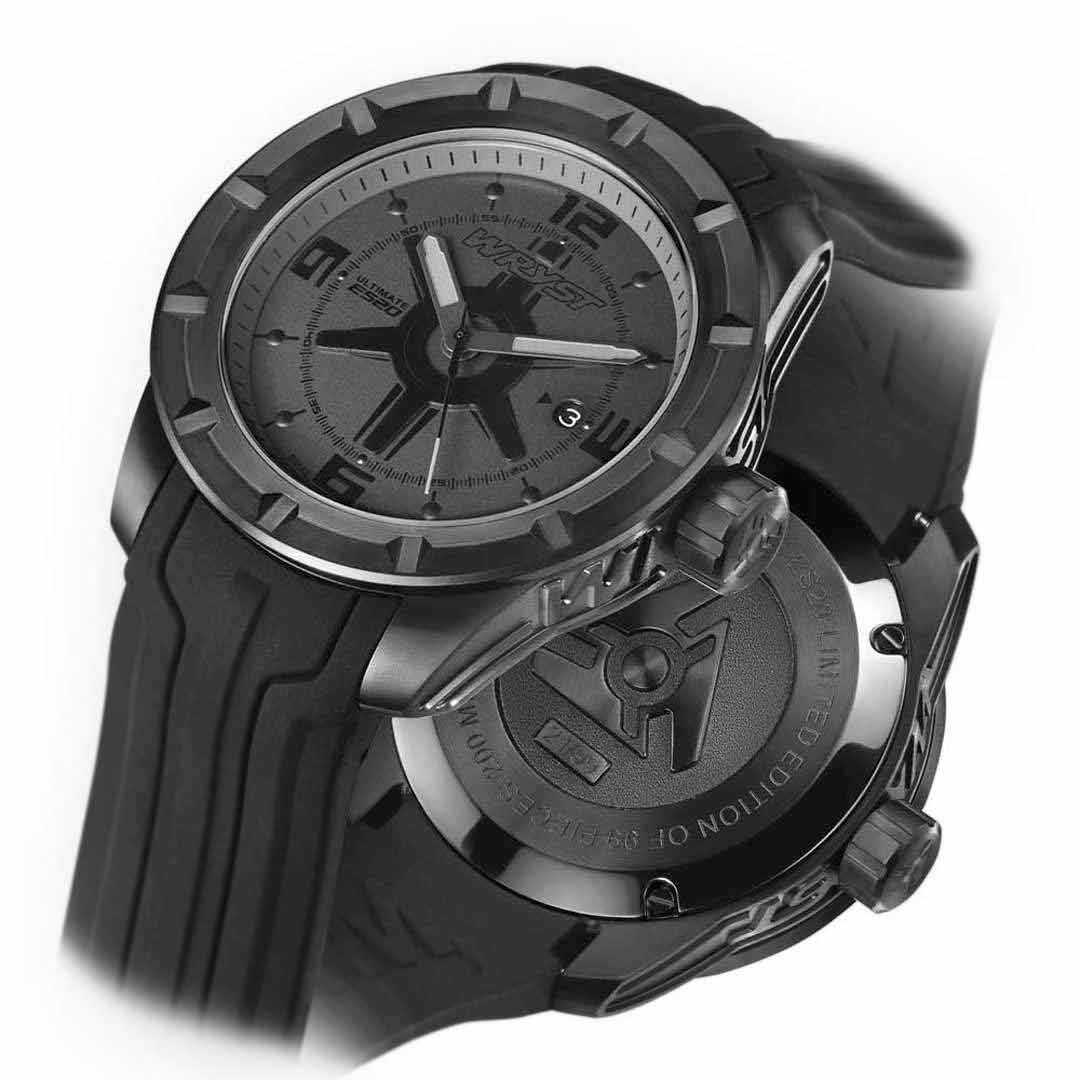 Designed for Ruffnecks
The black case back secured with four screws also benefiting from this revolutionary black DLC coating. The ES20 watch qualifies for 100-meter water-resistance. Stainless steel watches hardly ever gather so many top-end specifications all at once. Even the standard mineral crystal gives this model a 2 mm thick Sapphire Crystal with an anti-reflective coating. Also, these shock-resistant back timepieces include two different rubber straps.
You have reached a unique independent brand offering this stunning black wristwear you have wanted and for a more affordable price.
Innovative Matte Blackened Style for Men
This collection Wryst Ultimate with silicone bracelet offers the only case side engraved as deep as 0.6mm with CNC machining with the brand's name. The unique feature ensures no one will ever dare to replicate this idea as it is the world's first in the industry. Innovation and precision are the mottoes of the atypical brand Wryst.
The ES20 does not have luminescent hands - which would not make a true deep feel - and instead, the hands and hour markers are in dark grey.
A Story to Tell
When Wryst watch company decided to create the Ultimate collection, it was all about the specifications. It is becoming rare to make the most recent breakthrough in this industry without breaking the bank. The task was challenging, but we had decided to provide the best materials and engineering at a more affordable price.
The scratchproof black protection
For a timepiece to be appealing for strong resistance and hardness, the stainless steel grade 516L was not enough, even if this is the hardest steel available. We then opted to protect the casing and as many parts as possible with a coating harder than steel. Usually, the diamond-like carbon coating is much more expensive, and our task was to offer this without deep pockets. There it was, totally scratch-proof protection for a fraction of the price.
This particular model ES20 also has DLC coating on the crown, the bezel, the case back, and the square designer buckle. This Ultimate reference is also available with a carbon fiber leather bracelet or a DLC stainless steel metal bracelet.
The Best Crystal Standards
Another expensive feature found with other brands is the sapphire crystal. Many different crystals are available and to different levels of quality. Wryst opted for a flat 2mm thick sapphire crystal with an anti-reflective coating. This is protecting your timepiece with a scratch-proof material for many years to come. Furthermore, since the watch bezel is higher than the glass, you can be guaranteed the crystal is never in contact with any surface you decided to put your watch face down. This is also a great feature when you unintentionally hit the face of your Wryst Ultimate.
Small Production
Produced exclusively in a small edition of 99 units, these 3-hands and date timepieces are highly collectible and thought-after. Which serial number do you wish to wear? Be one of the 99 privileged people ever to wear this incredible reference. Be aware as of now; there are only very few pieces left. Purchase your today with the voucher code FREE SHIPPING for prompt delivery worldwide with a safe recorded service.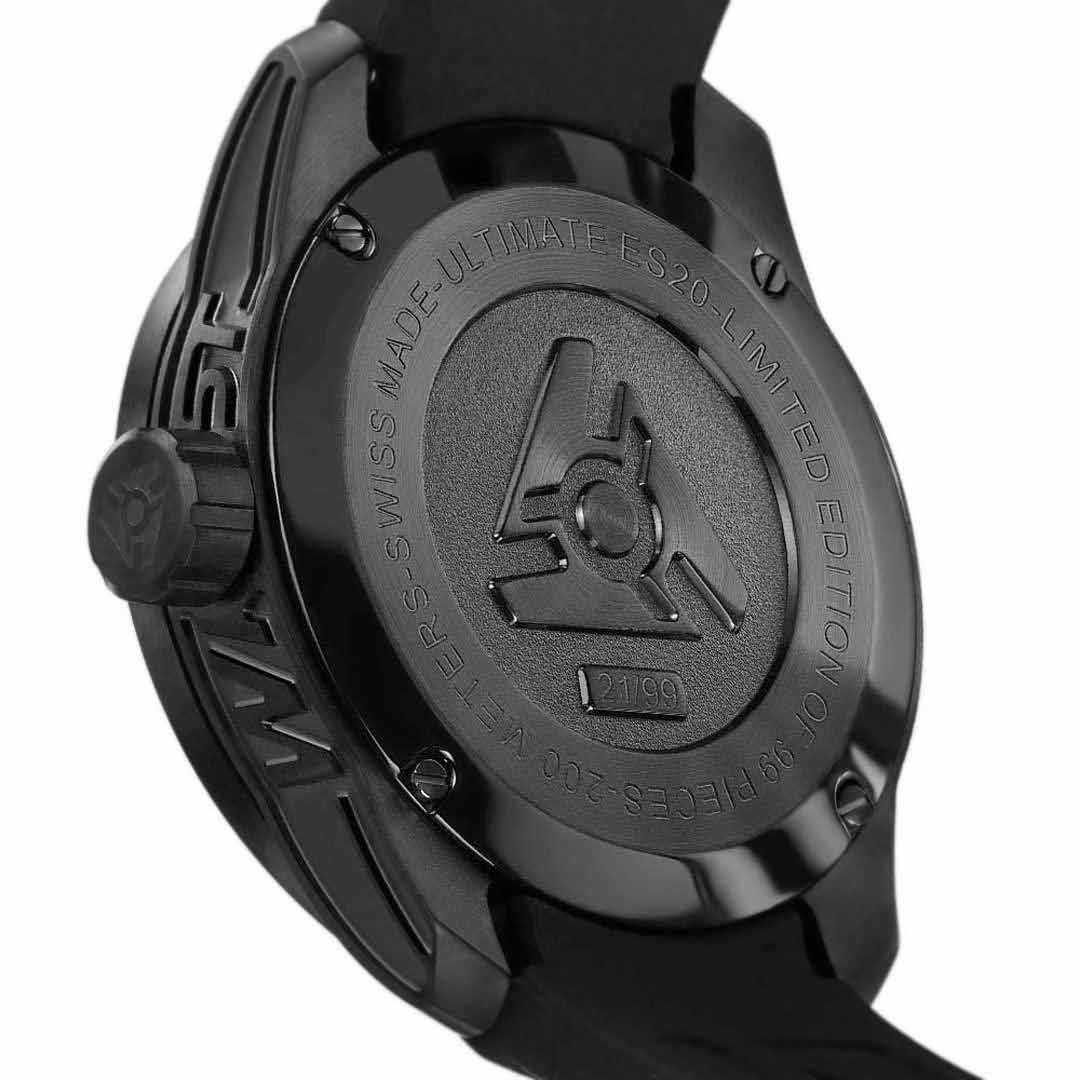 Watches of Switzerland - Only the Best
As far as the movement is involved, it is also a crucial feature and has also been chosen with the highest standards in mind. The quartz movement with three hands and date window is gold plated. It has a battery lifetime of 45 months and is anti-magnetic and anti-choc. Quartz is also the peace of mind for accuracy and low maintenance. Just strap your ES20 on, and you're ready to go. Nothing else is required so you can concentrate on more essential things you need.
Wryst exceeds providing affordable black wristwear for men combining high standards of know-how, craftsmanship, and value for money. You can stop hunting for the must-have timepiece; here's an absolute treat. This watch features full black DLC on a grade 516L Stainless steel for the case, case back, crown, and buckle. The all black mens watch ES20 offers a versatile 2-bracelets option and date window at a 3-hour position. Diamond-Like Carbon coating now affordable for a fraction of the price.
Other References with Black Scratch-Resistant Black Case & Bracelet:
Black Stainless Steel Watch ES20
Black DLC Watches for Men ES30
Black Sapphire Crystal Watch ES60
DISCOVER OTHER REFERENCES HERE: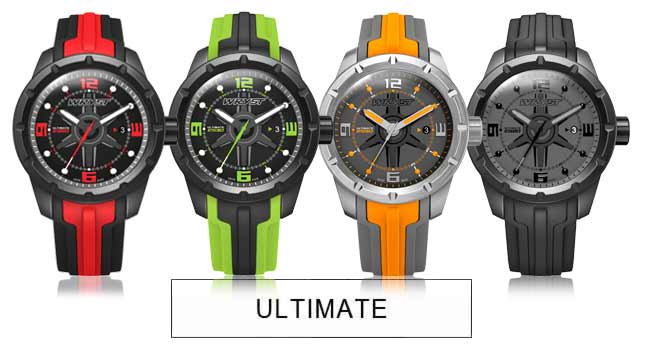 Reviews
What is not black?
For an integral black watch this one has eveything in black color! The case, case back, crown, dial, bracelet, buckle. Theonly two parts that are not black are the dark grey details on the hands and of course the transparent sapphire. Dur to my night time job I was looking for a very dark or deep black wristwear and this one is perfect. Plus the strong DLC is the guarantee I will have this watch for a long time. Thanks!
Brilliant
This ES20 is out of this world... I always like black style for my watches but never really found a good coating. This on is way beyond any black coating I ever came across in the past. Brilliant! Thank you
Unmarked coating
The ES20 I bought last year is so scratch resistant that I decided to buy the black metal bracelet. I owned a few black watches but this one still looks new after wearing it almost everyday. I strongly recommend these for a hard black coating. Thanks
Exceeded expectations !!!!
Great quality, fantastic look, I'm very impressed, looking forward to ordering another watch from WRYST!!!
Awesome all around
Amazing service, communication and timepiece. Recommend highly
Great watch
Thank you for excellent service.
Stealthy
Really cool and stealthy watch and very unique. And because there are only 99 makes it even more special to me. Fantastic Job! Great size and heavy.
Cool look
This watch is so cool, thank you very much for this limited edition watch! My first.
Nice purchase!
Lovely black watch, everything I wanted and more as I have been offered to chose the serial. Well done Wryst!
Black all the way
Received my new ES20 all-black watch and it is perfect!, so thank you very much Wryst for creating these unique timepieces. Sam, US Arizona
 Write a review