Indulge Speed with the Mens Luxury Watches Motors
A Dedication to Lavish Lifestyle and Fast Cars
Wryst's latest mens luxury watches are car racing-inspired Motors. They are produced exclusively in small series of 75 units. Both reference MS630 and MS620 combine the best of Swiss watchmaking. Benefit from a modern style and express the boldness you represent. Indulge with accurate timing, durability, and the racing look you need in your life.
✔ Exclusive Limited Edition of 75 pieces
✔ Case built with 5-axis CNC machining
✔ Antimagnetic and anti-choc casing
✔ Durable Swiss gold-plated movement
✔ Precise Chronometry with 1/10th of a second timing
✔ Flyback stop-watch hands
✔ 100 Meters water-resistance
✔ Anti-reflective domed sapphire crystal
✔ Bright Swiss superluminova markers and hands
Luxury Man Watch Wryst Motors MS620
Retail price: US$1'009
If you are looking for a watch that combines the thrills of motor racing with the sophistication of Swiss engineering, look no further than Wryst Motors. This watch is a masterpiece of design and functionality, created for those who love speed and style. The Wryst Motors is not just a watch, it is a symbol of excellence and performance.
The Wryst Motors has a distinctive case shape inspired by racing cars' aerodynamics. The case is carved by 5-axis machining in a grade 516L stainless steel block for an industrial feel. The case is intelligently brushed by hand, which gives it a smooth and elegant natural finish. Water resistance of up to 100 meters makes this Chrono ready for any challenge.
Statement Pieces with Black Carbon Fiber Leather Bracelet
Our secured bracelet attachment allows you to wear the timepiece with one of the two bracelets included with each piece. This will enable you to customize your look according to your mood and occasion.
The most popular date option is undeniably our striking black carbon fiber leather strap with red edges and red/black stitchings. Our comfortable large-size resistant bracelets bond to perfection with the natural curves of the intricate watch shapes.
Luxury Mens Watches Wryst MS630
Retail price: US$1'009
The dial of the MS630 is a masterpiece of design and functionality. The black dial with the modern layout of three chronograph subdials adds a touch of sportiness and sophistication. This display offers chronometry functions and the date indication in a window positioned at 3-hout.
The hands and markers benefit from Swiss superluminova, ensuring optimal readability in any lighting condition. The dial is protected by a scratch-resistant sapphire crystal with an anti-reflective coating.
This second version is also powered by a Swiss quartz movement, which ensures accuracy and reliability. The Swiss quartz caliber has a battery life of up to 54 months, so you don't have to worry about changing it frequently.
The sleek and modern case shape inspired by the aerodynamics of racing cars will do the talking for you.
The Relationship Between Car Racing and Motorsports
The connection between watch design and racing cars is a matter of aesthetics, functionality, and performance. Both watches and cars rely on precise engineering, accurate timing, and durable materials. Watches and cars also express personal style, taste, and passion.
Racing sports involving racing cars and motorsports always required precision chronographs or watches that can measure elapsed time. Chronographs are essential tools for racers, who need to track their speed, distance, and lap times. Chronographs also have a tachymeter scale on the bezel, which can calculate the average speed over a given distance.
Choosing the name "Motors"
The reason why watch design started to become inspired by racing cars, and motorsports is the close connection between the two fields in terms of technology, innovation, and aesthetics. Both cars and watches are complex machines that require precision, performance, and reliability. Both also have a history of being used for measuring time, speed, and distance in various competitions and challenges. Therefore, it is natural that watchmakers and car enthusiasts would share a mutual admiration and appreciation for each other's craft.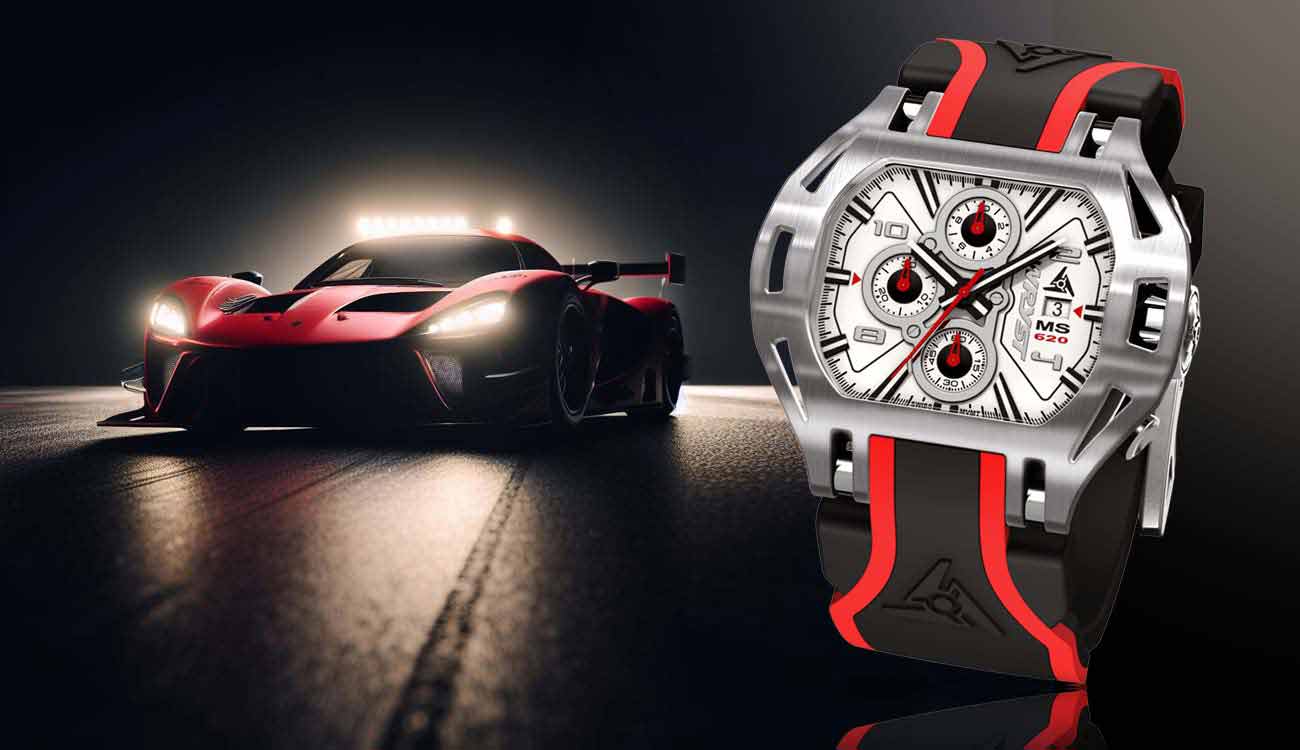 Watch Wryst Motors MS620 Silicone Bracelet
A Profitable Association
Marketing strategy of watch brands who want to associate themselves with the glamour and excitement of racing. By sponsoring teams, events, or drivers, watch brands could gain exposure and recognition among a large and loyal fan base. They could also showcase their technical prowess and innovation by creating watches that could withstand the harsh conditions and demands of racing.
Many famous actors, drivers, and sportsmen wore watches that were either designed for or inspired by racing cars and motorsports. Their style and charisma helped to popularize the racing watches among the general public and create a lasting legacy for the genre.
Another reason mens luxury watches feature design details from racing cars and motorsports is the collaboration between watchmakers and car manufacturers. Some of the most prestigious brands in both industries partnered to create watches that showcased their style, performance, and heritage.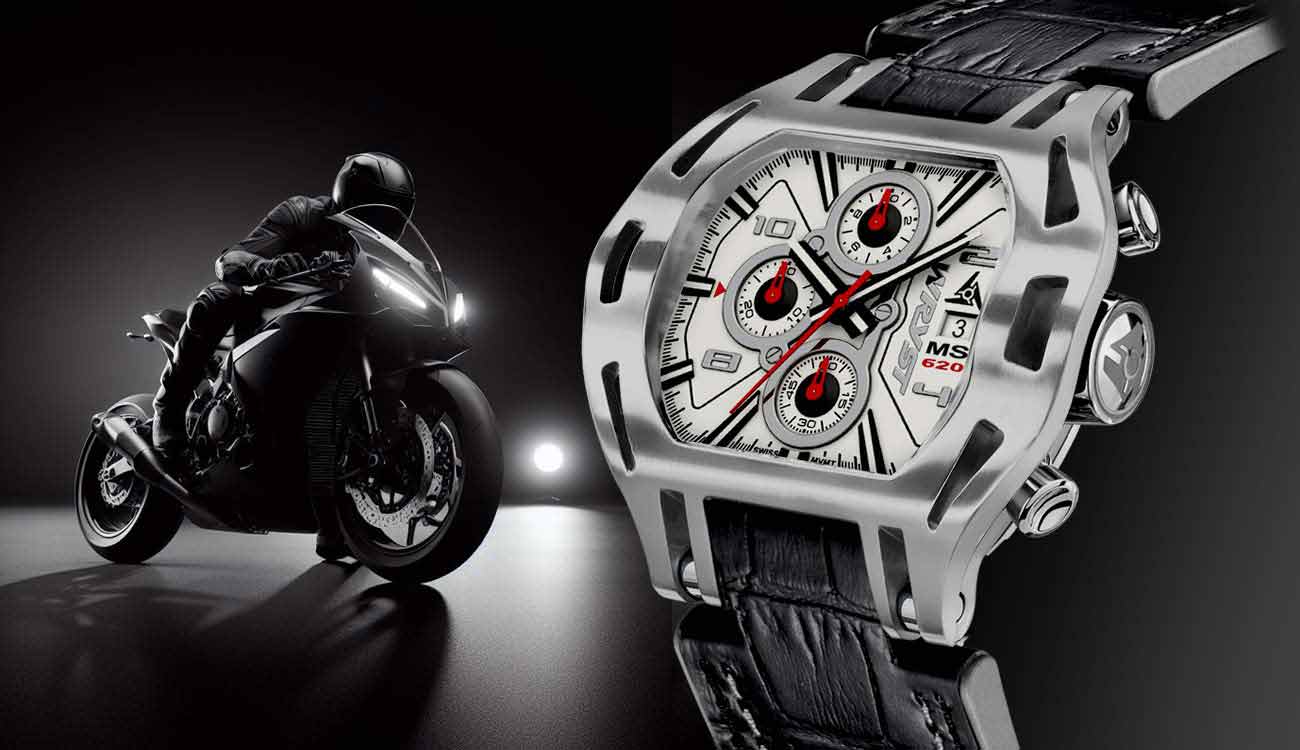 Watch Wryst Motors MS620 Leather Bracelet
Racing Watches and Sponsorships
For example, in 2015, the motorsport-inspired brand Wryst was contacted by the Isle of Man government to propose a sponsorship opportunity partnership with the Isle of Man TT races.
Further negotiations led to a 5-years collaboration where Wryst designed a new special edition TT watch, which was gifted to the winners on arrival at the finish line.
In conclusion, watch design and racing cars have a long and fascinating history of mutual influence. The connection between motorsports and watches is related to functionality, performance, style, and passion. Both watches and cars are machines that can tell time, but also tell stories.
WATCHES FOR RACING WRYST MOTORS
Racing Chronograph Watch MS630