Sport Watch Wryst Airborne FW4 Featured in MOTOR SPORT MAGAZINE
Volume 89/number 12 - Dec. 2013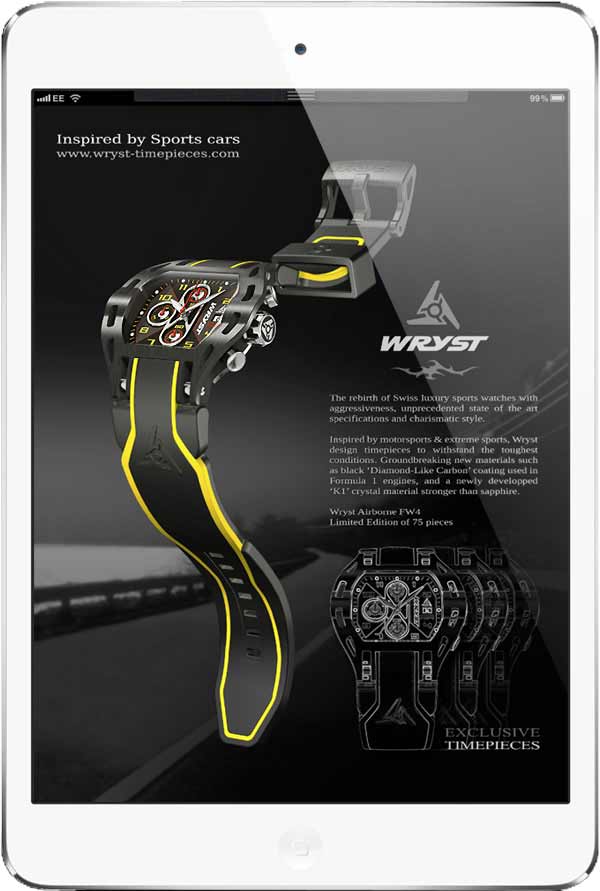 The rebirth of Swiss luxury sports watches with aggressiveness, unprecedented state of the art specifications and charismatic style.

Inspired by motorsports & extreme sports, Wryst design timepieces to withstand the toughest conditions. Groundbreaking new materials such as black 'Diamond-Like Carbon' coating used in Formula 1 engines, and a newly developped 'K1' crystal material stronger than sapphire.

Wryst Airborne FW4 Specifications:
- Limited Edition of 75 pieces
- Swiss Made Quartz Chronograph
- Black Diamond-Like Carbon case, scratch resistant
- Shatter-proof K1 mineral crystal with anti-reflective coating
- Water resistant 100 Meters
- 45 mm case, 22 mm buckle
- Three straps: x1 black & yellow, x1 yellow and also x1 red.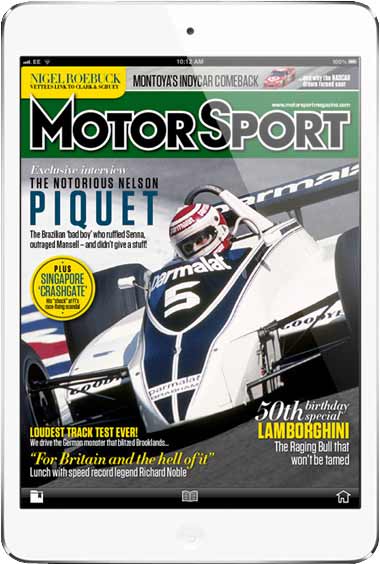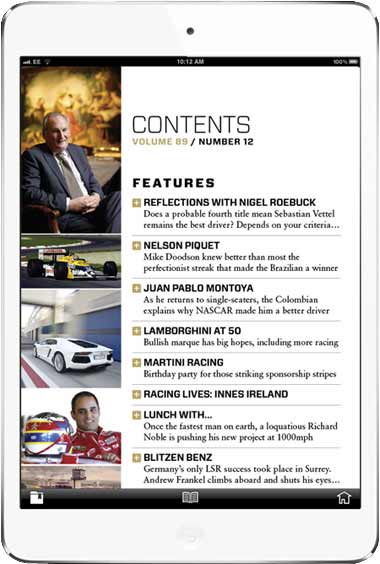 Motor Sport Magazine overview:
How and why a magazine called the Brooklands Gazette made it to the bookstalls in 1924 is lost in the shadows, but it's certain that its next decade was a rocky time. Renaming itself Motor Sport in 1925 was a sensible move, but under a dozen different owner-editors it stumbled on, making no money. Yet the enthusiastically random mixture of contents gave it a life of its own, veering from Grands Prix to club trials, testing cars, boats and even aircraft, interviewing the famous, the forgotten and the frankly anonymous. Some issues failed to appear and in 1929 it briefly ceased altogether. When in 1936 the last of these private helmsmen had had enough and could not pay the print bill, he gave the title to the printers, whose MD passed it to his son to run.The son was Wesley J Tee, who was to turn the title round.

A regular contributor to the magazine was freelance motoring writer Bill Boddy, whose first story in Motor Sport had been on the history of Brooklands – written in 1930. WJT sacked the ineffectual editor and asked WB to run it, beginning a partnership which saw the magazine rise to a position of immense influence by the 1960s. WB's only precept was that he would include anything which interested him, so as well as racing and road tests, Motor Sport talked about model cars, speed limits and ancient motoring history, while the burgeoning classifieds became the only place to sell a sporting car. Boddy's encyclopaedic knowledge of the arcane byways of his subject made the mag a vital historical archive; indeed, without WB's passion many of the vintage cars that race today would never have been rescued. Why just the initials? Because WJT, fearful other titles might poach his staff, forbade names in the magazine, a tradition which lasted until the 1990s.