Black and Gold Watch Mens SX270 Brown Bracelet
The Black Wryst Force SX270 watch with rose gold face is a bold and sincere chronograph with scratch-proof black DLC coating. The dial, crown, and chrono pushers are all in gold color. This unique limited edition timepiece created by Wryst is natural splendor and a treat for the eyes. The watch dial is sunray gold with black and white details, shiny red hands for seconds, and subdial counters.
No tax
Delivered within 3-4 days
100% secure payments
Wryst Luxury Black Watch with Gold Dial
Men Watch Designed to Make an Impression
This watch Wryst Force SX270 in black and rose gold for mens is a true beauty. Gold dial watches are synonym for luxury and splendor. The showstopper Wryst SX270 with brushed black DLC coating has a Gold dial, crown, and chronograph pushers. Combining both materials is not so common and is a pure delight. This manly large 50mm size feels smaller than a 50mm timepiece with a circular shape. Both sides feature aired edges for a unique style and protect the side buttons.
Purchase today this superb black and gold chronograph with Swiss quartz movement. Wryst offers dedicated online customer service. You can also benefit from free shipping worldwide with the code FREE SHIPPING, which you can use in your cart anytime. Wryst company produces small series, and each reference is only made in limited editions. The reference SX270 is no exception, as only 75 units will ever be offered. Choose to wear a unique luxury Swiss accessory that has style and refinement. Your look must reflect your strong personality. Furthermore, your unique chronograph also allows you to time any event with 1/10th of a second precision. The battery lifetime is 48 months.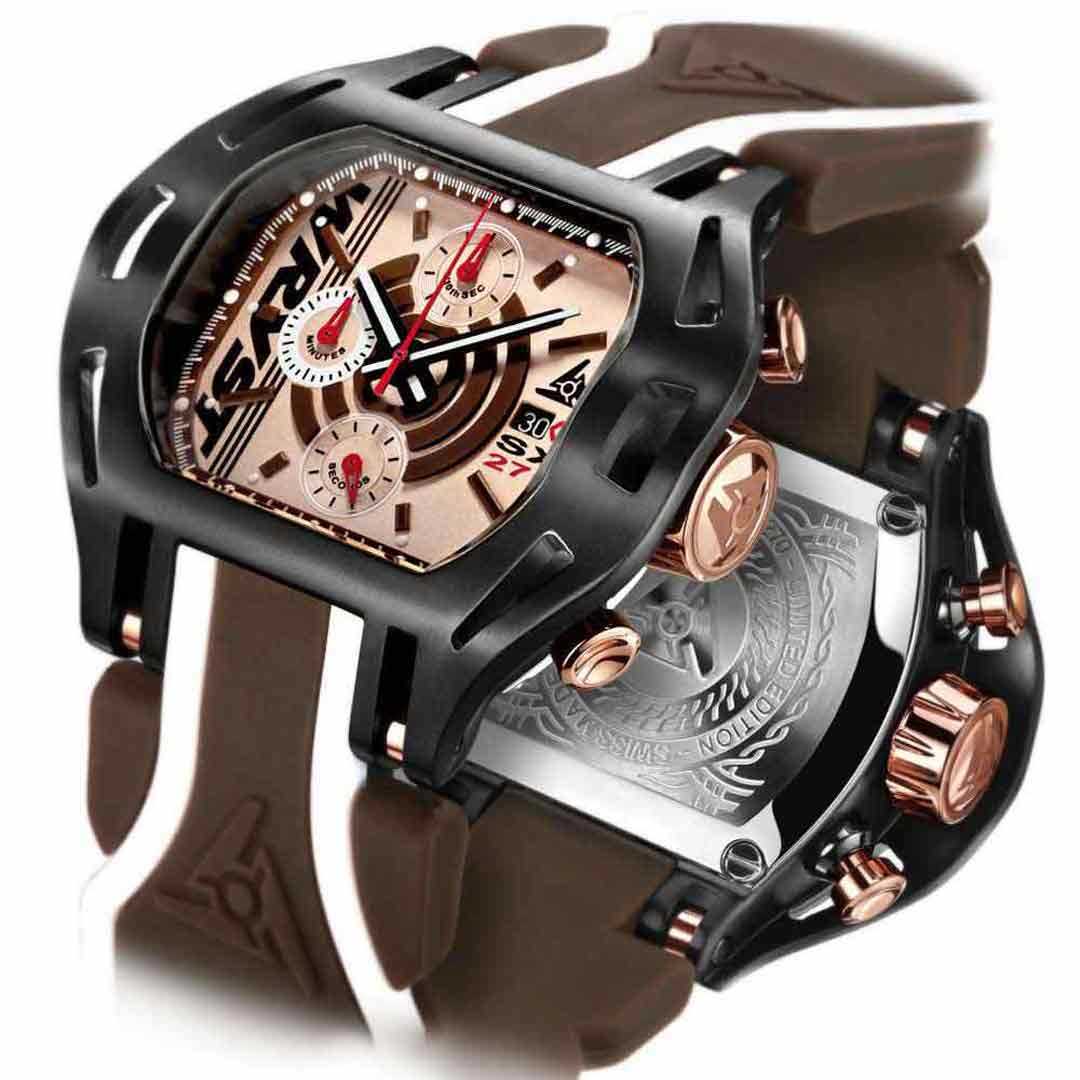 The perfect material choice for a sophisticated feel
Overall, the luxury timepiece with black gold watch dial Wryst Force SX270 in black and Gold is a way of life only very few people can enjoy. The silicone material is the first choice for a comfortable experience wearing your exclusive SX270 outdoors and in any sports. Assorted with the brown dial details, the double injection bracelet in Brown and White is one of the two options for this timepiece. Alternatively, the Moka and Brown strap is another option for a fresher and more vibrant look. A version of this timepiece with a luxurious brown alligator leather bracelet is also available here: The Wryst Force SX270 leather bracelet.
Striking Galvanized Swiss Gold Watch Dial
The ideal modern Chrono needs to come packed with innovation. This limited edition model's dial has well-contrasted and well-thought details far from the casual look. The brand's name is printed vertically on the left. Feature the date window in white numbers printed on a black disc on the right side. Below the date, the reference name is present in black and red color printing.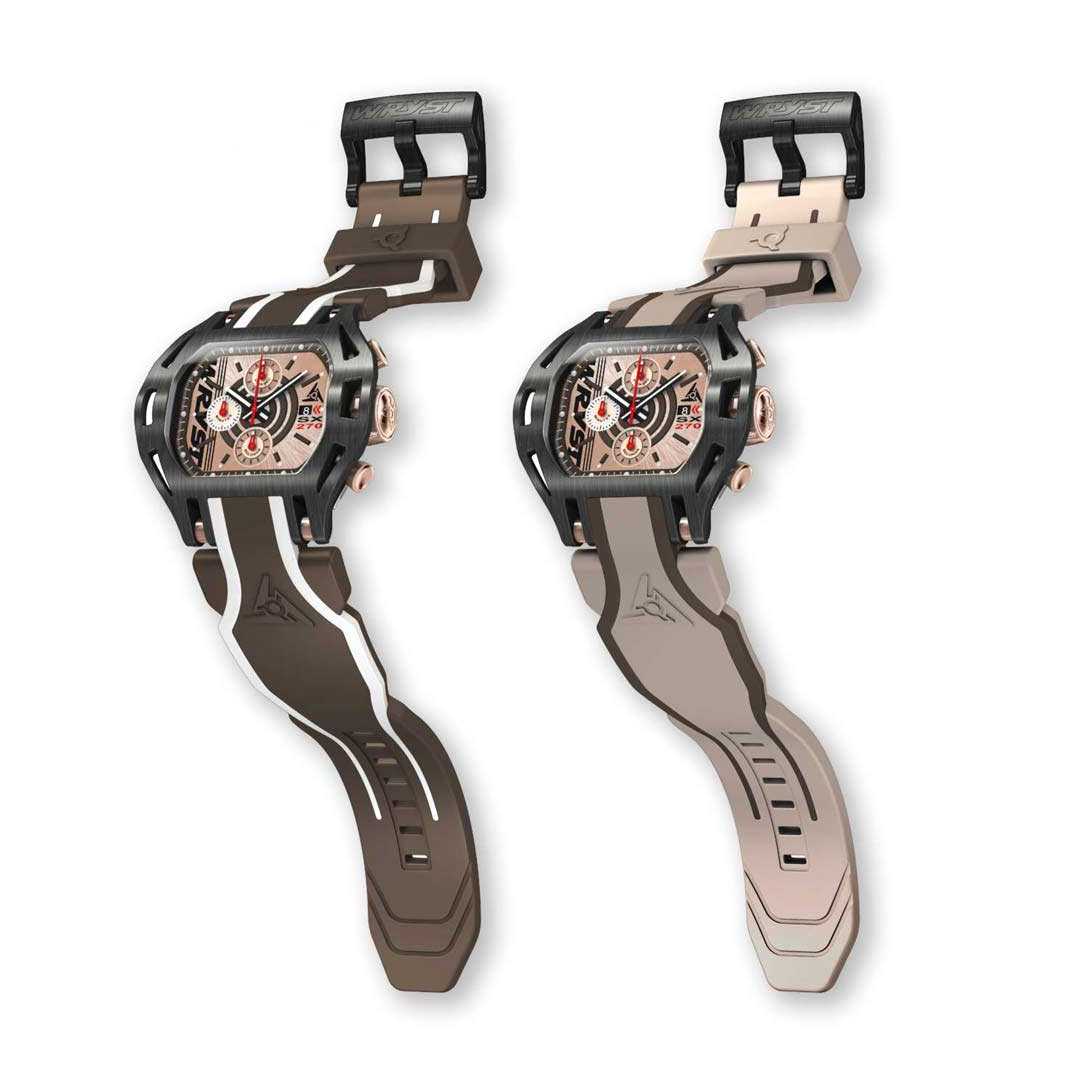 A raised white minute track has the all-important Swiss signature at a 6-hour position - The hallmark of high-end durable watchmaking. Around the center, three brown circles give way to the three chronograph counters. They are complemented by brown indexes, which indicate the hour positions. Each hour is prominently visible with double white luminova dots. The contrasted hour and minute hands in black also have white luminova.
The All-Important Chronograph Function
Timepieces with a chronograph function have something about them. Perhaps because they have been integral to the history of automotive sport, outdoors, or aviation. Chronographs are helpful and not limited to timing races. They offer many practical uses daily. They can track cooking times, parking meters, running or walking, exercise routines, meetings, and other activities. Chronographs are also ideal for determining the shortest commuting route.
This chronograph function provides start and stop with the top pusher and time-lapse and reset with the bottom pusher. Red adds a sporty touch and is the color of choice for the stop-watch longer thin indicator and the three subdial hands. These provide the seconds at the bottom, 1/10th on the top, and the left minutes.
The New Trend in Designer Fashion Accessories
Now more than ever, men find it very important to have an accomplished fashion look and feel their look reflects their personality. Wryst has an enviable knack for injecting personality into men's appearances by choosing the right style, colors, or accomplished mix of materials and finish. Each man has his distinct style, which means men have something that will appeal to everyone except the most staid traditionalists. The choice for fast fashion trends suddenly looks important when the intention is to show class and refinement. Some timepieces will make you look like your dad when he was thirty years old, and others will give the impression of feeling out of the 21st century.
The essence of the fashion style we provide goes beyond culture and trends expectations. Each of us wants a unique identity, with a flair for timeless objects and clothing. Dressed with a black SX270 with a gold dial will give you a sense of unicity hardly found anywhere else. It certainly helps if the likes of Prada and Hugo Boss want you to front their wares, but Wryst has a forensic understanding of what looks good on you, which is often the essence of style.
An Exclusive Chronograph Produced in Small Series
This timepiece is highly collectible, and only 75 men will ever wear it. Turning the case body around will reveal a stylish engraved case-back with inscriptions such as "100 Meters, S-M, Limited Edition" and the serial number out of the 75 pieces manufactured. This unique quartz gold automatic also benefits from a good-sized screw-down crown, a four-screw case back, and an unusual bracelet attachment onto the casing for a secure perfect fit around your arm never developed before by any brand. Developing this second-generation Wryst model requires one year of intense work to balance every detail, curve, and finish. A timepiece produced with Swiss expertise and experience guarantees you are making the most of your substantial investment.
In Conclusion
There are many fashion timepieces available today on the market. Very little can be said about most of them. Wryst creates unique styles with a mix of a bold look, timeless style, and the world's most robust materials. Wear a chronograph black gold watch making thousands of emotions at first glance. The Swiss Force SX270 benefits from a modern design, scratch-proof hard black DLC coating, sapphire crystal, 100 meters of water resistance, and two different bracelets attached to the world's most secure system. Also available with a luxurious brown alligator leather band.
Video of this black and gold Force SX270:
Other references "FORCE" with upgraded bracelets:
Data sheet
GENDER

Men

PRODUCTION

Limited Edition of 75 pieces

REFERENCE

Wryst SX270 Force

MATERIAL

Stainless Steel

COLOR

Black

CRYSTAL

Sapphire Crystal

MOVEMENT

Swiss Chronograph with Date

SIZE

50 mm

CROWN

Screwed Crown

BRACELET

Brown and White

EXTRA STRAP

Moka and Brown

WRIST SIZE

Wrist 170mm to 210mm

RESISTANCE

100 Meters (10ATM)

WARRANTY

18 Months
Superb in every detail
I absolutely love my SX270. After asking the customer service which watch had the most readable hands I was advised to choose this model. At first I was unsure about the brown and rose gold color together, but after wearing the timepiece for a few weeks I adore it a little more everytime I look at it. This design is not for everyone, but if you like it at first site wait until you have one in your hand. Great quality product which I strongly recommend. Thank you. Dieter from Zurich.
Very happy
Beautiful watch and very happy with this investment. Thank you so much
Good value for the money
Brilliant designer watch. Unique and very different piece with high specs. Thank you for the friendly and helpful contact.
For the sx270
Why would you like anywhere else? I had recent experiences with more luxurious brands but choosing the independent market was much more satisfaction. Customer service is quick and personalized. My contact was friendly and answered all my requests. They spontaniously offered my free shipping to the other side of the world (New Zealand) and not many brands would do this. I will stick with wearing and buying watches from reputable samller brands in the future. Tahnk you Wryst! What a stunner this SX270 is!
A real stunner
At first I did not think this watch could look that good! I was made feel comforted by the sales team which said I would be able to retrun the watch unworn if I am not happy with the purchase. So I finally bought myself one. Gosh these look insane! At first I could not believe my eyes because on the website we can moistly see virtual images. So after closer inspection, yes that was exactly this watch except it feels totally different to see and wear one. I wish they had shown the watch on a wrist because that is something totally different. It just makes me feel sort of "weird" because most my watches have a round face. I must admit when I look back at my collection I just feel like wearing only the Wryst one! Thank you so much and all the very best to you. New watch brands do not make it very far but Wryst has been around for nearly 8 years which make me feel confident about my investment. Thank you so much for this wonderful timepiece!
Highly recommend
The new Force collection is great. I have the Elements PH4 in black/yellow and decided to add this bigger SX270 which does feel more luxurious. New size a little larger but actually still a great feel. Just a magnificent suave looking timepiece to wear, I also been given a free all black spare bracelet so thank you for that too
Best watch in my collection
This SX270 is my fourth wryst purchase. Saw it and immediatly took the jump as this oneis slightly bigger than the previous ones. Stunning! Received it the next day. The combination of black, rose gold and red hands is totally beautiful and give a real luxury feel. You should show more pictures of the watch with Moka bracelet as it is even better than the brown one. Thank you so much! Jonas P.
 Write a review