All Black Leather Watch Force SX210 Chrono for Men
The all black leather watch Wryst Force SX210 chronograph emulates your strength, authority, and excellence. This mystical timepiece empowered with an accurate 1/10th of a second Swiss chronograph had an antiallergic handmade leather bracelet. This manly size reference delivers comfort and sits sturdily on your arm. The body shielded with a sapphire crystal is protected with a unique scratch-resistant DLC: The Diamond-Like Carbon coating. Crown, Chrono pushers, and dial details are gilded with polished gun PVD. A spare black silicone bracelet comes with the SX210 and the black leather band.
No tax
Delivered within 3-4 days
100% secure payments
Scratch-Resistant Black DLC Watch with Leather Bracelet
The Dark Side of the FORCE in Black Leather
The all black leather watch SX210 benefits from the world's hardest and most scratch-resistant DLC protection. The domed crystal is in high-grade sapphire with an anti-reflective coating. The precision sports wristwatch also qualifies for 100 Metres water resistance.
Since the early 2000s, the success of all black men's accessories has been undeniable. It can be explained by the efforts to change the myth of stainless steel as a classic reference for watches. Everything started in the 90s with emerging Swiss brands whose marketing strategy was to use all black to be different, unique, and offer an alternative style. But materials and technologies would not provide the resistance expected by consumers. Some prestigious names in the industry decided to concentrate on black ceramic or the black PVD IP coating - But you certainly did not want to drop your investment on the floor by accident.
The Revolution of New Black Coating "DLC"
Wryst has been the first brand to introduce the black DLC coating to the market at an affordable price. The Diamond-Like Coating is much stronger than the previous poor-quality black PVD coating. Furthermore, the strength is also improved. Statistics show the DLC can increase the lifetime of your black metal parts up to 80 years. The steel base metal is so well protected that your watch will get fewer scratches on the surface than if it was a brushed plain metal finish. It is an excellent addition to the strong sapphire crystal that is tough enough to be scratched by a diamond.
A Stunning all-Black Leather Watch
The watch company Wryst is far from the supply chains, and all the Force references are only produced in small series of 75 units. This men's leather watch with black casing and the black watch face is a true statement of your fashion lifestyle passion. All Force references are 50mm in size.
These black chronograph leather dress watches are stunning timepieces inspired by the forces of nature. More specifically, the gravitational force. Dedicated to individualists with a hint of rebellious personality, be ready to defy the laws of gravity. Take risks during recreational or professional sports with a sturdy and durable timepiece that reflects your strong personality and charisma.
Good Brawny Size for Men
Bold, prominent, and masculine, the FORCE chronograph watches maintain a case size of 50mm, slightly larger than previous watch models with a 45mm case. Moreover, the case became thicker (15mm), and the dial dimensions increased. The double injection silicone bracelet's width is also enhanced from 22mm to 25mm to fit precisely with the broader aspects of the body.

Wryst flagship models' significant design highlight is their extreme barrel-shaped and curved case with open-worked edges on both sides. For the remarkable FORCE collection, Wryst radically redesigned the shape of the case by reducing the number of open-worked windows of the distinct borders from four to three on both the body sides. This unique design gives the timepiece an ultra-modern appeal and protects the screw-in crown and chronograph pushers from accidental damage.

The collection of 75 limited edition numbered pieces is now newly relaunched with four new stunning black leather bracelets. The FORCE Chrono collection features four distinctive groundbreaking styles.
Dedicated to Making an Impression
All these references Force are incredibly comfortable dressed in double injection silicone bracelets. It is relevant to mention that Wryst is the first brand to employ the unique bi-color successfully twin-layer dual injection silicone bracelets. Inside the standard package of every Force model, you will also find an add-on silicone strap of a distinct color theme for exploring alternative styles.

Wryst has upgraded the outstanding FORCE collection by launching four new versions adorned with luxurious leather straps.
Handmade Leather Bracelets with a Soft Feel
The Manufacturing process of these exceptional leather straps requires modern techniques and manual craftsmanship. Three different layers of quality leather make each strap strong and durable. These are assembled and reinforced with double stitching in two separate colored threads. The visible edges of the inside leather layer and the inner line of dual thread stitching share a similar color complementing each timepiece model's aesthetic.

The 25mm wide leather straps are large enough to fit precisely the Wryst Force bold dimensions. These straps are suitable for wrist sizes between 170 and 210mm. The new leather straps offer tight and seamless integration into the body, thanks to the uniquely designed lugs and the patented strap attachment system like the double-injection silicone bracelets. Meticulously designed to provide optimum comfort around the wrists, these flexible and soft leather straps are also antiallergic.

The add-on double-injection silicon strap shipped with this new Wryst Force leather strap edition graciously allows you to instantly change your watch's exotic look depending on your style and aesthetic preferences. Faithfully following the Wryst timepiece models' footsteps, each of these recent four versions from the Force collection has its charisma and distinct personality. Each variant embodies a set of color themes assigned for diverse activities and aesthetic styles.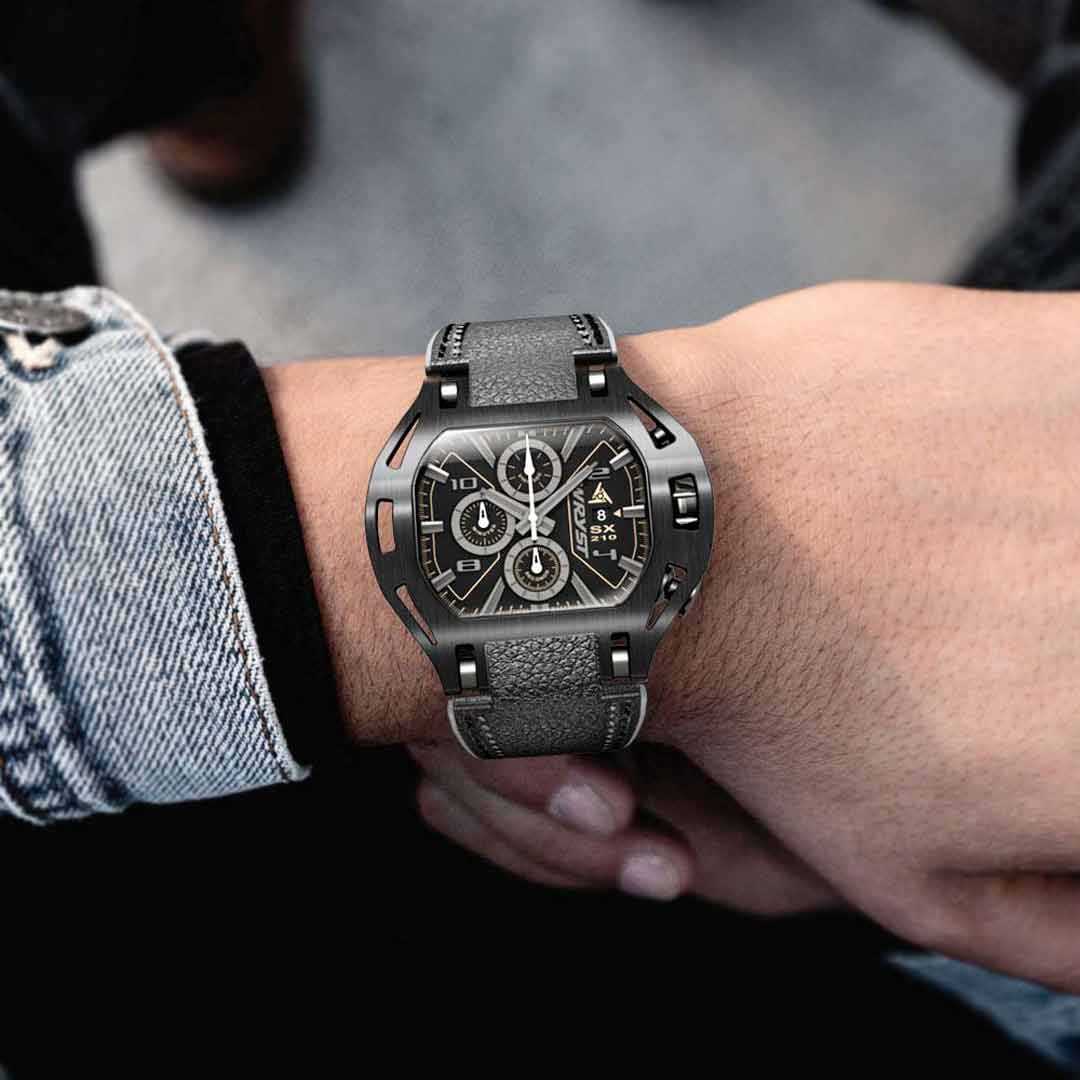 Enjoy receiving this superb timepiece worldwide with the exclusive coupon code FREE SHIPPING you can use in your cart during check-out. Wryst Swiss watchmaker offers fantastic customer service, and we strive to answer any question you may have quickly. We have been in the industry long enough and know what our customers expect. The built quality of all Wryst wristwatches is faultless. Each unit is subject to a thorough inspection and rigorous testing to qualify for the end buyer. These small series are also a secure long-term investment. Suppose you are looking for the perfect gift for your husband, dad, or son. The SX210 is an absolute winner and will satisfy any man who loves black sports timepieces with unique designs and strong materials.
Advanced Engineering for an Atypical Creation
Wryst offers a new, unique, and unforeseen look in the watchmaking industry. The Timepieces are designed by a renowned Swiss designer who has brought some of the most technical and futuristic creations to life. Part of the brand's DNA allows a select few people to purchase a more industrial-looking piece produced in limited edition for a fraction of the usual price.
The Triple Layers Handmade Black Luxury Leather Bracelet
The Wryst FORCE timepieces are now all available with luxurious leather bracelets. Flexible and soft with antiallergic treatment, this leather strap SX210 seamlessly integrates the elegant quality strap onto the watch case. This black and grey, delicate strap design is handmade, assembled, and stitched. Unlike many other bracelets ever produced, this captivating look benefits from grey leather edges and grey color stitches.
Another double-injection silicone strap comes with this bold 50mm Black Chrono Watch SX210.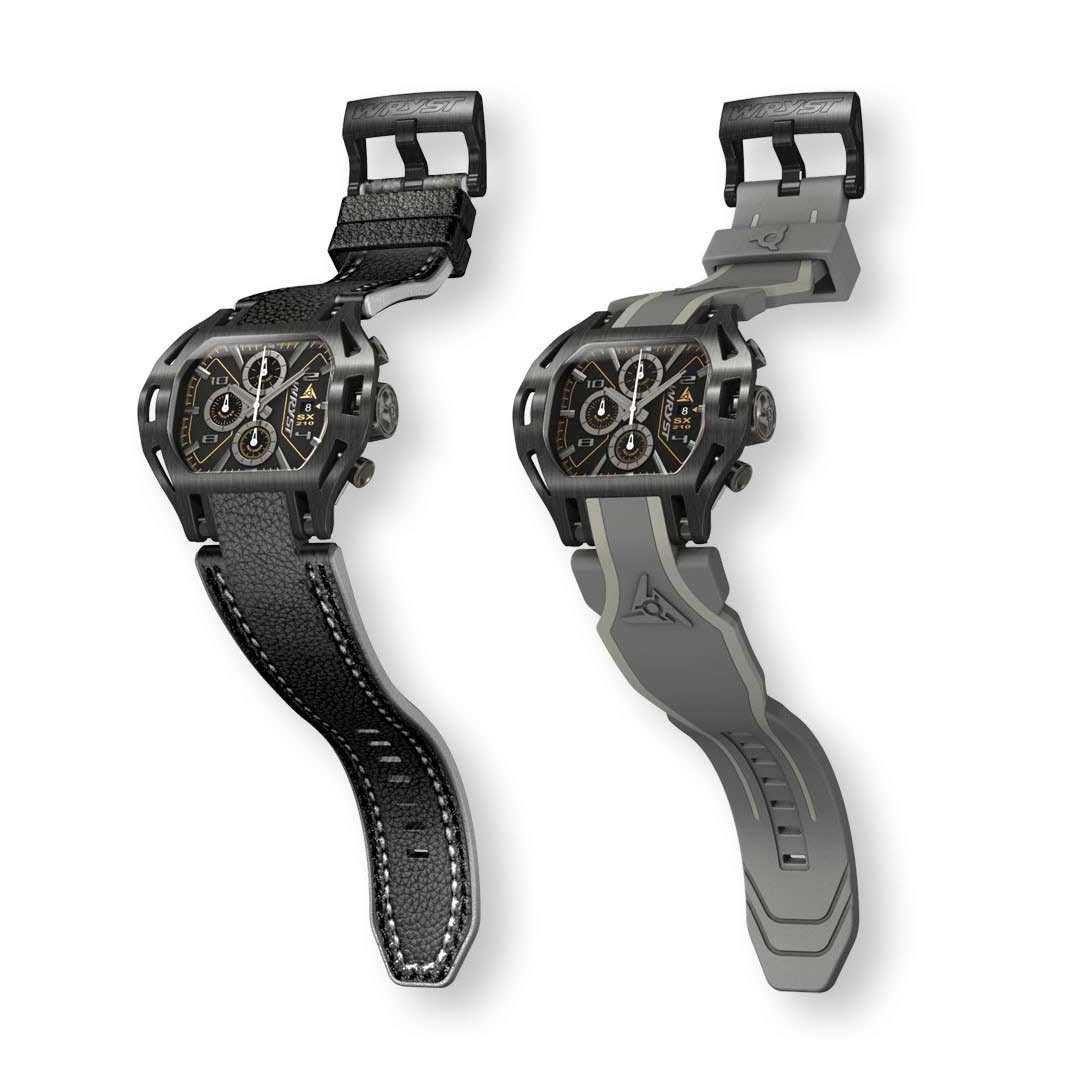 The World-Famous Swiss Signature
Carefully engineered, produced, and assembled in the Swiss traditions, each Wryst Force sports chronograph typically has its limited edition serial number engraved on the case-back. Promptly secured between the lugs with four large screws, the solid 516L stainless steel case back also features the Wryst logo, MODEL NAME, LIMITED EDITION, SM, and 100 METERS.

The luxury all black leather watch drives primary time display, date, and an incredible precision chronograph with 1/10th of a second precision. The stopwatch functions smoothly and precisely with the five-jewels chronograph quartz movement. Powering each Swiss Wryst Force is a reliable and precise Ronda 3540D quartz caliber manufactured in Switzerland.

The domed crystal is made of scratch-proof sapphire crystal with an anti-reflective coating for an unobstructed dial view. All Wryst Force Swiss chronograph models can handle water resistance up to 100 meters or 10 ATMs. Wryst generously offers an 18-month warranty for every Force timepiece.
There is only one place to purchase this stunning limited edition best men's leather watch: The exclusive online shop Wryst. Since 2012 Wryst has offered striking designs to the market. Cut the middle-man as the timepieces are exclusively available only, and there are no supply chains anywhere in the world. Our excellent online customer service is fast and efficient. You can also use the voucher for Free Shipping in your cart anytime.
Many references "Force" with silicone bracelets are available:

Data sheet
GENDER

Men

PRODUCTION

Limited Edition of 75 pieces

REFERENCE

Wryst SX210 Force

MATERIAL

Stainless Steel

COLOR

Black

COATING

Scratch-Resistant Black DLC

CRYSTAL

Sapphire Crystal

MOVEMENT

Swiss Chronograph with Date

SIZE

50 mm

BRACELET

Black and Grey Leather Bracelet

EXTRA STRAP

Grey and Soft Grey

WRIST SIZE

Wrist 170mm to 210mm

RESISTANCE

100 Meters (10ATM)

WARRANTY

18 Months
Une montre chrono merveilleuse
La montre est rééllement incroyable! L'avoir dans la main et la porter sont des expériences que je n'avais jamais ressenti avec mes autres montres - Pour la plupart de fabrication Suisse. La forme du boîtier et du cadran sont quelque chose de nouveau et c'est bien pour cette raison que j'ai acheté la mienne. Même la qualité du bracelet cuir - Souple, et confortable en même temps. Le systèe d'attache est aussi du jamais vu et je suis confiant de jamais pouvoir perdre mon investissement. Le revêtement noir DLC est un plus can j'ai porté bon nombre de modèles avec PVD et elles n'ont jamais durés. Peut être un petit moins pour la couronne un peu difficile à accèder sur les flancs (Près des poussoirs). La courbe en forme de dôme du devant est comme des vagues et le cristal saphir s'y integre à perfection. Pour le cadran peut être que ce modèle aurait du avoir du luminova aussi sur les aiguilles et les index. En gros je suis vraiement subjugué pas ma nouvelle acquisition. Vraiement surprenante.
Top quality product
Thank you so much for my new Wryst force! I was not expecting to receive the watch in a black box with black leather lining as well. Perfect looking all black style - The one I was looking for. Watch is bold, racy, and a good size. A particular plus for the leather bracelet more comfortable than most and also much larger in width. Top buy!
Really unique
A really unique shape and design. This black watch is so different than anything else I have seen before. Even from reputable Swiss brands. I was looking for a leather watch for men with a completely new look and I found Wryst. Good quality in the making and great finish. The leather bracelet is particularly soft, flexible and comfortable to wear.
Astonishing timepiece!
Wow what a nice watch! Plus I received in Australia with DHL Express in only a few days. Leather bracelet is very comfortable which make a satisfying change compare to most Swiss brands. I will need now to add an automatic to my collection - Thanks
Purchase
I'm always nervous when buying online, but really didn't need to worry, my watch arrived perfectly and exactly as described. If your looking for a luxury watch then I would highly recommend.
Fantastic
Best purchase ever! Thank you so much for all your help, I am so pleased the watch is outstanding and looks superb on my wrist, very happy customer!
Happy New Year!
I am so pleased I bought this watch, it looks and feels fantastic, I love the design and details of this watch. Beautifully presented I'm ecstatic with my purchase. Positive all round.
Bold and manly
I love my watches but I love even more this SX210 in all-black. The coating is still in immaculate condition after 2 months. I wear it everyday and I have a physical job and usually my previous black watches did not stay like this after two weeks and had minor scratches revealing the stainless steel below pretty quick. Strongly recommended stylish watch!
Awesome purchase
Great watch and affordable price. received promptly in Canada. Great watch brand.
 Write a review