Black Leather Watch Wryst SX210
The black watch with black leather bracelet Wryst Force SX210 emulates your strength, authority, and intelligence. This mystical timepiece empowered with an accurate 1/10th of a second Swiss chronograph had an antiallergic handmade leather bracelet. This manly size reference delivers comfort and sits sturdily on your arm. The body shielded with a sapphire crystal is protected with a unique scratch-resistant DLC protection: The Diamond-Like Carbon coating. Crown, Chrono pushers, and dial details are gilded with polished gun PVD. A spare black silicone bracelet comes with the SX210 as well as the black leather band.
Specifications
Data sheet
PRODUCTION

Limited Edition of 75 pieces

REFERENCE

Wryst Force SX210

CASE MATERIAL

Stainless Steel Grade 516L

COATING

Scratch-Resistant Black DLC

CRYSTAL

Sapphire Crystal

MOVEMENT

Swiss Chronograph with Date

SIZE

50 mm Width

BRACELET

Black and Grey Leather Bracelet

+ EXTRA BRACELET

Grey and Soft Grey

WRIST SIZE

Wrist 170mm to 210mm

WATER RESISTANT

100 Meters (10ATM)

WARRANTY

18 Months
Watch Description
Scratch-Resistant Black DLC Watch with Leather Bracelet
The Dark Side of the FORCE
The SX210 black watch with leather bracelet benefits of the world's hardest and most scratch-resistant DLC protection. The domed crystal is in high-grade sapphire with anti-reflective coating. The sports wristwatch also qualifies for 100 Metres water-resistance.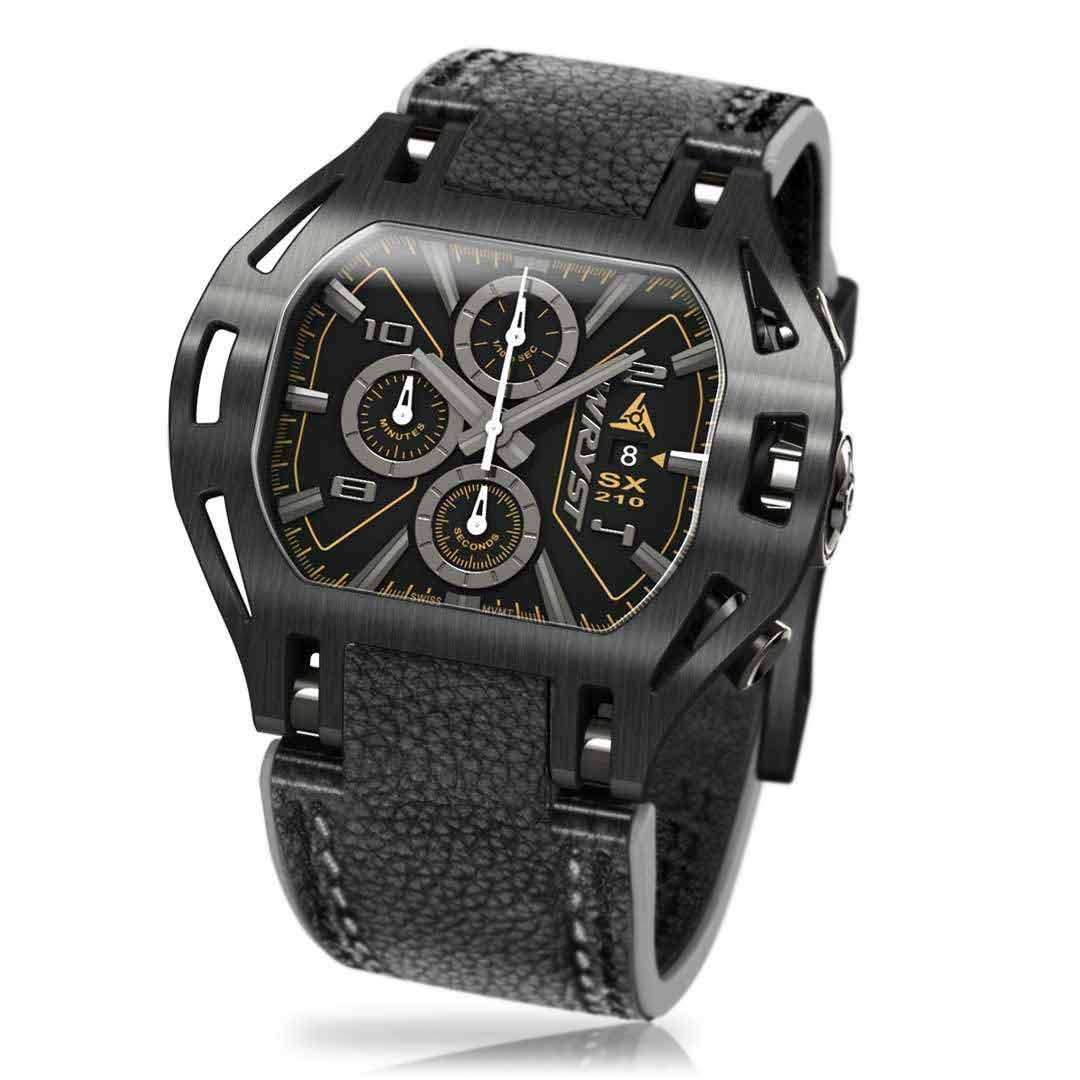 The watch company Wryst if far from the supply chains and all the Force references are only produced in small series of 75 units. This men's leather watch with black casing and black watch face are a true statement of your passion for fashion lifestyle. All Force references are 50mm is size.
This black chronograph leather watches for men are stunning timepieces inspired by the forces of nature. More specifically, the gravitational force. Dedicated to individualists with a hint of rebellious personality, be ready to defy the laws of gravity. Take risks during recreational or professional sports with a sturdy and durable timepiece that reflects your strong personality and charisma.
Enjoy receiving this superbe timepiece worldwide with the exclusive coupon code FREE SHIPPING which you can use in your cart during check-out. Wryst Swiss watchmaker offers a fantastic customer service and we thrive to answer quickly to any question you may have. We have been in the industry for long enough and know what our customers expect. The built quality of all Wryst wristwatches is faultless. Each unit is subject to thourough inspection and rigorous testing in order to qualify for the end buyer. These samll series are also a secure long term investment. If you are looking for the perfect gift for you husband, your dad, or your son, make no mistake. The SX210 is an absolutely winner and will satisfy any man who loves black sports timepieces with unique design and strong materials.
Advanced Engineering for an Atypical Creation
Wryst offers a new, unique, and unforeseen look in the watchmaking industry. The Timepieces are designed by a renowned Swiss designer who has brought to life some of the most technical and futuristic creations. Part of the brand's DNA is to allow a select few people to purchase a more industrial looking piece produced in limited edition for a fraction of the usual price.
The Triple Layers Handmade Black Luxury Leather Bracelet
The Wryst FORCE timepieces are now all available with luxurious leather bracelets. The design of this black and grey soft strap is handmade assembled and stitched. Unlike many other bracelets ever produced, this captivating look benefits from grey leather edges and grey color stitches. Flexible and soft with antiallergic treatment, this leather strap SX210 has a seamless integration of the luxurious quality strap onto the watch case.
Another double-injection silicone strap comes with this bold 50mm luxury Wryst Force SX210.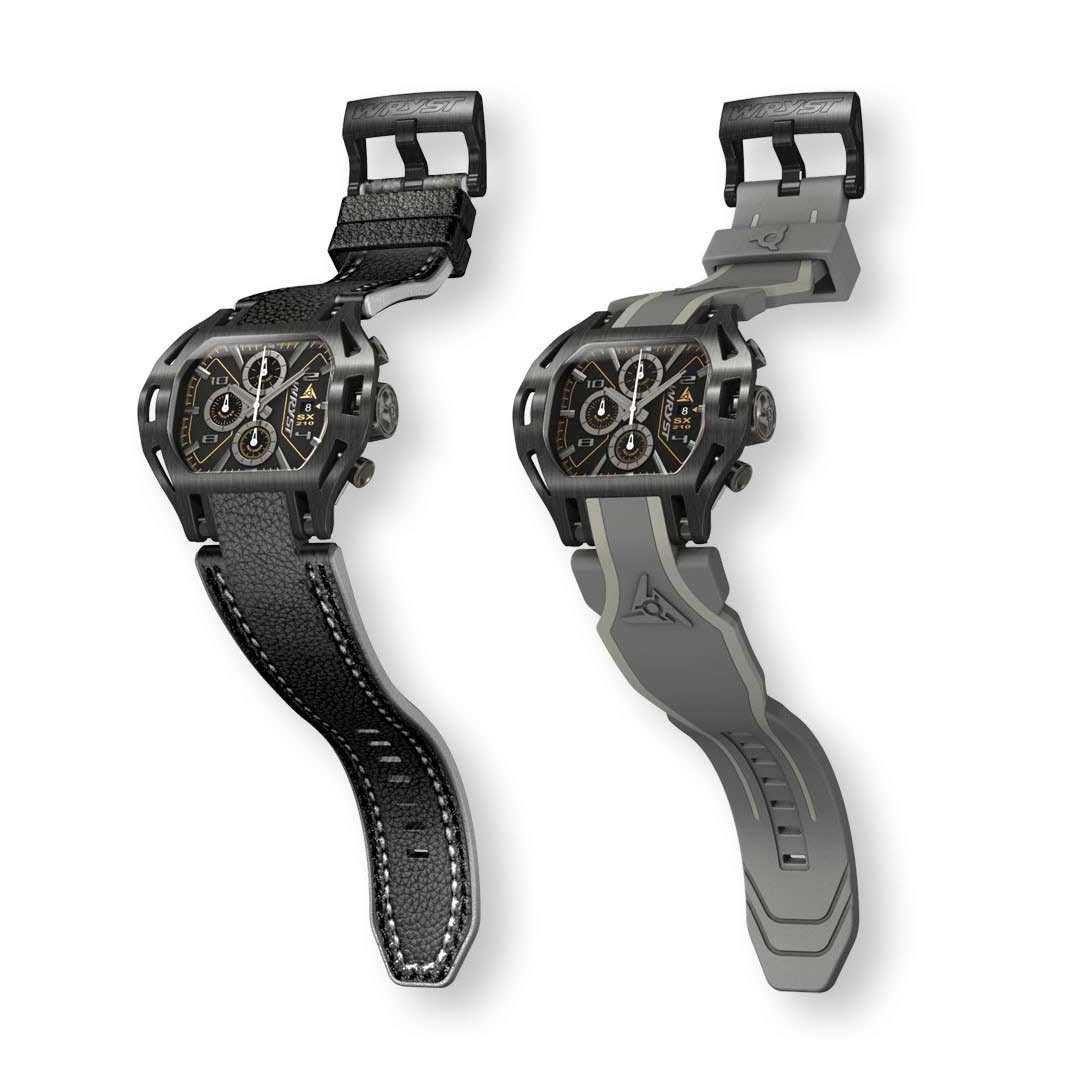 Other Swiss Sports Chronograph FORCE
Several other FORCE models are available. Discover the Force SX230 with a polished finish and black bracelet, the black and Rose Gold Force SX270 with brown alligator bracelet, and the deep blue Force SX300 with black and blue leather bracelet.
Video of the Wryst Force SX210:
Reviews
Purchase
I'm always nervous when buying online, but really didn't need to worry, my watch arrived perfectly and exactly as described. If your looking for a luxury watch then I would highly recommend.
Fantastic
Best purchase ever! Thank you so much for all your help, I am so pleased the watch is outstanding and looks superb on my wrist, very happy customer!
Happy New Year!
I am so pleased I bought this watch, it looks and feels fantastic, I love the design and details of this watch. Beautifully presented I'm ecstatic with my purchase. Positive all round.
Bold and manly
I love my watches but I love even more this SX210 in all-black. The coating is still in immaculate condition after 2 months. I wear it everyday and I have a physical job and usually my previous black watches did not stay like this after two weeks and had minor scratches revealing the stainless steel below pretty quick. Strongly recommended stylish watch!
Awesome purchase
Great watch and affordable price. received promptly in Canada. Great watch brand.
 Write a review