-18%
Black Sapphire Crystal Watch ES60
Black sapphire crystal watch Wryst Ultimate ES60 with black DLC coating and red details in a limited production of 99 watches. This reference is an outstanding timepiece. High-end specifications and complemented by a brushed black finish on the case, crown and buckle, and a magnificent black dial with red details. A bright red double injection silicone bracelet is also included.
Specifications
Data sheet
GENDER

Men

PRODUCTION

Limited Edition of 99 pieces

REFERENCE

Wryst ES60 Ultimate

CASE

Stainless Steel Grade 516L

COATING

Scratch-Resistant Black DLC

CRYSTAL

Sapphire Crystal

MOVEMENT

Swiss Quartz with Date

SIZE

45 mm Width

CROWN

Screwed Crown

FEATURE

Deep Engraving on Case Side

METAL BAND

Solid Steel with Black DLC Coating

EXTRA STRAP

Black and Red

WRIST SIZE

Metal 176/230mm, Silicone 150/205mm

RESISTANCE

200 Meters (20ATM)

WARRANTY

18 Months
Description
Wryst Ultimate ES60 Black Watch with Sapphire Crystal
Robust and Durable Black Watches
The black Wryst ES60 watch in stainless steel is dedicated to individualists looking for a large size 45mm strong and durable companion. Crafted with the grade 516L Stainless steel, the strongest available, all metal parts benefit from a unique black DLC coating for extra hardness and resistance to wear and tear. Coating technologies like PVD or IP will not protect your black watch. This ES60 has protection against scratches for up to 80 years. Your investment will no longer be vulnerable to unintentional shocks.
You can now forget about wearing marks and scratches with the extra-strong black DLC coating used by Wryst. Your invesment is safe and this is our main priority. The ES60 is a limited edition timepiece offering the newest black coating technology at a competitive price. The cheapest on the market! Most other black sports watches (95% of any other black metal sports watch on the market today) use a cheap and low quality PVD black coating. Even if this makes your metal watch looks good at first, the case and metal black bracelet can be scratch as soon as the first day you have worn it. We know this because we have done some tests. Our exclusive new Dimaond-Like Carbon coating has also been tested and the results are astonishing. The DLC technology will literally add dozens of years to your timepiece life expectancy, keeping a fresh black brushed look like on the first day.
Watch the video of this Wryst ES60 with the silicone bracelet:
Make it even more sporty and attractive with the extra red silicone strap included
The metal black Swiss watch Wryst Ultimate ES60 also contains a soft and resistant silicone strap in black with a central red line. Adapt your moods and fit either the black metal bracelet or the black silicone strap with red details. The silicone strap included will also provide with a black DLC signed square buckle.
Wryst makes no compromise and produces the most affordable black DLC wristwatch available on the market since 2012. Engineered and built in Switzerland, you can be guaranteed to purchase a superb unique timepiece with exclusive craftsmanship.
Are you looking for nice watches with leather band? This exclusive Ultimate ES60 is also available for you with a black leather strap with red and black Carbon Fiber. More racing-inspired than ever, this high-specification steel watch can be bought also in a more suave and striking look. The black genuine carbon fiber leather bracelet has red stitches. Note you do not have to purchase several mens digital plastic watches anymore. Wryst offers the best of both worlds - Quality Swiss Made timepieces with a scratch proof black coating up to your expectations. Benefit from prompt free delivery worldwide with any of the timepieces available in our exclusive online watch shop with the code FREE SHIPPING which can be used in your cart. We also provide a different chronograph watch within the Wryst Force series.
Black Coating and Sapphire Dedicated to Extreme Sports
The specifications this timepiece include have never before been achieved in the industry. Check-it out yourself. There are no other watches available on the market with the following specs at this price point. Sapphire crystal with anti-reflective coating - Raised dented bezel higher than the glass - CNC machining case sides 0.6mm deep - Screwed case back qualifying for 200 meters water-resistance - Black DLC technology usually found on watches over $4000US price point - Screw-down crown system protecting even more from immersion - Swiss made quartz movement with date at 3-hour position - Bright white luminova on the hands and hour markers - Two bracelets included for versatile look - Bespoke square DLC buckle size 22mm.
World's most scratch-resistant black watches
Other references with silicone bracelets from the "Ultimate" collection:
Wryst Ultimate ES20 with all-black bracelet
Wryst Ultimate ES30 with green and black bracelet
Wryst Ultimate ES40 with yellow and black bracelet
Wryst Ultimate ES50 with grey and orange bracelet
Wryst Ultimate ES60 with black and red bracelet
Also available with two silicone bracelets here: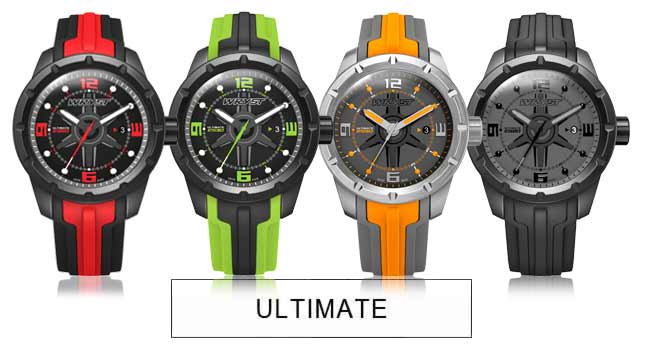 Reviews
Perfect for me
I will wear my watch with pride! Feels nice and bulky without being overly heavy. Great to know I finally managed to afford a Swiss quality watch with that DLC coating. The sapphire lover than the bezel is very clever and I like the engraved case body on the sides. Highly recommended for the finish and superb dial with bright hands.
Fantastic
Its been a pleasure to buy from Wryst website. I purchased the ES60 and it is a lovely watch to wear everyday. I dont have any complaints about the watch or customer service, it was all a good experience.
A beauty
This ES60 is brilliant! I have fitted the black/red bracelet instead and the feel of this watch is totally insane. I lie the bezel and the fact that it will be a long lasting black watch - Bought many but they got scratched pretty stright away - I will comfortable the DLC coating will last and so far one week and still looks like the first day thank you!
Bold watch
Thank you so much the watch is great and feels comfortable despite a good large size. I wear it everyday and very happy with the purchase. Kind and friendly customer service.
 Write a review