Unique Watches Wryst Ultimate ES40 for Men
The unique watches Wryst ES40 Ultimate with yellow details is ideal for outdoors and extreme sports. This 45 mm bold black Swiss timepiece with luminous hands and hour markers is offered in a limited edition of 99 pieces, ideal for outdoors & adventure. This exclusive black Ultimate watch is engraved 0.6 mm deep on the case side and dedicated to a bold lifestyle. The scratch-resistant black DLC coating and sapphire crystal provide a unique black timepiece ready for casual wear and active sports with a sturdy and technical casing. It also includes a black bracelet.
No tax
Delivered within 3-4 days
100% secure payments
Black Wryst Ultimate ES40 Reference with Yellow details.
BLACK SCRATCH-RESISTANT "DLC" PROTECTION
The unique watches Wryst ES40 features a durable black DLC scratch-resistant coating. The bright yellow details and luminous hands give these sports timepieces a comfortable sensation and precise reading. The DLC technology on the case, crown, and buckle are a must-have for outdoor and intense use. Two bracelets come with each Wryst Ultimate for men and women. There is also a date window at a 3-hour position.
Wryst introduces the world's most scratchproof black coating at an affordable price to the market. Note the timepiece is also available with the following options: A black carbon fiber leather band with yellow stitches and an all-black DLC metal bracelet if this is your preferred option. In any case, Wryst offers you two bracelets systematically with all different timepieces available.
AN ATYPICAL AND UNIQUE WATCH DESIGN
The case sides are engraved by CNC machining at 0.6mm deep with the brand's name. The back reveals the unique triangular logo in deep engraving, representing the three strong mottos of Wryst DNA: reliability, robustness, and Durability.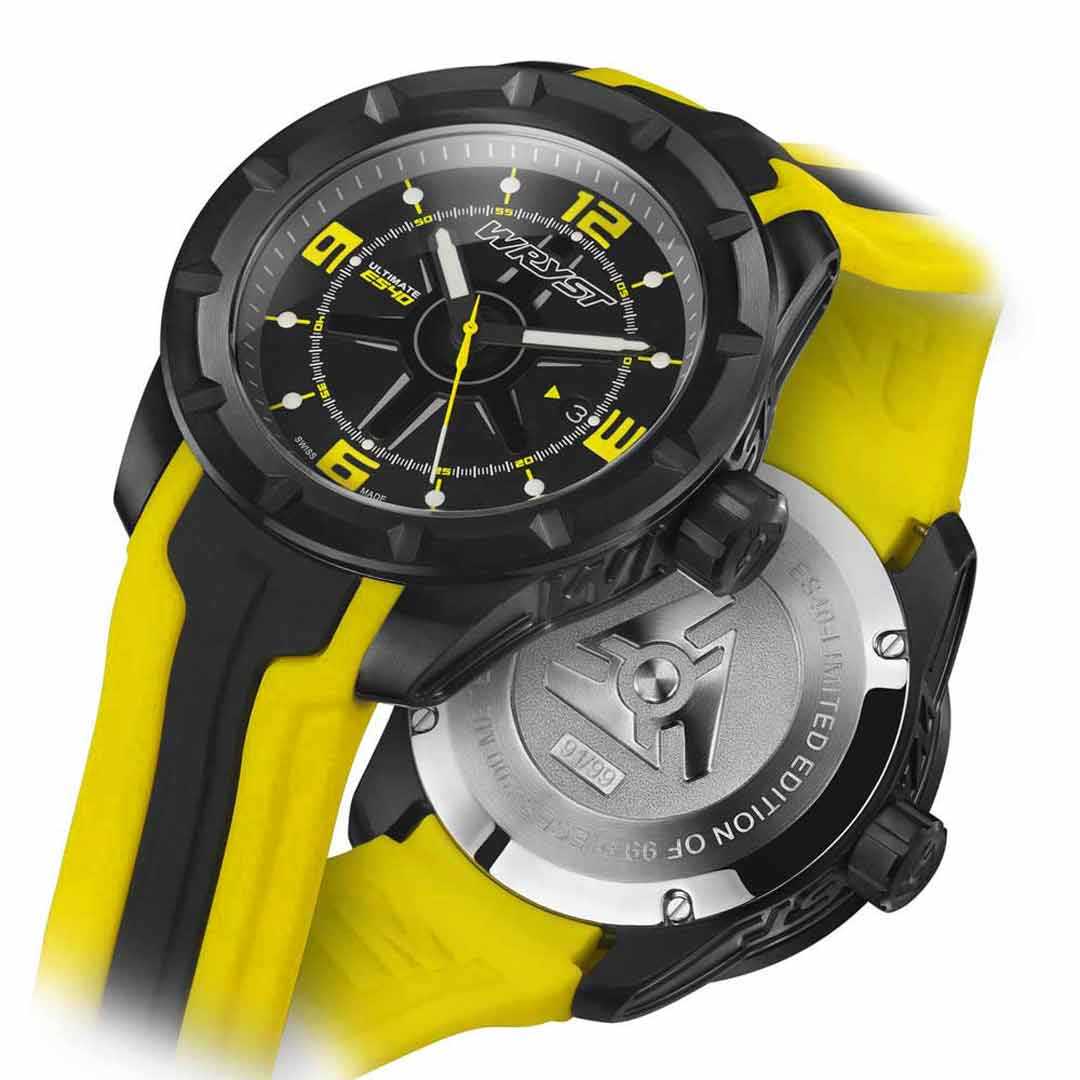 NO MORE SCRATCHES AND MARKINGS ON YOUR TIMEPIECE
Have you had enough of the poor-quality black coatings? Do you prefer steel watches, but do you want them to be black and resistant? Only one timepiece will be a suitable investment for you through the vast choices available. Wryst offers the world's most challenging and affordable extreme and outdoor sports Swiss time wear. These tough timekeepers are durable and sustainable for your busy daily lifestyle. Adorned with the all-black silicone bracelet, these will also make the ideal dress yellow timekeeper with black dials for any occasion. This ES40 also has a unique raised bezel protecting the sapphire crystal and a Swiss quartz movement with 45 months of battery life. Horological designs hardly showcase such a taste for open outdoors and adventures.
A LIMITED-EDITION OF 99 UNITS
Only 99 Wryst Ultimate ES40 will ever see the daylight. This unique wristwear will satisfy collectors and individualists looking for a unique black and yellow watch with black stainless steel casings. All other references from the brand are only available in a small series of 75 or 99 pieces. Wryst is an independent Swiss manufacturer with years of experience. Make your move while you can with a disruptive stylish Wryst ES40 while you still can. We offer dedicated, friendly customer service and an 18-month manufacturer warranty for this series's references. Use the voucher FREE SHIPPING in your cart and receive your black Ultimate ticker promptly worldwide. Courier costs are on us.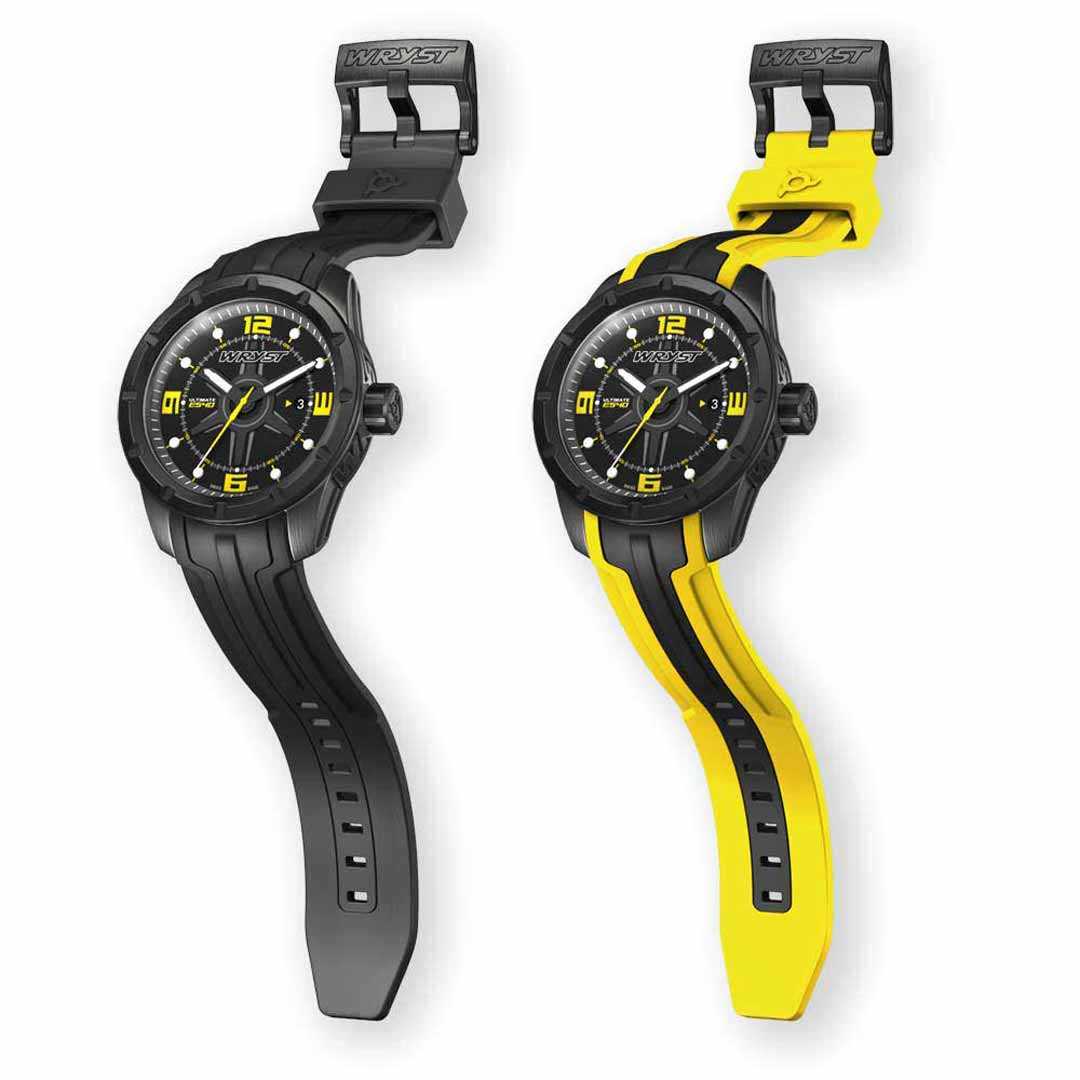 MANUFACTURED IN THE SWISS TRADITIONS
The world-renowned quality of good Swiss reputation is undeniable in the industry. This Ronda 515 quartz movement is a great asset. Shock resistance, magnetic fields, and also fluctuations in atmospheric pressure gravity will never prevent you from keeping accurate timing. Most importantly, the ES40 is a bold and sturdy timepiece you will enjoy wearing every day like no other one. Wryst also offers a selection of chronograph watches with modern style.
CRYSTAL SAPHIR WITH ANTI-REFLECTIVE COATING
The 2 mm thick sapphire crystal is intelligently below the level of the bezel. This unique feature will further increase the timepiece's longevity and avoid any direct contact of the glass onto a flat surface—the crystal benefit from anti-glare protection for a better reading of the time in low lights.
This eye-catching wristwear turns heads and benefits from the best of Swiss know-how. Comfortable, the friendly unique mens watch is perfect also for business casual wear. An excellent and unique black scratch-resistant timepiece is only produced in exclusive small series. Also available with carbon fiber black leather strap.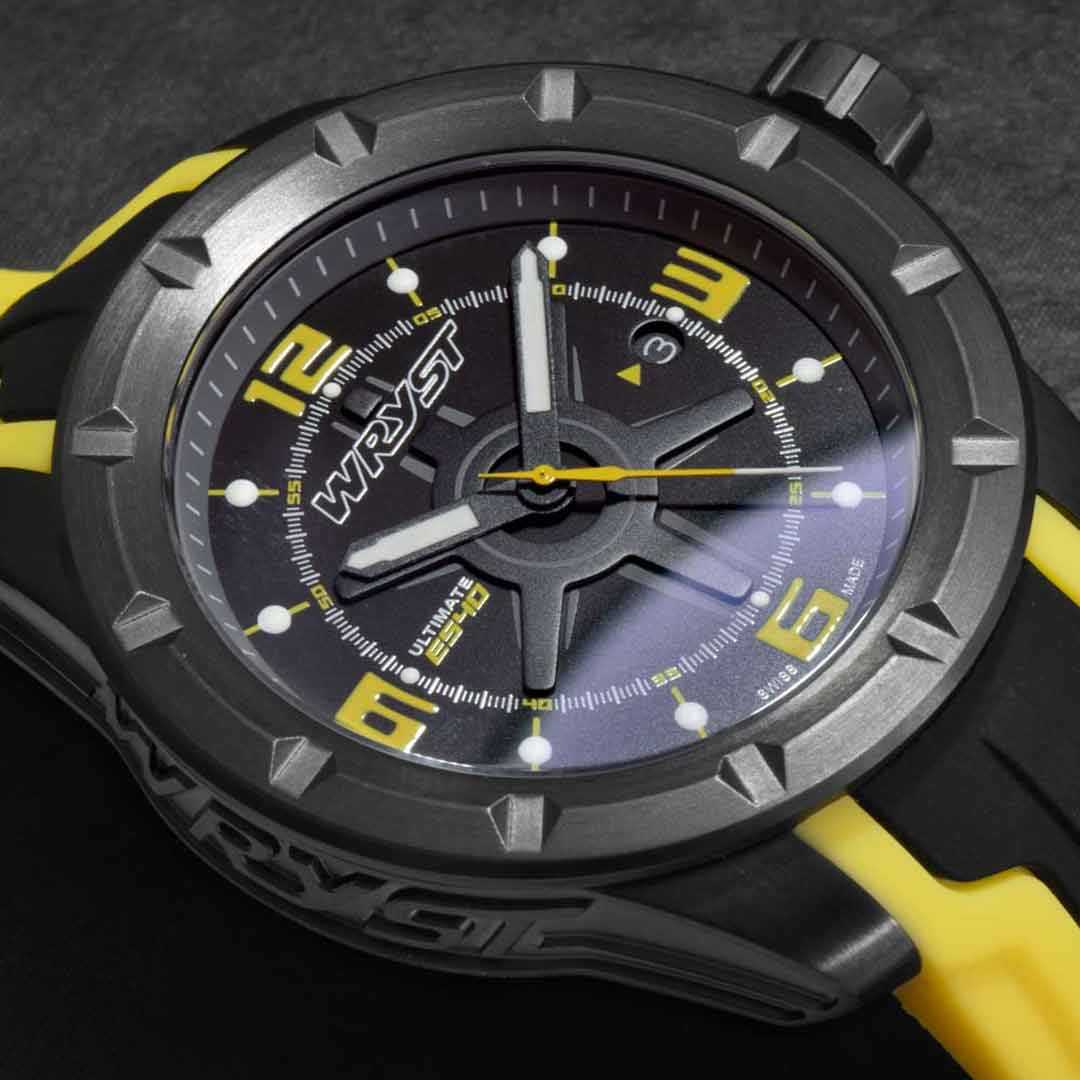 WATER-RESISTANT TO 200 METERS
Laboratory tests at 20 atmospheric pressures qualify for water resistance of 200 meters. The feature is perfect for most water sports and recreational activities in the water. Moreover, the back of the case is secured with four bold screws, and the screwed crown contributes to the timepiece's water resistance. Feel confident using your timepiece for surfing, windsurfing, waterskiing, kitesurfing, etc. This ES40 will enjoy any other one of your favorite adrenaline-seeking activities.
TWO BRACELETS INCLUDED
The Ultimate Collection models, offering a unique and versatile look, include two bracelets—a double injection yellow silicone bracelet with a broad black central line and a second black-on-black bracelet. There are also many other references featuring different bracelet materials. Contact us and request the complete list of possibilities to dress your Ultimate model.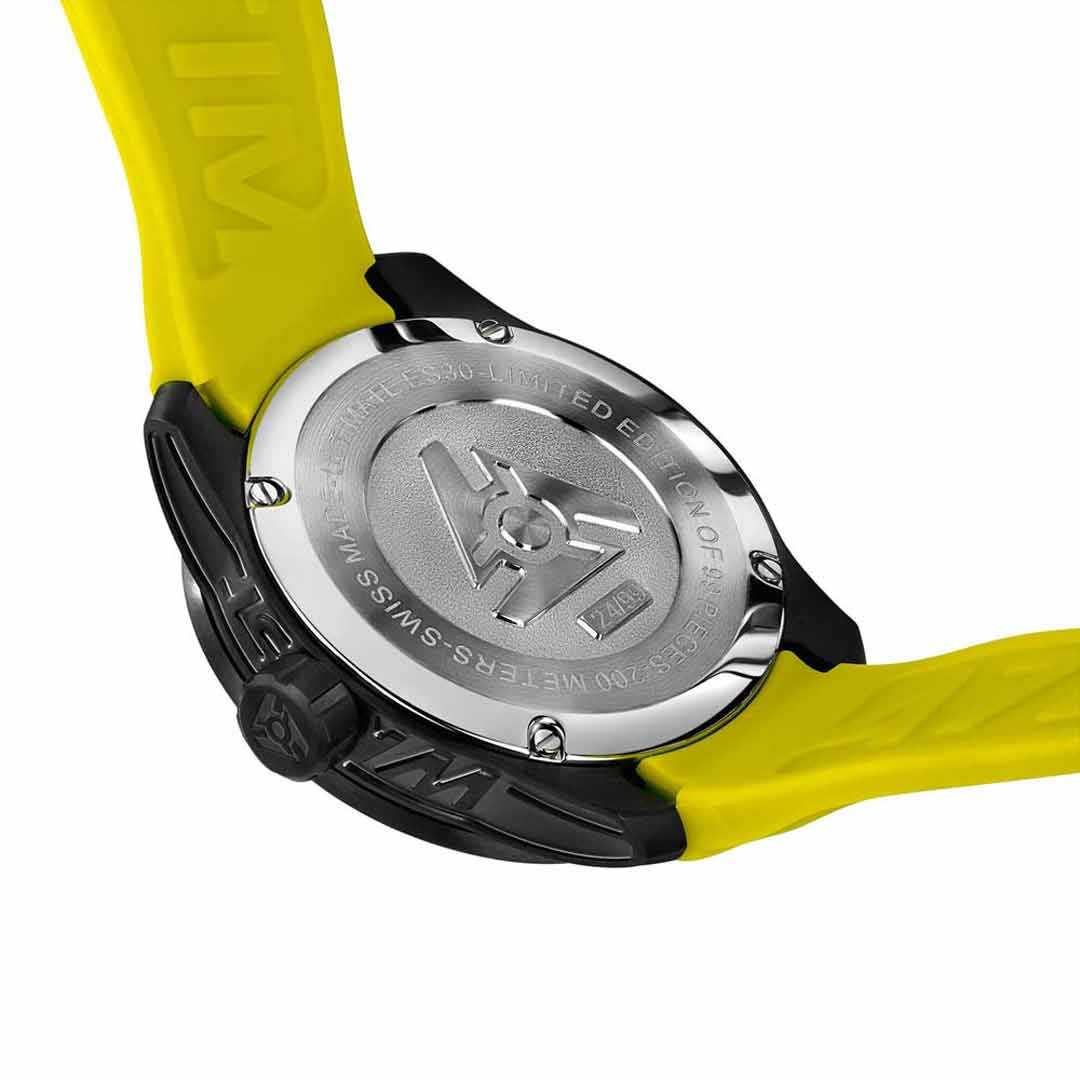 LUMINOUS HANDS AND INDEXES
Luminous white hands and hour markers are part of the limitless beneficial specifications. Check the time in low-light is extremely important to wristwatch lovers. The collectible black timepiece has all you need. Wryst is offering a well-thought-after timekeeping instrument designed for your comfort. All you have to do is wear your sports timepiece; we look after everything else for you.
You can take the jump today for this black dials reference with yellow details. Everything about the ES40 makes it the perfect candidate for you. The Ultimate also includes a more affordable retail price compared to most competitors. We have no competitors at this time. Most other brands offer the exact specifications we provide, but not all of them together.
In conclusion, you will fully appreciate the performances of this three hands and date Swiss quartz exclusive watch. After all, what else do you expect from a Swiss stainless steel grade 516L black sports timekeeper? The Wryst Ultimate can become your best companion for many years to come.
Other References with Black Scratch-Resistant Black Case & Bracelet:
OTHER MODELS IN THE ULTIMATE COLLECTION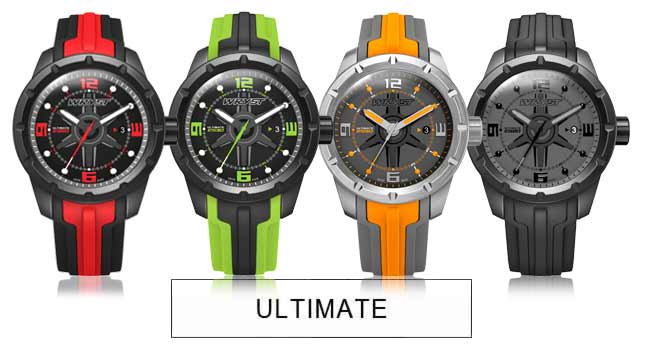 Data sheet
GENDER

Men

PRODUCTION

Limited Edition of 99 pieces

REFERENCE

Wryst ES40 Ultimate

MATERIAL

Stainless Steel

COLOR

Black

COATING

Scratch-Resistant Black DLC

CRYSTAL

Sapphire Crystal

MOVEMENT

Swiss Quartz with Date

SIZE

45 mm

CROWN

Screwed Crown

FEATURE

Deep Engraving on Case Side

BRACELET

Yellow and Black

EXTRA STRAP

Black

WRIST SIZE

Wrist 150mm to 205mm

RESISTANCE

200 Meters (20ATM)

WARRANTY

18 Months
Unique Design
These are totally unique watches for men with the case side like I have never seen before. Black protection is totally insane as I work physically everyday and usually a black watch will not pass the first week without a scratch. Thank you.
Top value for money
Very exciting design. Good watch in size 45mm. High specifications at an affordable price - Thank you!
Exquisite timepiece
This ES40 really stands out in my collection. Thank you for even creating this beauty. I like everything about it. The case sides are majestic, the dial is clear to read with well contrasted hands. I also like the case back the way it was made. Knowing the watch is 200 meters water-resistant and has a sapphire crystal gives me piece of mind. Well executed production and faultless details. Big up Wryst!
All I needed
Great valur for money - Has everything I ever needed and more: 200 meters water resistance, sapphire crystal, a hard coating scratch resistant black case, and a good size! An extra black bracelet came with it which is an extra. Thank you for this quality ES40 well built.
Over The Pond Customer
I am a 76 year old Senior and wanted a watch that was sporty in looks as well as rugged since I enjoy fishing and gardening. This watch met all my criteria and I have had several persons inquire as to where I purchased such a handsome watch. There were a few issues when I first purchased the watch such as using the crown to adjust time and date. Once I inquired, the staff were always willing to provide professional help in a very timely manner. This watch will certainly replace my more expensive and dressy watch. My only regret is that I do not own a watch of each color. I wear my ES40 with exceptional pride. Wayne Smith - United States
Very happy with this purchase
I received my ES40 and changed the bracelet to black straight away. Looks and feels better than I imagined. Was tricky to make the jump and buy online but what a treat! Thanks great customer service who helped for the purchase. Highly recommended.
Great giflt all the way
Offered this watch to my best half for Christmas and he is over the moon! Thank you so much Wryst for fast delivery. Nadia
Good value
Cool watch - Only compliments so I will make sure to look after it. Second strap free is a plus for sure. Thx
Class watch, period
This sport watch is a total winner, good size. Thank you so much for fast shipment to US!
Beautiful Sport Watch
I received today my new Wryst ES40. Superbe design and very flashy sport watch. The case side engraved I never saw anything like it before. Thank you so much
 Write a review