PVD vs. DLC Coating - How to choose your black watch
Black DLC Watches Vs. Other Black PVD Watches
PVD vs. DLC, all you ever wanted to know about your black timepiece. A genuine sports watch must be reliable, robust enough, and efficiently perform its assigned chronometric functions without any physical damage while engaged in extreme activities. This principle is also applicable to the exclusive watches used in military operations, search and rescue missions, firefighting, sailing, diving, science and research, exploration and adventures, engineering and industrial sectors, aviation, space, etc. In these times, the extreme timepieces have also become a chief attraction of gentlemen's wardrobe as stylish wrist companions.
You may wonder what DLC is?. To attain a black steel watch demanding characteristics, carefully selecting the most suitable materials and the proper production techniques is necessary. The familiar materials used in manufacturing sports watches are stainless steel, titanium, ceramic, bronze, and some specific gold alloys. Comparatively, 316L stainless steel tops the list. PVD stands for physical vapor deposition. The "D" in DLC stands for diamond and not 'deposition.'
Usually, the watch case's aesthetic features and other external parts are enhanced by using different finishing techniques like brushing, polishing, sandblasting, etc., or using powdering or electro-plating techniques. However, these methods are purely decorative, and they merely provide any considerable enhancement in the physical strength of watch parts.
Buy Black DLC Watches from £492 | $673
Black PVD Coating Explained
At present, luxury Swiss watches brands can choose new-generation thin-film coating techniques like PVD (Physical Vapor Deposition) or CVD (Chemical Vapor Deposition) for enhancing aesthetic features and physical characteristics of the extreme sports timepieces. For example, you will never find Rolex watches with a PVD coating.
Vacuum Deposition is an industrial procedure used to deposit layers of a material atom-by-atom or molecule-by-molecule on a solid surface. Both PVD and CVD are primarily two different types of Vacuum deposition technologies used in the thin-film coating. Compared to powdering and electroplating techniques, PVD and CVD coatings are thinner and provide longer life, improved scratch resistance, hardness, more durability, superior corrosion resistance, and better wear resistance. The PVD process makes it possible to manufacture watch cases and other external metal parts in various color shades like yellow gold, rose gold, bronze, blue, black, etc.
The First Choice Black DLC Coating for Watches
DLC is an acronym for Diamond-Like Carbon. The DLC coating is an advanced thin-film coating method using either PVD deposition via Arc and Sputtering or PACVD (Plasma Assisted Chemical Vapor Deposition). This method can produce thin films that combine the distinctive properties of two carbon allotropes: Diamond and Graphite.
Diamond is one of the hardest known materials in the universe with a hardness of 10 Mohs scales (Equal to 10000HV Vickers), whereas Graphite is soft, slick, and endures a hardness of only 1.5 on the Mohs scale. Therefore, the thin-film coating produced by DLC combines the hardness of diamond and the lubricity of graphite. According to specific demands, DLC coatings can be customized by utilizing process parameters and varying the diamond or graphite properties.
With DLC coatings, significant improvements in hardness can achieve up to 9000 Vickers, which is much higher than PVD's hardness levels or any other surface coating method. Pvd vs. DLC, which is best?
Typically, DLC coating provides a color shade ranging from anthracite to deep black.
Black is one of the most admired colors, and it symbolizes power, wealth, elegance, and a luxurious lifestyle. Whether for a luxury car or high-fashion clothing, the black color is the first choice for modern celebrities, style seekers, and trendsetters. Following this trend, there is a growing demand for black watches in the market.
The black-colored watch cases and parts can be available, implementing several methods like powdering, blackening, ceramic coating, Ion-plating, PVD, and DLC. Among these, the DLC process can provide the most superior black surface on the watches. Wryst uses the amorphous carbon coating by Plasma Assisted Chemical Vapour Deposition (PACVD) technique for their black DLC watches.
In the following sections, we can discover some outstanding qualities that make Wryst black DLC watches superior to the other black (PVD/IP pated) watches presently available in the market.
A Quick Glance at Wryst Black DLC Watches
Wryst is a leading producer of well-built yet affordable black DLC luxury sports watches. The brand offers exclusive black DLC watch models from their Force, Racer, Elements, and Ultimate collections. Each Wryst black DLC watch is limited to 75 or 99 pieces, depending upon the selection.
The Wryst Force chronograph watches collection offers two black DLC models: a black leather watch SX210 and a black men's watch SX270. These timepieces feature a 50mm diameter barrel-shaped case in black DLC coated 516L stainless steel and house a Swiss quartz chronograph movement.
The black Chrono watch SX210 features a black dial. Its retail price is $912.00 for the double injection silicone strap versions and $979.00 for the leather strap version.
The black and gold SX270 features a rose gold color dial. Its retail price is $965.00 for the second injection silicone strap version and $1,044.00 for the alligator brown leather bracelet.
The Racer carbon fiber SX4 is the only black DLC model from the Wryst Racer watch collection. This motorsports timepiece features a 50mm diameter barrel-shaped case with black DLC coated 516L stainless steel, a meticulously designed multi-layer dial, and a Sellita SW200 self-winding movement. This black DLC watch's retail price is $1,726.00 for a second injection silicone bracelet version and $1,831.00 for black carbon fiber leather bracelet.
The Elements sports watch collection offers black DLC watch models named Black and Green Watch PH3,  sport watch for men PH4, fashion watch PH7, Black Watch PH6, and black and blue dive watch PH7. The Elements models are dressed in a barrel-shaped, 45mm diameter, black DLC coated 516L stainless steel case topped with a K1 mineral crystal. The Elements models feature a black dial and a Swiss Quartz three-hand date movement. Different color themes are all offering two double injection silicone bracelets, dial indexes, and hands. The Elements black DLC watches retail at $775.00.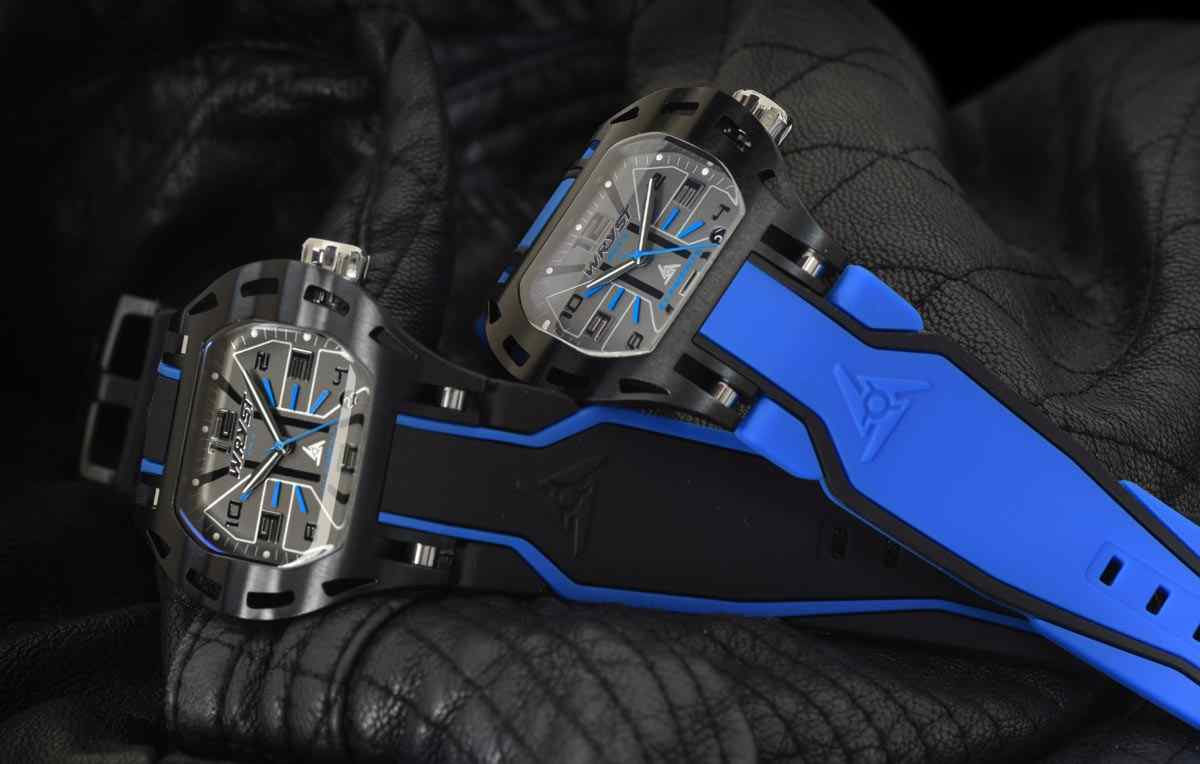 If you are wondering about PVD vs. DLC, we hope you have found the answers you were looking for on this page. The Wryst Ultimate black watches collection offers black DLC coated 516L stainless steel watch models with bi-color double injection silicone strap, All-black silicone strap, carbon fiber leather strap, khaki-green CAMO military watch with camouflage leather band, or Black DLC Coated stainless steel bracelet. Typical features of these black DLC watch models are a 45mm diameter round case, black dial, sapphire crystal, and Swiss quartz three-hand date movement. The retail price range of the Wryst Ultimate Black DLC watches is $418.00 to $623.00.
External references:
Diamond-like carbon on Wikipedia
Discover our collections of black DLC watches: