Carbon fiber swiss watch for car racing Wryst Motors MS3
Published : 03/13/2017 12:16:19
Categories : Latest Wryst Watches News
Pictures of the carbon fiber swiss watch for car racing Wryst Motors MS3
Atypical Motorsport Swiss Watch
Latest pictures of the groundbreaking Wryst Motors MS3 Swiss watch a must have to all fans of racing cars, sports cars, supercars and formula one. Fitted in a scratch resistant black DLC designer case is a fantastic thick grain dark grey chronograph dial. On both sides of this stunning racer's chrono dial are two inserts of carbon fiber as well as red hands and details. At 9h the common two words marking synonym of world's best watchmaking know-how and craftsmanship are printed: Swiss Made. The individualist carbon fiber Swiss watch is only produced in limited edition of 99 pieces. We would, therefore, advise you do not delay your purchase.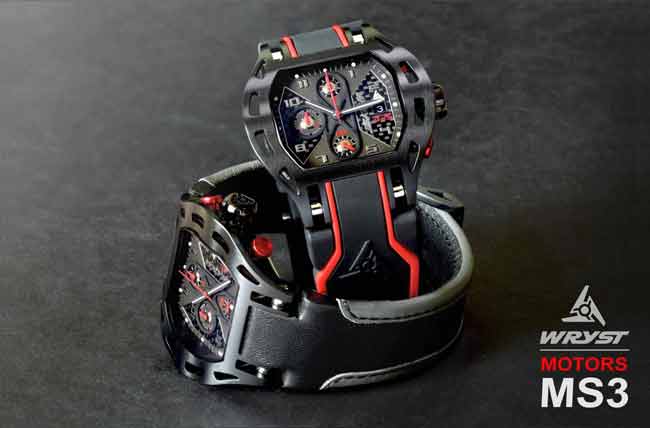 Discover new visuals of the Wryst Motors MS3 car racing chronograph watch
The Wryst Motors MS3 is extremely exclusive and only 99 watches will ever be produced. For this reason is very likely the MS3 reference will be sold out for the end of 2017. Each one of the unique 99 watches is engraved with the serial number on the brushed and polished screwed in stainless steel case back. The timepiece is 100 meters water resistant.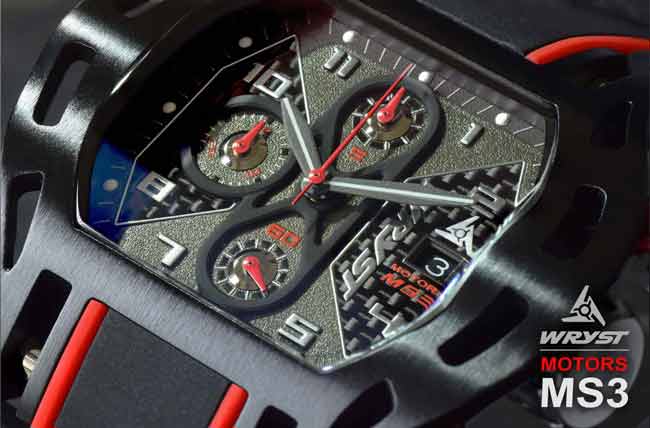 Groundbreaking specifications
Unlike most black watches available on the market today, Wryst Swiss brand introduced in 2012 the hardest black coating available in the watch industry: The Diamond-Like Carbon coating. This super hard and tough treatment is leaving behind the scratches, wear, and tears that can occur as early as the first day for black watches. The DLC technology is literally scratch-resistant and will increase the lifetime of your exclusive timepiece from 1 week with standard black PVD to a swiping 80 years! Forget about your scratched Omega, Breitling or Raymond Weil black Swiss watch - Wryst black DLC coating outdoes them all, and for a fraction of the price of renowned luxury Swiss watches.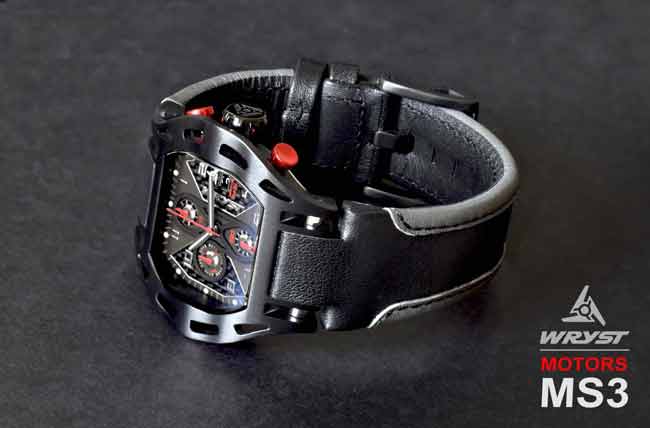 Technically, What Makes this Motorsport Black Watch Better Than Most?
The list of specifications will reveal all:
- Reliable Gold Plated Swiss Chronograph 6 Hands and Date Movement
- 54 Months Battery Lifetime
- Grade 516L Stainless Steel - The Strongest!
- Black DLC Coating with Brushed Finish Case and Square Buckle, Polished Black DLC Signed Crown
- Dark Grey, Black, Red, and Carbon Fiber Sports Dial with Chrono Functions for Seconds, 1/10th seconds and minutes
- 100 Meters Water Resistance with Secured Screw Down Crown
- Highly Responsive Red Anodized Top and Bottom Chronograph Pushers
- K1 Crystal More Shatter Proof Than Sapphire, and More Scratch Proof Than Mineral Crystal
- Produced only in Limited Edition of 99 Pieces with Serial Number Engraved on Case Back
- Two Straps Included, Quality Genuine Black/Grey Leather Strap and Also a Groundbreaking Double Injection Silicone Band with Hard Plastic Insert and Dust Proof Coating
- Luminous Hour and Minute Hands, and Hour Markers
- White on Black Date at 3H
- Engraved Left Case Side MOTORS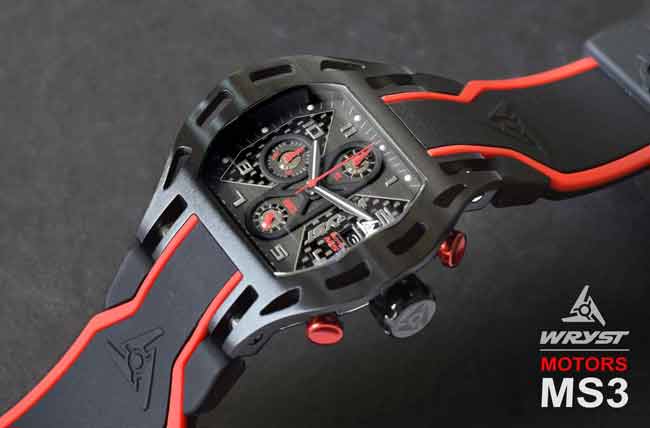 Overall Unique and Innovative Swiss Watch Design
The idea behind the unique Wryst design comes from Swiss founder and owner of the brand Jacques Fournier. With many years experience creating some of the most expensive watches in the world, Jacques decides to launch an atypical and sincere Swiss watch brand which is unlike any other. The case and dial shapes created by the designer are very far from any existing or conventional other timepieces on offer. Most Wryst customers are actually buying a second Wryst watch within the first year of their initial purchase.
Share this content
Add a comment
1 comments