Deep Blue Watches Elements PH7 Water Resistant 100M
The Wryst PH7 deep blue watches in a black casing with a blue rubber strap provide an aggressive and striking blue look. Dedicated to a sportive crowd thirsty for adventure and outdoor activities. A fantastic limited edition blue wristwatch with the world's most scratch-resistant black DLC protection for outdoor sports.
Receive two different bracelets with your PH7.
No tax
Delivered within 3-4 days
100% secure payments
Blue Wryst Watch PH7 with black DLC coating
Electrifying Deep Blue Color with Scratchproof DLC coating
The deep blue watches Wryst PH7 are dedicated to men passionate about outdoor and watersports. Each reference is produced in a small series of 75 pieces. All references have their unique serial number engraved on the case-back from #01/75 to #75/75. The Elements are manufactured with ultra-strong materials such as scratch-resistant black DLC coating and K1 mineral crystal. These stylish timepieces looking for endless adventures have a futuristic and timeless design. The Wryst PH7 in black and blue is also a superb luxury fashion accessory. Feel fearless and extraordinary during outdoor sports, watersports, and extreme sports.
This reference is exclusively available for online purchase. The unique watch brand Wryst provides individualists with an impeccable and durable stylish timepiece and personalized and empathic customer service. Just because you are fearless and confident doesn't mean we can't feel the same about our products.
Two Bracelets Are Available with Your Wristwatch
Receive with your limited edition Wryst PH7 two silicone bracelets. The Wryst hallmark consists of a height-screw system that will guarantee your sports wristwatch stays firmly attached to your arm during intense outdoor sports. A world-exclusive attachment system secures the groundbreaking double injection quality bracelet.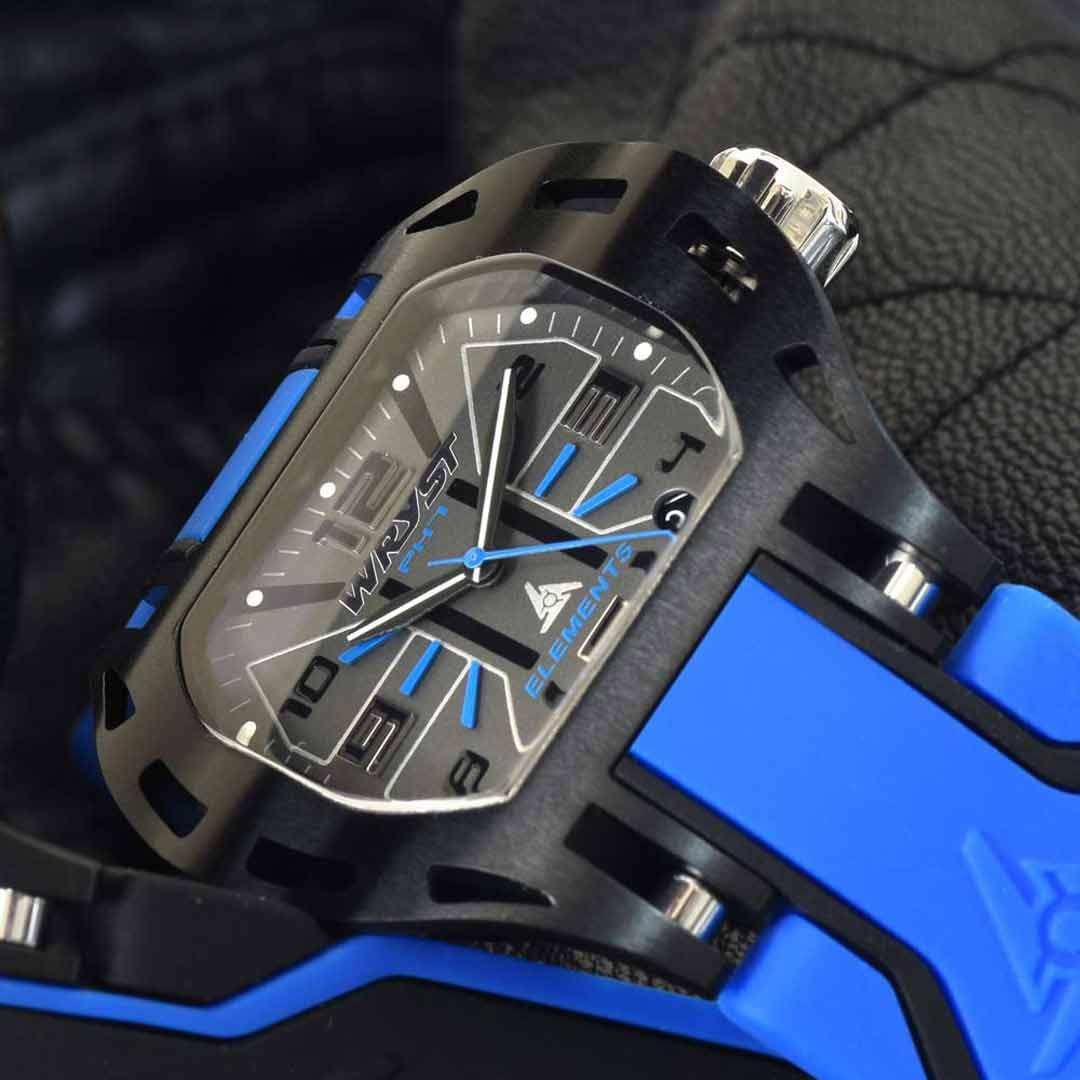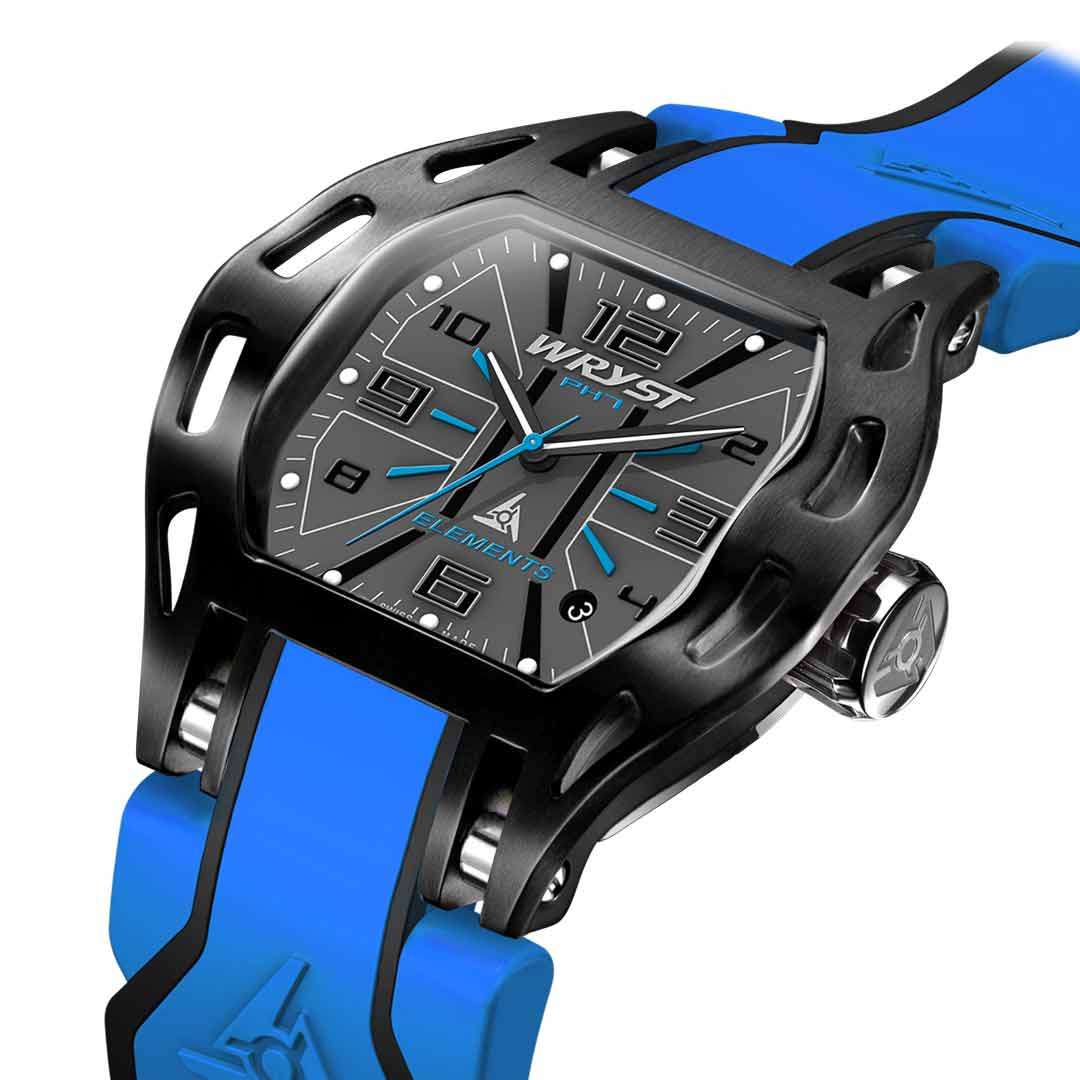 Choose to wear the color of the sky and the sea. The deep blue color is one of the men's most common outdoor timepieces. Deepblue watches are often associated with stability and depth, symbolizing trust, loyalty, wisdom, confidence, intelligence, truth, and faith. Different tones of blue color are considered beneficial to the mind and the body. It also produces a calming effect.
We Know What Our Customers Need
Since 2012 Wryst is specialized in providing the best watchmaking with durability and tough materials at an affordable price. The Swiss Made tag is the signature of professional know-how and expertise, but this is not enough for our valuable and demanding customers.
The essential features required in our 21st century are finish quality, impeccable aesthetical look, ultimate comfort, and sustainable durability. This is why Wryst only produces navy blue watches dedicated to sports with all of these consistent elements. The most robust and durable wristwear must be crafted in hard stainless steel, but this is not enough. The black diamond-like carbon coating is stronger to strengthen the metal parts, literally as hard as diamond. Concerning the crystal, which is domed on this reference, we use a "K1" hard mineral material. This glass protecting a slate grey with blue dial details is more scratch-resistant than standard mineral crystal and shatterproof than sapphire crystal—no wonder skateboarders, BMX Freestylers, and Motocross riders wear a Wryst.
Main Specifications
√ The World's Hardest Black DLC Coating
√ The Hardest Grade 516L Stainless Steel
√ World-renowned Swiss Manufacturing
√ Designer Case Achieved with CNC Machining
√ Modern, futuristic, and Trailblazing Design
√ Super Luminova Hands and Markers
√ Features a Blue Strap and Dial Details
√ Shockproof Mineral "K1" Crystal
√ 100 Meters Water-resistant

√ Screwed Case Back and Crown
√ The Most Secure Bracelet Attachment System
√ Two Bracelets Included for Versatile Look
√ Limited Production of 75 Units
√ Leather Strap Available on Request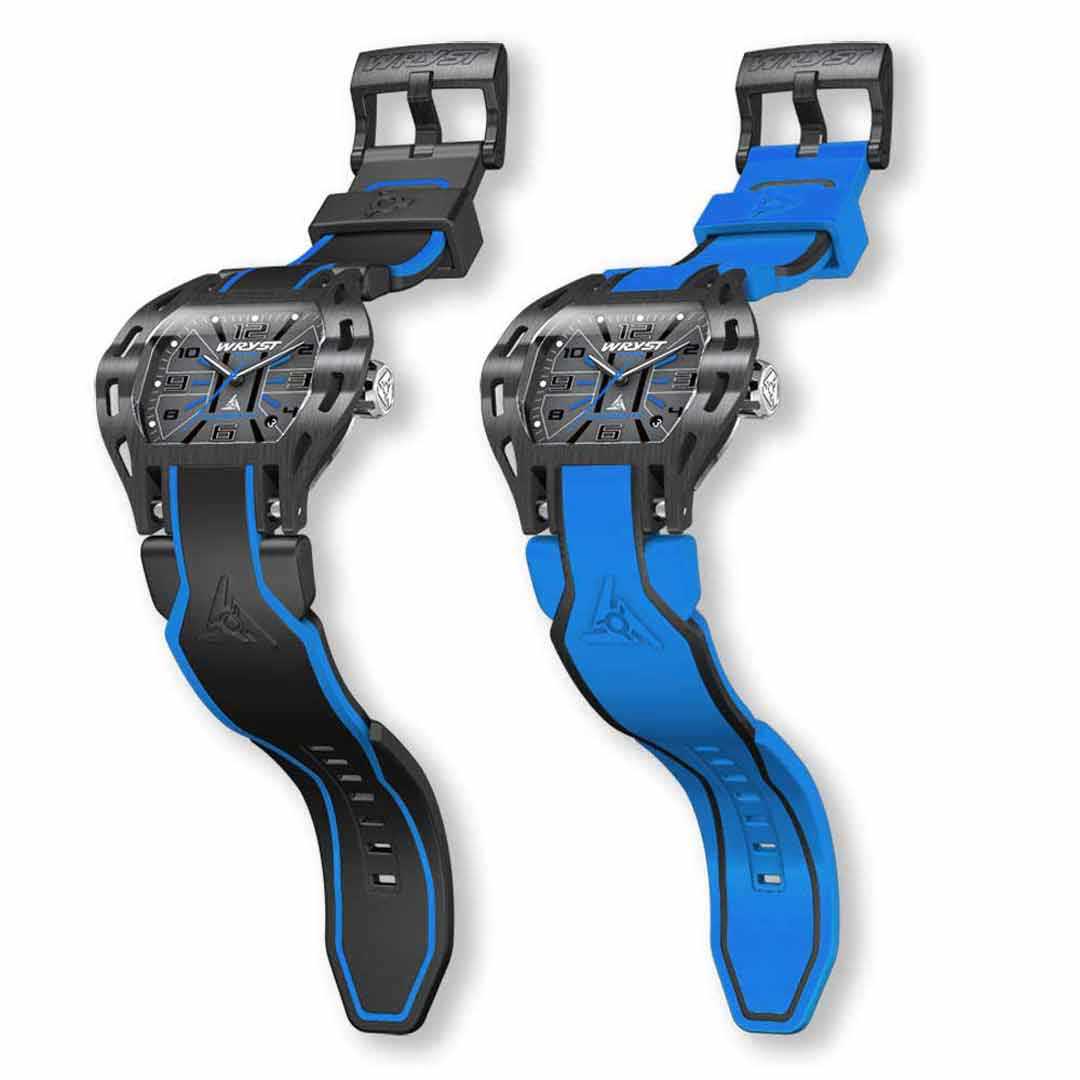 In constant evolution, the brand is passionate, and you can admire the efforts made after close examination. With a Wryst on your arm, you will soon realize the refinement and attention to detail in the making is matchless. Every piece of the stainless steel case, dial with date display, case back, square buckle, and bracelet has required extensive engineering and quality checks. If you want to know more about the origins of the idea behind Wryst's creations, find everything you need to know in the "Watch design review with inspiration details."
Each Wryst Elements systematically includes two interchangeable bracelets. Choose from a vast choice of five different versions of this colorful black wristwatch series:
Wryst Elements PH3

Wryst Elements PH4

Wryst Elements PH7 black

Wryst Elements PH7
Wryst is the guarantee of a watch well made. Look forward to your future and wear a fashion accessory up to your standards and demanding level of expectations. The Elements collection is also mainly dedicated to making the right first impression. Take the jump and no longer wait to make the right choice today with a long-term investment. We are an independent watchmaking Swiss brand strong with over eight years of experience. Wryst only produces and offers exclusive limited-edition timekeepers exclusively available online with a small series of 75 and 99 unique pieces.
Discover the video of the Wryst Elements PH7:
Wryst - Deep Blue Color Watches Like Never Before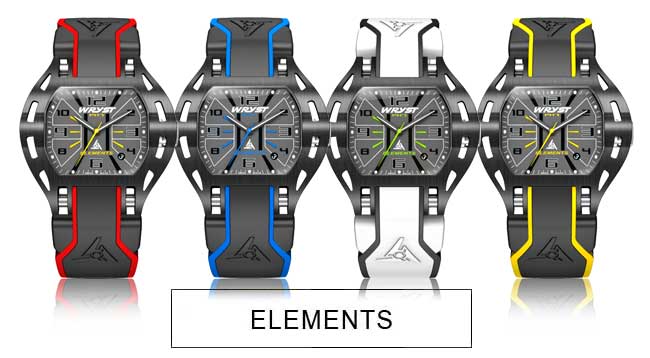 Data sheet
GENDER

Men

PRODUCTION

Limited Edition of 75 pieces

REFERENCE

Wryst PH7 Elements

MATERIAL

Stainless Steel

COLOR

Blue

COATING

Scratch-Resistant Black DLC

CRYSTAL

Mineral "K1" Shatterproof

MOVEMENT

Swiss Quartz with Date

SIZE

45 mm

CROWN

Screwed Crown

BRACELET

Blue and Black

EXTRA STRAP

Black and Blue

WRIST SIZE

Wrist 150mm to 205mm

RESISTANCE

100 Meters (10ATM)

WARRANTY

12 Months
A massive Thank You
I recently received my new Wryst PH7 from you, and are extremely grateful for your help. I absolutely love my collection of Wryst watches. This is testament to your fantastic service, attention to detail and amazingly beautiful product. I'll continue to wear my watches everyday with pride and passion knowing you guys will keep manufacturing brilliantly styled timepieces. Many thanks. Tony
montre ph7
bonjour. Serait il possible d'avoir 2 bracelets bleus plutôt que un bleu et un noir ? Merci d'avance
The wow factor
Surfing the web looking for a sporty look in black and with blue details I found this PH7 and it felt suitable for me. After contacting customer service I was able to choose my serial number which was good news. I received quickly to NI and was delighted with my purchase. Having worn the watch now for several weeks I still enjoy looking at it everytime and love the warm feel of this sports timepiece. I can recommend it for everyone who wants to wear a different option to the classic round face look. The bracelet is a little tricky to swap hence the four stars out of possible five. Thank you again.
So happy with mine
This is hands down the most disruptive shape I have ever seen for a color cobinaison of black and blue. Both bracelets included are great and equally appealing to the eye. I can not thank you enough for letting me choose the serial number I wanted. Given there are only 75 pieces produced I feel very priviledged to have one of the amazing Elements PH7. Brilliant thank you again.
Nice watch
Beautiful watch, very happy with my purchase and it fits perfectly. Delivery was really quick and was a good online shopping experience.
Watch
I am sat here admiring my beautiful blue elements watch that has arrived, it is stunning! A bit pricey but you pay for quality. Good service, can't recommend highly enough.
Happy with my purchase
Captivating design! At first I thought the size was slightly small and the shape was a little strong and not so timeless. But days after days I like my PH7 more and more. It just becomes naturally more appealing every time I look at it. Super comfortable as well.
 Write a review