Sports Watch for Men PH4
The striking athletic watch Wryst Elements PH4 made in Switzerland, is perfect for fitness and daily exercises. A black timepiece with yellow details genuinely dedicated to an adventure and extreme sports style. Built-in Swiss traditions, the black sports wristwatch PH4 is exceptionally comfortable and designed to endure the harshest natural environments. Bold and solidly built, the yellow watch in black with yellow details benefits from groundbreaking scratch-resistant black DLC coating. Receive also a yellow silicone bracelet.
Specifications
Data sheet
GENDER

Men

PRODUCTION

Limited Edition of 75 pieces

REFERENCE

Wryst PH4 Elements

CASE

Stainless Steel Grade 516L

COATING

Scratch-Resistant Black DLC

CRYSTAL

Mineral "K1" Shatterproof

MOVEMENT

Swiss Quartz with Date

SIZE

45 mm Width

CROWN

Screwed Crown

BRACELET

Black and Yellow

EXTRA STRAP

Yellow and Black

WRIST SIZE

Wrist 150mm to 205mm

RESISTANCE

100 Meters (10ATM)

WARRANTY

12 Months
Description
Athletic Watches Wryst PH4 in Yellow and Black With Black DLC
The Bold Reference PH4 in Black With Yellow Details
The Wryst PH4 athletic watch with Diamond-Like Carbon coating has the best protection against wear and tear for any outdoor sports. All watch references Elements are produced in small series. The series benefits from a protected screw-down crown to resist unintentional shocks during sports activities. The watch features include 10ATM specifications. This requirement allows the casing to qualify for 100 Meters of water resistance which is ideal for practicing water sports in confidence. Wryst offers a unique and atypical style no other luxury brand can rival. The case, dial, and strap designs were all inspired by athletic activities. Two high-quality double injection silicone bracelets come with your Swiss dress watch PH4. A watch athletics will love wearing.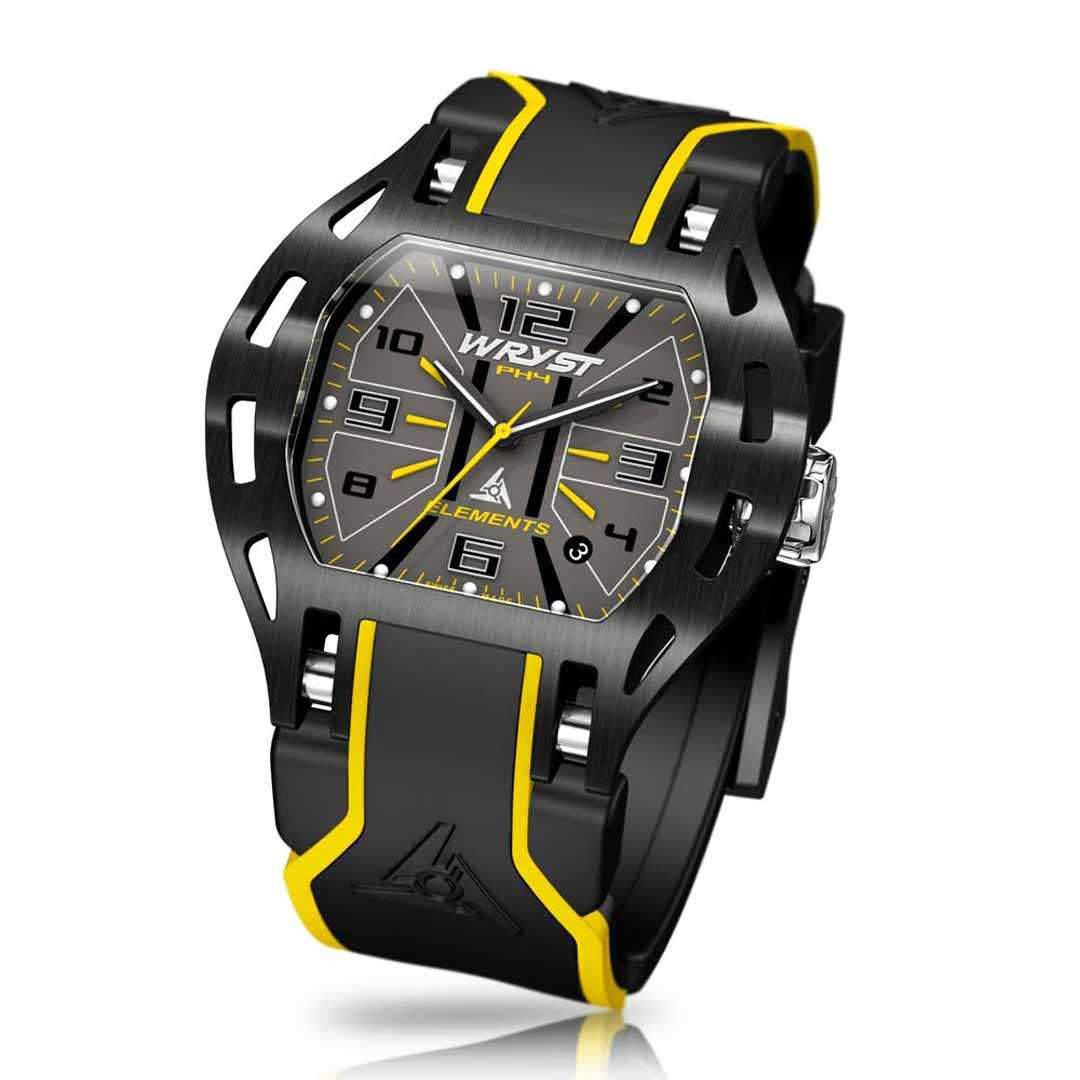 Wryst stainless steel case timepieces are a rare example of charismatic fashion design for individualists. Only 75 pieces of this limited edition striking mens athletic watch PH4 will ever see the day. Purchase today a timepiece with a stunning design and watch face. Contact us without delay to request a particular serial number.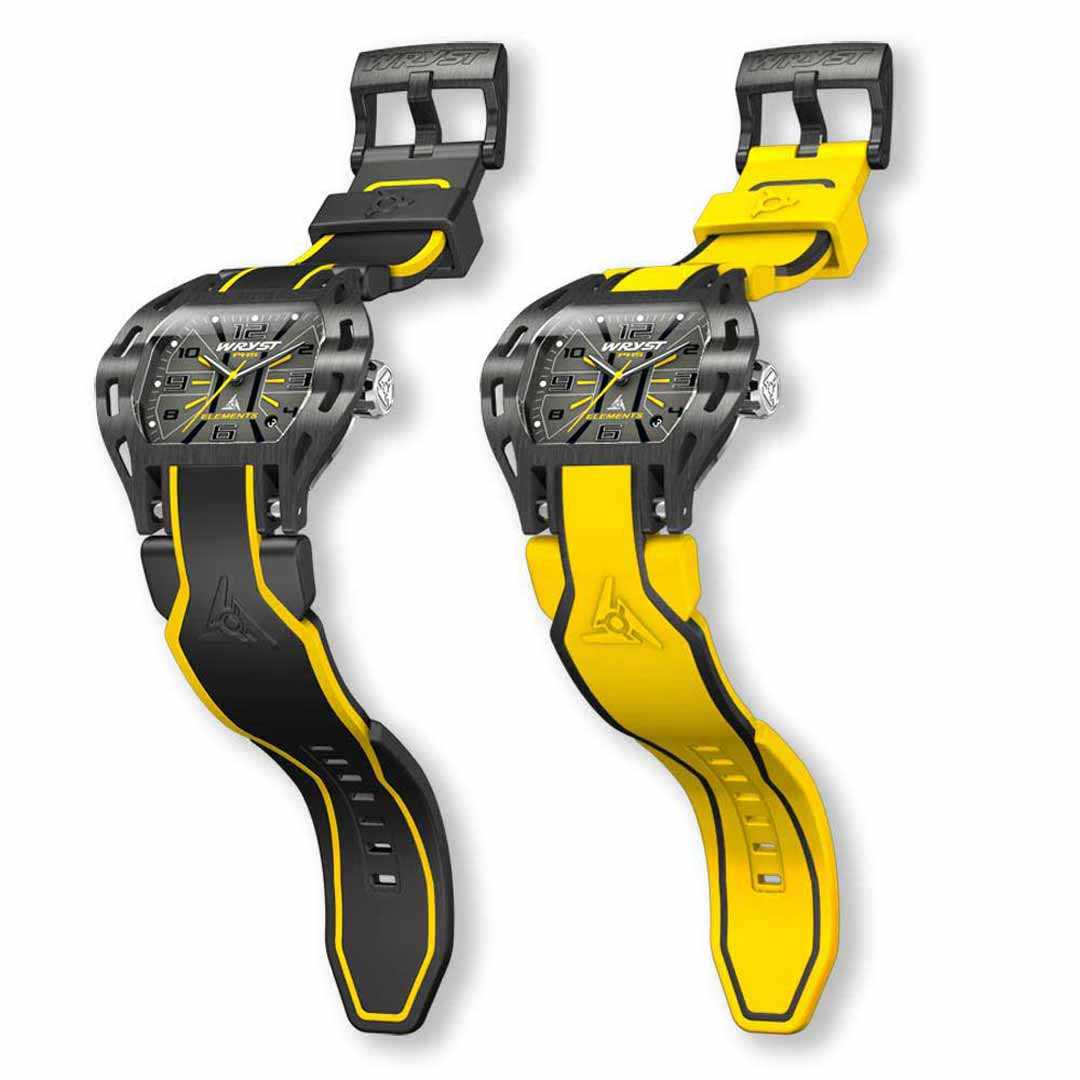 Astonishing Features
1. Athletic Watch with Long-lasting battery life
The Ronda 515 quartz movement powers all Elements model. The standard battery life is 45 months. You can wear it free of mind for more than three years without replacement. In comparison, the power source typically used in most the smart-watches is a rechargeable Lithium-ion battery. For instance, it can only provide a maximum battery backup of one week. As a result, the smart-watches require regular electric charging to keep them running. The easy-to-read Elements timekeeper is free from such hassles and can save you precious time to enjoy your favorite activities and women's and men's sports.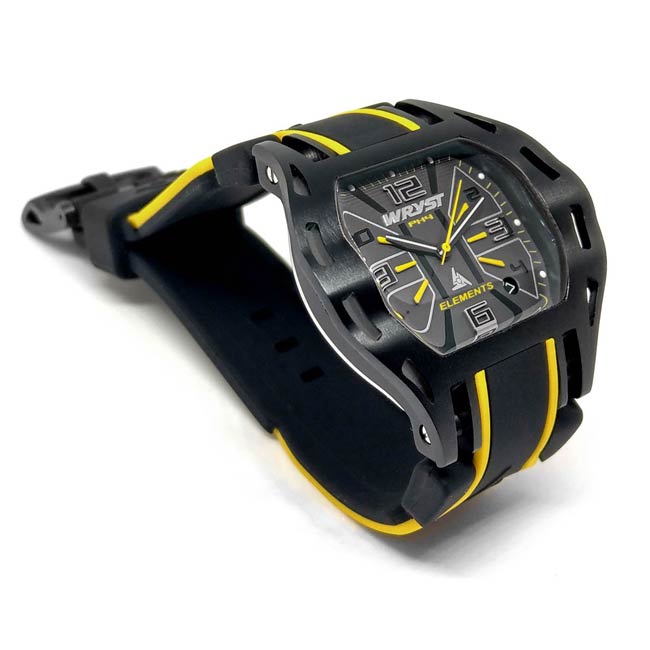 2. Hassle-free black watch
Unfortunately, the smart-watches typically loaded with software-based operating systems are vulnerable to technical issues and potential errors. So connectivity issues, faults in the software, malware/virus attacks, and battery draining can mean troubles. Also, the non-availability of power sources for charging, and other technical problems, can influence the timepiece performance. It can also trigger a total shutdown of your smart-watch at any time.
It will be catastrophic if your timekeeping device fails during risky outdoor sports activities and expeditions. It can happen, especially in locations where the internet is not available. The Elements are less vulnerable to technical faults and shut-downs. They also have a reliable Swiss quartz movement combining a time-proven electronic circuit and an analog display mechanism.
3. Built for your convenience
The other significant difficulty of a smartwatch is the possibility of becoming useless, like smartphones and other firmware/operating system-based gadgets. Moreover, companies will introduce newer models with upgraded or new software. Your older product versions may become obsolete. Compatibility issues cause this. No such problems arise in the case of a Wryst Elements quartz watch.
With the timely battery replacement once in 45 months, this heavy-duty sportswear can offer a long battery life. Perfect in comparison to smartwatches that can let you down because of battery issues. The Ronda 515 quartz movement is easily correctable and interchangeable. Since its inception in the 1970s, the quartz-powered timepieces are still relevant even after 50 years and are widely accepted.
4. A reliable movement that will not let you down
All Wryst timepieces have the most rigid materials, like grade 516L stainless steel alloy for the case construction. Moreover, this alloy makes them more robust than most analog, digital, and smartwatches. The stability factor of a Wryst Elements quartz watch is much better than that of also expensive smartwatches. Water-resistant up to 100 meters, the Elements is designed for outdoors. It is suitable for extreme water sports activities. In contrast, most smartwatches are only water-resistant up to 50 meters.
5. Tireless functionalities
The Wryst Elements athletic watch is perfect for the outdoors. It is also ideal for men and women to enjoy regular sports and adventures. The movement is not controlled by an app or any other network-based program that tracks your activity.
A different approach to keeping in good time
Wryst watches are also unique fashion designer accessories with groundbreaking features. The large 22 mm double injection bracelets hold the wristwatch sturdily on the arm while offering excellent comfort. Ideal for water sports, outdoor sports, and adventure sports, you can feel comfortable anytime, anywhere, and whatever you do.
Resistant Swiss Timepiece Inside and Out
The Wryst PH4 in yellow and black colors benefits from the most scratch-resistant coating in the world. This technology, known for its incredible hardness, is used to make motorsport engine parts. But the best is still inside. The reliable Swiss movement Ronda 515 guarantees a durable and accurate timepiece that will not disappoint you. No electronics are involved, and no updates or firmware are required. Whereas the Wryst PH4 is perfect for outdoor running, it does not include fitness tracking or built-in GPS (Or GPS tracking), and it is not a digital electronic watch with a large face.
Unlike the new smartwatches available today, this limited-edition traditional three hands and date Swiss watch, Wryst Elements PH4, has everything you can expect from a luxury timepiece, charismatic style included.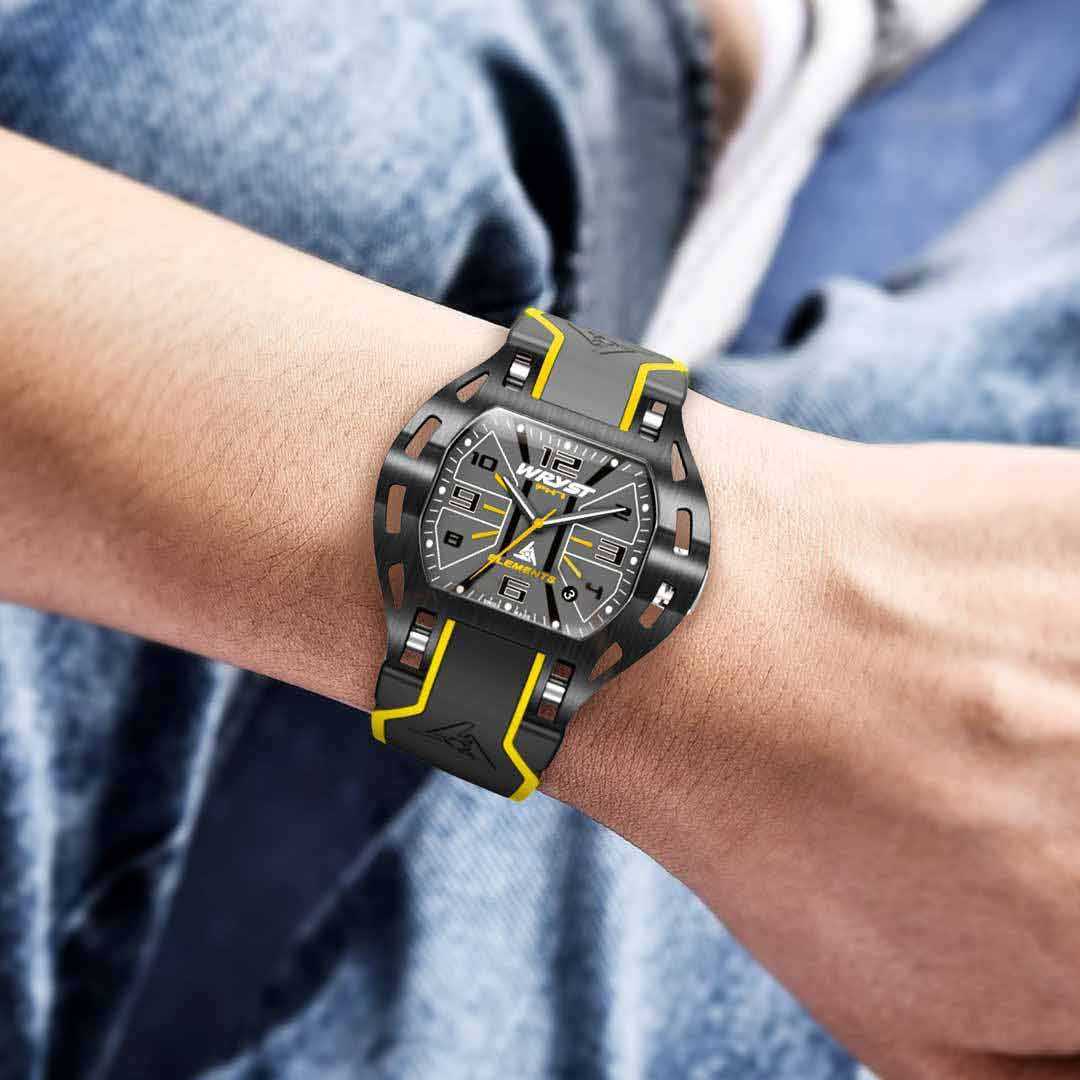 Far from the classic round watch
Men and women sometimes look for an alternative designer luxury timepiece that looks like no other. Wryst thrives on providing small quantities of exclusive watches that look like no others. What the brand Wryst does best is what others do not offer. These quarts' three hands and date functions only appeal to individualists looking to express themselves in style. Solidly built, atypical looking, and an absolute delight to look at every time, the Wryst are most and foremost targetting a small crowd. We have you covered if you are a young to middle-aged, athletic, and outdoors fan.
Secure and comfortable to wear
Even if you are proud to wear this mind-blowing timepiece, you will hardly notice it or feel it on your arm. This timeless design is a safe investment with a unique patented strap attachment and is also lightweight. Perfect for left-handed and right-handed, the PH4 looks excellent on both sides. Two bracelets are included like all other timekeepers offered by the watch company Wryst. You can wear the double injection black silicone band with thin yellow lines or the yellow one. Note that if you prefer to wear the all-black or the leather bracelet, please get in touch with us, and we will be happy to assist you with this request.
Purchase it while you can
The previous model close to this PH4 was the reference Wryst Airborne FW4 with chronograph function. Now sold out and discontinued, your best chance to wear a black and yellow Wryst PH4 is to take the jump for these exquisite Elements with "K1" mineral crystal. This glass is more scratch-proof than regular mineral crystal and shatter-proof than the synthetic sapphire material. Another great feature is the screwed crown and case back. This allows a safer way to protect from possible water damage. The secure large square buckle also reflects a design inspired by action sports and adventure.

Most importantly, the Elements collection is far from mass production, providing all customers with one-to-one compelling customer service. You can forget the long wait for receiving a delayed answer to your email, refusing to take responsibility for an issue from where you purchased the timepiece, etc. There is no Swiss manufacturer to date offering such a level of dedication to satisfaction.
The latest colorful watch reference in black and yellow
This multicolor combination is similar to the motorsport-inspired authority Wryst TT, which has been available from 2015 to 2019 and is now sold out and discontinued. Your Wryst purchase is also a long-term investment. Currently, 26 references produced by Wryst timepieces will never be available again.

Finally, buying your luxury sports timepiece directly from the brand avoids unnecessary costs like for the distributors or the retailers. As we all know, in this modern society, most people choose to do online shopping. You can browse our other watch for men collections, including the Wryst Force Quartz Chronograph, the Wryst Racer Automatic, and the round face collection Wryst Ultimate for a more casual sportive look.

Five other references within the Elements collection are also available:

Wryst PH3 in black and green

Wryst PH5 in black and orange (Now sold-out)

Wryst PH6 in black and red (Now sold-out)

Wryst PH7 in black and blue

Wryst PH8 in steel and red (Now sold-out)
Video of this Watch for Men Elements PH4 here:
More for your investment
Wryst is keeping an excellent reputation in providing emphatic customer service. We strive to offer the best after-sales experience, and we directly look after all of our customers - There is no middle man involved. We can answer any concerns you may have about your special limited edition sexy watch promptly and efficiently. You can also benefit from granting worldwide delivery using our FREE SHIPPING code during check-out in your cart.
Wryst - Men's Athletic Watch Like Never Before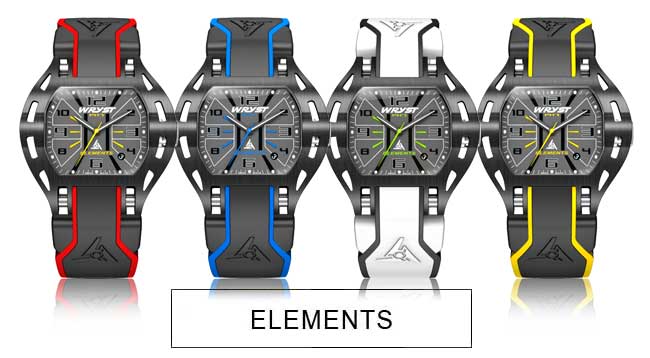 Reviews
Great non-electronic watch option
I just love wearing my new PH4 and must admit it feels light and confortable to wear for sports. Thanks for producing such great designs and most importantly not smart... I hate these electronic watches as they never work and run out of battery when you need them the most. With a 45 -months battery lifetime at least I know what to expact and don't have to "look after" my wristwear equipment.
Lovely shape and colors
Thank you the watch is beautiful and black coating really strong and still looks new after wearing my ph4 permanently for 5 weeks.
Special and funky style!
So happy I found Wryst! I know these are for men but after looking for a stylish sports watch I discovered this brand and bought my PH4 directly online. Great customer service by the way who helped me make the payment within one hour. If you are wanting a timepiece that is different and a bit "funky" this one is for you. I enjoy wearing it everyday and the quality is stunning. Highly recommended from someone who was not very impressed by other watches on the market before.
Looking very different
Brilliant watch with different "elements" of design. I actually bought this watch because I always wanted a look that is unique and not a round face. Usually these kind of desoigner sports watches are much more expensive so it was not a difficult choice. I love wearing this PH40 everyday and the black case is tough and truly resistant. Great finish and details quality. Highly recommended
Recommended
Great purchase, great product, thank you!
Very nice sport watch for men
I enjoy wearing my PH4 everyday. Not used to wear a timepiece with such a different look so that is why I wanted to try one of these. Details and overall built is great quality. A great option id you want to wear a sport watch for men Swiss Made with a different style. Only downside is the luminova which is not bright in the middle of the night hence the four stars. Nathan.
Great design
This PH4 is really fantastic. A great black and yellow watch also perfect to wear with the all-yellow bracelet. I can only praise myself for having bought this beautiful timepiece. Highly recommended to anyone who wants to stand out and wear a sports wristwatch that looks different than all other round ones out there.
On the money!
Just a fantastic watch, stunning design all the way!
Used to the size
Bought and received this superb watch in no time. I love the feel of it. To start I thought it was slightly too big for me but actually with time and after wearing it for two weeks it is just right for my small wrist. Brilliant service
Best watch I ever bought
I have started to collect watches four years ago, and this one is slightly over my budget. I decided to take the jump despite the 45mm size which is a little small for me but WHAT A WATCH! Design is just totally different than anything I've seen before. Best watch in my collection so thank you so much Wryst - Good on you for a young Swiss brand.
Wryst Elements PH4
Brutal watch design - Feels and look very sporty. Looks superb fitted with yellow strap. Thank you so much for providing the serial# of my choice!
 Write a review