Black Steel Watch Ultimate ES20 Blacked Out
Black steel Wryst Ultimate ES20 watch with integral DLC coating and sapphire crystal. With 200 Meters of water resistance and 45mm in size, this steel sports watch is understated and sleek. Only 99 pieces are available. Because this is a small series, do not delay your purchase. Furthermore, the entire case and metal bracelet benefit from Diamond-Like Carbon for a sturdy and durable timepiece. Extra silicone bracelet included.
No tax
Delivered within 3-4 days
100% secure payments
Steel Watch Wryst ES20 Limited Edition Black DLC
The All-Black Ultimate with Integral DLC Coating
Swiss black steel watch Wryst Ultimate ES20 produced exclusively in Limited Edition of 99 pieces. Black is the safest and most excellent color you would want to wear. Grade 516L hard steel engraved case, screw-down crown, case back, and metal bracelet benefit from DLC (Diamond-Like Carbon). This unique coating technology increases the watch considerably and is the hardest and most resistant coating available.
An extra Double Injection Silicone Strap Included
This timepiece looks stunning with a solid steel bracelet with a black DLC coating. The ES20 includes a second double injection all-black sleek silicone strap with a DLC square buckle. Despite not being a chronograph and equipped with an automatic movement, the Wryst ES20 in steel is more shock-resistant than the Omega Speedmaster Moonwatch.
Wryst exceeds manufacturing affordable luxury Swiss watches with unforeseen specifications, high standards of know-how, and craftsmanship. The ES20 is an absolute treat to individualists inspired by the outdoors and extreme sports.
WRYST engraved on the case sides
The case back is engraved with the serial number. Only 99 pieces of this limited edition will ever be available! Stock is getting low, so order your Swiss Ultimate ES20 today!
This ES20 black steel watch has a darkened dial, a Swiss quartz movement, and the date window at a 3-hour position. The case and sapphire crystal with AR coating are shock-resistant. To respect this timepiece's dark theme, this is the only reference in the steel collection Ultimate to have a grey finish on the hands instead of luminescent hands like on the other models. This striking black timepiece is also available with a carbon fiber leather band.
SPECIFICATIONS:

Hard Scratchproof DLC coating

The white date displayed at 3H

Screwed crown against the casing

Size 45 mm case body

Two bracelets included for a versatile look

Sapphire crystal with AR treatment

200 Meters of water resistance
Pictures of the Wryst ES20 with scratch-proof DLC coating
Fitted with an all-black silicone bracelet looks sleeker than ever!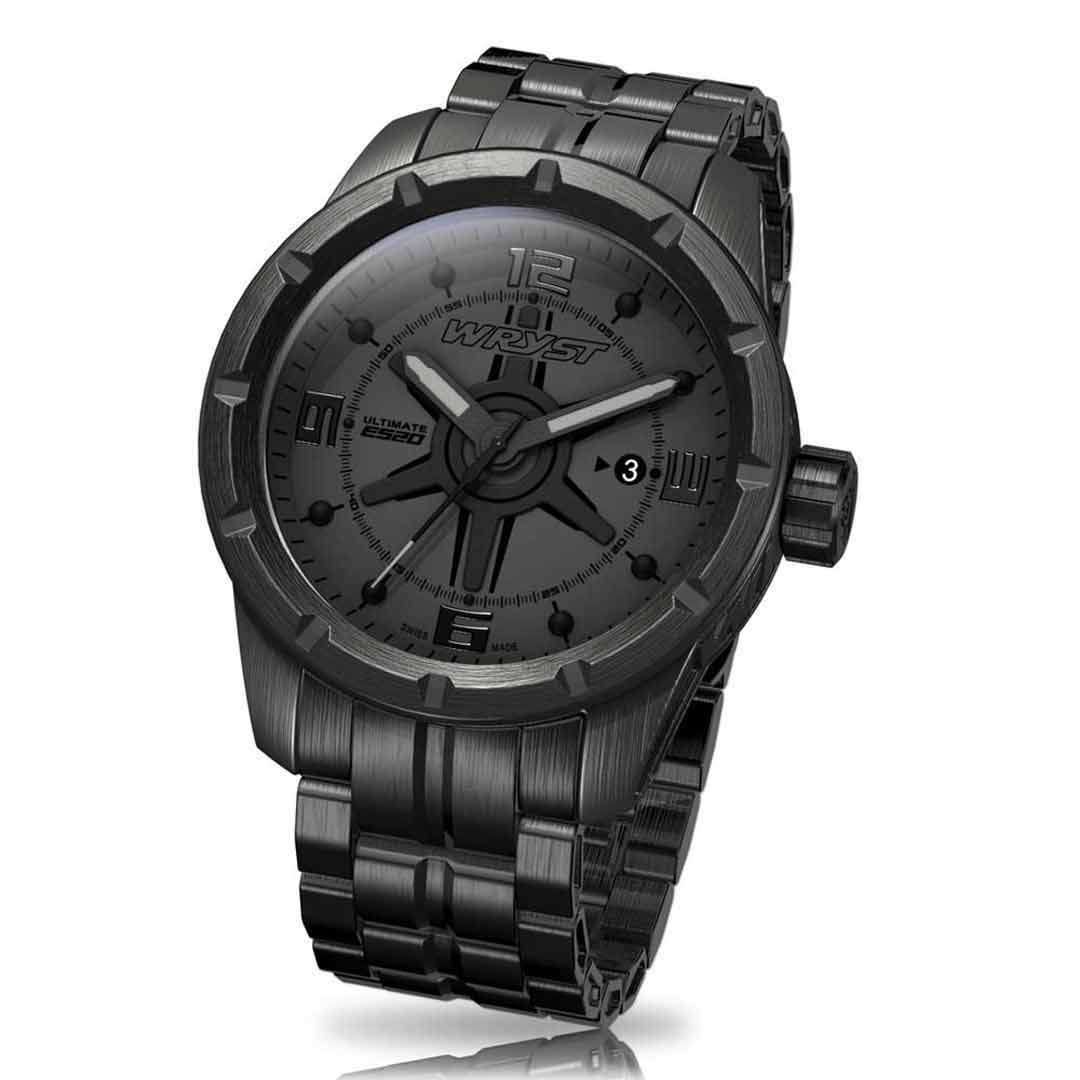 Evolution of Casing Materials
Manufacturers have been using strong steel casings for their timepieces for a long time. Today, the hard and resistant alloy is a common choice for more than 55% of global production. A metal case inspires strength and confidence for a durable investment with a polished, brushed, or sand-blasted finish. Later, the all-important ticker was decorated with plating for a more appealing aspect and to add a more luxurious feel to the case body. Ultimately, the market saw new alloys and materials used in the making. It was possible to make an entire case in solid gold. In recent times, more exciting materials like carbon fiber, platinum, thermoplastic, polymers, forged carbon, composites, or ceramic are more common for sports timekeepers. Since the brand's creation, Wryst has used the hardest ever stainless grade 516L, the strongest and most resistant. But this was just not enough.
And There Was Black
This color has also been the first choice for many of us in recent years. A black casing is an atypical choice for many people, especially men. In polymer or thermoplastic, lightweight materials are mainly used for lower-budget wristwear that are not precisely designed to have a durable lifetime. The idea of creating a metal watch in black color was first used by the brand Rado with its own iconic "Rado Ceramica" casing and bracelets. Many brands use this color in their collections, if not all of them. The main difficulty with steel material is how any color is coated onto the case and body.
Wryst opted for the diamond-like carbon coating technology for the hardest and most durable steel protection. Typically, most commercial PVD can be scratched quickly when the DLC protects efficiently and keeps stainless scratch-free for 80 years. You can read more here about the difference between PVD vs. DLC. The Dimond-Like is harder and more wearproof than steel itself. So by buying a Wryst timepiece, you are investing your budget on a watch stronger than steel.
Other references with silicone bracelets from the "Ultimate" collection:
Also available with two silicone bracelets here: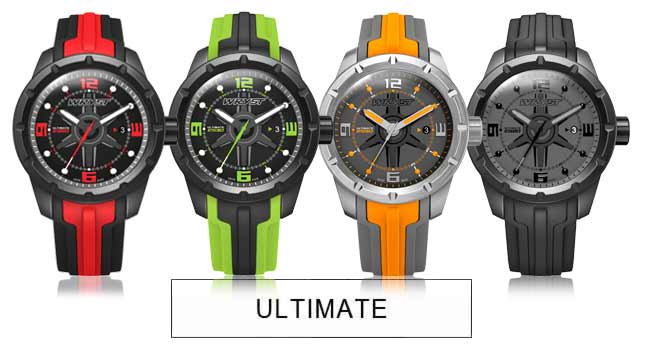 Data sheet
GENDER

Men

PRODUCTION

Limited Edition of 99 pieces

REFERENCE

Wryst ES20 Ultimate

MATERIAL

Stainless Steel

COLOR

Black

COATING

Scratch-Resistant Black DLC

CRYSTAL

Sapphire Crystal

MOVEMENT

Swiss Quartz with Date

SIZE

45 mm

CROWN

Screwed Crown

FEATURE

Deep Engraving on Case Side

METAL BAND

Solid Steel with Black DLC Coating

EXTRA STRAP

Black

WRIST SIZE

Metal 176/230mm, Silicone 150/205mm

RESISTANCE

200 Meters (20ATM)

WARRANTY

18 Months
The best black coating
Times have changed. not about the information you provided concerning black PVD, but about whether it is desirable. having been OCD about scratches on my watches for years, i still am. however, in that time the concept of 'distressed' PVD watches has come into its own, where actual wear is applied to NEW PVD watches to give a very cool look of older heuers and other classic PVD pieces. I started seeing these pieces a few years back and was amazed how an OCD scratch avoidance freak such as myself, could find them attractive. add to that the new interest in bronze and brass watches where patina and distressing is prized, and you get a new milieu. of course we all know the prized patina of old rolex, both on the dial and case, where you never ever want to polish one lest you destroy the provenance. now the wearing off of black PVD on various watches has become an accepted and even cool element. what you write about what will happen to black PVD is absolutely correct. if you don't want that happening to your watch, get DLC (that will have some wear through over time, much much less, and possibly none if babied), steel or ceramic and tungsten. but no matter what you have in your collection, you might want a few pieces of black PVD that will turn into a very cool classic timepiece as you wear it. i'm not talking about trashing them, but just the beautiful patina of bezel and watch edges gently peaking out behind the black, and the gentle wear across other areas too. i HAVE seen people purposely distress the cases of these pieces, and have been surprised how cool that looks as well. but whatever your choice, strong distressing, or gently doing it yourself over the years, you might consider trying a PVD watch and going there. in fact, the one you show in this story may have been considered trashy when the article was written in 2019, but as i write this in 2021, it looks pretty darn cool!
The best I've had
They don't messa round with the coating here. This coating is incredible and I did soe tests (Between the lugs). The DLC is actually much more resistant than I thought. The watch is stunning too, I love that all of it is black, no exception even the case back. Perfect for me. Thanks
Integral DLC
I did not imagine I would be able to afford an integral black DLC watch made in Switzerland. Carved case sides and case back engraving a plus. Great looking watch. I love mine. Nice day to you. Henry
Very black in deed
Hi this watch is absolutely stunning thank you very much. I have worn mine now for a few months and has had a few hits at work but still looks immaculate like on the first day. Thanks Wryst well done for the tough materials at an affordable price!
Great coating
Brilliant black protection. Thank you so much for this excellent watch - It has everything I needed.
Love the case sides
Since wearing my ES20 I realised there are no other brand offering the details on the case sides like Wryst does on this model. The engraving gives a unique feel to the watch. It makes the timepiece stand out from all other black watches I ever worn before (I only wear black watches). Also the black DLC is much harder and so far so good, not one scratch! Thank you Wryst for the spare two silicone bracelets I received with it.
Warranty Registration
Hello just wanted to reach out to you and ask if the serial number for my Ultimate ES20 is the production number 47/99? I couldn't see any other numbers on the watch itself or the packaging! My order reference number is GONEVXXXX. My order was place on 25/8/2019 and I received it today 30/8/2019. I printed of the warranty paper to send back to you for my warranty and just wanted to make sure I fill it out accordingly. Is there a way I could activate the warranty through email correspondence as I am in the United States? I am very pleased with this timepiece! It is of exceptional quality! Honestly the nickers watch I have ever owned. Now I have to find a jeweller that I can trust to get the band switched over to the silicone band. I can't wait to enjoy this fine time piece! Thank you for you assistance in this matter! Best Regards. Michael C
Stunning Black Watch
I was lucky to secure the serial number I wanted for this Wryst Ultimate ES20 which was purchased in November. Then, I requested the new black bracelet as part of the promotional offer and received it today for free. Absolutely great and I feel I have a new watch. Thank you so much Wryst!
 Write a review