Military Watches Ultimate ES30 with Camouflage Strap
Mens black military watches Wryst. This more controversial piece features a khaki-green Camo bracelet. While the bracelet embodies the camouflage look, a black dial with green details combination stands out. The Wryst Camo is an extension of the Ultimate range with a military bent. The black scratch-resistant DLC casing is perfect for elite military commandos during stealth missions. Two hundred meters of water resistance and Swiss craftsmanship also provide an accurate all-around classic men's military watch for outdoor recreation.
No tax
Delivered within 3-4 days
100% secure payments
Wryst ES30 Black Men's Tactical Watch
Tough and Durable Versatile Military Style
The military watch for men with leather camouflage bracelet Wryst is the perfect timer worn by soldiers, sailors, and airmen. This men's black reference is ideal for outdoor recreational activities and extreme sports such as fishing, shooting games, and hunting. The camouflage pattern has been popular in clothing and fashion accessories since 1915. Camo pattern has been used in the work of numerous artists, sometimes with an anti-war message. In fashion, many designers have used camouflage symbolism and military clothing. In modern times it is also used as streetwear and a political protest symbol.
Perfect for Combat and Special Forces
You can find different types of Camo watches in the market to suit various combat forces' specific demands. For example, the field watches are primarily helpful for land-based Force like infantry. The classic and original field watches are typically known for their outstanding ability to withstand shocks and harsh conditions. Then, the 'Pilot Watches' category serves military pilots, aircrew, and airborne troops. The genuine military styles are renowned for their wider dials, large and easy-to-operate crowns, shock-proof, and anti-magnetic features.
The naval troops, marine commandos, and military divers require highly water-friendly and corrosion-resistant instruments. Some specialized military camouflage watches carry all the above characteristics, making them perfectly suitable for all armed forces branches. The Wryst ULTIMATE comes in this dedicated category and offers superior quality standards compared to other fashionable brands at the same retail price.
With their exceptional built quality and all-around performance, the Wryst Ultimate timepieces are a must for military usage. These tactical watches for men can have fitted on the double injection silicone strap, carbon fiber leather strap, or steel bracelet. The price range makes the Wryst perfectly suitable for budget-conscious customers who love military/sports wristwear.
The Wryst ES30 model with a camouflage bracelet is a highly noticeable timepiece that proudly carries an authentic battleground appearance. Unlike the competitors, Victorinox military references, the ES30 on your arm will look different and atypical of a plain stainless steel model.
Strong Outdoor Mens Military Ticker
The black casing benefit from the scratch-resistant "Diamond-Like Carbon" technology. The glass is a 2mm thick sapphire crystal that sits lower than the bezel to be less exposed to unintentional shocks. The crystal has an anti-reflective coating to avoid being noticed when you do not want to be. Your Swiss black mens field watch is also ready for rough use in a wet environment with a screw-down crown and water resistance of 200 meters. Both case flanks are deep-etched by CNC machining, and the crown can be screwed tightly against the case to hold firmly.
Mainly aimed at the United States, the black stainless steel case camo Swiss Ultimate is perfect for the air force, desert camouflage, and marine corps. It is a bold field watch with shock resistance and a digital display. As opposed to a digital gadget like Suunto core, the analog ES30 has a bright reading analog display with luminescent hands.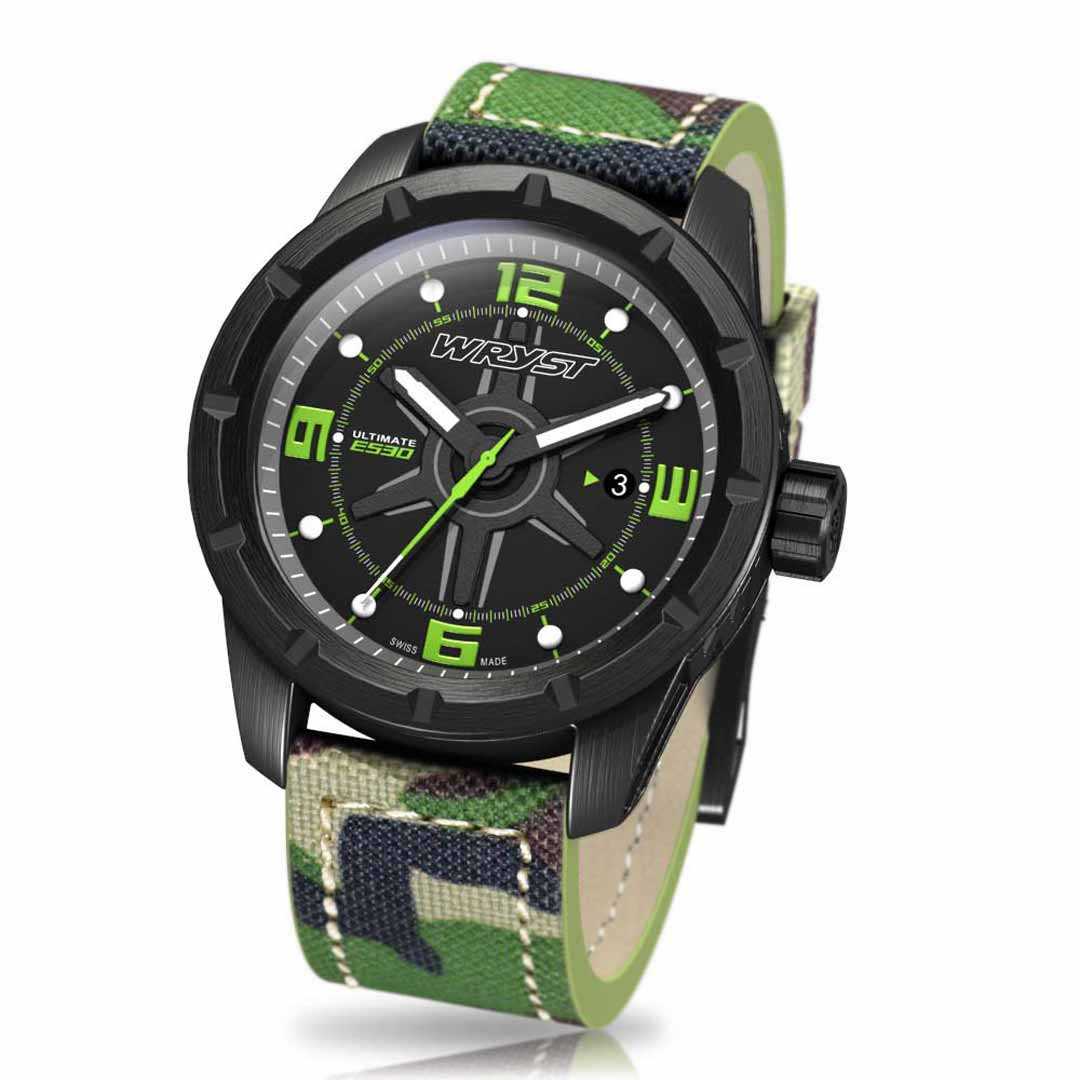 Men's Field Watches With Swiss Craftsmanship
The Camo watch is tough, durable, and designed to provide a reliable wrist-wear experience. Inside sits a precise and accurate Swiss quartz movement with resistance against shocks NIHS 91-10 and resistance to magnetic fields 18.8 Oe. The quartz movement has a 45-month battery life, ideal for long missions abroad, and the camo watch will operate comfortably in temperatures between 0 °C and 50 °C. This military wristwear is not solar powered.
If you are a man in need of a companion that remains reliable and holds up strong, this stainless steel black DLC design is an ideal balance of strength and comfort. The black ES30 feature allows this watch and others of its brand to hold a whopping 48 months of battery life. The battery will run forever.

Are you always on the move? Are your hands constantly busy and in movement? The analog display on this stylish model uses a Swiss quartz caliber with shock-proof abilities for precision and accuracy—finally, a watch inspired by the army and designed to thrive on your constant activity level.
These stunning black military tactical pieces do not offer analog-digital display. The ES30 high-quality timepiece offers an analog time display. Military-inspired and with extended battery life, the Wryst Ultimate camouflage is perfect for law enforcement.
All-around tough wrist-wear for outdoors
Your wristwear can be tough and durable without being bulky and burdensome. This bold sports-inspired design has been popular since the launch of this Ultimate watch series. This analog camper ES30 is also lightweight, convenient, and comfortable with a camouflage leather bracelet that carries the durability and strength of an outdoor lifestyle.

Military life often demands tactical watches for men that withstand the obstacles and rigors of an active lifestyle. Wryst Swiss brand has committed to upholding just that. The references ES30 are sturdy in even the harshest conditions and provide accurate readouts for time and navigation.

This all-black design with black-toned hands and markers displays is discreet and undetectable yet still clearly legible. Do not be intimidated by the darkest seas. The luminescent hands and markers of this black DLC scratch-proof watch glow much brighter than other timepieces. The unidirectional bezel of this sturdy timekeeper is marked with high-contrast white notches for easy readability. The Ultimate is a good combination of function and stealth.
The exclusive collection of Wryst Ultimate has been designed, engineered, and manufactured to satisfy the most demanding. A men's fishing and hunting sports Camo watch must feature a high level of craftsmanship and inspire durability and reliability. Wryst also provides black time-keepers with DLC metal bracelets and the unique military style described here. There are also many other limited edition luxury quartz collections and automatic timepieces for men.
In conclusion, the Wryst CAMO swiss military-style watch is also much more affordable and robust than any other available on the market. Whether you spend most of your time outdoors or want a reliable timepiece, the Wryst ES30 is for you. There are also two different versions available. The black reference with a black scratch-free DLC metal bracelet, or the black ES30 with two silicone bands. Both references are sold with two different bracelets size 22mm for a more versatile experience. Hunters, recreational fishing, and army fans, this is the black Swiss mens field watch you have been waiting for. Most noticeably, the black color will not fade, wear out, or show signs of scratches. A reliable Swiss quartz movement with a date is the guarantee of a long-lasting timepiece year after year. Your outdoor experiences will never feel the same again.
Other references with silicone bracelets from the "Ultimate" collection:
Vídeo of this Military Watch Wryst ES30:
More From the Swiss Army Watch Collection Here
Data sheet
GENDER

Men

PRODUCTION

Limited Edition of 99 pieces

REFERENCE

Wryst ES30 Camo

MATERIAL

Stainless Steel

COLOR

Black

COATING

Scratch-Resistant Black DLC

CRYSTAL

Sapphire Crystal

MOVEMENT

Swiss Quartz with Date

SIZE

45 mm

CROWN

Screwed Crown

FEATURE

Deep Engraving on Case Side

BRACELET

Camouflage khaki-green

WRIST SIZE

Wrist 150mm to 205mm

RESISTANCE

200 Meters (20ATM)

WARRANTY

18 Months
Men's Military watch with Camouflage Strap ES30
I want this watch
Serial #09/99
Bought this timepiece to add to my collection and I wear it for fishing and short breaks it looks stunning and has a comfortable bracelet thank you very much
A great military watch
Superbe military watch for men! So glad I bought it. Recommended product with the all important Swiss tag. Happy customer. Thank you
Great Military Camouflage Band
Thank you for a great service. Watch received fast in Tenessee and without any issues. Quality watch. Best. Stanley K.
Fan of nature
Great watch and so far so good there is not one scratch on the case or on the crystal so this is much better than any other black watch I bought before
Strong and bold
I love my new Wryst ES30 with camouflage bracelet. Thank you for a friendly and prompt customer service. Would highly recommend this watch brand of which I only heard about from the grapevine... Brilliant experience and the watch is superb!
Great black watch
Irresistible black watch with camouflage bracelet! I wear it everyday and it feels really great to have one. Took me 1 month to finally buy it and I am so glad I did. Thanks! Gerald
 Write a review