Red Watch Mens Ultimate ES60 with Black Casing
The Black Wryst ES60 Ultimate with black DLC coating and red details is available in only 99 units. The world's most scratch-resistant black coating of this watch makes it the most reliable and durable timepiece in black steel: an ideal asset to endure a harsh environment, outdoors, adventure, and water sports. This exclusive watch, packed with style and a spectacular overall design, is made to withstand severe conditions. The ES60 black Swiss watch is the ideal companion for rough usage and hostile environments, solidly built in the Swiss traditions and with a sapphire crystal. Stand out with style. Two bracelets are included.
No tax
Delivered within 3-4 days
100% secure payments
Men's Red Swiss Watch Ultimate ES60 with DLC coating
A Black With Red Details Wryst ES60 Reference
The red watch mens with round face Wryst Ultimate ES60 is an ultra-sporty, dynamic, and genuine achievement of a unique watchmaking style. Produced exclusively in a Limited Edition series of 99 pieces, the black and red watch case sides are engraved 0.6mm deep with CNC machining, which is a significant challenge. It increases the hardness of the body and square buckles considerably. Stainless steel engraved case, screw-down crown, and buckle benefit from scratch-resistant Black DLC (Diamond-Like Carbon) technology.
A Classic Round Watch with Red Dial Details
Wryst achieves a new style in the circular watch shape category by combining the hardest materials, new tooling technologies, and the best specifications. For the first time in history, all are available at a more affordable retail price than ever. Upgrade to Swiss watchmaking quality for a fraction of the cost.
Visuals talk for themselves. Wryst exceeds in providing durable and cost-effective luxury Swiss wristwear combining high standards of know-how and craftsmanship. The Wryst small series are unique models and come to life in an exclusive small series of only 99 units.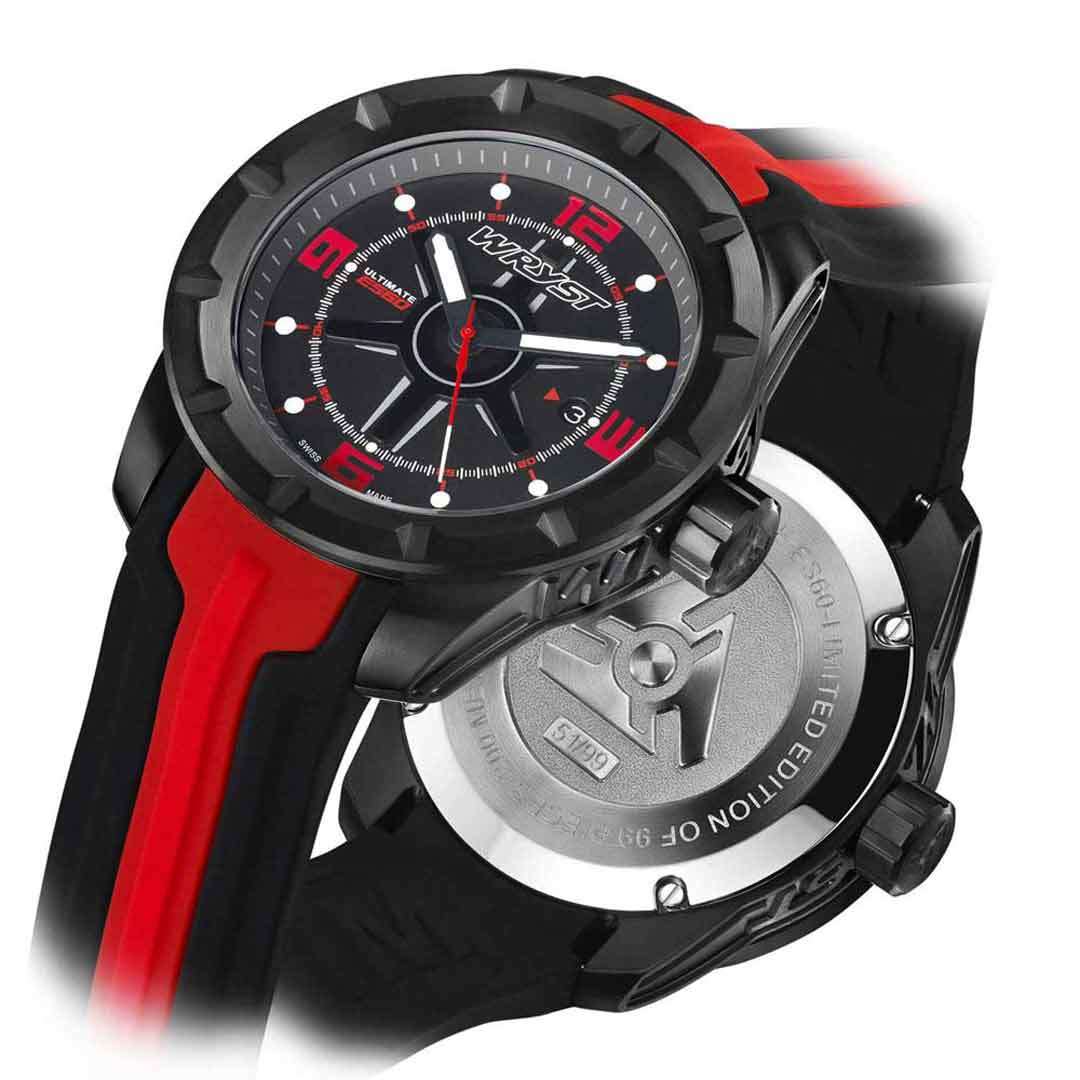 CNC Machining Technology
The 45mm circular casing is engraved on both sides. Precision technology achieves a 0.6mm profound effect with CNC machining. Where most watches keep a classic look for their timepiece's side views, Wryst goes the extra mile, making the most of every feature and aspect of the body construction.
The timepiece stands prominently on the wrist thanks to the unique groundbreaking two-tone and double injection silicone bracelet. The strap integration onto the main body between the lugs and rigid inserts offers an unprecedented aesthetic and excellent comfort. Like all other timepieces offered by Wryst, this reference ES60 in the black bracelet and the central red line is sold with this black/red bracelet and another all-black bracelet.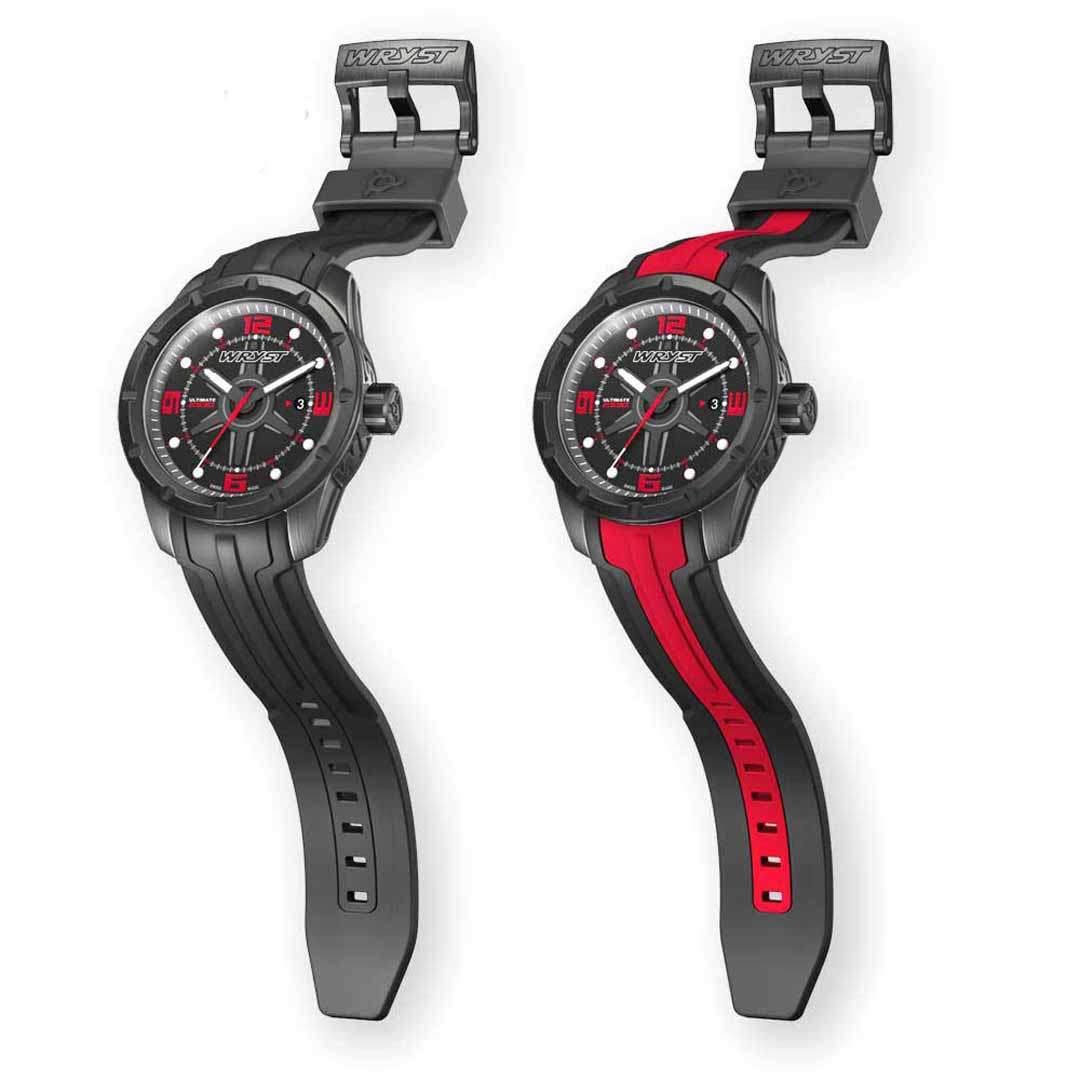 Why Choose This Color Combination?
They can also bring power because they are visually a striking combination. In western culture, these two colors, red and black together, are the most dramatic color combination, as red typically conveys the meaning of blood, and black is that of darkness. Together, they give the impression of magma erupting from a lively volcano. Sticking to these two colors is familiar for product designers interested in creating fashion accessories as noticeable as possible.

Choosing a black color and adding a touch of red is very common in the motorsport industry. This choice reflects power, efficiency, and a sense of safety and assertiveness. More racing cars and motorcycles are decorated with these two colors yearly. Since the 80s, manufacturers have started building race bikes and superbikes engines in black. Mechanical engineering is more appealing to men when most parts are painted in black. Red details on a primarily black stainless steel give a sense of mystery, and red touches give this aggressive association with blood, villain, and evil.

Many other references produced by Swiss watch company Wryst have been offered with this fascinating combination of colors. For example, the Wryst Motors MS3 was one of the most successful collections. The more recent series Elements also has the model PH6, which is likely to become soon sold-out and discontinued. If you like collecting mechanical timepieces, the Wryst Racer SX4 with a black leather carbon fiber bracelet will most likely be a real find for you.
Available also with different bracelets
All Wryst timepieces are always provided with two different bracelets. This unique Wryst Ultimate ES60 is also available with a black carbon leather bracelet with red color stitchings. Another version with a black metal DLC bracelet is bolder and more robust.
Wryst thrives on being the only watch brand globally to offer high-end specifications for a more affordable price. Features such as 200 meters depth, sapphire, DLC black coating, screwed crown, and integrated bands usually are just over $1000 in the Swiss industry. Furthermore, the square buckles provided have also been engineered to offer even more strength, so your investment is securely attached to your arm.
SPECIFICATIONS:

Hard Black DLC coating

The white date displayed on a black disc at 3H
Firmly screwed crown against the casing

Size 45 mm case body
Two bracelets are included for a versatile look

Sapphire crystal with AR treatment

200 Meters of water resistance
Another exclusive feature is the high circular bezel, rising higher around the glass. This particularity offers further protection to the crystal, sitting lower and less exposed to accidental shocks.
The Ultimate Men's Red Watch
This sporty black watch with black and red watch band Wryst ES60 is dedicated to a bold look with a 45 mm case size. The solid and durable casing is crafted in grade 516L Stainless steel, the hardest available. All parts, including the casing, screw-down crown, and buckle, are protected with the scratch-proof DLC black coating (Diamond-Like Carbon Technology). If you have bought a black timepiece in the past and were disappointed with the poor-quality black PVD coating, this reference is for you! This ultimate new DLC black coating makes racing cars engines and aerospace. This protection makes your best carbon fiber watch stronger and harder than steel. A genuine black leather bracelet with a carbon fiber pattern and red stitches adorn this exclusive limited-edition timepiece.
Wryst Ultimate ES60 with Black Bracelet
The video available exclusively on Vimeo showcases close-up views of the "SM" signed black dial with red details. The camera focuses on the exclusive 3D engraved case-back with the brand's triangle logo and the engraved unique serial number for this limited edition "xx/99". There are only a few timepieces available now, so take the jump and choose one of the most affordable red Ultimate watches for men you will ever see at such a competitive price.
Other References with Black Scratch-Resistant Black Case & Bracelet:
Other references from the same collection here: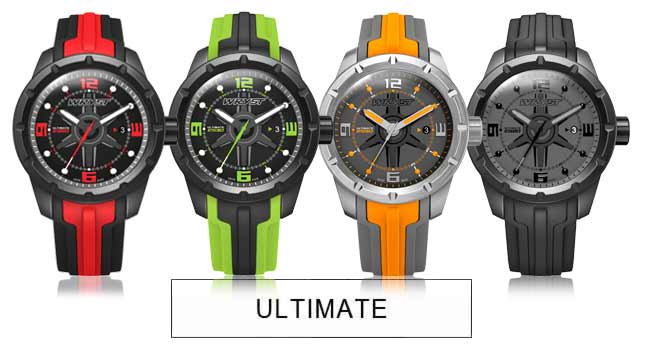 Data sheet
GENDER

Men

PRODUCTION

Limited Edition of 99 pieces

REFERENCE

Wryst ES60 Ultimate

MATERIAL

Stainless Steel

COLOR

Black

COATING

Scratch-Resistant Black DLC

CRYSTAL

Sapphire Crystal

MOVEMENT

Swiss Quartz with Date

SIZE

45 mm

CROWN

Screwed Crown

FEATURE

Deep Engraving on Case Side

BRACELET

Black with Red Line

EXTRA STRAP

Black

WRIST SIZE

Wrist 150mm to 205mm

RESISTANCE

200 Meters (20ATM)

WARRANTY

18 Months
Black ES60 watch
I can confirm I purchase a Wryst Ultimate es60 in black and red and the coating is totally immaculate after 6 months of wearing it. Watch feels bold and sturdy on the wrist. Thank you so much I was desperate to find a descent Swiss watch with black coating.
Stunning watch in black and red
Fantastic purchase! So glad I decided to spoil myself with this increadible timepiece. A great affordable black DLC watch with sapphire crystal what else would you ask for. I love everything about it and bracelets are easy to swap. Highly recommended
Nice dark colors
Very beautiful black and red watch! I just wear it everyday and so far not one scratch on the case! One and a half month so far wearing my timepiece everyday and last time I bought a black watch it had marks showing the metal under the coating after 3 days. Nice heavy feel too, but comfortable.
So glad
I am so glad to have bought this watch. I never thought I could afford to buy a black DLC limited edition Swiss watch,... thank you so much! Excellent finish quality and top size. Customer service is fantastic.
Great Swiss watch
I felt this watch had it all. Now I am wearing it all I get is really good feedbacks. Feels nice and heavy. Cheers
Ultimate ES60 red
Thank you so much for this really cool sport watch. I will buy the all black asap.
 Write a review