The Wryst Elements are Available in 7 Colors
Scratch-Resistant Black ELEMENTS Watches
The mens fashion sport watch Wryst Elements with the world's most scratch-resistant black coating. The Swiss brand Wryst only produce small series of 75 units which are exclusively available online:
The Diamond-Like Carbon Coating! (DLC)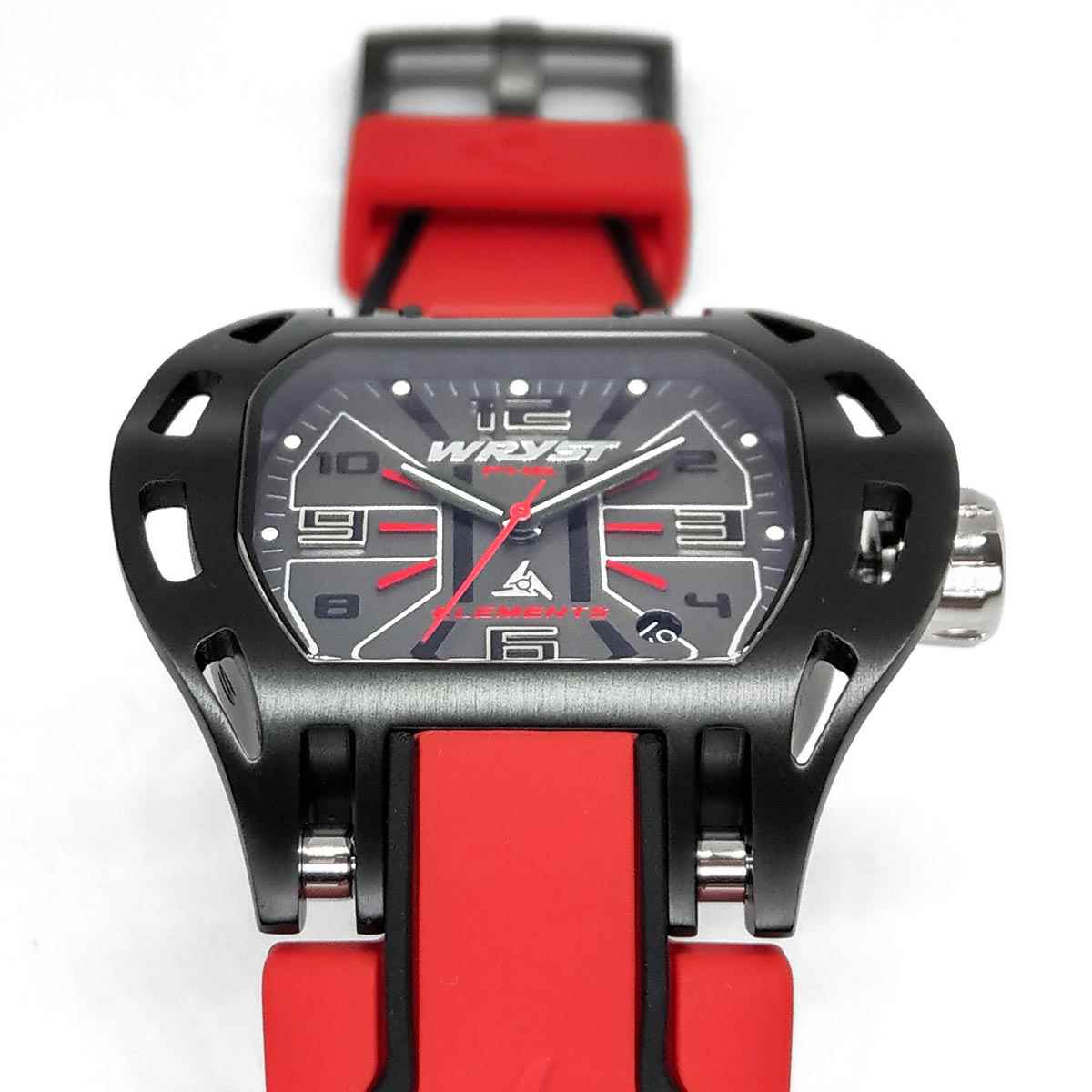 There are no affordable quality Swiss watches that are stronger, bolder, and more resistant to wear and tear compared to the black sports watches produced by Wryst Timepieces. Yes, they have an outstanding unique look, come with two different bracelets, have a shatterproof crystal, are 100 Meters water-resistant, and they also are mega-desirable limited editions. And you can pick yours from a choice of 7 different colors.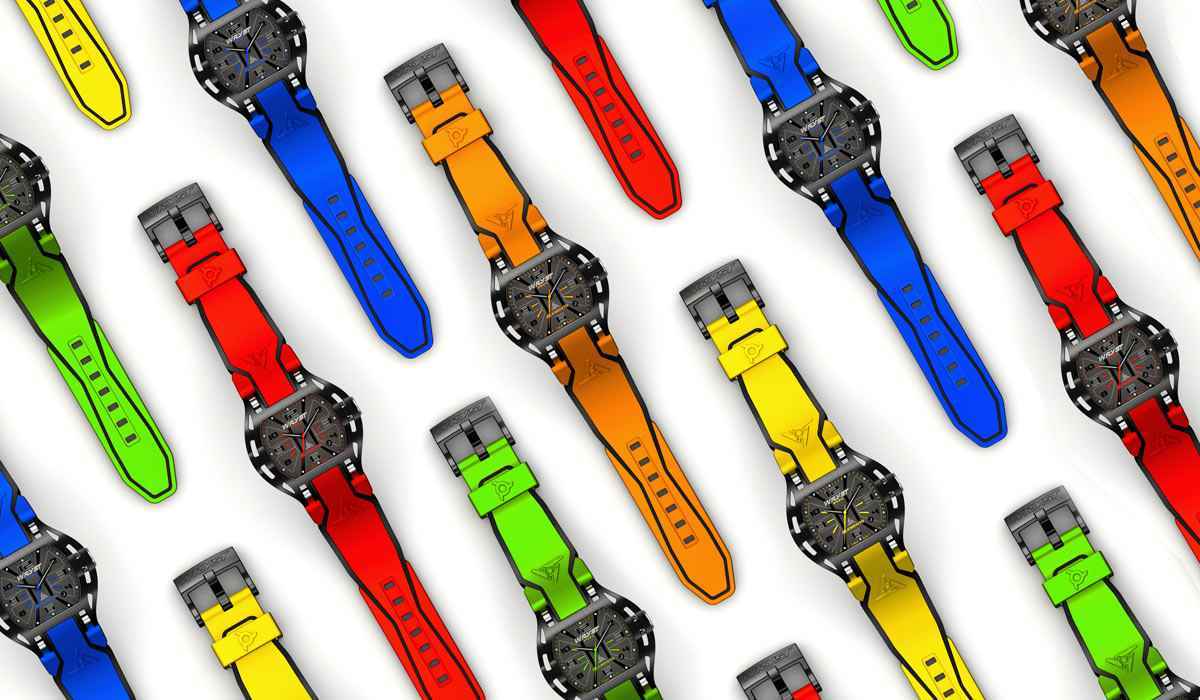 Suitable for both men and women with a passion for outdoor sports, adventures, and watersports. If you are looking to offer to your spouse, partner, or a family member a colorful and durable fashion Swiss wristwear, you may well consider choosing one with a black coating that will last. The DLC used by Wryst will offer, on average, a scratch-free timepiece for 80 years, against eight days with a lower quality PVD black coating. Do you have sportswear in a green color? A yellow Kayak or an orange KTM motorbike? The Wryst Elements collection comes in a vast choice of green for the Wryst PH3, in yellow for the Wryst PH4, in red for the Wryst PH7, in blue for the Wryst PH7, and in white color for the Wryst PH8.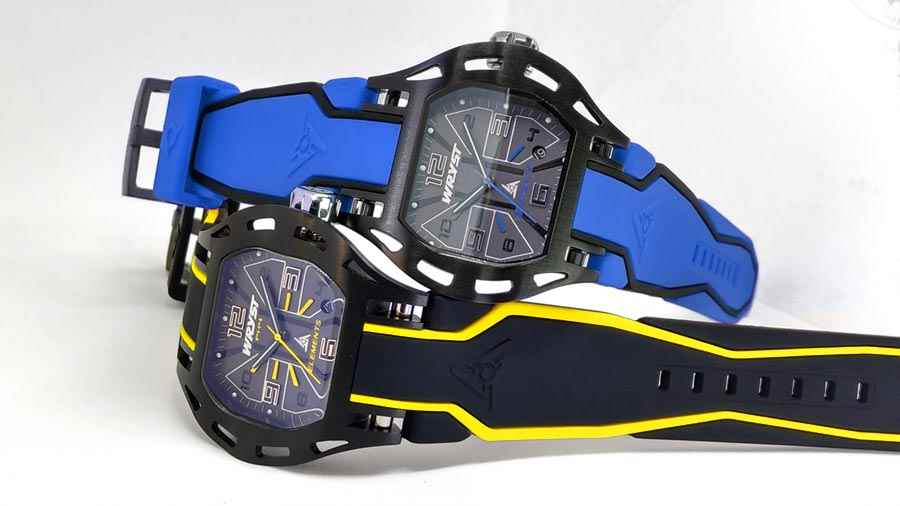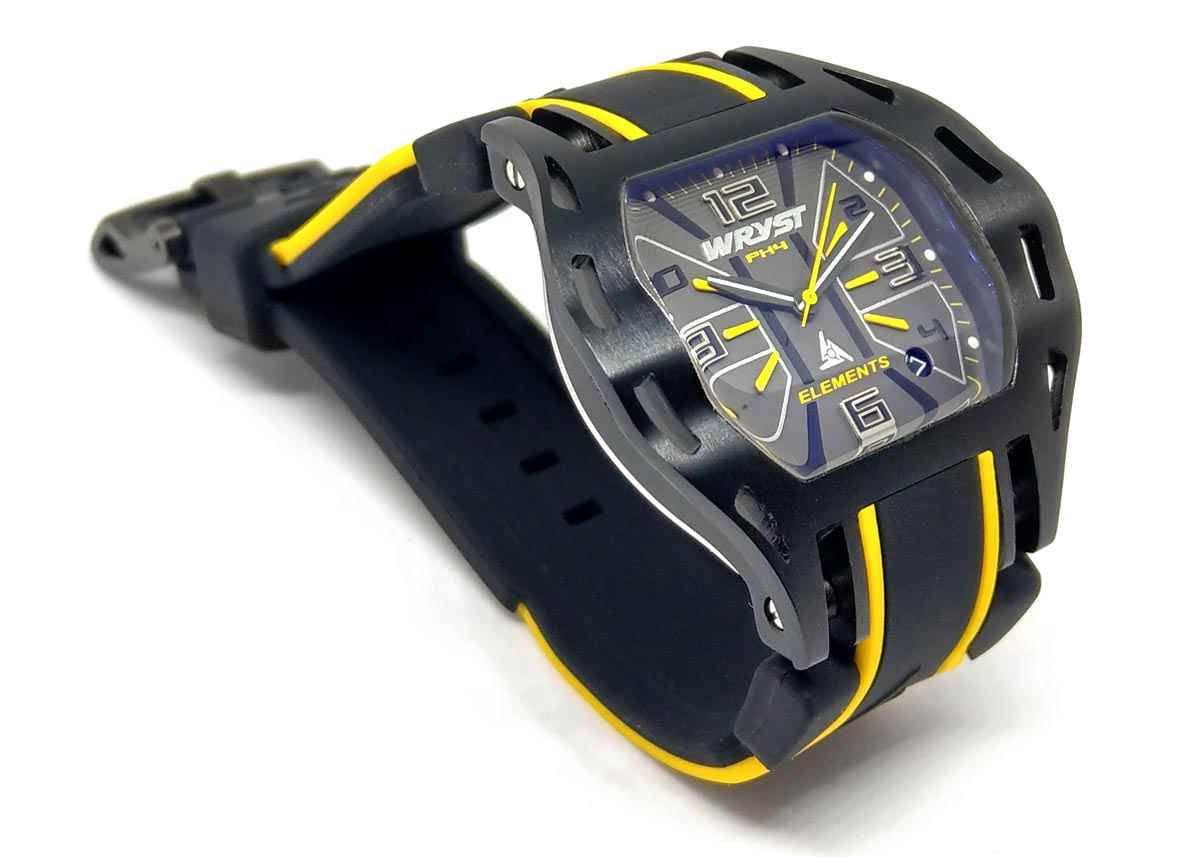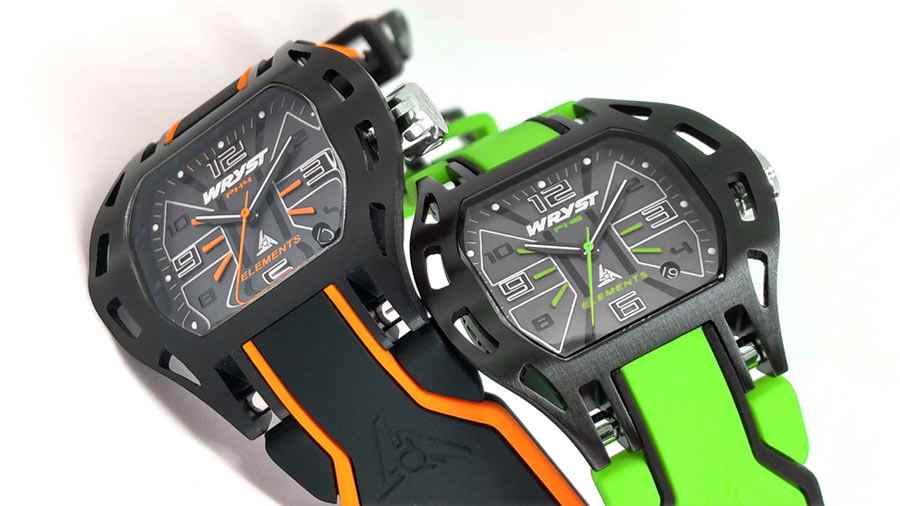 Since 2012 Wryst independent Swiss brand is proposing an alternative to classic round face watch design. If you are looking for a different type of watch with a more modern and different look, the luxury watch Elements are for you. Also in plain polished stainless steel casing is the dazzling Wryst Elements PH8. Either with white and black bracelets or with black/red & black/white bracelets: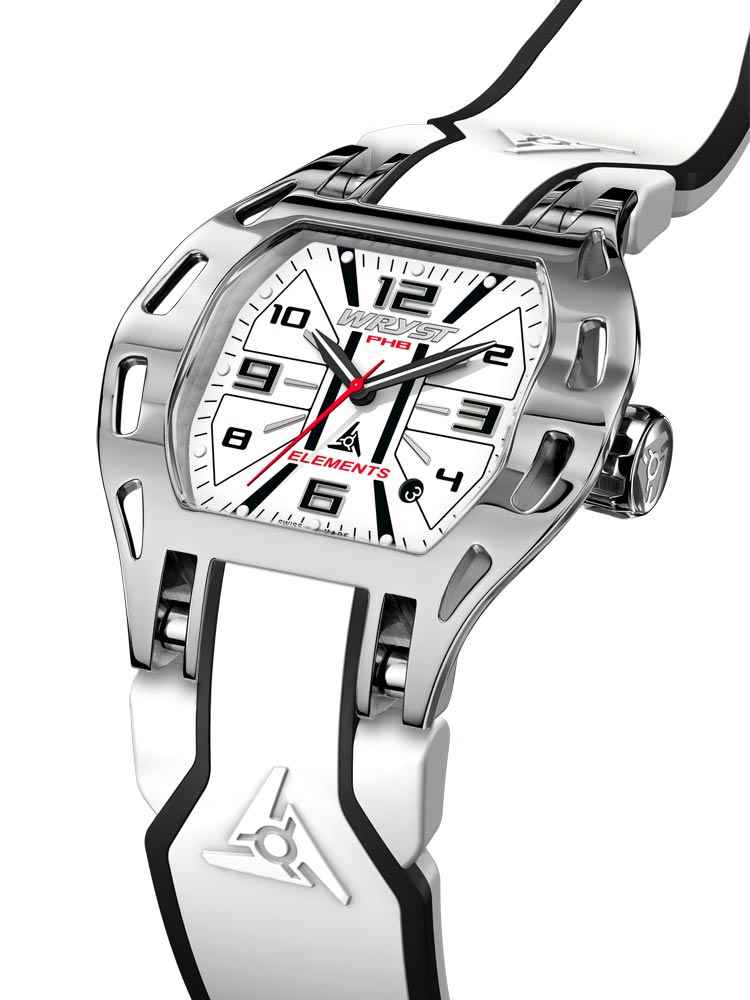 There is also an all-black bracelet available separately for this collection. If you want a more casual look and fewer colors, we advise purchasing this bracelet. You can even ask us to swap it with one of the two bracelets included either during your purchase check-out or by sending us a message. Wryst is renowned for offering one of the most friendly and emphatic online customer service for buying you exclusive Swiss wristwatch: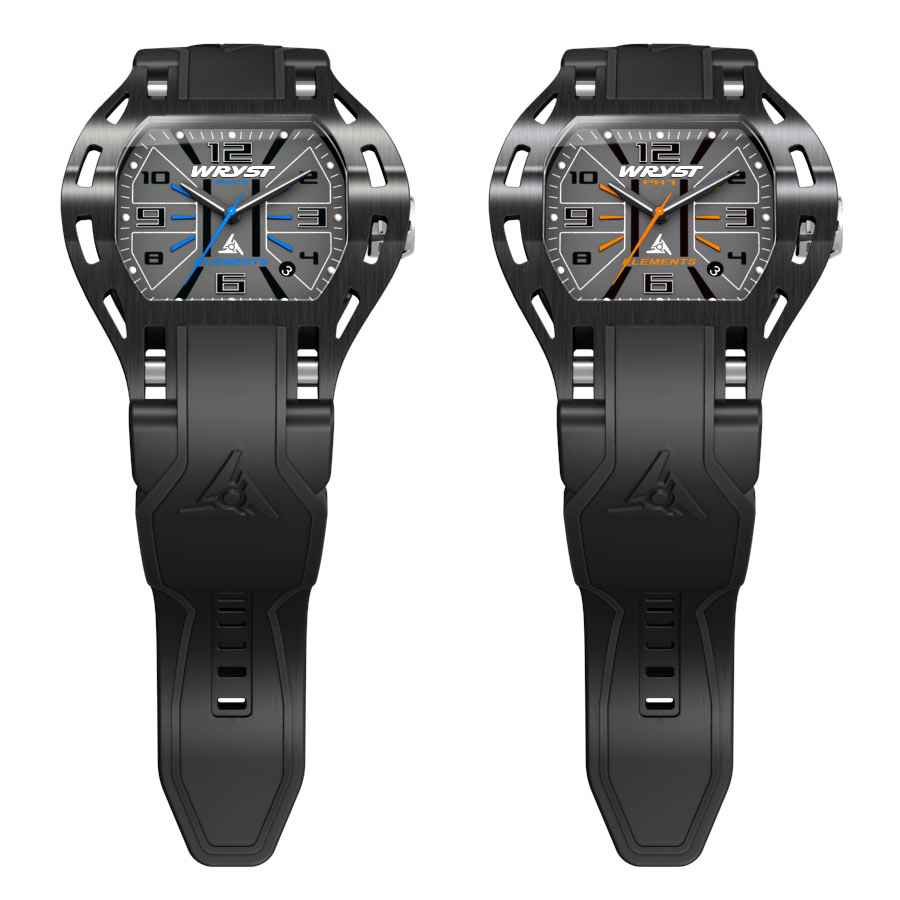 Your mens watches with colorful details on the dial are here at Wryst. Take the jump today and choose to wear a more fashionable luxury timepiece for outdoors and adventure. The PH7 with blue dial details on the left is now only available in small quantity. There are also two different types of genuine leather black bracelets ready to fit your Wryst Elements fashion watch for men and women for a different feel: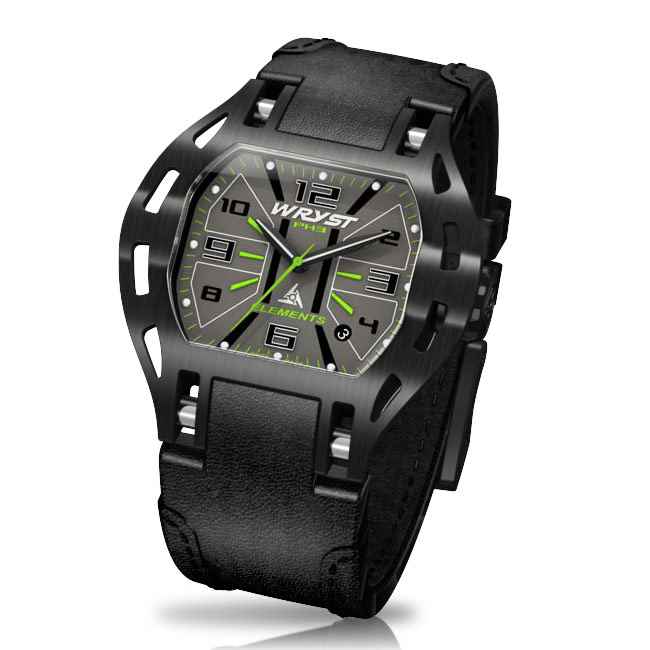 Browse the Wryst Elements collection
All Elements references still in stock today:
Wryst Elements PH3

Wryst Elements PH4

Wryst Elements PH5 (Sold-out)
Wryst Elements PH6(Sold-out)
Wryst Elements PH7 black

Wryst Elements PH7
Wryst Elements PH8 (Sold-out)
Bright and colorful bracelet versions:
Wryst Elements PH5 orange (Sold-out)
Wryst Elements PH6 red (Sold-out)
Wryst Elements PH8 white (Sold-out)