Sport Watch Wryst PH3
The sport watch Wryst Elements PH3 Swiss Made with aggressive and disruptive sport design. The limited-edition sports timepiece PH3 with green bracelet benefit from the hardest materials the watch industry has to offer. The scratch-resistant black Diamond-Like Carbon coating is used in the Formula 1 sports car engines and aerospace. It offers the guarantee of a durable and reliable sports watch. Two straps included!
Specifications
Data sheet
PRODUCTION

Limited Edition of 75 pieces

WATCH MODEL

Wryst Elements PH3

CASE MATERIAL

Stainless Steel Grade 516L

COATING

Scratch-Resistant Black DLC

CRYSTAL

"K1" Shatterproof with AR coating

MOVEMENT

Swiss Quartz with Date

WATCH SIZE

45mm Width

CROWN

Screw-In Crown

BRACELET

Green and Black

EXTRA BRACELET

Black and Green

FITTING SIZE

Wrist Between 150mm and 205mm

WATER RESISTANT

100 Meters (10ATM)

WARRANTY

1 Year
Watch Description
Sport Watch Wryst Elements PH3 Green Bracelet
Exclusive Wryst PH3 for Sports and Outdoors
The sport watch Wryst Elements is fun, modern, and dedicated to sportive men and women loving sports and outdoors activities. Like all other references in the Wryst Elements collection, all watches come with a choice of two bracelets. With this particular PH3 reference receive a double injection green/black bracelet fitted on the watch, and also a second black/green bracelet. The outdoor watch benefit from the world's most scratch-resistant technology.
Wryst introduces an affordable black Diamond-Like Carbon watch. As well as being strong and durable, the Wryst timepieces have a uniquely timeless and futuristic design that is a perfect match for charismatic individuals. Feel awesome and exclusive with your limited edition black timepiece with green details for sports Wryst. All watches are unique, with engraved a serial number on the case back from #01/75 to #75/75. Yes, only 75 green sport watch Wryst Elements PH3 will ever be available. The timepiece is perfect for your outdoors and water sports. This sports watch will make you feel unique and powerful while you can freely concentrate on your next thrill.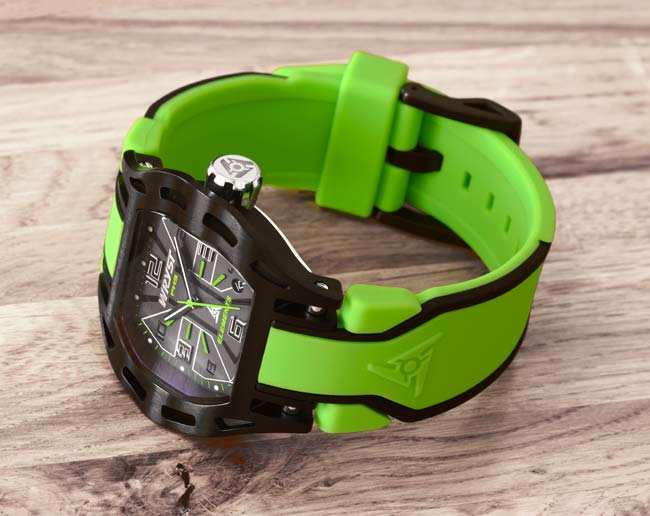 Only Available for Online Purchase
The Wryst Elements PH3 sport watch with green details can only be found on the official Swiss watch brand Wryst online boutique. We offer excellent reactive customer service. Buy a Wryst Swiss luxury watch today for a long-lasting and durable experience. We always guarantee 100% satisfaction.
Wryst Timepieces are well-known for their innovations and unique features redefining the concept of luxury sports watches. With exclusive style, bold dimensions, and modern specifications, all the Wryst watch models offer more than any other outdoor Swiss watches for men and women of the same category. The Elements Green PH3 model belongs to the exclusive Wryst collection of quartz movement powered, extreme adventure watches proudly bearing the esteemed Swiss Made quality certification.
Stylish Appearance
A reliable sport watch is a must accessory to be included in the extensive wardrobe of all adventurous, loving gentlemen who typically follow an ambitious and active lifestyle. The modern-day sports watches matching the existing fashion trends are required to carry a significant fashion appeal without undermining their masculine character.
The Wryst Elements is an excellent example of a contemporary sport wristwear collection that define the ultimate aspects of an extreme sports timepiece with fashionable design features. The Green PH3 variant is an outstanding model from the Wryst Elements line of extreme sports watches that boast a unique blend of creativity and good taste. Featuring a DLC coated stainless steel case in a solid black color, this exceptional watch model also radiates a fashionable charm with its green color highlights on its dial and strap. This attractive light green-black color scheme also provides a unisex appeal to this timepiece, making it equally suitable for both men and women.
Bold and Sturdy Case
The massive case with its distinct shape commonly confirms the real character of the Swiss brand's extraordinary sports timepieces. Its barrel-shaped 45mm case is made from a super-strong 516L grade stainless steel alloy that is famous for its excellent material properties. The case of the watch except crown and case back is treated with protective black DLC coating. Engraved with the limited edition serial number and model-specific inscriptions, the stainless-steel case back of this Elements captivating watch is securely attached onto the main case body with four large screws. This feature ensures secured water resistance up to 100 meters. Even with its bold dimensions, the Wryst Elements watch offers a pleasant wearing experience thanks to its well-proportioned, curved case structure and smartly designed lugs equipped with a patented strap attachment system.
The ultra-thin black DLC (Diamond-Like-Carbon) coating on the exterior parts not only protects the Elements Green PH3 watch from scratches and other visible damages but also adds a unique style to each timepiece with a shiny black surface finish. The black DLC coating also improves the saltwater corrosion resistance, making the timepieces suitable for ocean adventures.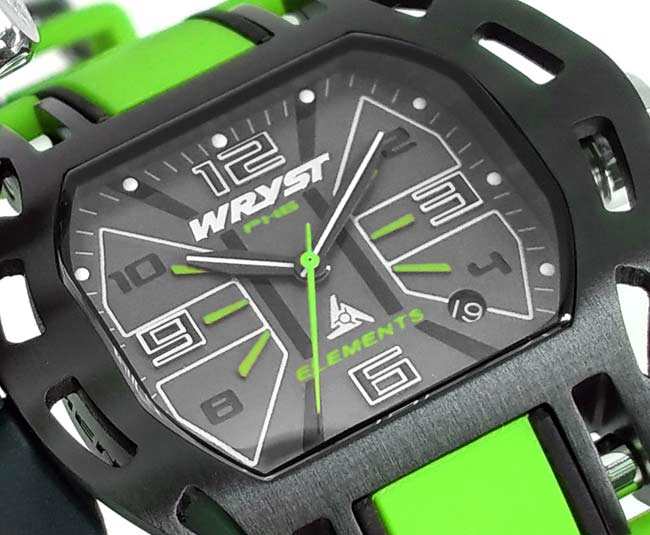 Easy to read dial
Extremely robust and also stylish, the Wryst Elements Green PH3 is an attractive sport watch notable for its neat, distinctive dial design. A K1 shatterproof mineral glass with AR coating and grey colored watch face perfectly complement the shiny black case. The dial ensures easy reading of indications with its clutter-free and meticulous design featuring large, easy-to-read Arabic numeral hour markers and luminescent hands. The light-green shade applied on the second hand and to other dial details is entirely in tune with the vibrant bi-color watch strap.
Firm and flexible strap
Made from silicone and perfect for wrist sizes between 150mm and 205mm, the dust-proof and non-allergic double injection bracelet of this watch has a fashionable green-black color combination. Seamlessly integrated to the lugs with a cutting-edge attachment system, the strap keeps the watch firm and secure on the wrist.
With the free, add-on silicone strap provided with every Wryst Elements sport watch, men and women can create their own combinations to complement their dressing style. The silicone strap has better flexible properties than the usual leather straps. This feature makes the Wryst Elements Green PH3 watch an ideal choice for water sports and ocean adventures. The soft double injection silicone strap is also lighter than the metal bracelets.
Precise and practical movement
The Wryst Elements Green PH3 comes equipped with a highly accurate Swiss quartz movement, whose functional qualities precisely match the modern gentlemen's active lifestyles and busy diary. Driving three central hands (hour, minute, and seconds) and a date indication at 4:30h, the Swiss-made Ronda 515 quartz movement is also easy to adjust with the large, stainless steel crown positioned at 3h and protected by the innovative top case structure. This quality quartz movement ticking inside a well-built case structure makes the Wryst Elements sports model an everyday wear watch.
Wryst Elements Vs. Smart Watches
In the market, you may find hundreds of different digital or smart watch models, including the popular apple watch series that come loaded with various functions like heart rate monitor, sleep pattern, fitness tracking, etc. Other indications like the display of the time zone, lap time, the distance covered, and so on. Although it looks quite interesting, the smartwatches lack some essential quality specifications, especially required for a high performing and reliable sports accessory.
The Wryst Elements watch is a perfect example showing smart-watches are not the right choice for those who prefer precise, reliable, and well-built sports watches. Therefore, let us explore the notable features that make these Wryst Elements watch model a first choice. It is easy to compare with smart-watches and other analog or digital men sport watch.
1. Long-lasting battery life
The Ronda 515 quartz movement powers the Elements watch model. The standard battery life is 45 months. You can wear it free of mind for more than three years without replacement. In comparison, the power source typically used in most of the smart-watches is a rechargeable Lithium-ion battery. For instance, it can only provide a maximum battery backup of maximum one week. As a result, the smart-watches require regular electric charging to keep them running. The Elements timekeeper is free from such hassles and can save you precious time so that you can enjoy your favorite activities.
2. Hassle-free sport watch
Unfortunately, the smart-watches typically loaded with software-based operating systems are vulnerable to technical issues and potential errors. So connectivity issues, faults in the software, malware/virus attacks, draining of battery can mean troubles. Also, the non-availability of power sources for charging, and other technical problems, can influence the timepiece performance. It can also trigger a total shutdown of your smart-watch at any time.
It will be catastrophic if your timekeeping device fails during risky outdoor sports activities and expeditions. Especially in locations where internet is not available. The Elements sport watch is less vulnerable to technical faults and shut-downs. Whereas equipped with a reliable Swiss quartz movement combining a time-proven electronic circuit and an analog display mechanism.
3. Built for your convenience
The other major difficulty of a smart watch is the possibility of becoming useless. Also, like smartphones and other firmware/operating system based gadgets. Moreover, companies will introduce newer models with upgraded or new software. The older product versions may become obsolete. Compatibility issues cause this. No such problems arise in the case of a Wryst Elements quartz watch.
With the timely replacement of battery once in 45 months, these heavy-duty sports men watch can offer long battery life. Perfect in comparison to smart-watches that can let you down because of battery issues. The Ronda 515 quartz movement is easily reparable and interchangeable. Also, since its inception in the 1970s, the quartz-powered timepieces are still relevant even after 50 years and widely accepted.
4. A reliable movement that will not let you down
The stability factor of a Wryst Elements quartz watch is much better than that of also expensive smartwatches. All Wryst timepieces have the most rigid materials like grade 516L stainless steel alloy for the case construction. Moreover, this alloy makes them more robust than the majority of analog, digital, and smartwatches. Water-resistant up to 100 meters, the Elements is designed for outdoors. It is suitable for extreme water sports activities. Whereas most smart-watches are only water resistant up to 50 meters.
5. Tireless functionalities
Wryst Elements is a perfect outdoor sport watch. It is also ideal for men and woman enjoying regular sports and adventures. The movement is not controlled by an app or any other network-based program that track your activity.
The Wryst Elements Green PH3 does not feature any fitness app that can track your activity. It does not calculate the distance covered or monitor your heartbeat, either. It is not an alarm stopwatch either. Instead, this stylish, brutal watch that proudly follows the 21st-century lifestyle and fashion. The PH3 is always ready to assist you as a reliable timekeeper in your adventurous filled and active life.
Exclusivity at an affordable price
All the timepieces from Wryst are part of a limited edition collection and maintain exclusiveness. The reference also stands apart from mass produced analog sports watches. The Wryst Elements Green PH3 is limited to 75 numbered pieces. This model is the recent member of this luxury unisex extreme watch. The Elements models are more affordable and therefore more accessible for smaller budget sports watch fans. In addition, the brand offers free shipping for your order of Wryst Elements Green PH3 watch. For this offer, apply the voucher promo code FREE SHIPPING in your cart before checking out.
Wryst - Swiss Sport Watch Like Never Before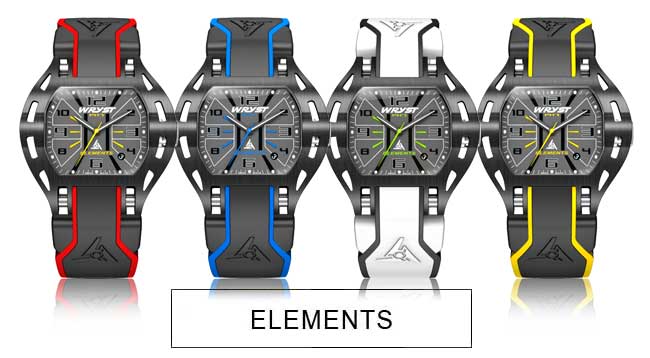 Reviews
Totally pleased
A great looking sport watch, well built and feels light. Purchased back in December 2019 I have now been wearing my PH3 and this sport watch is a true pleasure to wear and live with. If I had to find something wrong I would probebly say that changing the two bracelets included is not always easy, with little parts that are so small you have to be very careful when doing it. A part from that yes I would highly recommend this Swiss watch - No doubts.
Love my new PH3
Very good quality strongly built timepiece. I love wearing it and Joanne from sales offered a free extra all black bracelet. Thank you again!
-
Wryst offers excellent value for money thank you very much for this exceptional watch!
Elements ph3
Wearing the watch everyday. Either at the gym or to play tennis it feels comfortable and looks really nice. Thank you Jo for the service. Samira
Top Green Watch
Was looking for a lime green watch and this one has striking colors! Ticks all the boxes. Feels very strong and the black DLC in just very, very hard - much harder than I ever experienced before for a black watch. All the very best and thx.
Received mine!
Absolute winner - The design of this timepiece is unlike anything else I have ever seen in my life. The watch is so comfortable it feels like you are not wearing it. Brilliant thanks!
 Write a review