Wryst release new colorful watch bands
Wryst now offer 6 new Swiss colorful two-tone quality silicone bands. The designer straps are suitable for Wryst Elements collection. The resistant and flexible straps offer great comfort and are built with a strong plastic insert for a perfect and solid integration onto the watch case.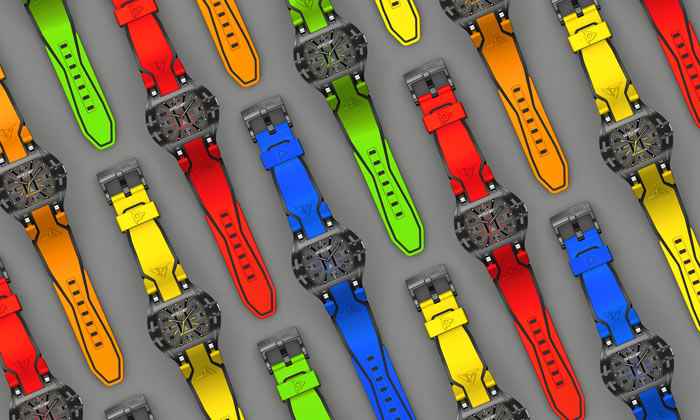 You can now choose from a selection of more superb double injection silicone watch bands in green, yellow, orange, red or blue with a thin black line on the sides. Receive also with these watch straps a spare black DLC buckle for ease of interchanging your watch band. Note that these new accessories will also be fitting the previous collections so if you have bought in the past a Wryst Airborne now discontinued, you can fit one of these new bi-color silicone strap for a new look to your Wryst timepiece.
Choice of 6 new colorful Swiss watch bands Wryst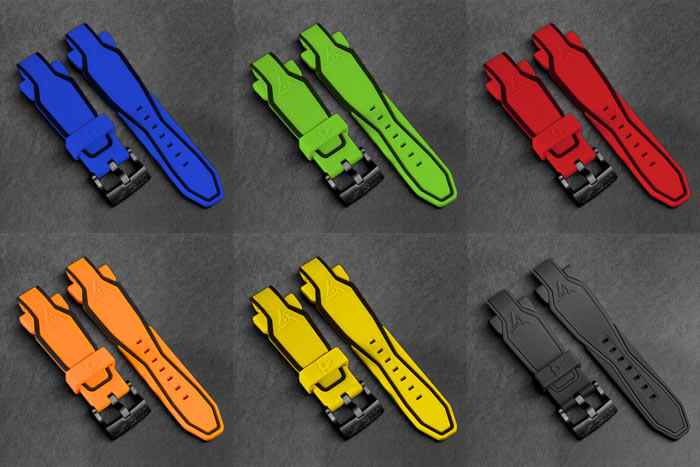 In order to ensure optimized fitting of your watch band please kindly inform us of which watch reference your newly purchased band is for so we can perfect size and fitting.
- Strap and buckle width: 22 mm
- Strap length: 210 mm
- Total strap length attached on the watch: 243 mm>
Fitting size: Suitable for wrists measuring between 150mm and 205mm diameter.
With a strong and atypical DNA, the Swiss watch brand Wryst is aiming more than ever to create aggressive looking Luxury Sport Watches never seen before, and far from any conventional timepieces ever produced to date. The tough and resistant watches are inspired by all sports providing adrenaline rush and Wryst will pursue achieving this with some the hardest materials the Swiss industry has to offer. Designed for professionals, athletes and people who have a real passion for racing and fun outdoors/adventure sports, no other watch brand is proud to offer such great compromise of unique watch design, high-end specifications and value for money.
Each Wryst Elements is including two bracelets. See what they look like equipped with the second double injection colorful quality strap:
Wryst Elements PH3 with GREEN bracelet
Wryst Elements PH4 with YELLOW bracelet
Wryst Elements PH3 with BLACK bracelet
Wryst Elements PH6 with a RED bracelet (Sold-out)
Wryst Elements PH7 with BLUE bracelet
Wryst Elements PH8 with a WHITE bracelet (Sold-out)
Like all other Wryst watches produced in the past, the latest ELEMENTS cool Swiss watches for sports collection is offered in an exclusive limited edition of 75 pieces only! Secure today the serial number you wish to purchase by contacting Wryst sales.