Watch Size Guide - Find the Perfect Watch
What Should the Best Designer Watch be?
The perfect watch represents a statement, a lifestyle, and give you the time of the day to live every moment to its full potential. Have you ever wondered which specifications you need exactly for your sports watch during your activities? The Wryst breathe, worship, praise, and respect any form of sports. Whether for professional athletes, outdoor adventurers, motorsports, extreme activities, or casual wear, the versatile Wryst is a reflection of yourself. If sports is an aspiration or a hobby in your life, so is the designer timepiece Wryst. We thrive to offer a vast range of collections and available in many color choices and attractive retail prices.
What should you look for in a Watch?
1/ RELIABILITY
Number one in your list is the reliability of your investment. The watch you choose will be your companion more often than not. It needs to be suitable and fit for this purpose. We recommend a quality shock-proof Swiss movement for the best possible accuracy and durability.
Moreover, the engineering of a watch is essential and required a certain level of expertise and know-how. Assembly is also a crucial factor, and extensive and rigorous tests must follow the production process. The Swiss Made label is the best guarantee to ensure your watch will be accurate and reliable.
Waterproof Watch Ultimate ES30
2/ STYLE
If your look is essential, so is the look of your timepiece. This unique accessory will enhance your lifestyle and make you feel good. The designer Wryst sports watches Elements, for example, has been designed with modernity and singularity in mind. The bright colors can add to your look with two different bracelets included with each one of them. Available in blue, red, green, yellow, orange, and black, what is your color? The last thing you want is a black screen timepiece that will tell nothing about your personality to anyone in our modern world. So there is a significant factor in style and design. If you enjoy looking at your wrist now, will you be so enthusiastic about looking at the time next year and the following one?
Luxury Swiss Watch Wryst SX230
3/ STRENGTH
According to 95% of users, their best watch has always been about their strength and durability. Casing built-in stainless steel is a must. If plastic makes suitable disposable cups and plates for your beach parties, this material does not inspire longevity. The stainless steel grade 516L cases produced by Wryst are all protected by the world's hardest coating, the black Diamond-Like Carbon technology. On average, only 3% of all black metal watches of the market benefit from such high protection against accidental shocks. To protect your stylish watch dial, some brands such a Casio also produce hard plastic crystals.
At another level, the stylish Wryst timepieces benefit from a sapphire crystal with an anti-reflection coating. This hardened crystal provides the user with a scratch-proof experience. Another factor of strength in a designer stylish wristwear is the bracelet attachment. The unique 5-piece screw attachment of the bracelet means you will not lose your timepiece anytime soon. Many other specifications are a recommendation during your sports activities, such as a screw-down crown and water-resistance. The watches Wryst offer different grades of water-resistance between 50 and 200 meters (5ATM to 20ATM). Perfect for water sports!

4/ COMFORT
While running, hiking, climbing, flying, or riding, your timing companion will need to be lightweight. The Wryst Ultimate is 45 mm in size and only weighs 125 grams. If this is still too heavy for you, all Wryst Elements only add 90 grams to your body weight. More importantly, the ergonomic design of every Wryst has a flat case back, adapting perfectly to the flat top of your wrist. The lugs are then cleverly curved to conform with the arm. The soft silicone bracelets with anti-dust protection also have a smooth and seamless feel. Your all-important investment has to make you forget you are even wearing it. Strapping your watch on and off will soon become a second nature reflex.
Black and Gold Watch Mens Wryst SX270
5/ READABILITY
Reading well, the time in all circumstances is crucial. Large man-size hands with large white luminova is a must for any timekeeper. Except for the Ultimate ES20 and the Force SX210, all Wryst designer watches benefit from glowing super luminova material on the hour, minute, second-hand tips, and hour markers. A good size date indicator is also present on all and every dial produced by the brand. No button to push to either see the time or switch on the dial. Since you have chosen to wear a quality object, there is no need to either flip the phone out of your pocket or your rucksack. This feature will allow you to read the time in bright daylight and if you choose more nocturnal outdoor activities.
6/ PRACTICALITY
For your watch, practicality will prevail on functions. All you need to know is when to "GO." If some gimmick gadget wrist toys are proliferating the markets, Wryst adopted a different approach. You do not need to know how fast your heart is beating as long as it does. If you need to know where you are and where you go, use your phone. How do you text your friends with a finger taking a third of the watch dial size? There are 101 keys on a keyboard. Designer watches do not have the purpose of sending emails or texts. All you need is an excellent reliable chronograph that will tell you how long you have been running for or your best time around the track. The Wryst FORCE will provide you with stunning Chrono functions and precise reading.
As much as we respect people choosing to wear a "connected" watch (Known as "smartwatch"), at Wryst timepieces, we avoid any difficulties to understand how the watch works. The hassles to make sure it is re-charged, and most importantly, our watches have a beautiful, unique dial always available. Your Wryst never needs to be switched on! So your watch needs to be practical, which excludes any "connected" updates, firmware, or software concerns.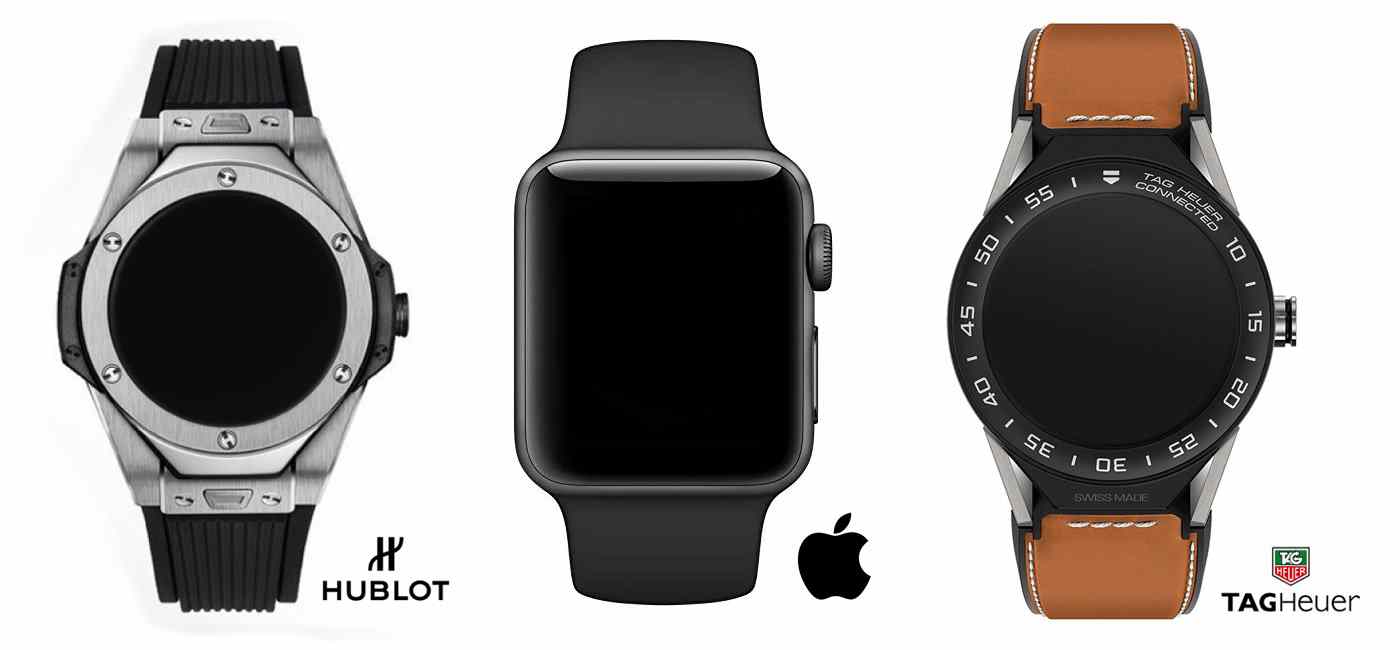 Connected smartwatches with no dials
Hublot, Apple, Tag Heuer
7/ EXCLUSIVITY
Finally, the thing you will be the proudest of is the exclusivity of your investment. Rare, unique, and only available in limited editions, every Wryst is produced in small series. Today there are over 7.5 billion people on our blue planet. Wryst is one of the most inaccessible Swiss watch brands globally, with a series of only 75 watches produced. One unit for 100 million people. Another perfect asset is your watch size guide; nothing else looks like the unique and modern Wryst design.
Designed to Prioritize Style over Function
a. STYLE: "A distinctive appearance, typically determined by the principles according to which something is designed. A particular procedure by which something is done; a manner or way".
b. FUNCTION: "A basic task of a computer, especially one that corresponds to a single instruction from the user."
Ask yourself, which one of the above do you prioritize?
Your timepiece needs style simply because your phone does not have any. Part of your quality of life, if your dress code has style, so should your fashion accessory - A designer watch is the most prominent accessory you can wear:
"Our wardrobes consist mainly of suits, shirts, sweaters, and jeans, so a watch is one of the few places that you can express your personality or the way that you are feeling."
Antoine Pin, Managing Director at LVMH UK
A Truly Motorsport-Inspired Automatic Model
Not limited to your daily sports activities, Wryst also produces stunning luxury designer automatic watches. The everyday watch has hardly ever been so different and unusual before. Above and beyond any standard three hands standard quartz watch, the latest mechanical option offered by Wryst is astonishing. The concept has the purpose to suit individualists with a taste for fast sports cars and all motorsports in general, and the 50mm excentric Wryst Automatic Racer collection takes your lifestyle to an entirely new level.
From side to side large seamless perpetual second hand to the brutal-looking dial, the Racer SX1, Racer SX2 Rose Gold, Racer SX3 Gold, and Racer SX4 in black are simply some excellent show stopper. If you are looking for the best designer creation available on the market today, make no compromise, the Racer collection will blow you away. Also produced in a small edition of 75pcs each, each automatic reference has its style and charisma. High-end jewelry with no diamonds, the luxury timepieces are just more beautiful and will grow in you every time you look at them.
The more luxurious lifestyle-oriented will be delighted to discover the four different models available. Either for an important business meeting, sailing to new horizons, or driving a supercar around the track.
In conclusion, the perfect watch for you is only about one thing, YOU. Prioritize style, always, and reliability comes second. People with style know this:
"Dress like you're going somewhere better later..."