Sportive Watches Wryst Elements PH7 for Adventures
The sportive watch Wryst Elements PH7 is an unusual black watch produced is small series of 75 pieces. The PH7 is perfect for professional sports in black dlc casing, slate grey dial, and intelligent blue details. The unusual design of the atypical Wryst Elements collection is brutal and manly. Built with the latest disruptive hard materials, the brand offers unprecedented value for money. Includes one black and one black/blue bracelet.
No tax
Delivered within 3-4 days
100% secure payments
Swiss Sportive Watch Wryst Elements PH7 in limited edition
The Black Wryst PH7 with Blue Accents
The affordable sportive watches Elements PH7 in black has a fascinating, timeless design that will grow with you daily. Wake up every morning knowing your watch will not disappoint you of a strict usage and harsh environment. If you are daring the natural elements of this world, so will your limited edition black Swiss watch PH7. The black DLC coating, K1 mineral crystal, and 10ATM will provide scratch-free, shatterproof, and water resistance like never before. If you are wondering whether you should purchase this watch, 45% of our customers have purchased more than one Wryst Swiss black watch. Contact us anytime to find out if your favorite serial number between #00 and #75 is still available.
With Two Bracelets Included!
Every Wryst Elements includes two different bracelets. Each watch is engraved with a unique serial number on the case back, so there are never two identical watches. Choose to wear your exclusive Wryst PH7 with the black or the other black/blue bracelet for a more individualist look.
High-End Swiss Watchmaking Specifications
If contemporary watch brands hardly ever surprised you in the past, this unique wristwatch will for sure. The PH5 has a date window, is easy to read, and is an ideal wristwatch for men with a whopping battery life of 45 months. The shock-resistant Swiss quartz movement is adapted to intense use and water sport. These are not connected smartwatches with digital displays. Instead, this PH5 is an analog watch with reliable quartz movement. Avoid the worries of recharging, updating, upgrading, or connecting your timepiece. Take a break from the hustle and bustle of big city life and enjoy your physical activities fully in your spare time.
Be ready to go on an adventure with one of the most stylish timepieces you have ever come across. It is produced exclusively in a limited edition. Be unique; get yourself a Wryst modern watch. The timepiece with a screw-down crown qualifies for up to 10ATM (100 Meters) water resistance tests. The PH5 is perfect for watersports. Wear your timepiece for action sports, adventure, and water-related sports such as surfing, windsurfing, kitesurfing, jet skiing, kayaking, flyboarding, and other water-related activities. Benefit from free DHL service worldwide with the voucher FREE SHIPPING, which you can use in your cart during the check-out process.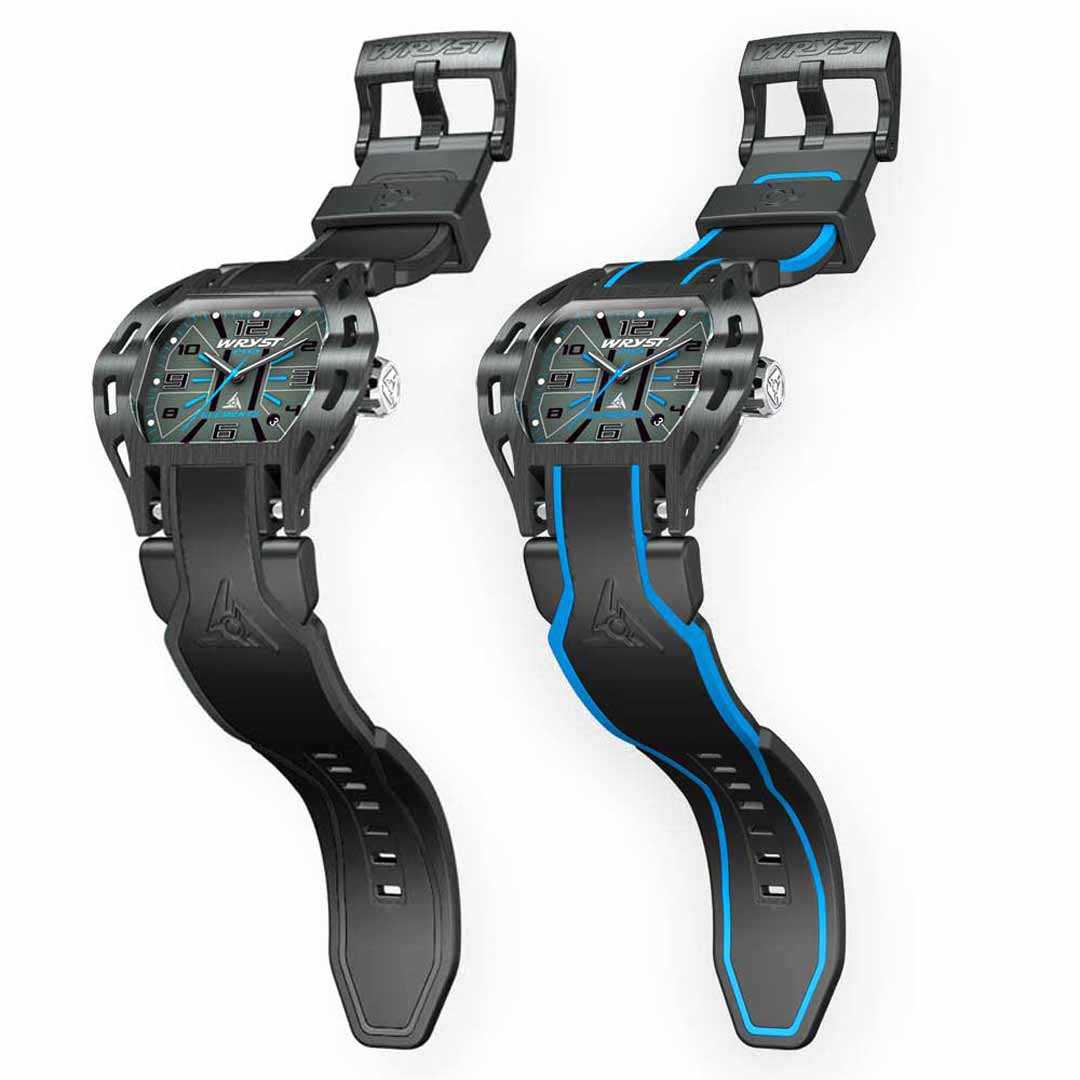 Exclusive and Thought-After Unique Style
The perfect compromise of style and durable materials is necessary for creating well-built luxury watches for men. Wryst atypical Swiss timepieces provide excellent value for money. The modern brand Wryst thrives by offering limited edition wristwear dedicated to water sports and adventure sports. The PH5 casing and buckle are coated with the world's most scratch-resistant black DLC* coating (*Diamond-Like Carbon). The "K1" glass protecting the dial is also more shatterproof than sapphire and more scratch-resistant than regular mineral crystal. The collection benefits from a screw-in crown, 100 meters of water resistance, and two straps are included.
Wryst is proud to provide individualists with stylish, durable fashion designer accessories and impeccable and devoted customer service. Produced exclusively in a limited edition of only 75 pieces, this reference PH5 will not be available for a long time. Each piece is engraved with a unique serial number on the case back, so there are never two identical watches.
There are also several other colors available as follows:
Wryst - Black Swiss Watches Like Never Before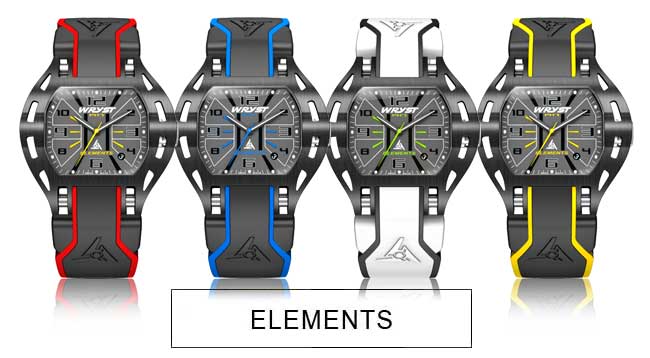 Data sheet
GENDER

Men

PRODUCTION

Limited Edition of 75 pieces

REFERENCE

Wryst PH6 Elements

MATERIAL

Stainless Steel

COLOR

Black

COATING

Scratch-Resistant Black DLC

CRYSTAL

Mineral "K1" Shatterproof

MOVEMENT

Swiss Quartz with Date

SIZE

45 mm

CROWN

Screwed Crown

BRACELET

Black

EXTRA STRAP

Black and Blue

WRIST SIZE

Wrist 150mm to 205mm

RESISTANCE

100 Meters (10ATM)

WARRANTY

12 Months
Top experience
Great buy, superb watch. Thank you very much!
Very resistant
I have beem wearing my Wryst PH7 now for several weeks and the coating is extra resistant. I do not go easy on my watches and needed a tough timepiece and found this DLC coating which I never heard of before. Usually there are marks on my black watches really quickly only after a few days but this one seems to be totally unscratchable. Thank you for this - Finally a very resistant Swiss watch under $1000 US.
Thank you!
Great experience at the time of purchase with a good customer service. My new watch arrived promptly with DHL service and it looks outstanding! Strongly recommend one of these exceptional piece. Thank you again so much.
Elements ph7 - 62/75
Very beautiful sports watch, both chic and racy. <br /> The extra white and black leather strap gives it an even more elegant touch. <br /> All with the personalized, pleasant and professional support of the Wryst team ! <br /> Best regards from Switzerland. <br />
Solidly built watch
I love my new PH6 which I received only in 2 days in Canada. Very well built and comfortable to wear. Josh - Montreal
Received today!
Ordered my watch and it was received the next day in Kent. Thank you Joanne for your excellent support, friendly contact and for granting me free shipping. Joel
Loving my new watch
This PH5 is just a real pleasure to look at every time. So glad I managed to secure this timepiece only produced in limited edition. Thanks
Perfect with my KTM bike
I just received my superb Wryst element ph7 today and I must say this is the best looking sport watch I have ever seen. Plus I am so happy it will fit well wearing with my Yamaha IT vintage enduro motorcycle which is also in black and blue. Professional and friendly customer service who helped me choose the serial number from the ones available - Absolute treat and I will stay a customer as long as I possibly can. Already thinking of another model. The only down side is seven days to receive the watch in Kentucky but worthwile the wait. Thank you so much. Karl
Looking great
Nice watch. Very sportive design and it looks good on my wrist. The customer service was a friendly and helpful experience. Thank you
Top sport watch
The Element PH6 is great. The watch wears super nice on the wrist despite a nice chunky feel. I love my new watch thank you!
Very happy
Love my new watch! Took a while to decide but that was the right choice, first class sportive watch - Thanks
Unreal
Well pleased with my purchase! The shape of the case is futuristic and attractive at the same time. Please can you sell the straps separately? Would like to buy the yellow with two black lines. Thanks
 Write a review