The Wryst Elements Swiss Collections for Men
Unforeseen cool men's watches for outdoors created in exclusive limited editions by Wryst Timepieces. The Swiss brand has brought to life a new atypical quartz collection with the most atypical styling on the market. Produced exclusively in small series of 75 pieces, Wryst offers six different world's most scratch-resistant black wristwatches. The design shape and feel of a Wryst Elements in not like any wristwear you have ever worn before.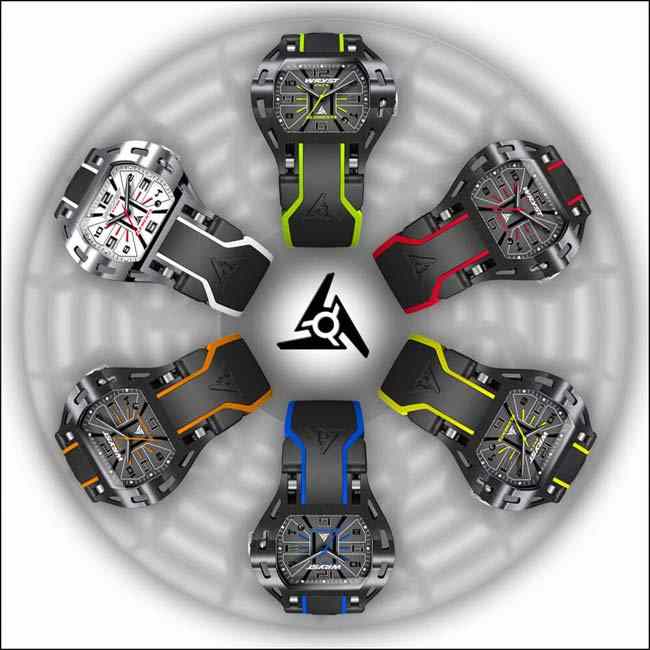 THE "ELEMENTS" SPORTS WATCH COLLECTION
Inspired by Extreme Adventures and built for Outdoors
The Wryst Elements cool watches are designed to withstand the most hostile outdoors, harsh environments, and unintentional shocks. With a highly complicated one-piece case, the stylish Elements are protected with the world's most scratch-resistant black DLC coating for unforeseen durability. This feature has now become a signature asset for Wryst, which represents unprecedented value for money. The six references available are all featuring screw-down crowns, 100 meters water-resistance, domed shock-proof K1 mineral crystal, screwed case back, and two double injection silicone bracelets with each model. There are also genuine black leather bracelets available for these exclusive cool looking watches.
Wryst PH3 watch in black and green:
The limited-edition Wryst PH3 with scratch-resistant black DLC coating The reference with dark grey dial and green details on the dial is including a black and green double injection silicone bracelet and also a spare second bracelet in green and black. A truly sporty timepiece for outdoors, fitness, and adrenaline seekers.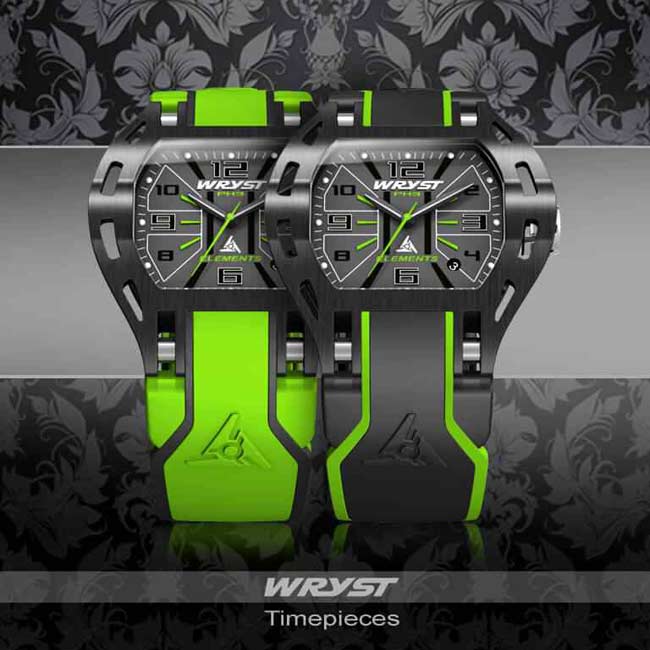 Green is the color of life, renewal, nature, and energy. Green is associated with meanings of harmony, safety, and environment. Green is also traditionally associated with money and ambition. The crystal of this Elements series is a mineral grade K1 glass which is more shatterproof than sapphire crystal, and more resistant to scratches compared to mineral crystal.
The date window is located on 4h30 position on this model. This has been designed to allow the number three to feature on the dial. Minute, hour hands, and hour marker dots are in luminous material and will glow in the dark for clear reading of the time.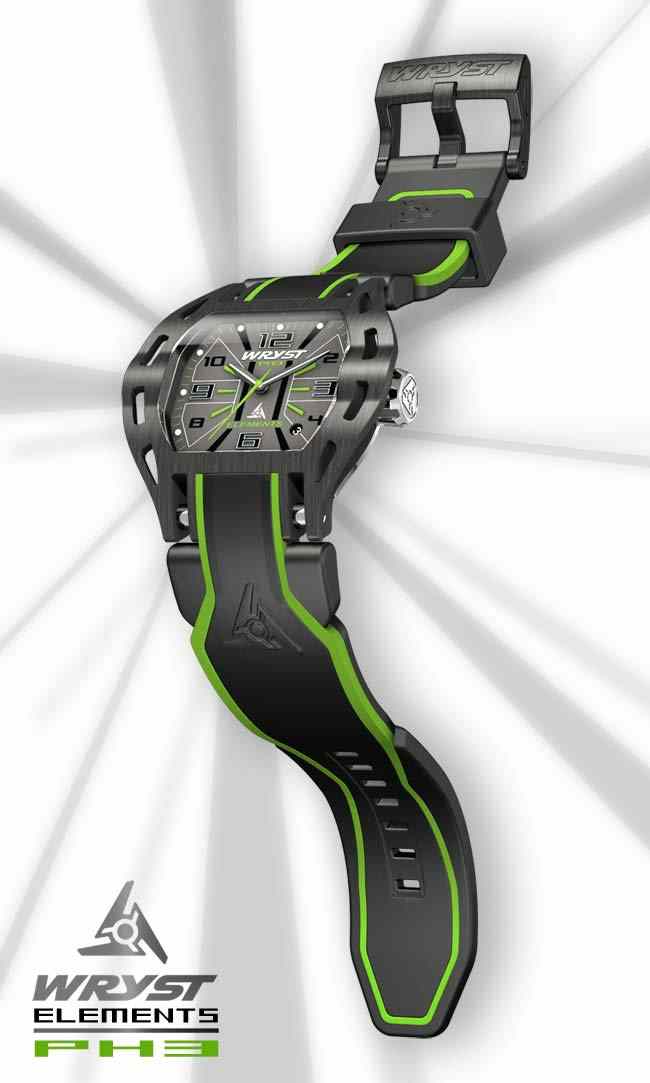 Wryst PH4 watch in black and yellow:
In size 45 mm, the unisex black Wryst PH4. A wristwatch delivered with both the black and yellow band, and also the yellow and black shown below. Limited editions only.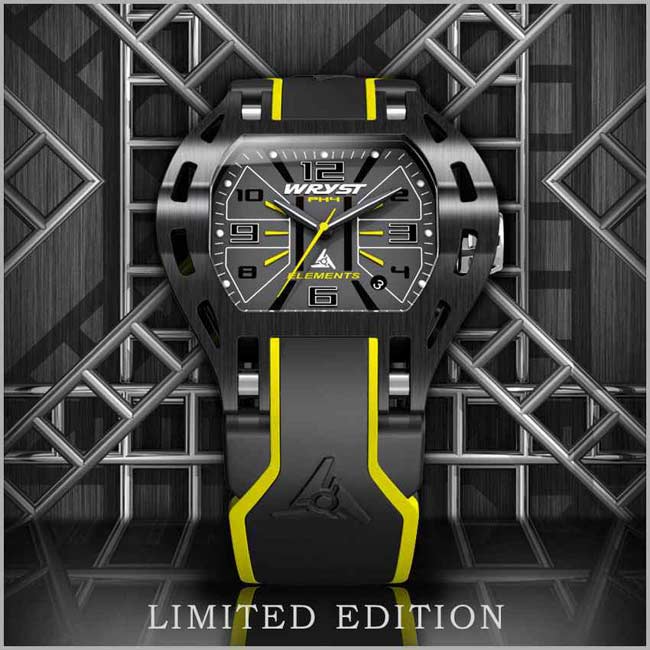 The battery life is 45 months on this model for your piece of mind.The perfect man's watch for recreational or professional outdoors and adventures. If the Elements is not exactly a dive watch, the 100 meters water resistance is ideal for any surface watersports such as surfing, jet skiing, windsurfing, paddle boarding, and many others.
This model in black and yellow is also including another yellow and black silicone bracelet so you can enjoy two different looks and styles with your timepiece. All limited edition series offered by the Swiss brand Wryst are including systematically two bracelets. Black and yellow are also the colors of the prvious TT model produced by the brand since 2015. The Tourist Trohpy wristwear was offered with Swiss chonograph function for a cool look and all units are now sold out and discontinued.
Perfect for exercising and to look the par for everyday use. A black watch with domed shock-proof mineral crystal and screw-down crown. Change your style with both the black and orange bracelet, or the orange and black one also included with these really cool watches inspired by the elements around us.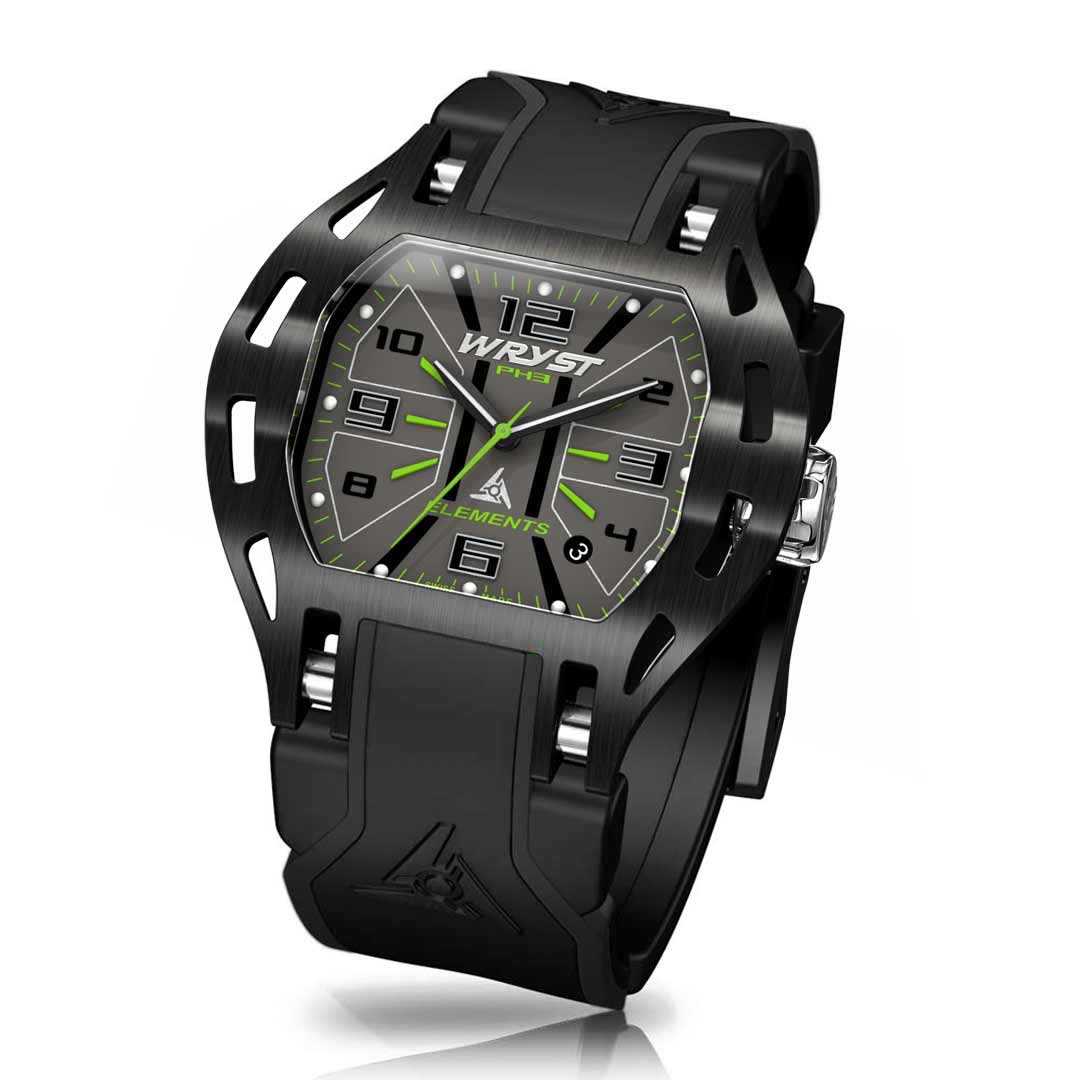 A mesmerizing black and bright orange version is also on of your option for this series. This PH5 is also in stainless steel and protected by the world's most resistant black DLC which is  tough enough to endure wear and tears for many years to come.
The watch face is featuring geometrical designs aligned to the hour markers going from the center axis and going out towards the minute track. Arabic numerals are placed at 12, 3, 6, and 9-hour positions, with smaller printed numbers on the other markers 2, 4, 8, and 10-hour positions. Just under the brand name features the name of the watch, which is in this instance PH5. Another extra orange and black bracelet is also included with this Wryst Elements.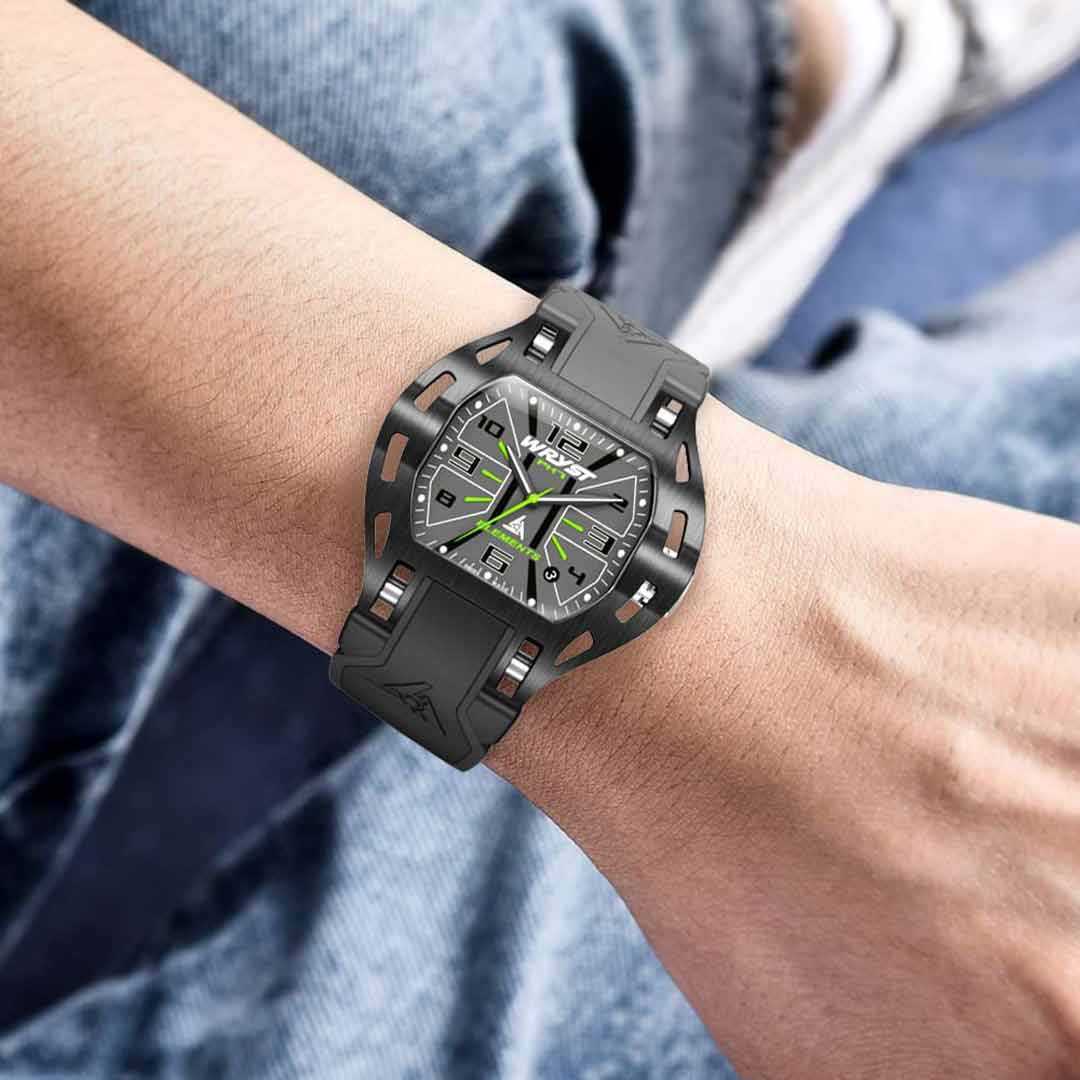 Wryst watch PH7 in black and red:
The most black and blue of all! The Elements collection is also including the stunning black and red timepiece with a backup band in black and blue. Both colors together are an excellent combination for any outdoors, such as snowboarding, surfing, paddleboarding, or any other recreational activities. The black DLC coating is the hardest technology for black coating and is also stronger than steel.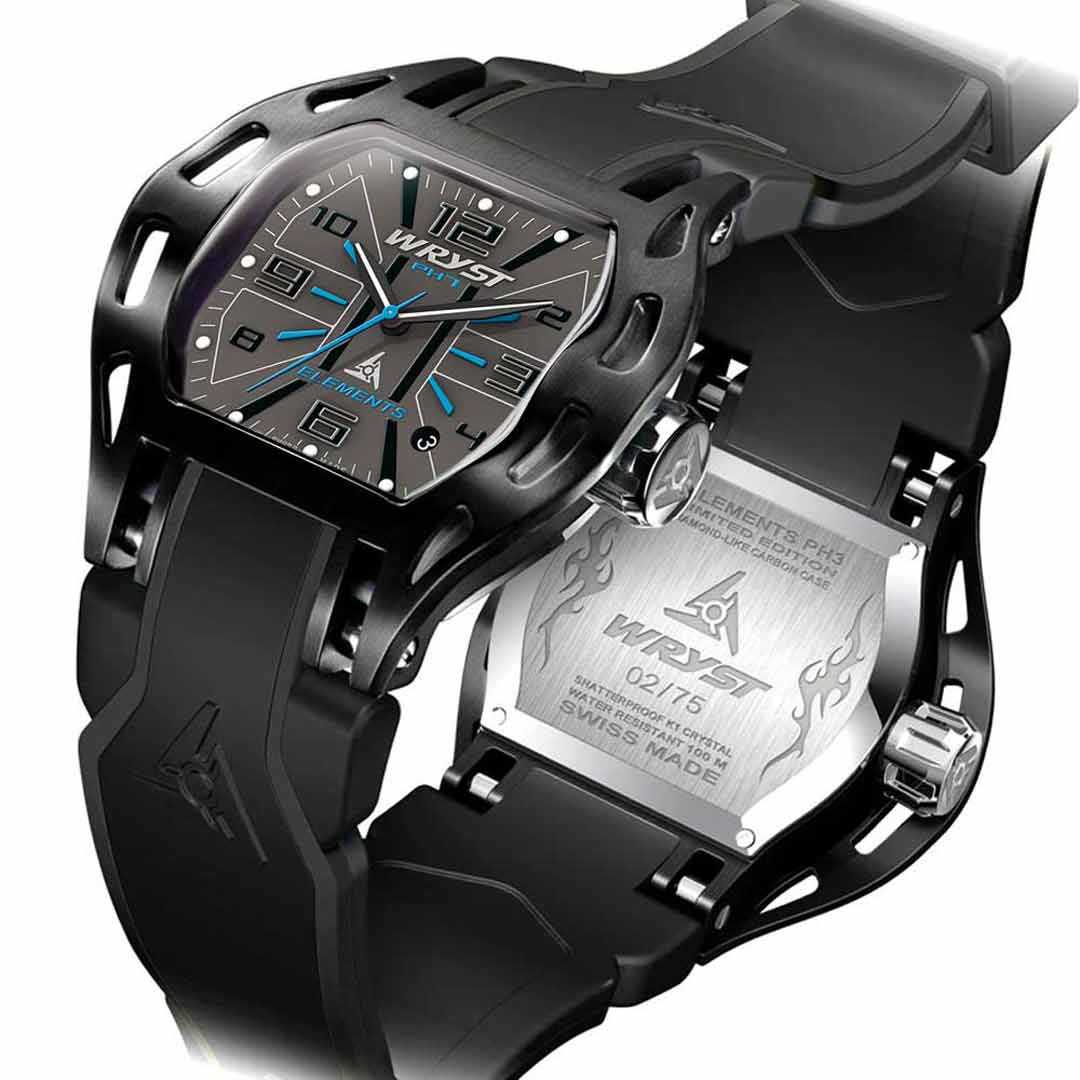 The Elements PH7 is the most successful reference and will shortly be discontinued. Only a few watches remain available. This small series of 75 pieces has red hour markers battons on the dark slate grey dial with black details. The second hand is also in shiny blue color.
If you are looking for a more attractive feel, this PH7 is the one to go for. Both colors black and deep intense blue are the perfect match for race tracks and speed. The 22 mm silicone bracelet is also showcasing two side lines in blue as a reminder of what your passion is. Blue is an exciting color and the deep black casing is more mysterious and strength.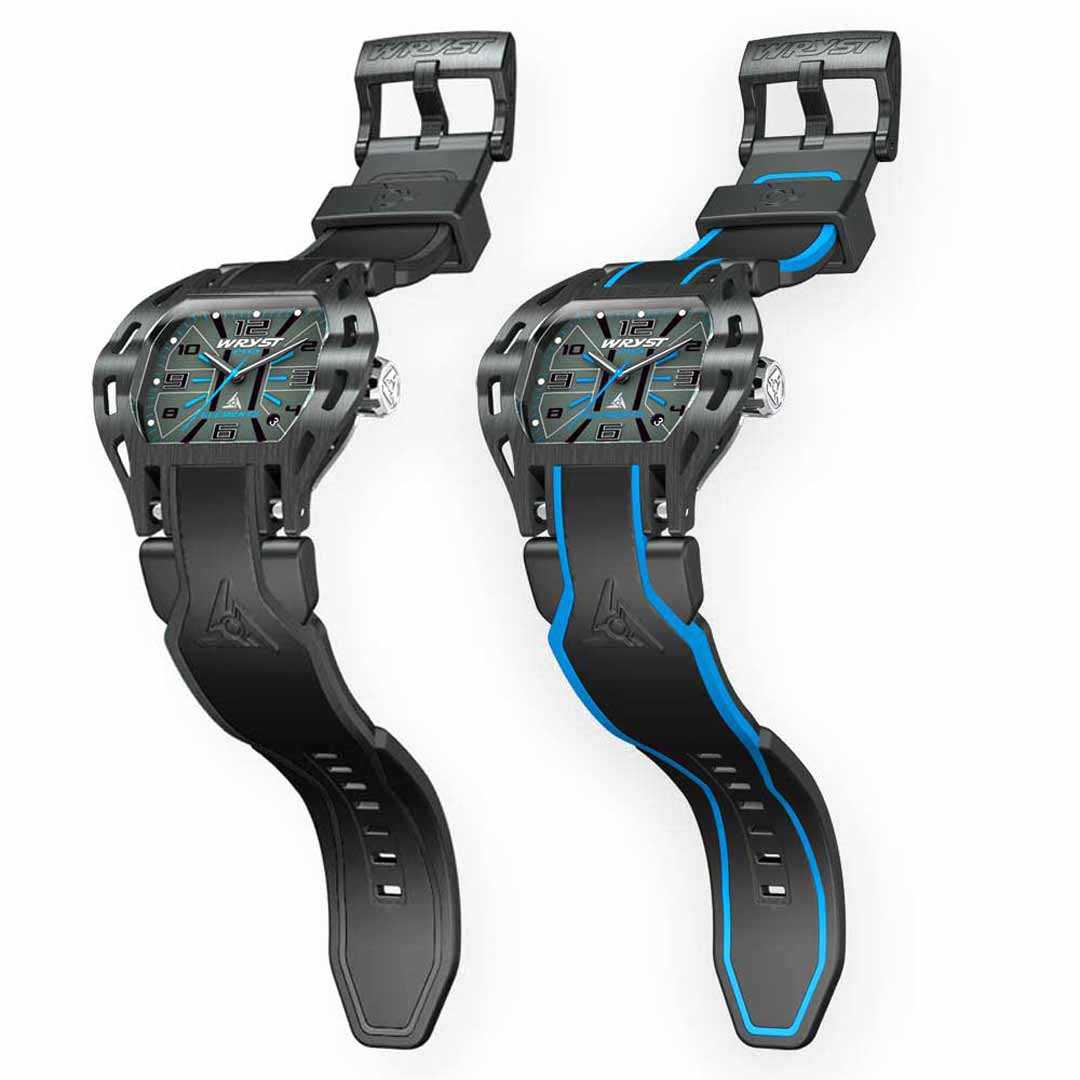 Designed in deep blue and black colors. The Elements PH7 in cool blue has a lot to offer and will not make you unnoticeable. Privileged men and women looking to purchase a luxury Wryst Swiss watch online will adore this model. Both the black and blue or blue and black bracelets can be attached to this incredible timepiece.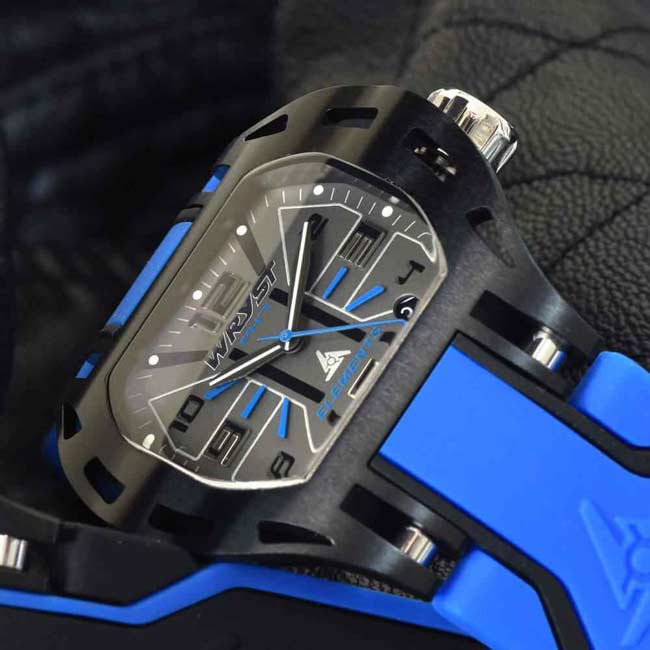 Now onto the stunning blue Elements PH7. Blue is the color of the sky and the sea and symbolizes trust, loyalty, wisdom, confidence, and intelligence. For these reasons, this is the most prefered color for men and also for women. Blue is also considered beneficial to the mind and the body, and produces a calming effect.
Another bracelet in blue with black lines shown above is also included with this PH7. If you prefer a more outgoing look you can also purchase seperately a black leather strap with any watch from the Elements reference. Please contact our customer service for this particular request or if you wish to choose which bracelet should be fitted on your timepiece after placing your online order. Cool looking men and women watches hardly get any better than this.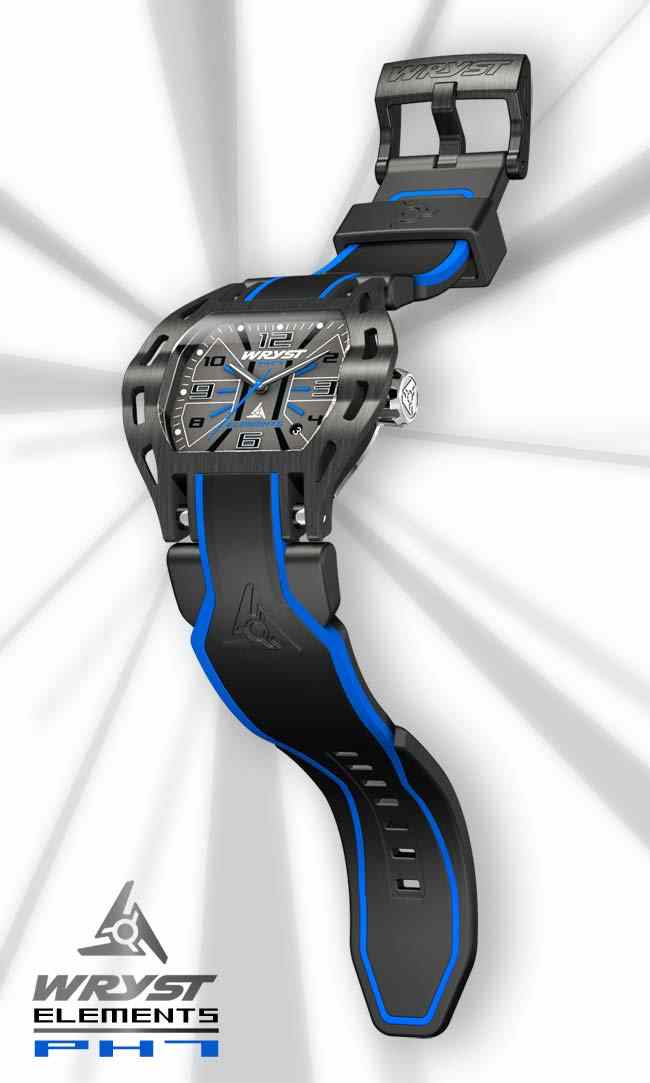 Wryst Elements PH8 polished stainless steel:
A more casual version is also on offer with polished shiny stainless steel. Women and men with a taste for individualism may prefer this bestseller. The Elements PH8 is the most successful in this series and may well be the first to become sold-out. Remember, only 75 pieces will ever be produced!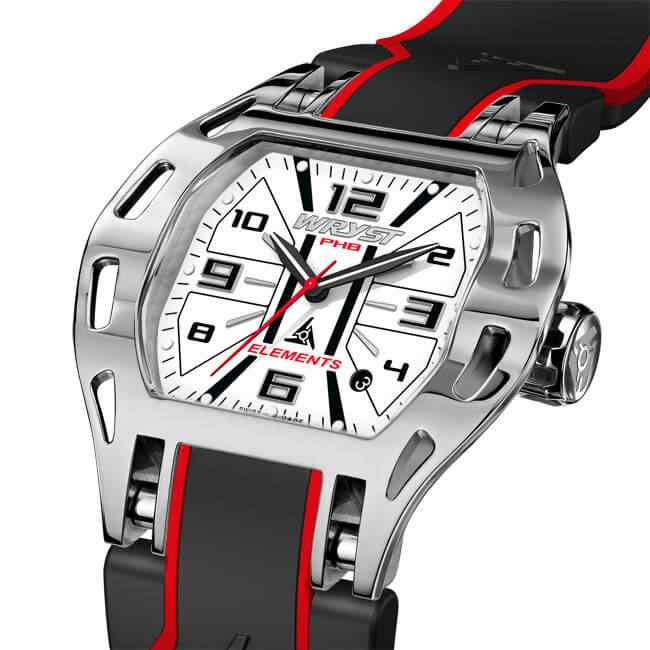 Sadly, this Wryst PH8 was the first model from this series to be discontinued. This is also one of the reason why the exclusive limited edition references Elements are so rare and thought after.
Discover also the other collection of automatic movement watches Wryst Racer in black and red which are also produced in small series. This cool and racy collection is running a mechanical movement with power reserve of 38 hours. These are the more high-end series and dedicated to individualists who have a passion for car racing, supercars, hypercars, fast motorcycles and superbikes.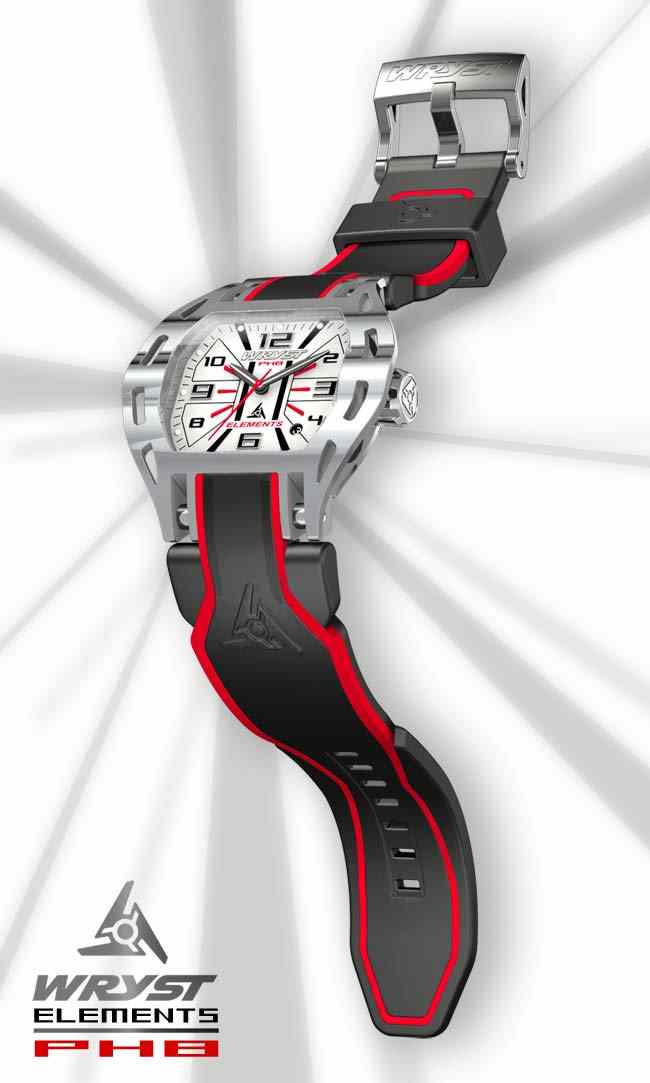 The colorful collection Elements is perfect for individualists looking for a nice mens wrist watch that will stand out and make a strong statement. If you are bored with the classic round shape timepieces or just looking for something bold and more adventurous, this collection is for you.
Discover the Elements also fitted with their respective second bracelets
Each Wryst Elements is including two bracelets. See what they look like equipped with the second double injection colorful quality strap:
Wryst Elements PH3 with GREEN bracelet
Wryst Elements PH4 with YELLOW bracelet
Wryst Elements PH3 with BLACK bracelet
Wryst Elements PH6 with a RED bracelet (sold-out)
Wryst Elements PH7 with BLUE bracelet
Wryst Elements PH8 with a WHITE bracelet (Sold-out)
Like all other Wryst produced in the past, the latest ELEMENTS Wryst cool men watches collection is offered in an exclusive limited edition of 75 pieces only! Secure today the serial number you wish to purchase by contacting our devoted sales department.
Other Wryst Timepieces Here: