Product backgrounds created by AI for the watches Wryst
THE RESULTS ARE POWERFUL AND INCREDIBLE!
Learn how to create product backgrounds with AI (Artificial Intelligence)
We have asked AI to create images of product backgrounds, and we discovered it could generate ideas containing almost precisely what we asked for.
If you are unfamiliar with what AI can do for you, give it a go. You can quickly learn how to interact with Artificial Intelligence capabilities, and it's all free. Make the most of the free tools available to you.
Discover background images generated for the watches Wryst
First, we played with simple requests, such as plain colorful images to use as backgrounds, but then if you through a request showing several objects on your image, AI will understand what you ask for and add precisely what you requested to your background.
That said, it takes several attempts, and the results are not always spot-on, but some backgrounds are great and can be used without the hassles of having to take photographs.
Adding a few objects of your choice to the scene
Here are a few results we obtained by just prompting Bing AI to add a few objects around the product to add elements around the product.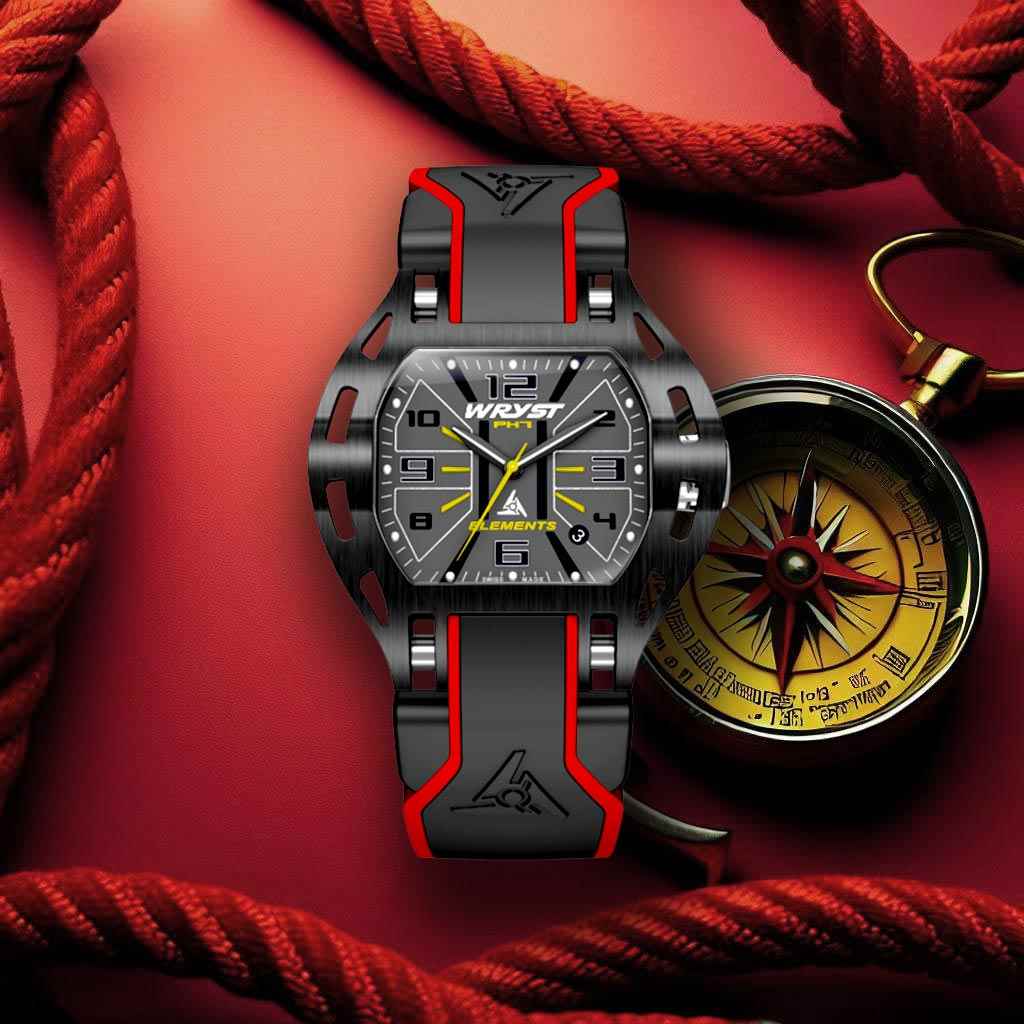 Men's sport Watch Wryst Elements PH4 with a black and red bracelet
We asked AI: "Create a red background with a red climbing rope and a gold compass."
Note that the compass face design has been generated randomly as AI can not copy existing products; it can only create visuals that imitate what it knows. Many Wryst Elements sports watches for men are available, but a few references are now already discontinued.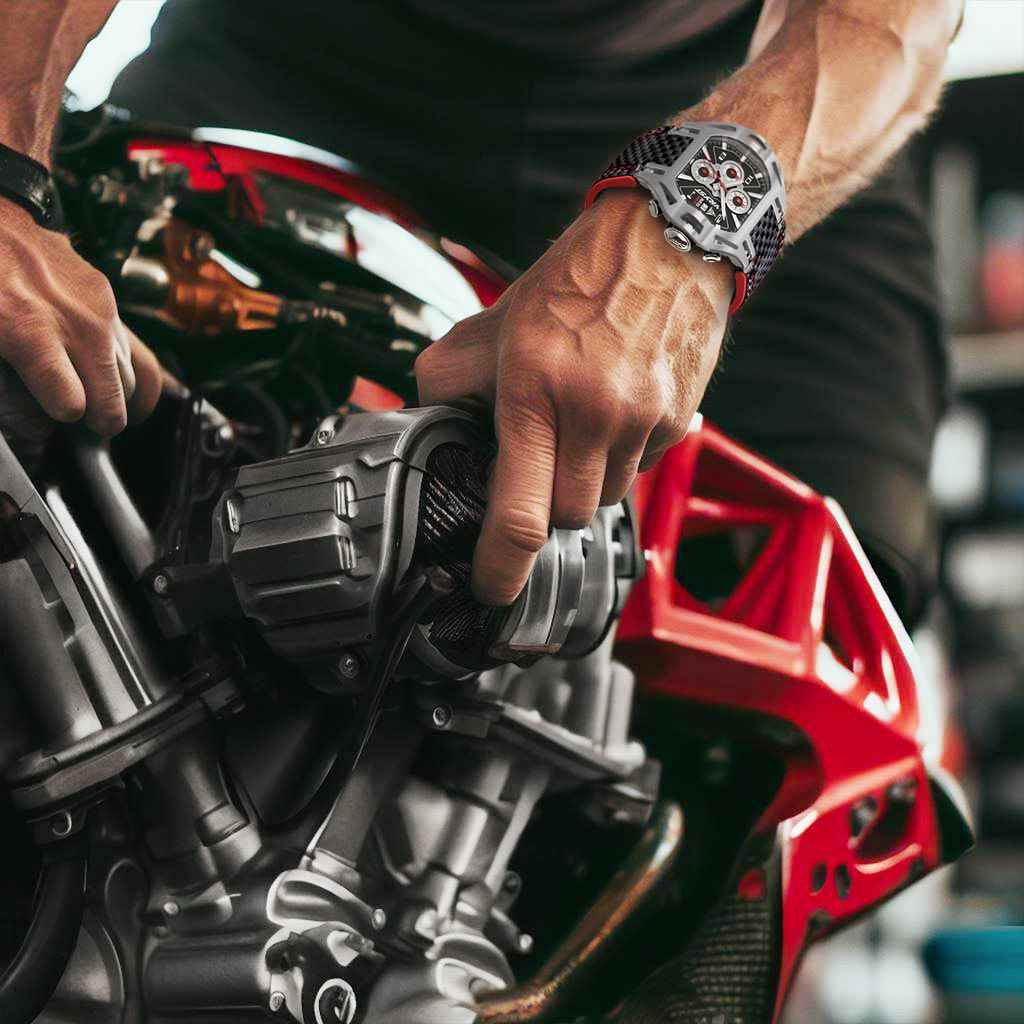 Man wearing the luxury men watch Wryst MS630
AI can accomplish complex image-creation tasks. For this background, we have prompted BingAI with "Create an image of a man with his hand repairing the engine of a superbike so we can add a watch on it."
And there it was, just like we asked. The men's racing watch Wryst can then be added on the arm with a photorealistic 3D render, positioning exactly the MS630 as it should. All we had to do then was enhance the lightning and shades. Stunning right? We could have paid a model for this illustration, but thanks to AI, we can now create superb visuals that show clearly what the watch feels.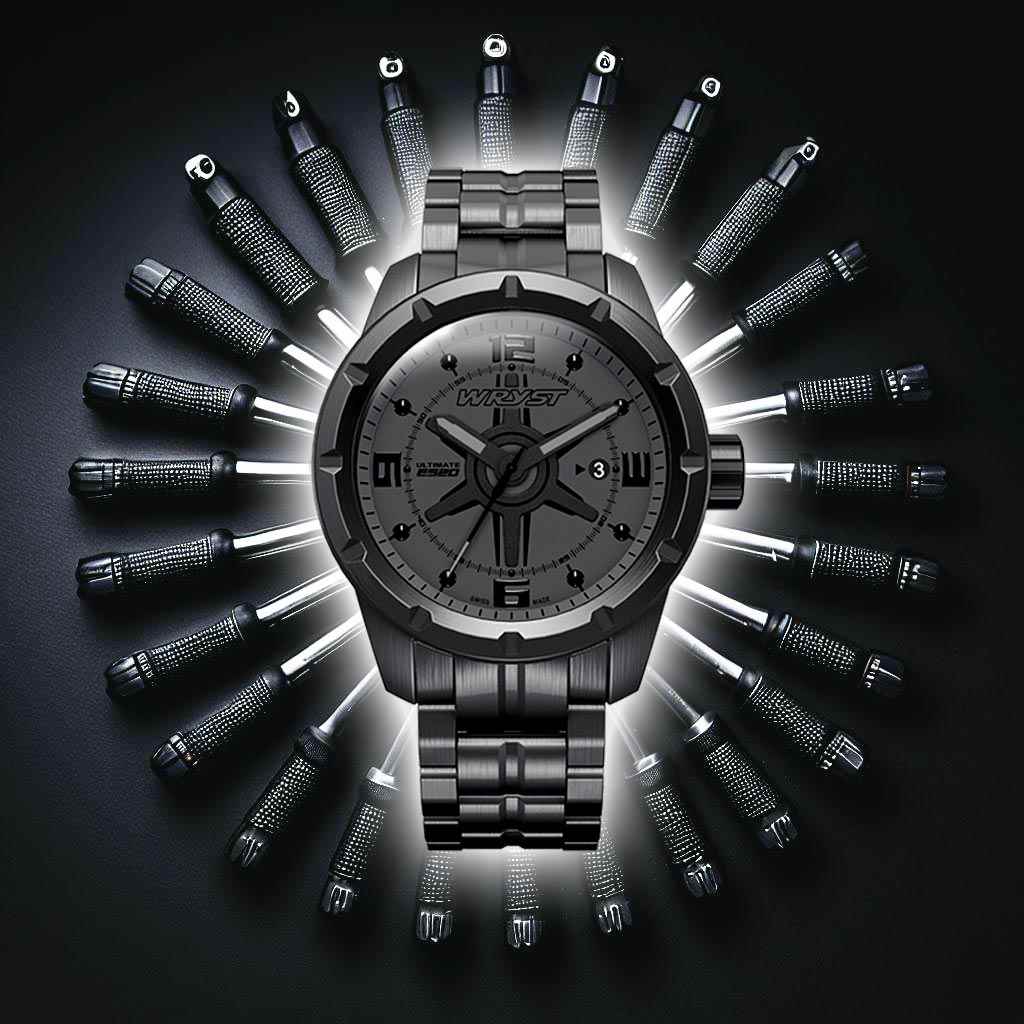 Blacked-out Stainless Steel Watch ES20
We asked AI for this image: "Create a black background with 30 black screwdrivers."
Note that AI did not illustrate 30 screwdrivers but only 26. For this illustration, AI created an artistic circular artwork with the objects, providing an industrial feel.
The watch illustrated above belongs to the small series of black watches, Wryst Ultimate.
Automatic Gold Plated Watch Racer SX3 for Men
This time we asked: "Create a gold background with 150 gold bolts and screws".
Artificial intelligence doesn't understand precisely what shapes screws and bolts are. So for this product background, the background objects are more random than they should be. Overall the desired effect is produced, and the gold watch shows nicely with this computer-generated artwork.
Discover all other Wryst automatic watches Racer here.
Swiss Automatic Watch SX1 Racer Limited Edition
The request was slightly more precise as we asked for specific objects to be added to this black background.
We asked: "Create a black background with black leather gloves, black sunglasses, and motorcycle keys, with a small empty space in the center."
Not exactly what we asked for, as there is only one black leather glove and two pairs of black sunglasses, and the keys are not resembling a set of keys. This makes an excellent background for our silver and black leather automatic watch.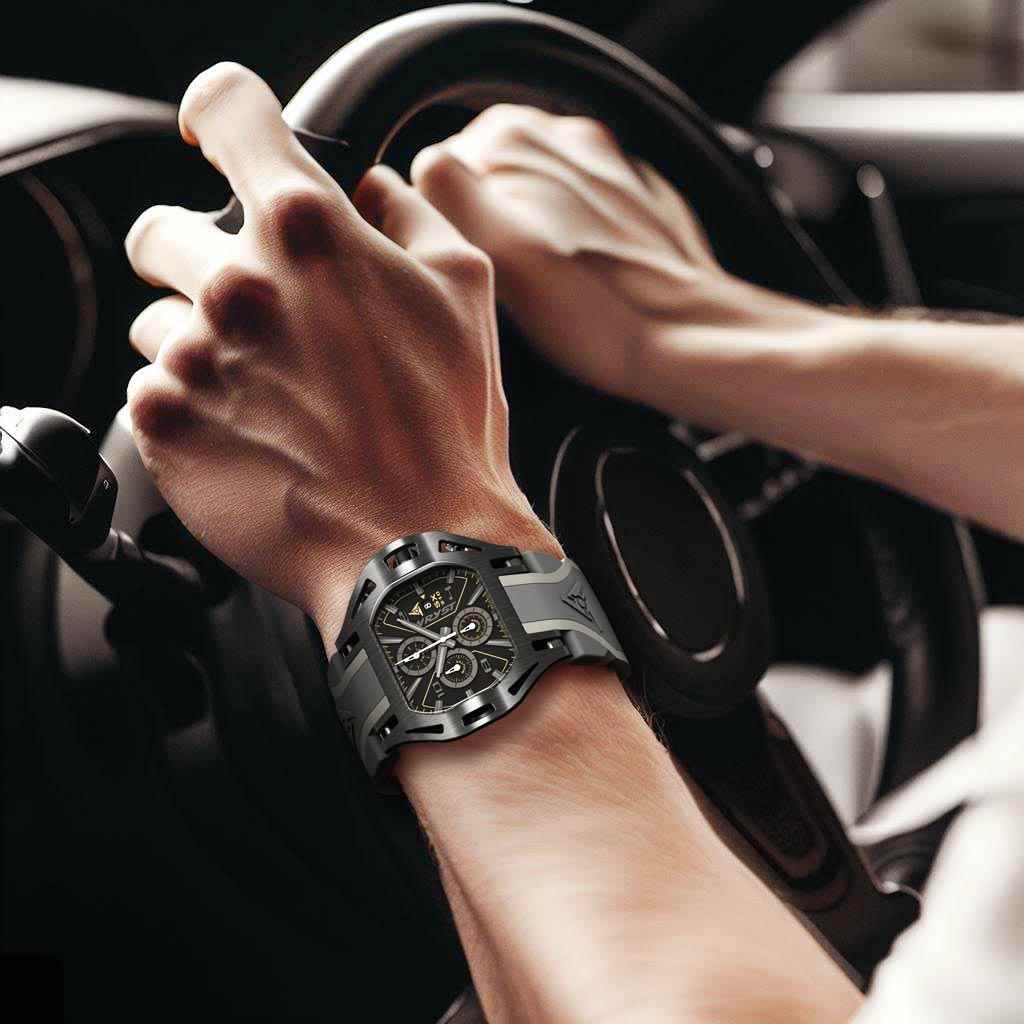 Wryst SX210 Swiss Chronograph Watch Size 50 mm
This image shows the full potential of AI image creation. For this one, we have prompted the following:
"Create an image of a young man with his two hands on the steering wheel of his sports car."
The illustration of the two arms is not perfect with a slightly disproportioned finger, but apart from this, we are delighted with this AI image creation. We know our customers always enjoy seeing what the watch looks like in real life.
We then added the watch on the man's wrist with compositing. The Wryst SX210 watch was rendered with 3D software and adjusted to fit perfectly on the arm with the right size and angle.
The result is a 100% photorealistic computer-generated image, as nothing contradicts real life. That's right; you are looking at an entirely artificially created image of a man driving his sports car while wearing the Wryst Force chronograph watch.
Browse all the men's chronograph watches Wryst Force produced in limited editions of 75 units.