Wryst SX270 Mens Watches on Sale
Buy a Wryst SX270 in black and brown for a Bargain Price
A fantastic opportunity to buy your black Wryst Force on sale. The striking Wryst Force SX270 with black DLC coating and Rose Gold dial is now offered. The two references are Black and Gold Watch Wryst Force SX270 with silicone bracelet and Mens Brown Leather Watch SX270 with an alligator bracelet with a 20% discount until 31st March 2020.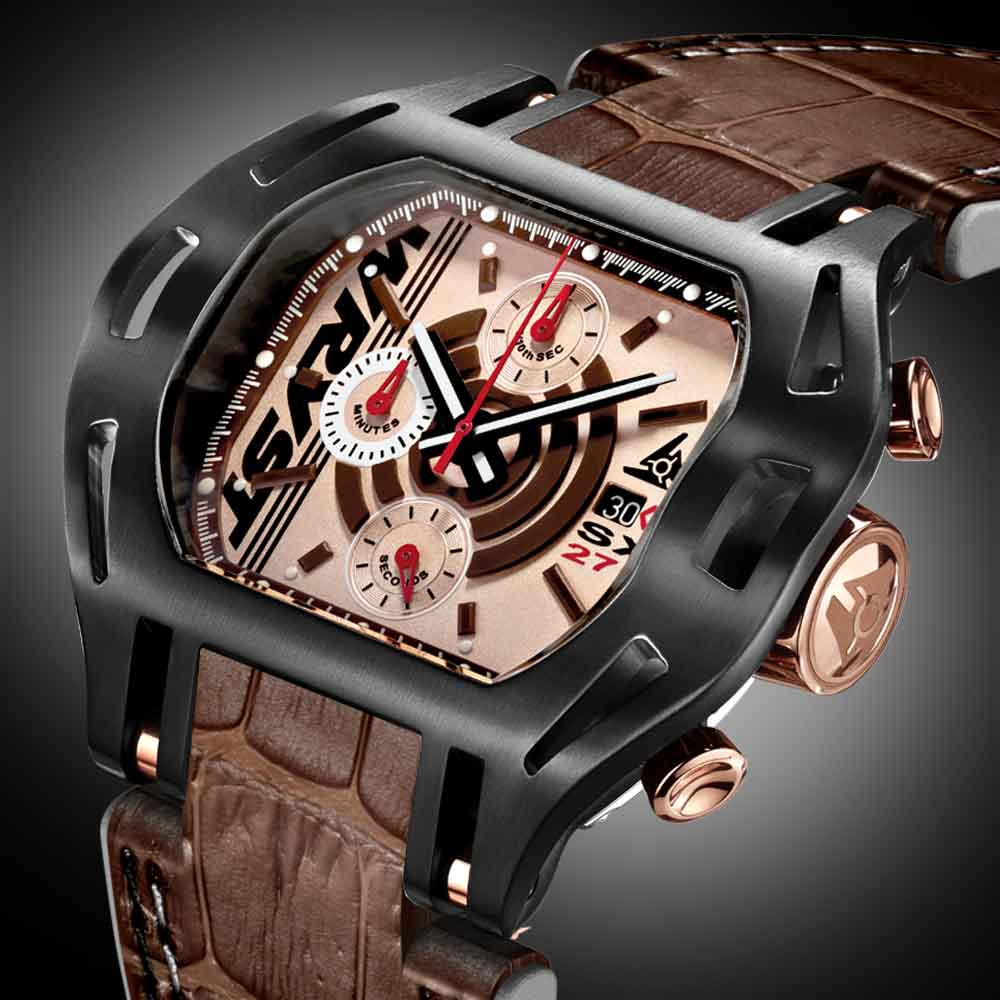 DISCOUNT -20% OFF
Limited Editions of 75 pieces
These two references are available at a sacrificed price for a limited time only—a one-off chance to wear this incredible designer sports watch at a discounted price. This reference has recently been re-launched with a handmade brown alligator leather bracelet with sides and stitches in grey color. Both references on offer include two different bracelets.
Since only recently, the SX270 is now dressed in a stunning new handmade brown alligator leather bracelet. This leather band is made with three different types of leather. The bottom of the strap is printed with the indication "Genuine Leather" and the brand's name "Wryst." This layer is in black leather. The sides are in grey cowhide leather stitches for an unprecedented sporty look from top to bottom. Finally, the top leather layer is dark brown alligator leather, the signature of a high-end timepiece produced with luxury in mind. Two-row of stitches maintain all different leathers together. One row is black, and the second one is on the edges in light grey. Like all other Wryst timepieces ever produced, all models include two different bracelets. The double silicone injection is the first choice for a casual and outdoor feel. And the leather band is for a more special occasion and outgoing nights.
Altogether there are three different looks available
SX270 with Alligator Brown leather bracelet: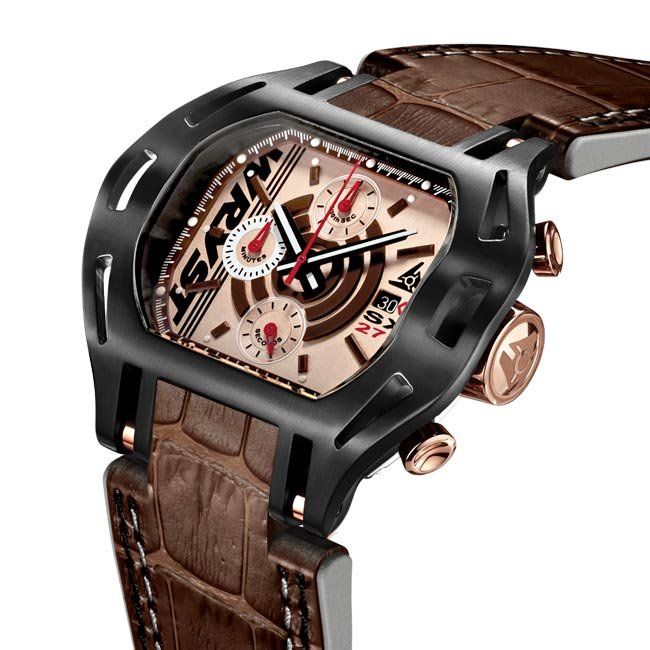 SX270 with Moka and Brown lines silicone bracelet: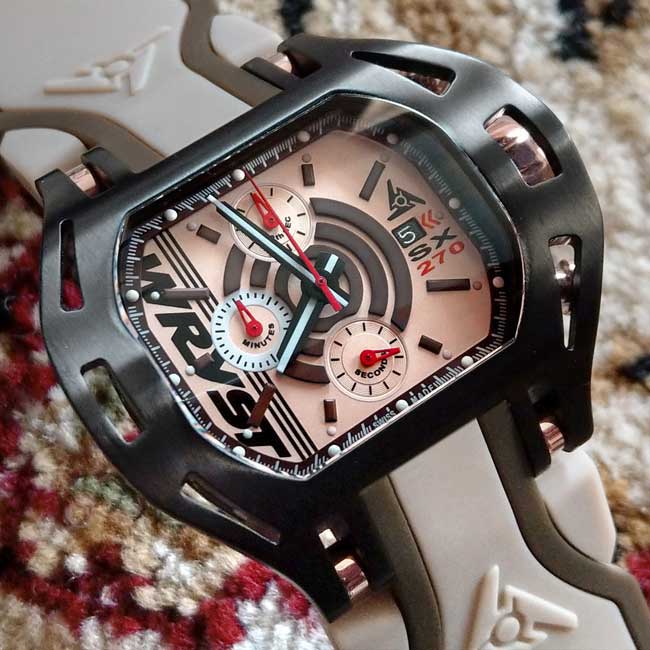 SX270 with Brown and White lines silicone bracelet: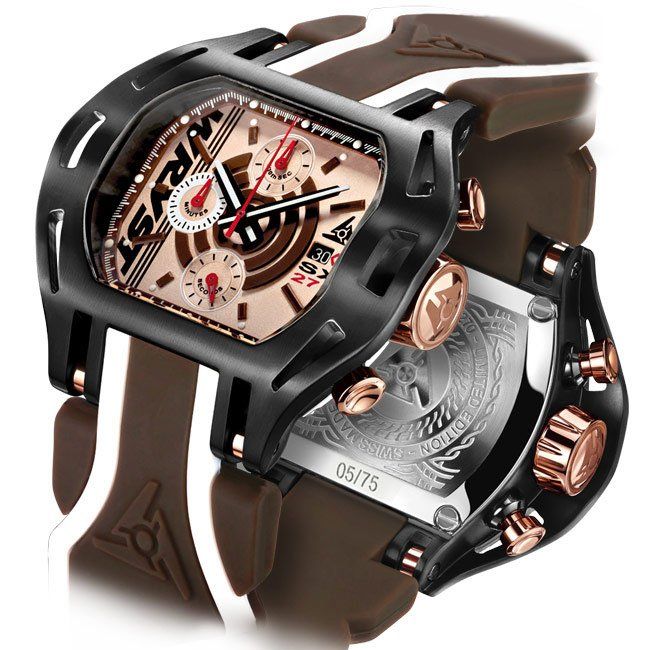 There is also an all-black silicone bracelet option
Many different exclusive Wryst bracelets are available for all other references. Why not choose the all-black rubber bracelet with the exquisite chronograph? We are happy to consider accommodating you with the right choices of bracelets for this designer sports watch. Contact us with any request you may have.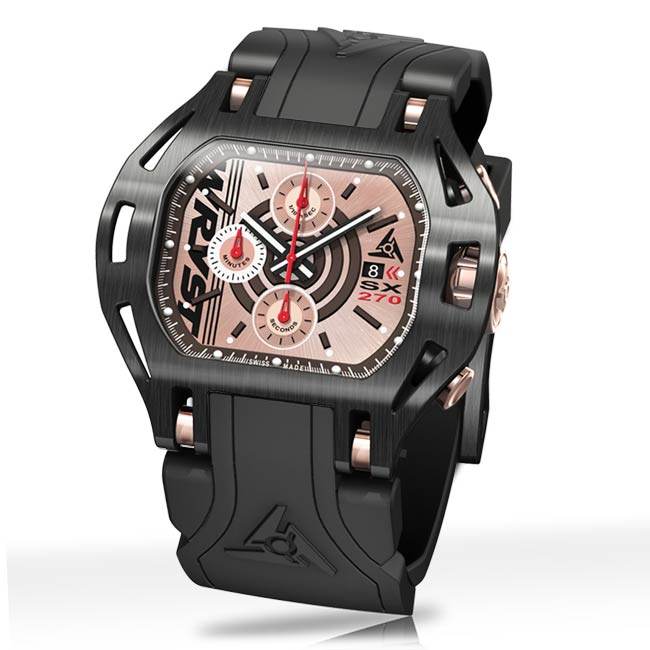 The bold and manly 50mm back wristwatch is only produced in a small series of 75 pieces - All three versions are included. When they are all sold, it will be too late. Your success depends on your look and appearance. And you only have one chance to make the first impression. Choose to make an impression with a rare and exclusive timepiece that reflects your strength and strong personality. After all, we can only wear one watch at a time.
World's Toughest Black Watch Coating
There are two distinctive hallmarks of Wryst within this special limited edition. First, the black DLC coating is the world's most robust coating for a stainless steel case. This will ensure your investment will keep a fresh look and for many years to come. Second, the bracelet is attached with a patented 8-piece screw system unique in the watch industry. We have created the best method to connect the bracelet to ensure your luxury timepiece will never accidentally detach from your arm.
Specifically Designed With the Best of Watchmaking
The SX270, like all other Force chronograph watch references, is strengthened by the best materials. A domed Sapphire Crystal protects the galvanized sunray dial. The screwed case back qualifies for 100 Meters water-resistance ability. Protected by the curved watch body, the time and date setting crown is tightly screwed against the watch case. The 25mm bracelet attachment is secured by a wide designer square buckle - A more brutal feel around your wrist. Wryst is also providing an exclusive 18-month manufacturer warranty.
Your investment needs to be accurate, reliable, and durable. The independent company Wryst is only offering qualified timepieces to ensure only the best production, assembly, and testing. Both rose gold plated chronograph pushers are equipped with air and water-tight gaskets and the crown and watch backplate. Your timepiece is signed with the name "Wryst" on the dial, the square buckle, and the back. The watch is engraved on the casing right side with the collection name "Force." All bespoke designer component is thoroughly inspected, and the timepieces are subject to rigorous quality checks. Every one of the watches leaving our factory is tested and conforms to uncompromising standards.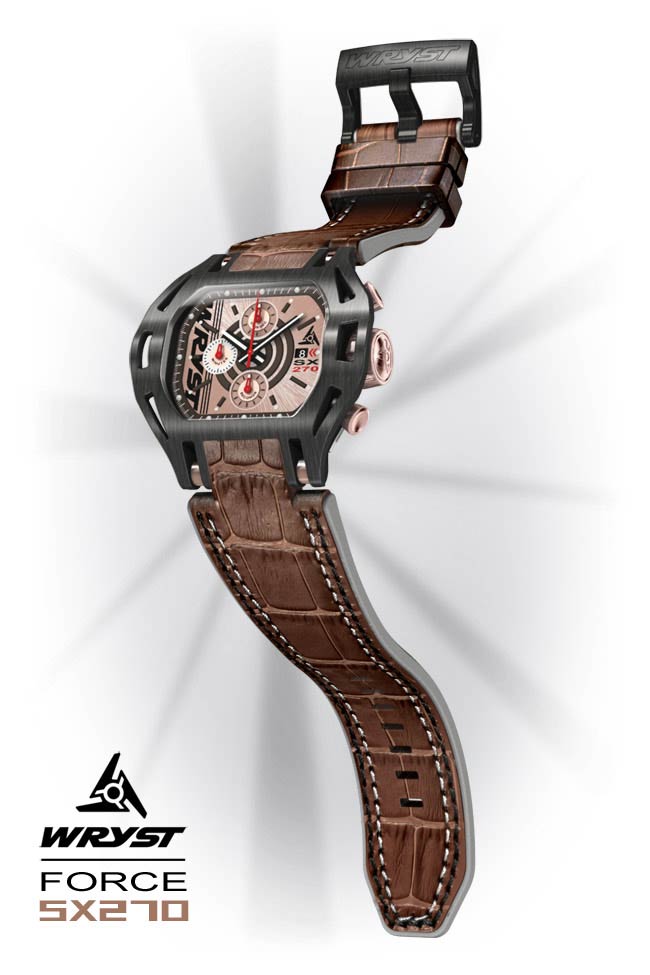 Black and Rose Gold - The Winning Ticket
Many color and material combinations stand out more than others. This particular SX270 combines brushed dark black color with shiny polished rose gold. The sunray rose gold face benefits from luminous hands and double hour markers for a unique feel. Even in a darker environment, glowing in low lights will offer a comfortable reading experience. The watch face also has a day date positioned at 3-hour and brown and black details.
Accurate Swiss Timing
Other essential features of these mens watches include shiny polished rose gold screw-down crown, chronograph pushers, and bracelet attachment decorating rings. The precise Swiss chronograph movement will provide 1/10th of a second precision. The battery lifetime is 54 months, so you know it will not let you down for a very long time. The caliber in this watch is also gold plated, has eight jewels, is shockproof, and is anti-magnetic. Accuracy and precision are just as important as your look.
Choosing Wryst is the guarantee of a quality product designed, produced, assembled, and tested to the highest possible standards. Far from the standard mass-production and costly supply chains, the small series prove we have time to inspect thoroughly every single part used for every serial number. Only 75 units of every Force reference will ever be produced. This also applies to the Wryst sports watches ELEMENTS and automatic mechanical high-end timepiece RACER. You can contact us to request which serial number is available. Usually, we process orders from the lowest serial number #01 and up to serial number #75. But this may vary upon specific demands from our customers.
In conclusion, the Force chronograph watch collection has a timeless design, but now is the right time to look into buying one. You can enjoy the best of Swiss watchmaking at a bargain price - But hurry, the offer ends on 31st March 2020.
BUY THIS CHRONOGRAPH WATCH HERE