Shiny swiss watch with white dial Wryst elements PH8
Published : 08/07/2017 11:49:31
Categories : Wryst Swiss Watches News
Shiny Swiss Watch Wryst Elements PH8
Looking for a Stainless Steel Swiss Watch With a White Dial?
Only one Wryst Elements Swiss watch is offered without black DLC coating. The exclusive limited edition PH8 reference has no coating. The case face and square buckle are both finished with a luxury shiny feel. The sides of the case are "bead blasted" for a more raw and industrial texture. As shown on this high-resolution video the case back has the tapered sides polished and vertical brushed surface.
Video of the Shiny Swiss Watch Wryst Elements PH8
Shiny polished white dial for clear reading
The white face of the watch with black hands is a top feature of this Swiss watch. This timepiece is particularly clear and easy to read. There are also some well contrasted black and red details for a more sporty feel. The black date disc with white numbers is stylish and rare for a white watch dial.
Collectible Swiss Watch produced in Small Editions
Only 75 watches of the limited edition Wryst Elements PH8 will ever be available. Stocks are getting low for this Swiss watch collection. Please contact our customer service to find out which serial numbers are still available. Note the collection Wryst Airborne is now discontinued. It is now impossible to buy these exclusive extreme sports watches with chronograph functions.
Each Elements Swiss watch includes systematically two different bi-color silicone bracelets: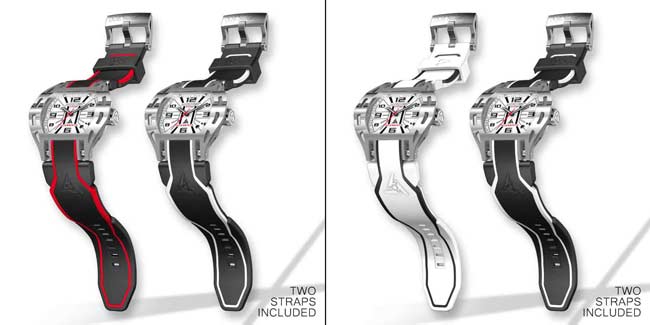 Play with colors and materials for three or more different stunning versions of the Wryst Elements PH8 Swiss watch: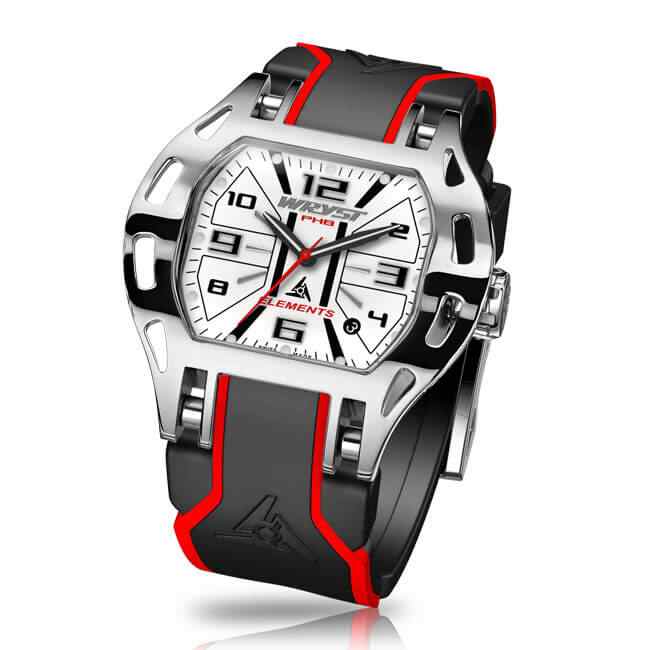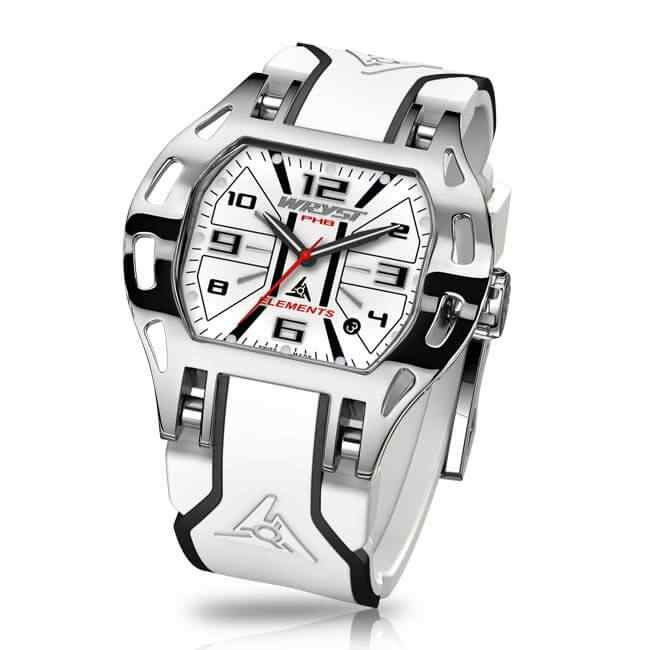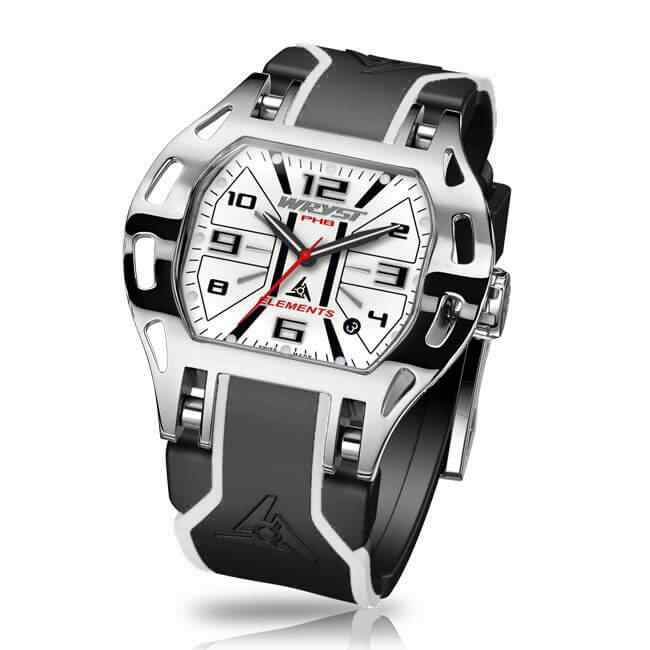 Purchase a Black Leather Bracelet Separately
You can also purchase a genuine black leather bracelet for your Wryst Elements Swiss watch: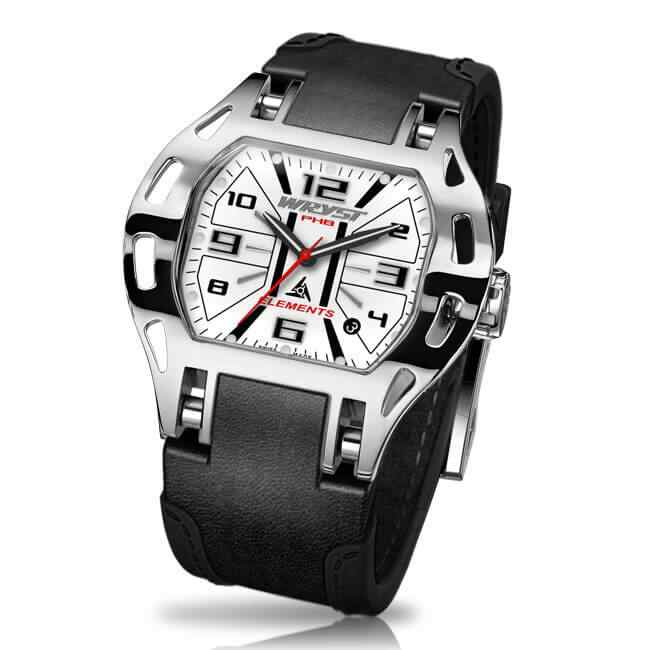 If you wish to fit the leather bracelet on other Wryst Swiss watch references please contact us before your purchase. Fitting on the watch collections Wryst Motors, Shoreline, and Automatic 2824 may require a little adjustment.
These exclusive genuine leather bracelets are available and in stock at this time but will be discontinued in the future. For example, the black leather with grey side lines bracelet is already unavailable. We strongly advise adding one to your collection for a more luxury feel, for going out, or for casual evenings.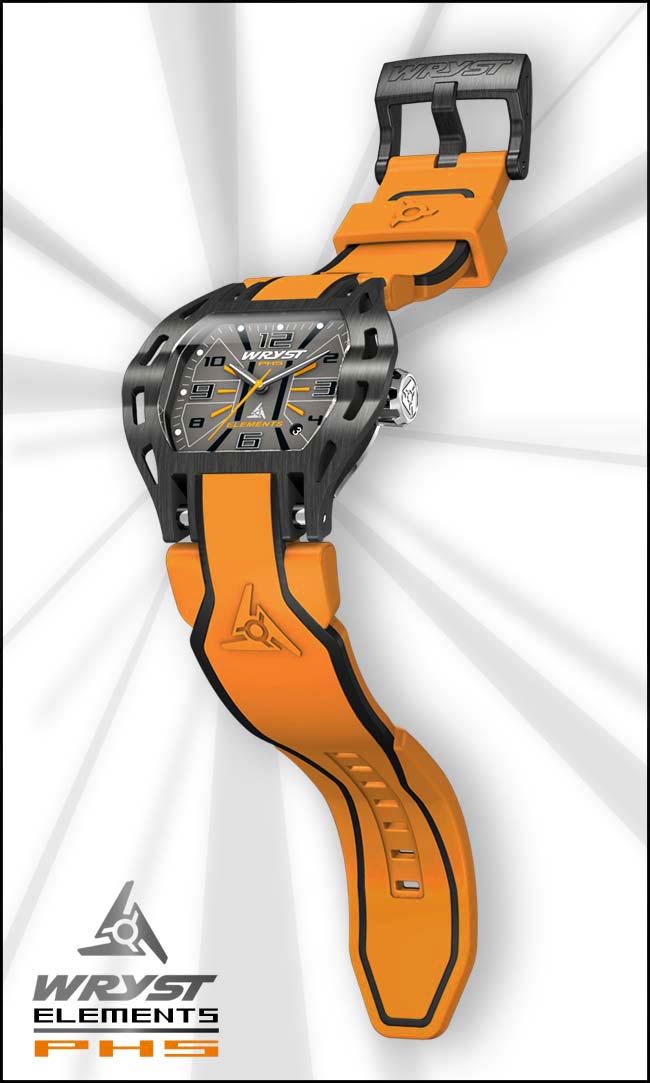 Share this content
Add a comment
1 comments