Ladies Sports Watch | Watches for Women Wryst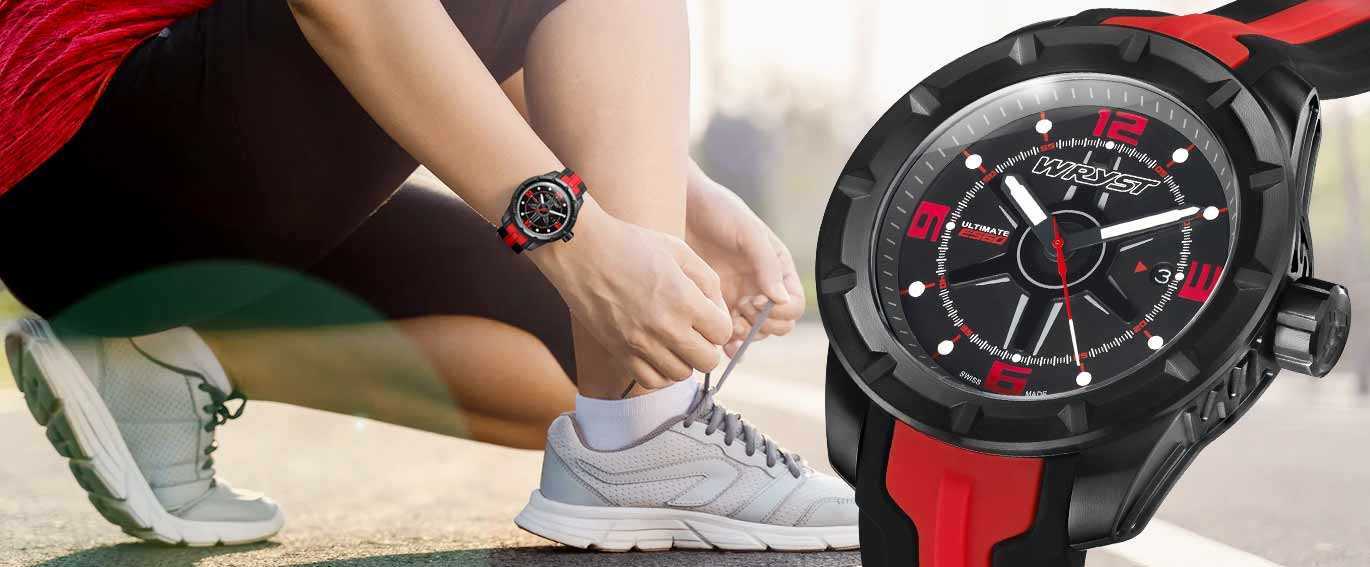 THE ALL-ROUND UNISEX WATCHES FOR LADIES AND MEN
Black watches for women and men Wryst for active sports and fitness. Thanks to their unique, timeless style, the stunning Elements collection dedicated to sports are suitable for both men and women.
A Sports-inspired Watch Design for Women
Wryst produces the ideal ladies sports watch with colorful bracelets in limited editions. The Wryst Elements represent a unique lifestyle of sports watches for women. Their unprecedented style is unmistakable. Express yourself during your outdoor and fitness activities. The reliable timepiece is produced exclusively in small editions of 75 pieces. Particularly comfortable to wear, the 45mm size wristwear is not a large timepiece and perfectly suitable for medium and small-sized wrists. The double-injection silicone bracelets will fit wrists in size 105mm to 205mm measurements.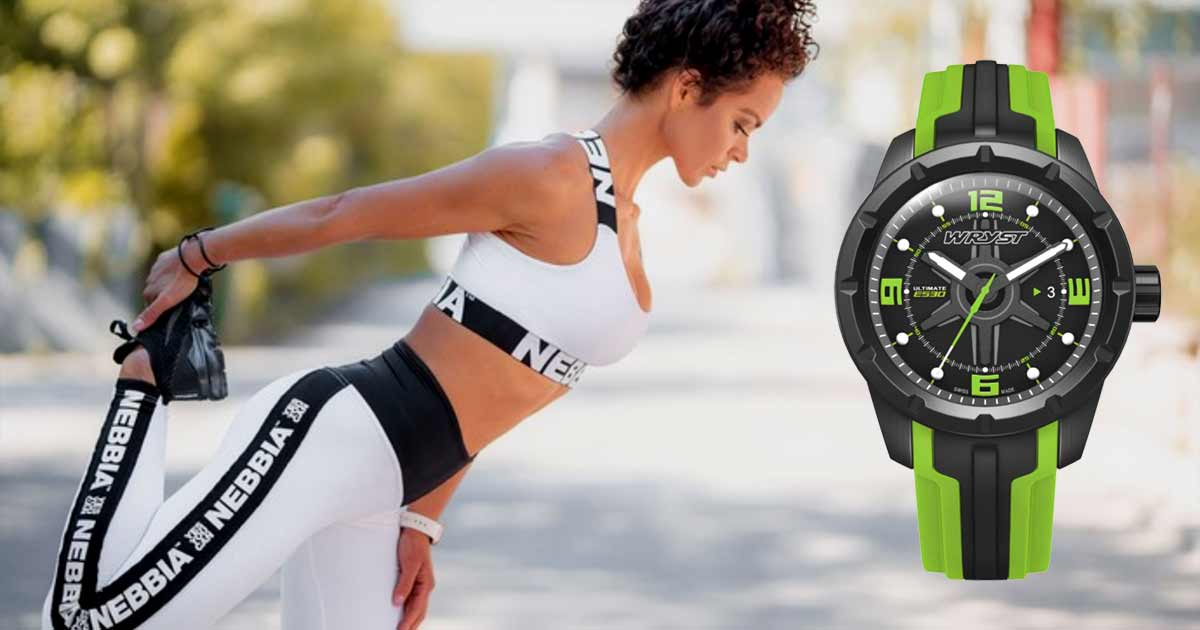 Due to the case shape, the men and women's watches remain practically well-sized for fitness, recreational activities, and watersports. Pick your favorite with a vast choice of colors designed to suit your taste and dress code.
Ideal for jogging, outdoor exercise, or tennis, to name a few, enjoy a light-weight timepiece that will feel discrete and comfortable to wear.
Good Size Ladies Watches Too
Even if the case size from left to right is measuring 45mm, this unique limited edition Wryst Elements looks and feels much smaller than a circular shape timepiece of the same size. This is due to the aired curved sides protecting the screw-down crown from unintentional shocks.
Free yourself with a long-lasting battery for your peace of mind. Just strap-on your wristwear on and off you go. The Wryst Elements is certainly also the perfect ladies' watch. The brand offers sports watches for women like never before.
Both Gents and Women's Luxury Timepieces
Swiss precision will offer you the accuracy and durability you are familiar with when wearing more dressed women's luxury watches from your collection. Our unique versatile selection makes the perfect female watches. In recent years the black color watches are becoming more sought-after every year. Furthermore, in this twenty-first century, the swiss watches for ladies come in all shapes and styles. Unlike many other high-street selections you will come across, the Wryst represents a true statement of unique style. A male and female watch is becoming less apart as the tendency is for women to wear more manly style.
Stylish, timeless, and tough Swiss watchmaking. The black coating we offer is rendering your stainless steel wristwear harder than ever. Literally scratch-resistant and not vulnerable to shocks and everyday wear and tear. The screwed crown and case back qualify for a whopping 100 meters of water-resistance for your peace of mind. Our ingenious strap attachment is just the world's best way to ensure you will not drop or lose your all-important investment. The silicone bands always come in two and are soft, flexible, and ultra-comfortable. These also benefit from the anti-dust coating. Your Element shape is desirable and will surely make an impression with your friends, family, and colleagues circle. Enhance your lifestyle with an exclusive luxury lifestyle accessory for a fraction of the price.
Black and Yellow Wryst Elements PH4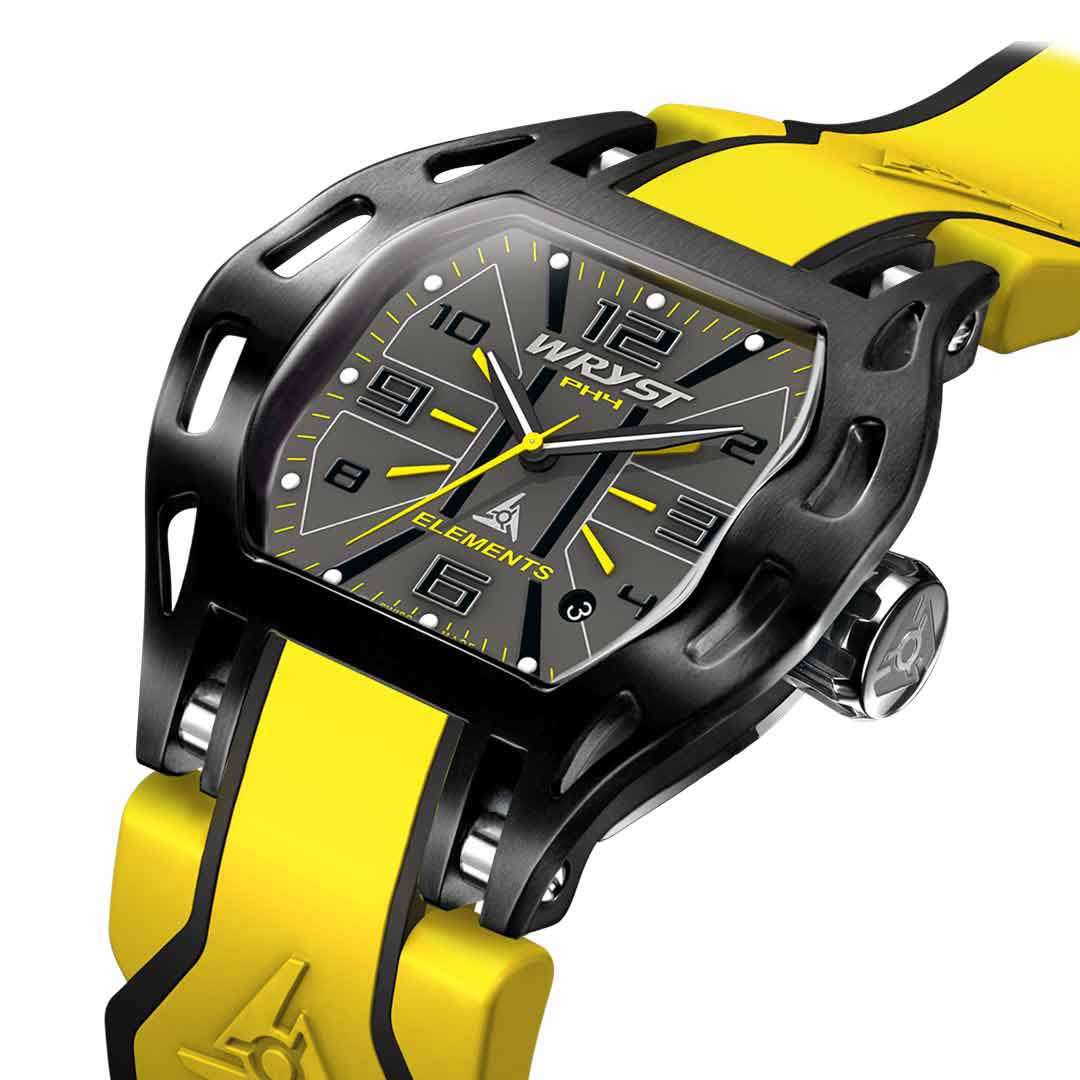 Black and Orange Wryst Elements PH5
More Color Combinations Than You Wish For
Several color combinations are available within the women sports watches Wryst Elements. 12 in total, to be exact. So which is your favorite color? What color is your sports gear today? With mainly black casing, wear a timepiece with green, yellow, orange, red, and blue colors. With each timepiece, Wryst offers systematically two different quality silicone bracelets. Also within the Wryst Elements collection are leather bracelets and an all-black silicone bracelet for even more choice.
Black and Blue Elements PH7 for Sports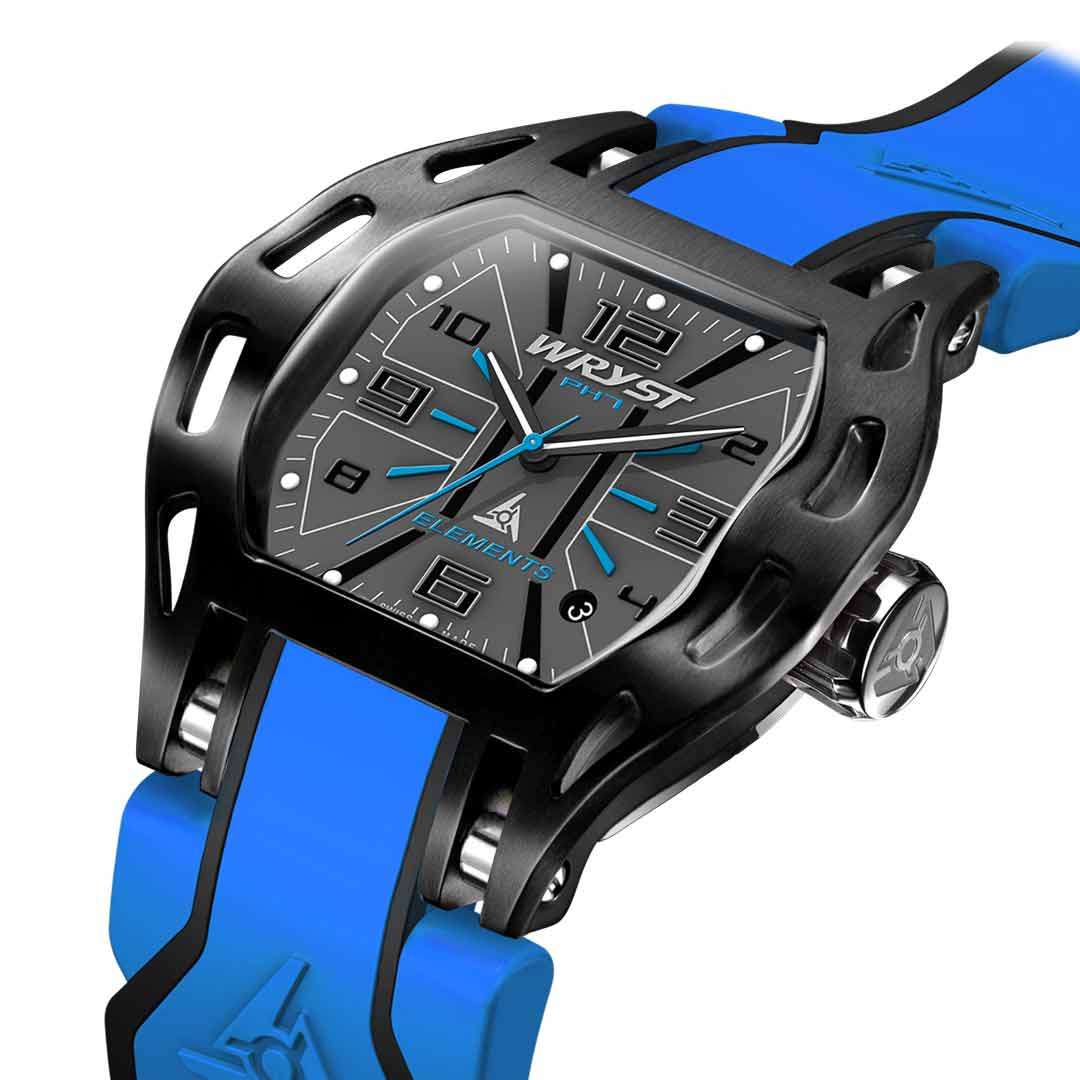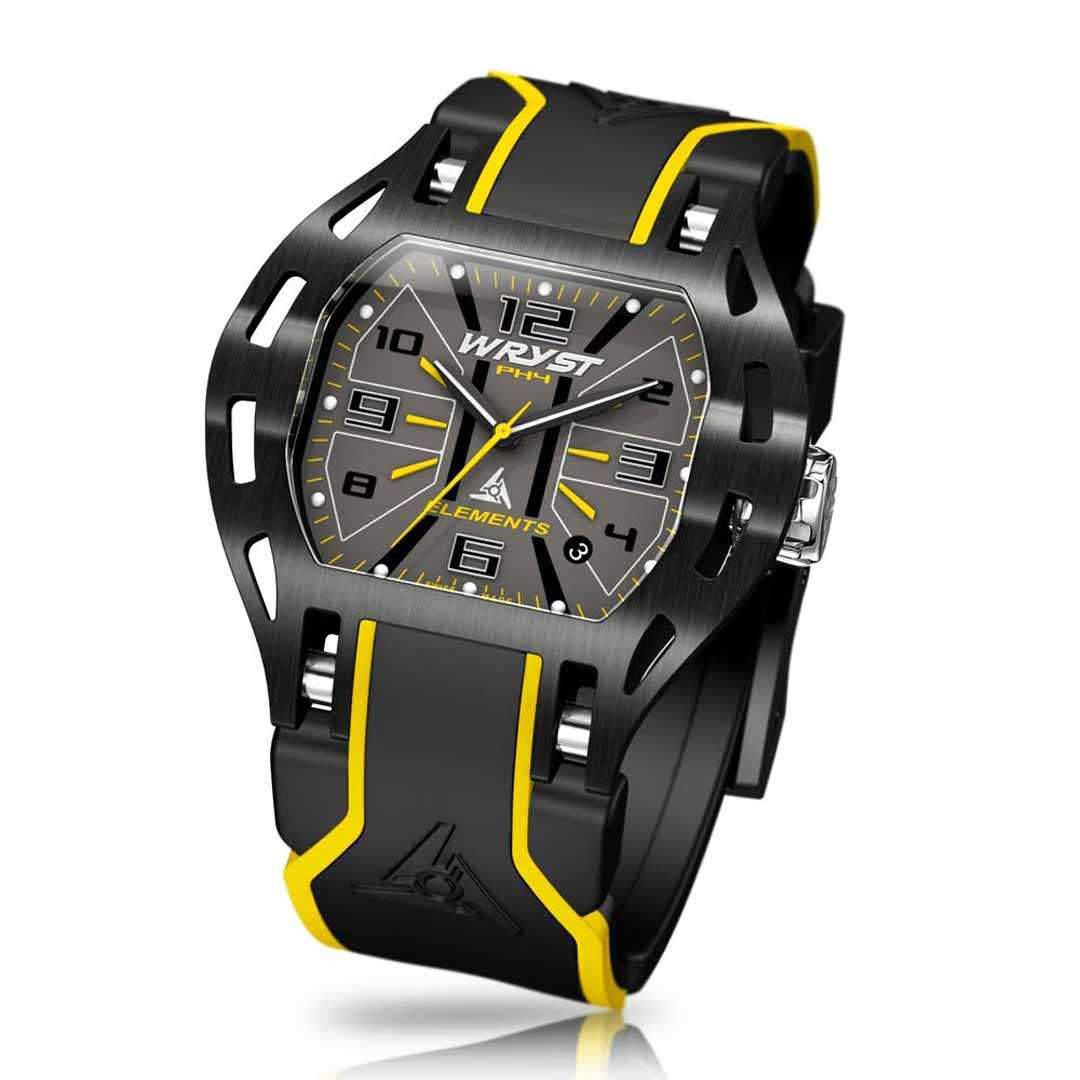 Strong Materials and Craftsmanship Know-how
The Wryst Elements are coated with the world's most scratch-resistant black coating. Much harder protection than any other, the black coating of your stainless steel sports accessory will last much longer than you have ever experienced before. Hence the "ELEMENTS" are engineered, produced, and assembled in the Swiss traditions.
Most of all, these Wryst black women sports watches also benefit from 100 Meters of water resistance. And also a crystal "K1" more shatter-proof than sapphire! Consequently, take the jump today and purchase your unique "Elements." You maybe want to buy another one soon. Finally, the timepieces Wryst are exactly what smartwatches are not: style, elegance, and refinement.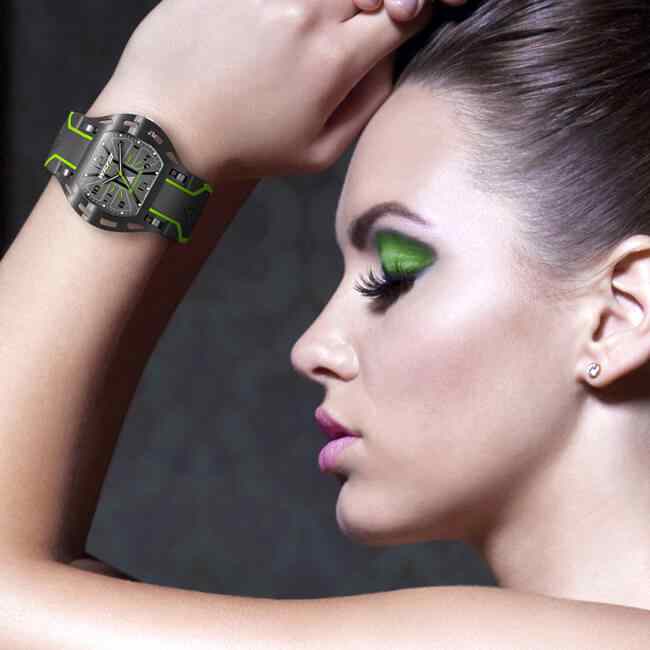 Black/Green Wryst PH3 for Sports
Buying Online is Becoming Increasingly Popular
Choose the reference that will be perfect for you from a great selection of 12 different color combinations. Do this in the comfort of your home! No car parking hassles, no waiting at the counter, and receive it within 24/78hrs with DHL Express service worldwide.
You have now received your all-important purchase, great! Now try it on, and see if it corresponds to your expectations. If it does, you hit the jackpot, and your Elements are ready to go. We usually set the time and date of the delivery address, so no worries there.
You are not a hundred percent sure? Give it another day. The complex timeless designs Wryst creates may take time to grow on you. Give it one or two days and then try your watch on again - You will see. Emotional and durable designs are complicated to achieve. This particular reference, Wryst Elements, took 2 long years of development and perfecting. The case manufacturing is achieved by CNC machining. The curved shatter-proof mineral crystal is also more intricate than flat glass. Our new way of integrating the bracelet firmly and securely onto the watch head is also the guarantee that you will not lose your all-important investment.
Now you are convinced and had time to think about your look, feel, and comfort of your newly bought ticker. We may have hit the mark and convinced you it is definitely the right choice for your everyday lifestyle. If you are not happy with your timepiece, contact us. You have 14 days after delivery to request to return your luxury accessory totally new and unworn for a full refund. This is our promise to you. Since we offer exclusive collections at the best value possible, we have cut the middle man—no supply chains consisting of retailers and distributors. The future is online shopping, and at Wryst, we are achieving this extremely well and since 2012.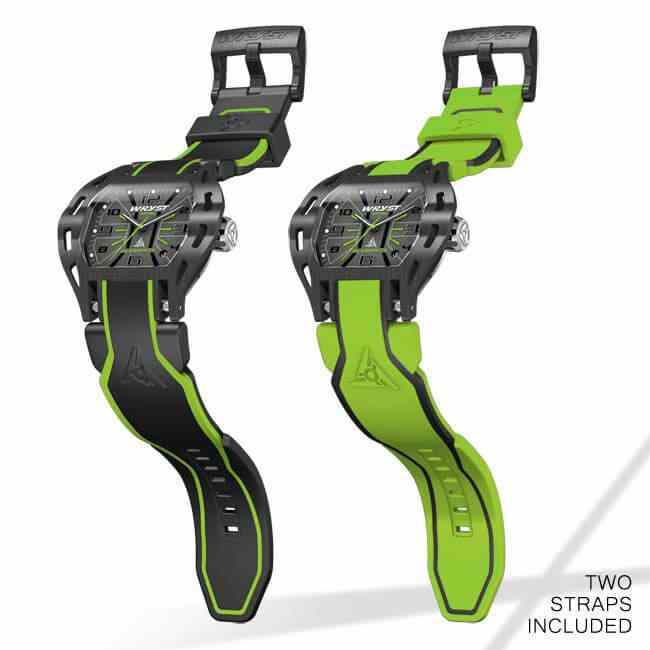 Sexy Green Swiss Wryst Elements PH3
A Sexy Sports Accessory for Her
Are you are the kind of woman looking to keep fit and healthy through daily exercises and outdoor activities? Do you like running? Exercising? Biking? or play tennis or do yoga? These incredible designer pieces are just as daring as you are. Connect with your environment. This women sports watches collection is inspired by the "Elements" around us.
Besides, only 75 units of each reference will ever be produced. Therefore now is the right time to enhance your lifestyle. Showcase more of your wildness with one of these unisex quality sports watches. It seems like you can look glamorous too.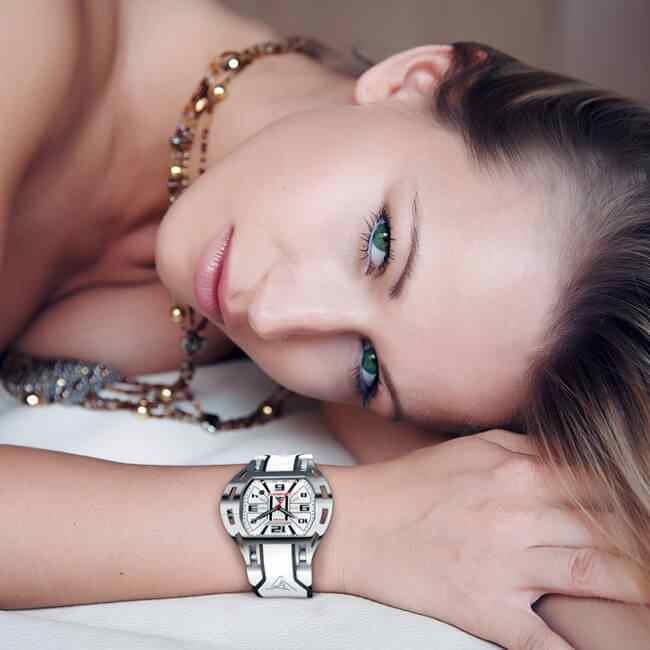 Stunning White Women Sports Wristwear PH8
(This PH8 is now discontinued)
Quick, Performant, and Ready to Go
Then hurry - These references in white and stainless steel are now discontinued. If you like what you see, take the jump for a reliable and durable quality Swiss timepiece ready to follow you every day. The Elements have a shockproof and antimagnetic Swiss movement with a battery life of 45 months. Forget about your smartwatch not being charged or updated, and strap this magnificent piece around your arm. You are ready to go!
Your piece of mind-matter! The collection is also offering 100 meters of water-resistance, which is perfect for any watersports. Enjoy swimming, canyoning, kayaking, surfing, windsurfing, or even kitesurfing. Inspired by sports, the Wryst wristwear is dedicated to feel secure and comfortably attached to your arm.
Remember! These watches are only produced in small quantities of 75 pieces for each reference. Besides, contact us to know which serial numbers are still available and ask if we can offer you a discount. Most importantly, Wryst offers the best of traditional Swiss watchmaking for a fraction of the price. Our emphatic, friendly, and professional customer service is totally dedicated to offering the best possible experience before and after your purchase. We offer the world's fastest and most efficient after-sales service simply because we deal directly with our own customers!

In Conclusion
The choice between complicated watch features requiring regular attention and a more traditional wristwear with a long-life battery, and Swiss quartz accuracy is yours. Ladies, you can now communicate and showcase your good taste for a sportive, outgoing look and a more affordable price. Distance yourself from a dark screen girly smartwatch, which is time-consuming. Forget about the constraint of charging your device every day. The Elements will never let you down when you need it the most.
Strap the Wryst Elements on, and do what you do best. We produce incredibly resistant black ladies' watches. Benefit from the legendary Swiss reliability for many years to come. Your fashion lifestyle depends on it.