Only Very Few Wryst PH6 Left in Stock
Wryst produces Stylish Watches, but There Won't Be Enough for Everyone.
The stylish watch is here at Wryst, and if you thought you would buy one later, think again! If you are lucky enough to have come across the Elements sports watch collection before, you should take the jump now.
The reference PH8 with stainless steel case became discontinued in 2020, and one more reference will follow: The Wryst PH6 Elements is either a watch with a green bracelet or a black and blue bracelet. Only a handful left for this particular model.
Only Small Editions of 75 Limited Units
An astonishing design only very few will ever wear. The sports watch for men PH4, black watch Elements PH6, black and green watch PH3, fashion watch Wryst PH5, and blue dive watch PH7 are now more exclusive than ever.
The unique brand Wryst has always only produced niche small watch series to fill a gap in the industry - No other timepiece has ever looked like the striking shape of these sports watches, and none others ever will. The Elements collection is more specifically oriented towards people with a taste for disruptive style and strong personalities.
Great Design Style and Much More!
All colorful Elements watches also benefit from some of the toughest and strongest materials. Each black case and buckle is protected with an invincible black DLC coating. This technology will ensure your sports activities will not damage the look of your all-important investment and for many years to come. Black DLC is normally used by brands with retail prices requiring deep pockets.
Our prices are much more affordable, and only a few pieces are available. Wryst offers exactly the alternative you are looking for.
The mineral K1 crystal is also a true achievement. The surface is more scratch-proof than mineral material, and the glass itself is more shatter-proof than the renowned synthetic sapphire.
Here are the exclusive Wryst Elements Available today: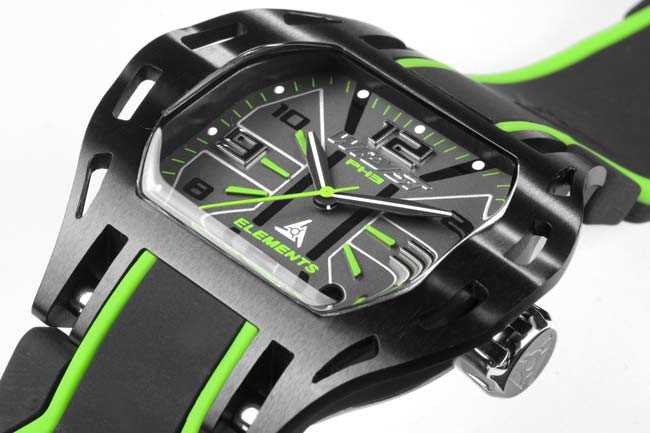 Black and Green Watch Wryst PH3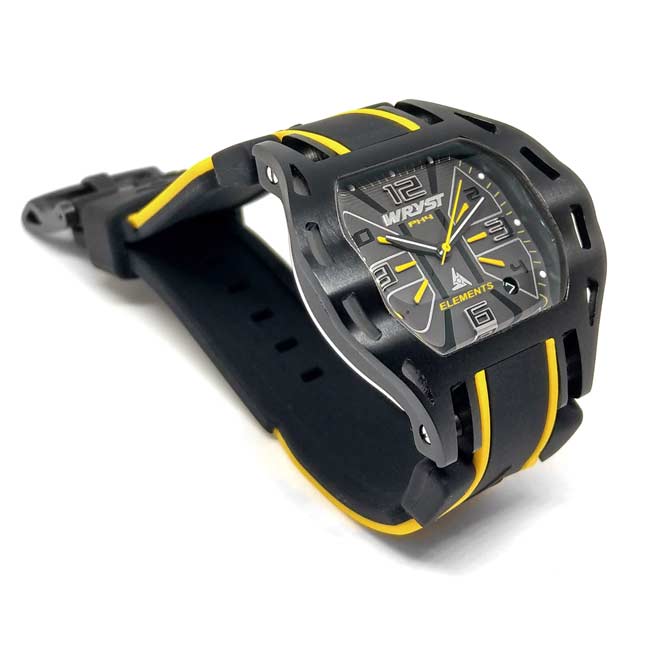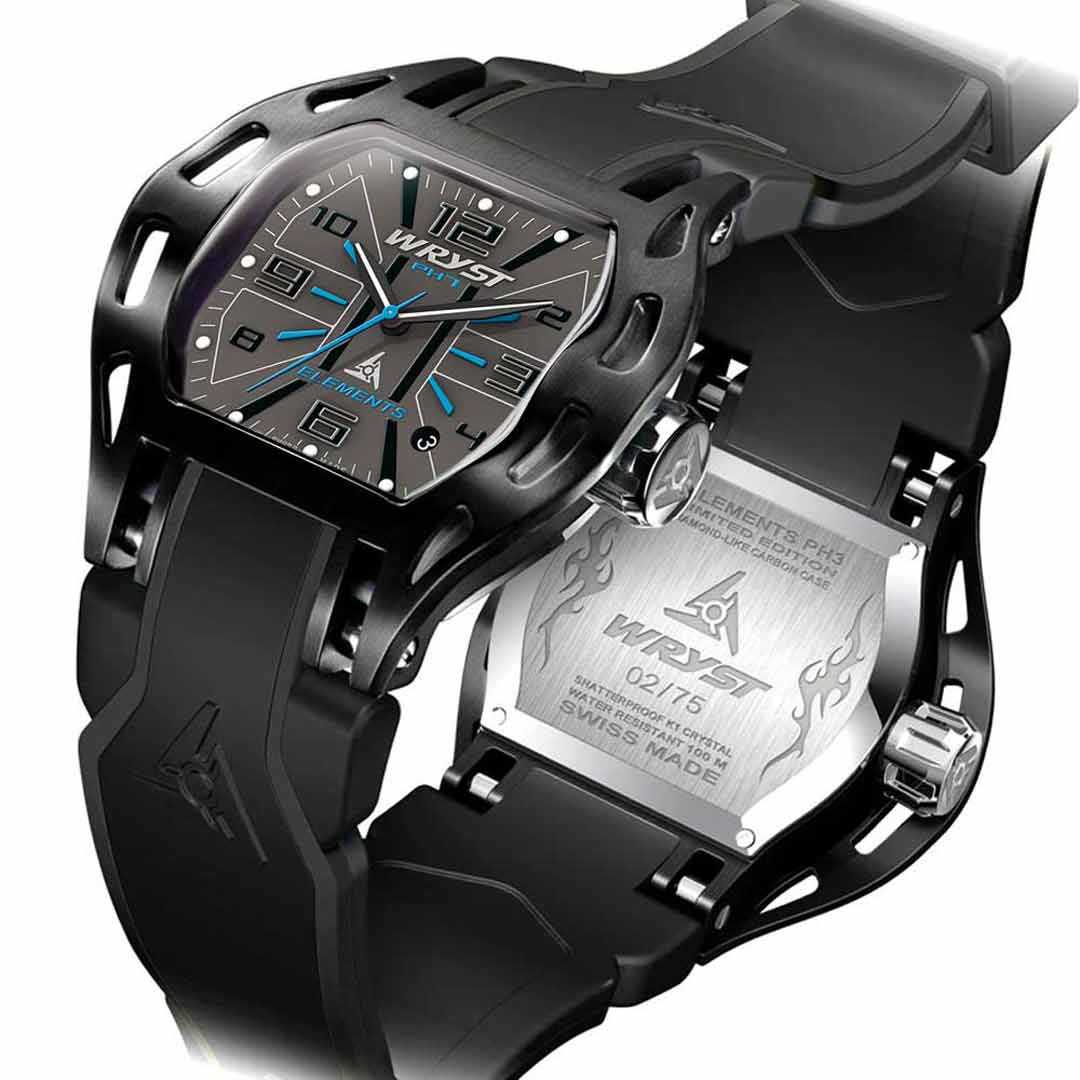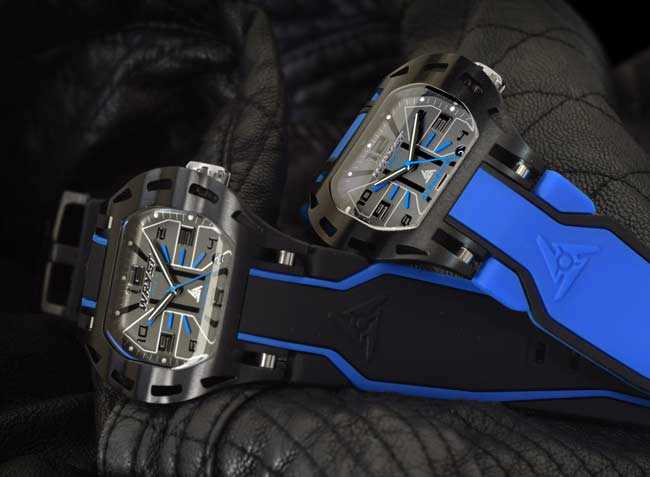 Many Collections Already Discontinued and Sold-out
This is our list of watch references now discontinued and therefore never-again available:
Wryst Airborne:
FW3 Chrono in black/green = 75pcs Sold
FW4 Chrono in black/yellow = 75pcs Sold
FW5 Chrono in black/green = 75pcs Sold
FW6 Chrono in steel/red = 75pcs Sold
Wryst Shoreline:
LX4 chrono in steel/black = 99pcs Sold
LX5 chrono in rose gold/black = 99pcs Sold
LX6 chrono in yellow gold/black = 99pcs Sold
Wryst Motors:
MS1 chrono in black/white = 99pcs Sold
MS2 chrono in black/red = 99pcs Sold
MS3 chrono in black/carbon = 99pcs Sold
Wryst Isle of Man TT:
TT watch model 2015 size 45mm = 135pcs Sold
TT watch model 2017 size 50mm = 314pcs Sold
Wryst Elements:
PH8 quartz in steel/white = 75pcs Sold
PH6 quartz in black/red = 75pcs Sold
PH5 quartz in black/orange = 75pcs Sold
Wryst Ultimate:
Hand-engraved Ultimate ES51 one-off piece = 1pc Sold
As you can see, all of our products will become unavailable at some point in time!
Do not take the gamble and avoid delaying your purchase.
Some of our customers have bought up to six of our timepieces.
Hurry - Buy a Wryst Elements today!