THE NEW CARBON FIBER BRACELET FOR WRYST ES40
New from Wryst Timepieces; The Black and Yellow Leather Band
The black watch Wryst Ultimate ES40 dressed in black carbon is officially announced today and available for purchase. Wryst is now offering you the opportunity to order this exclusive limited edition watch with a brand new black and yellow carbon fiber bracelet.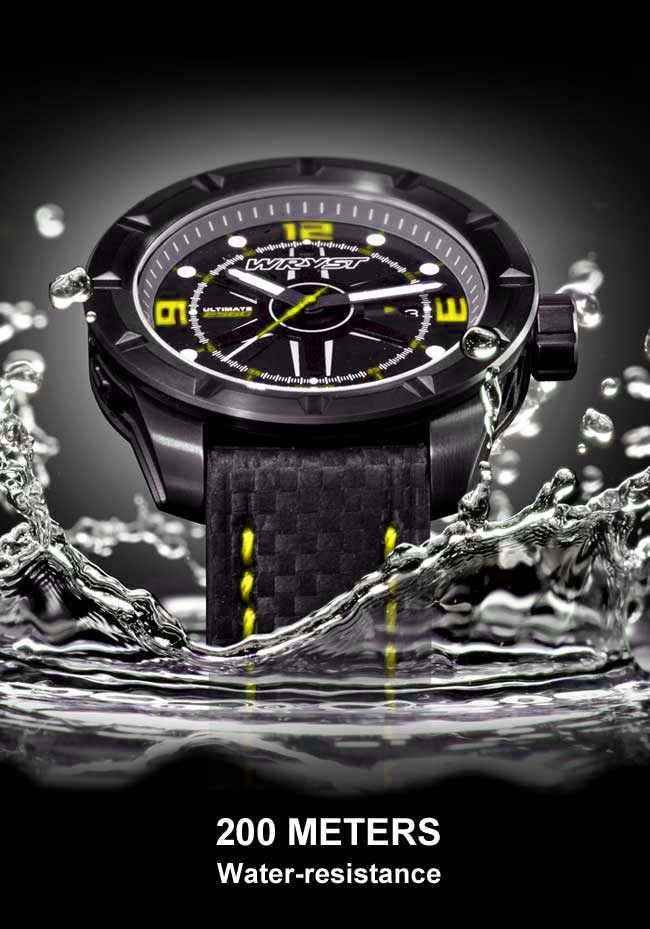 Watches made with a real passion for Motorsports
Following the previous Motors collections' overwhelming success, the independent brand had added new versions of the black watches Ultimate with round face and quality black leather carbon fiber bands. This carbon material is vastly used within the motorsport industry due to its ultra-resistant benefits. Carbon fiber is conventional in the motorsport industry for many engines, dashboards, and body parts, with a huge influence in racing sports. The benefits are mainly strong resistance and lightweight. Stronger and more resistant than steel, carbon fiber composite also offer an excellent strength-to-weight ratio. This material is strong and durable, but it also looks great. This adds a different feel to this unique ES40 reference in black with some yellow details on the dial and the stunning black dial watches with yellow details.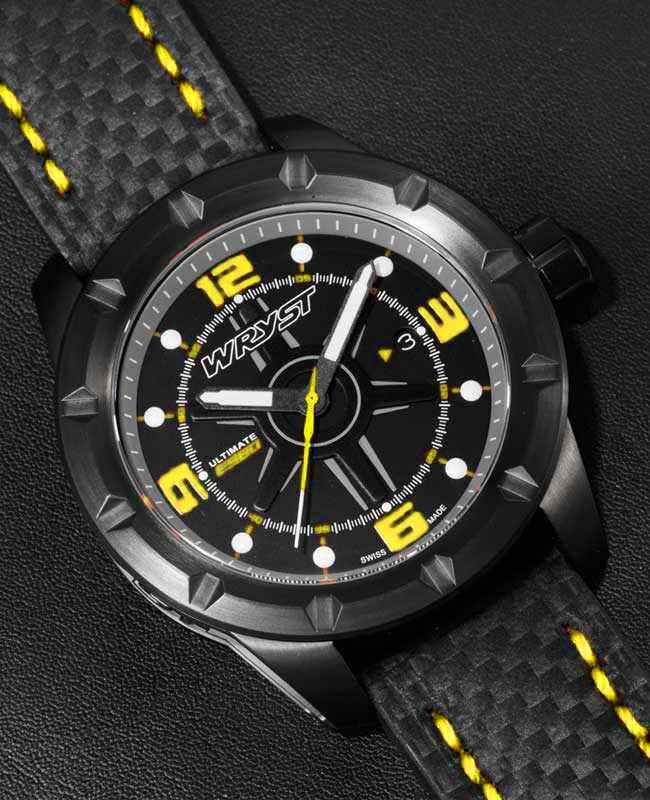 Scratch-resistant DLC and Sapphire crystal
Like all other black references from the brand Wryst, this model ES40 benefits from Diamond-Like Carbon coating, which offers highly competitive longevity of your black Wryst timepiece; this particular Ultimate watch also has a brushed screw-in black DLC crown, which is a must to qualify for 200 meters water-resistance. Like the previous Motors MS1, MS2, and MS3 reference now sold-out, the ES40 dresses with a comfortable and futuristic two-tone carbon bracelet in black and yellow. Note that all other versions included two different bracelets. Contact us for more information if you wish to know which exact bracelets are available for this ES40 black watch with carbon fiber or if you require to reserve your serial number. Only 99 units will ever see the daylight.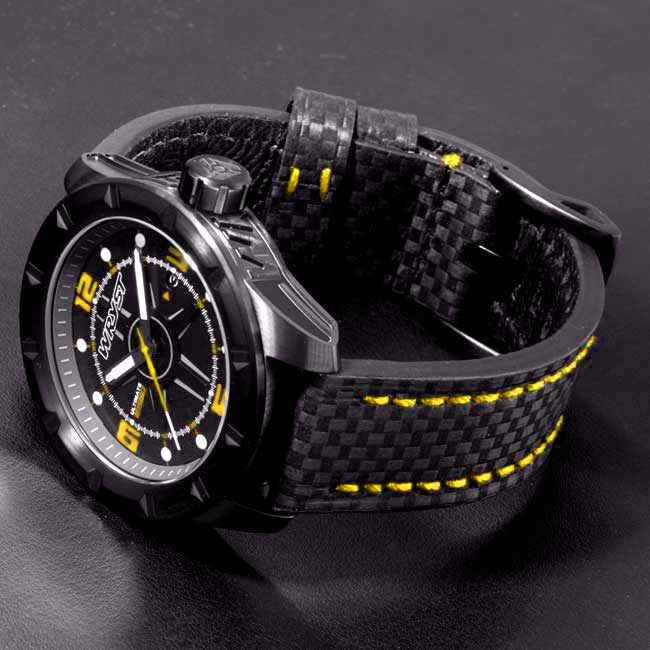 For over four years, the Swiss brand proves to be at the forefront of atypical sports watch design with an original style. Wryst offers ultra-competitive value for money on an exclusive, non-retailed basis, and the timepieces are all produced in limited editions and only available for purchase from the manufacturer. Order today the new Carbon Fiber Black Wryst ES40 adorned with this ultra-resistant carbon fiber leather band with yellow stitches.
Also with Black Leather and red Stitches
Another reference with similar bracelet is the black sapphire Wryst ES30 fitted with a black leather CF quality bracelet. The look of this watch with the racing style band is just stunning.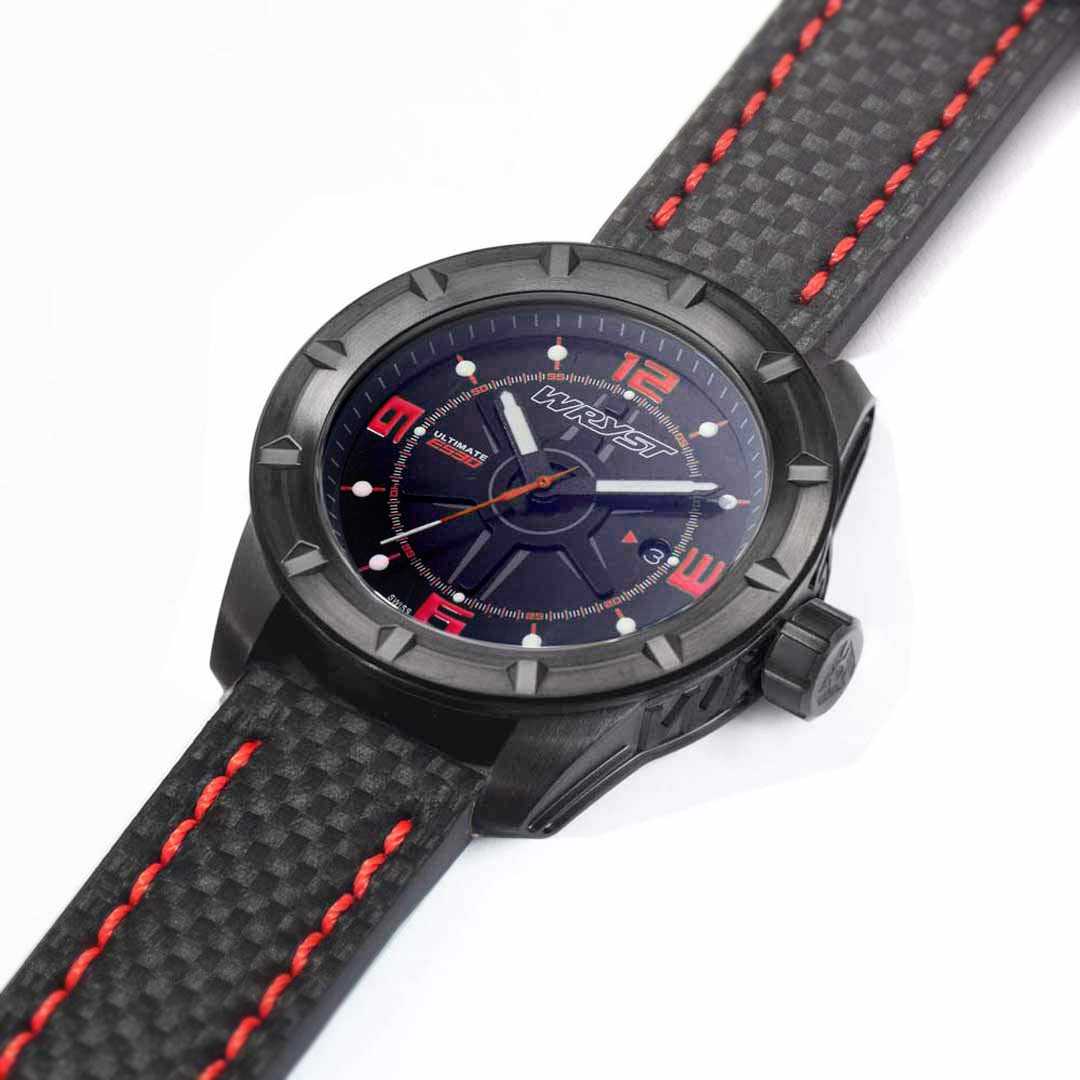 Find these ULTIMATE references originally fitted with silicon bands:
Black mens watch Wryst Ultimate ES20
waterproof watch Wryst ES30 Ultimate
Unique watches Wryst ES40 Ultimate with yellow details
Waterproof Watch Ultimate ES30 with 200M W.R.
Black Wryst ES60 Ultimate with black DLC coating and red details
Get yourself an ultra-sporty look! Purchase a Wryst Timepiece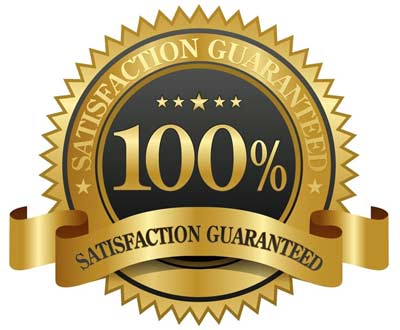 We ship worldwide with DHL.
Get your sports watch in time for the party!