A swiss atypical watch brand vision of luxury through a new design
Published : 08/11/2013 12:41:31
Categories : Wryst Latest News
A vision of accessible luxury through a very dynamic & atypical new Swiss sport watch brand
"Swiss watch designer, Jacques Fournier, owner of Wryst, who is now based in the UK, offers his vision of accessible luxury through a very dynamic & atypical watch brand"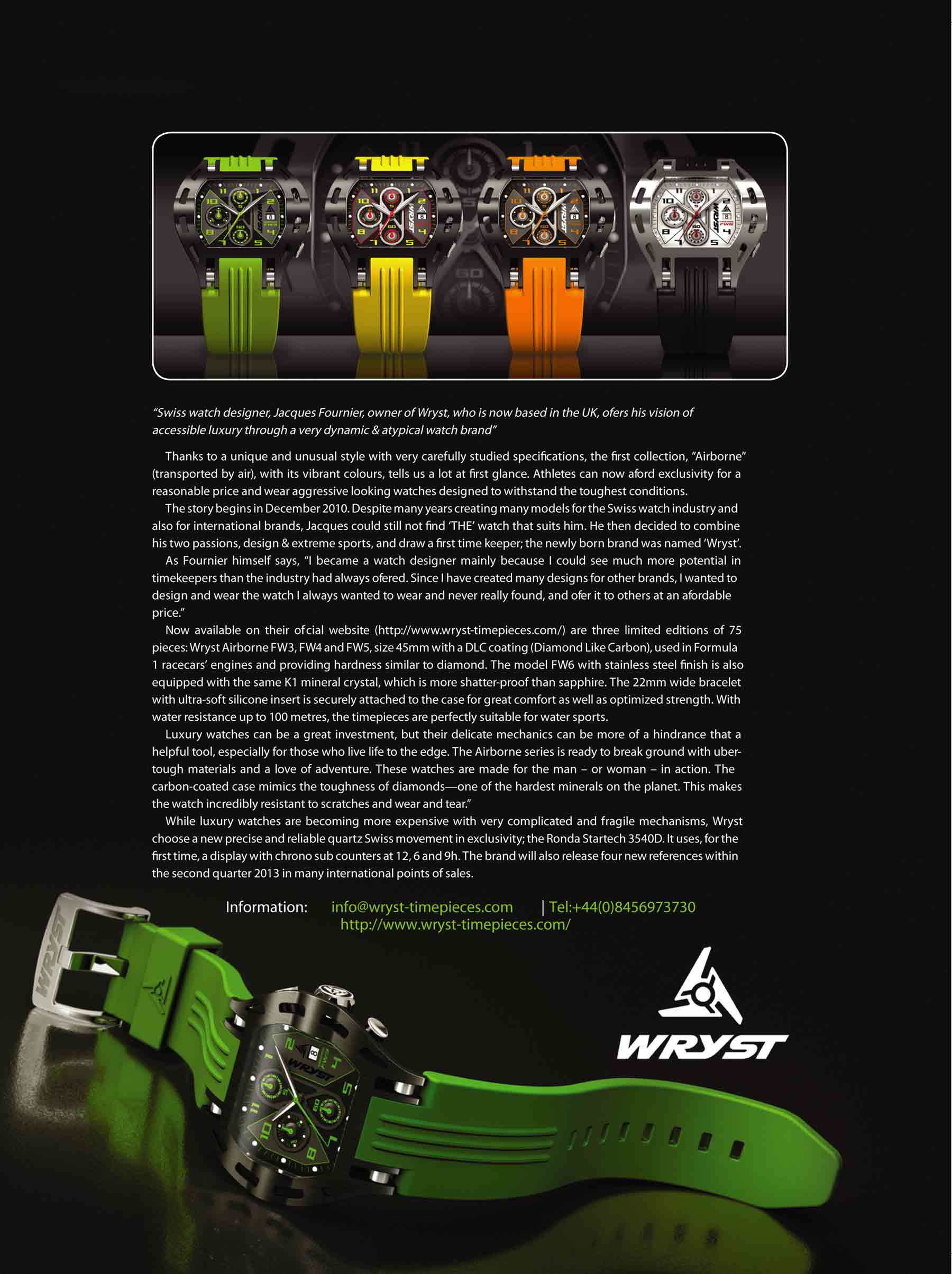 Thanks to a unique and unusual style with very carefully studied specifications, the first collection, "Airborne" (transported by air), with its vibrant colours, tells us a lot at first glance. Athletes can now afford exclusivity for a reasonable price and wear aggressive looking watches designed to withstand the toughest conditions. The story begins in December 2010. Despite many years creating many models for the Swiss watch industry and also for international brands, Jacques could still not find 'THE' watch that suits him. He then decided to combine his two passions, design & extreme sports, and draw a first time keeper; the newly born brand was named 'Wryst'.
As Fournier himself says, "I became a watch designer mainly because I could see much more potential in timekeepers than the industry had always offered. Since I have created many designs for other brands, I wanted to design and wear the watch I always wanted to wear and never really found, and offer it to others at an affordable price."
Now available on their official website www.wryst-timepieces.com are three limited editions of 75 pieces: Wryst Airborne FW3, FW4 and FW5, size 45mm with a DLC coating (Diamond Like Carbon), used in aerospace and F1 racecar engines and providing hardness similar to diamond. The model FW6 with stainless steel finish is also equipped with the same K1 mineral crystal, which is more shatter-proof than sapphire. The ultra-soft 22mm wide bracelet with insert is securely attached to the case for great comfort as well as optimized strength. With water resistance up to 100 meters, the timepieces are perfectly suitable for water sports. Luxury watches can be a great investment, but their delicate mechanics can be more of a hindrance that a helpful tool, especially for those who live life to the edge. The Airborne series is ready to break ground with super-tough materials and a love of adventure. These watches are made for the man – or woman – in action. The carbon-coated case mimics the toughness of diamonds—one of the hardest minerals on the planet. This makes the watch incredibly resistant to scratches and wear and tear." While luxury watches are becoming more expensive with very complicated and fragile mechanisms, Wryst choose a new precise and reliable Swiss movement in exclusivity; the Ronda Startech 3540D. It uses, for the first time a display with chrono sub counters at 12, 6 and 9h. The brand will also release four new references within the second quarter 2013 in many international points of sales.
Information: info@wryst-timepieces.com
www.wryst-timepieces.com
Share this content
Add a comment