Black Wryst MS2 watch
(Now sold-out)
Another limited edition Wryst out of stock
Since January 5th 2016, the black Wryst Motors MS2 limited edition is now sold-out. During 2014 we produced 50 pieces of this small serie of 99 pieces and they are now all with their respective happy owners. There are no plans for the next couple of years to produce the remaining watches in order to complete the serie. For the time being, it will not be possible to buy another MS2. This reference with scratch-resistant black DLC casing, crown and buckle and a well contrasted white dial with red accents is now more exclusive than ever! If you wish to buy one it is no longer possible.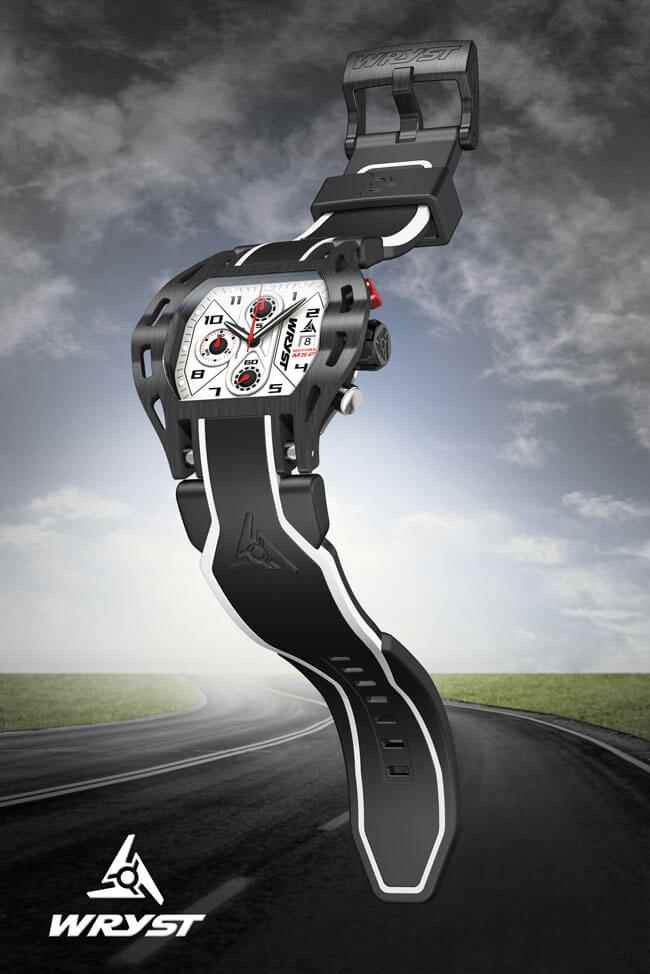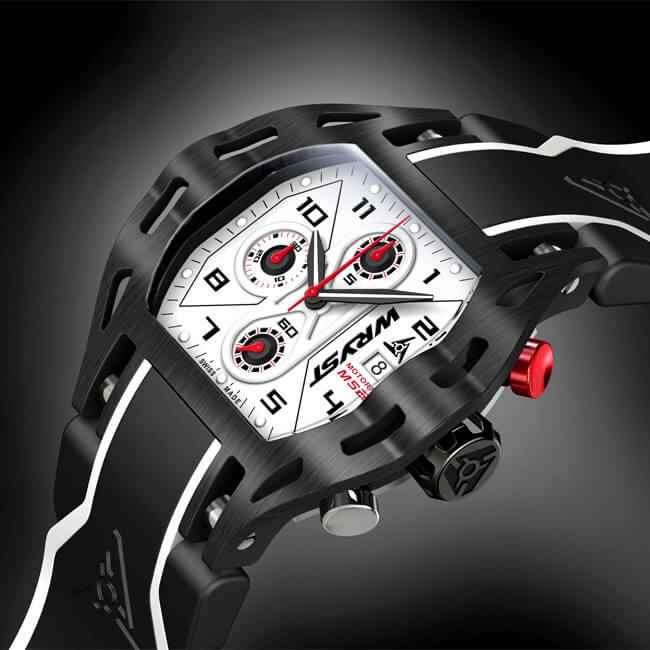 Like for the Motors MS1 and MS3, every detail of the reference MS2 is inspired by motorsport. The overal design is capturing the essence of sports cars and motorcycle magic like no other. The case back is engraved with two racing flags on the sides which is a testimony of devotion to racing sports. Originaly, the inspiration for this timepiece comes from the world of Formula 1 and supercars. The bright white gloss dial has nice decoration rings around the chronograph sub dials, and the hour & minute hands in black are the perfect contrast for easy reading. The Flyback and x3 chrono hands are in gloss red finish. Like most other quartz chronograph watch and Racing watches Wryst, the MS2 is powered by the gold plated 5 jewels Swiss ronda movement 3540D which has an increadible lifetime of 53 months with the Swiss battery Renata 384.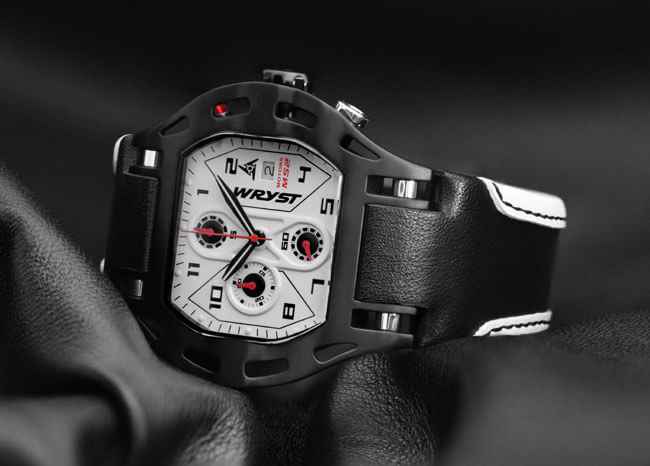 Never the less, the new reference Motors MS3 will be available soon!
With carbon dial prints of the dial, the new Wryst Motors MS3 is now already available for pre-orders. Following to the immesnse success of the Motors MS1, the Swiss watch brand is more than ever inspired by Motorsports - Sponsoring the world's fastest and most dangerous road championship.
PRE-ORDER YOUR WRYST MOTORS MS3 TODAY:
(Available in February/March 2016)