Tax-Free Agreement with Australia and New Zealand
The good news for our customers Down Under!
Buy watches tax free, yes, that's right, zero tax.
It is now official. The new trade agreement came to force on 31st May 2023.
The United Kingdom signed an agreement with Australia and New Zealand, so 99% of imported goods are now TAX FREE.
For anyone who wants to buy goods from the UK in Australia and New Zealand
Following the Brexit deal between the UK and EU, after lengthy negotiations, the United Kingdom signed 2022 a brand new trade deal with Australia and New Zealand countries.
What does this mean for you?
This means anyone from the two countries importing goods from the UK will no longer be charged import duty tax!
Here is the official announcement:
UK's first post-Brexit trade deals to go live at midnight on 31st May 2023
"From today [31 May], UK businesses will be able to sell to Australia and New Zealand more easily as the UK's trade deals with the countries, the first negotiated from scratch since we left the EU, come into force.

Under the deals' beneficial terms tariffs on all UK goods exports to Australia and New Zealand will be removed, unprecedented access to these markets for services unlocked, and red tape slashed for digital trade and work visas.

Each region and nation of the UK is expected to benefit. Tailored to the UK's strengths, the deals are set to deliver an economic boost by driving bilateral trade up by 53% with Australia and 59% with New Zealand.

The agreements could also mean reduced prices for UK consumers on favourites such as wine, Tim Tams and kiwi fruit and lowered costs on machinery parts for UK manufacturers.

The announcement comes after the UK, Australia and New Zealand completed their domestic ratification processes, allowing the deals to enter into force. In the UK this required primary legislation in the form of the Trade (Australia and New Zealand) Bill."

...

The new free trade agreements with Australia and New Zealand provide businesses with a great opportunity to capitalise on the demand in these markets for British goods. We are delighted to have marked the commencement of these deals with a visit from the International Trade Minister to our site today, in which he had the chance to meet businesses and see the important role our colleagues play in the global economy."

 
Source: www.gov.uk
This does not stop our stocks from getting low
If you have been thinking about buying a Wryst, the right time would be now!
Many of our models from the series Elements, Ultimate, and Force are only available in small quantities. We only produce 75 units for each timepiece, so we strongly advise placing an order sooner than later for the Swiss designer watch of your dreams.
Only very few Wryst Force SX300 blue mens watches are left in stock. With the Swiss wrist watch Force SX230, we advise you to buy one of these two models as they will be the first high-specification chronographs to run out.
Another one is the yellow sports watch Wryst Elements PH4, which will soon become unavailable from the 75 pieces series Elements. Sadly the PH8, PH5, and PH6 are now all sold.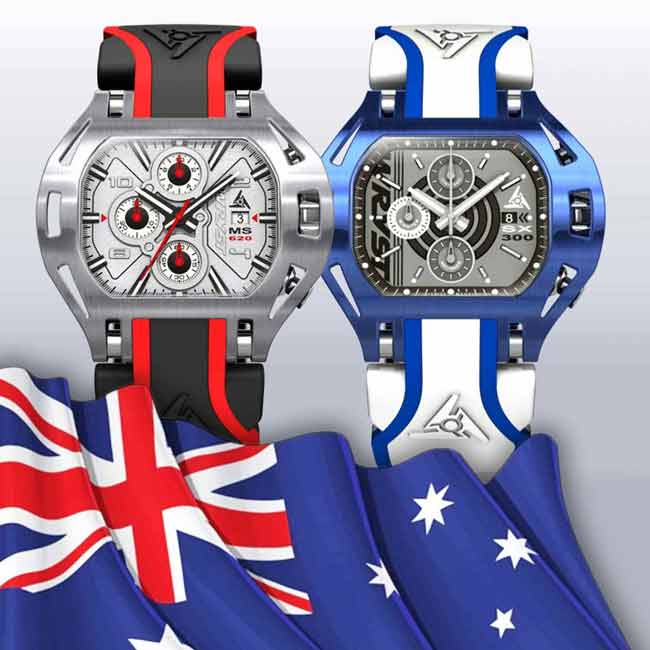 Benefit from free shipping
A coupon code is available to benefit from free DHL Express service worldwide. Our customers can use the code FREE SHIPPING in their voucher tab inside the cart to apply zero cost for transport. DHL is one of the leading global carriers and offers highly professional, prompt delivery.
How much do I save compared to before the trade deal?
Note that the import duty tax was previously low for Australia and New Zealand compared to the European Union.
For example, most US States only pay on average 6.5% duty tax on goods from the UK. This is much less than most EU countries which request the payment of a +20% VAT on all imports.
You can find more information on our delivery and shipment page.