The Latest Watch Collection Wryst Motors for Racing
Introducing two new references Wryst Motors for Men
Experience the novelty watches inspired by racing sports Wryst Motors in new 50mm size and with stainless steel casing. Motorsports and car racing fans can now choose bold-looking racing wristwear from this limited series of 75 pieces.
If you are a fan of the races NASCAR, MotoGP, Isle of Man TT, Formula1, or any adrenaline thrills the racing industry has to offer, this luxury Wryst racing collection Motors is just what you have been looking for.
A fashion accessory that will not make you unnoticed. The opulent good-size wristwear has it all; From materials, bold look, and a modern design, be sure to showcase your good taste for industrial motorsport design with the latest series from Wryst.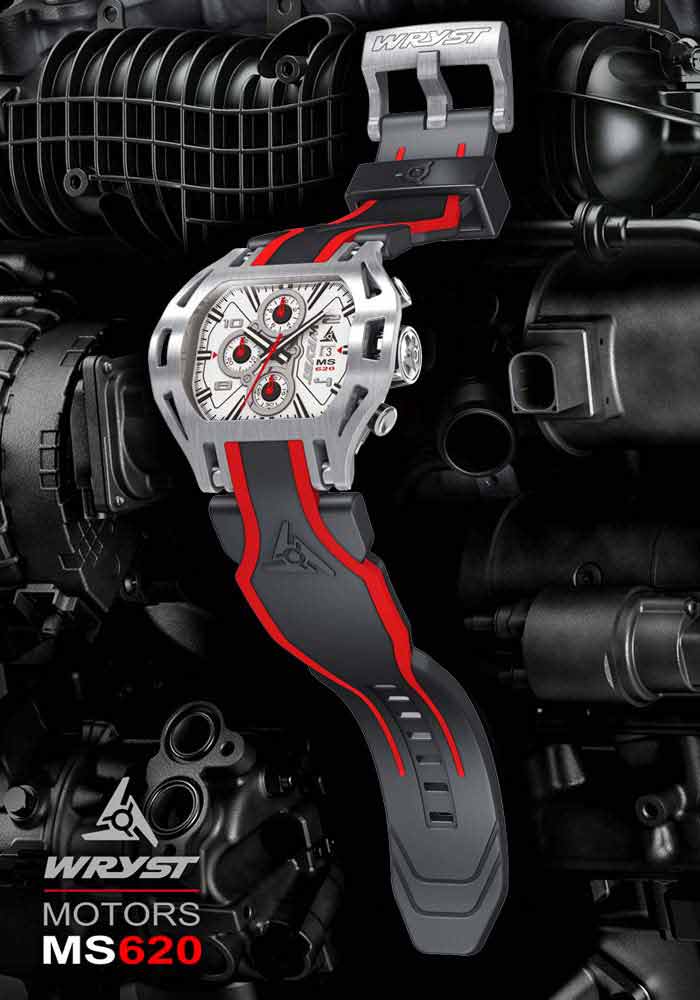 Priced at £738 GB | $1009 USD, both references, MS630 with black dial and MS620 with silver dial, are Swiss limited editions you will want for. Highly collectible, every aspect of the manufacturing is dedicated to withstand the test of time.
Here are the specifications for both models:
- Swiss reliable Quartz movement with a date
- Chronograph with 1/10th of a second precision
- Industrial case design obtained with CNC machining
- Domed sapphire crystal with AR coating
- Two-tone case back with black debossed details
- Swiss limited series of 75 units
- Two bracelets are included
- Large soft, and comfortable bracelet size 25mm
- 100 Meters water-resistance
- Screwed case back, crown, and patented bracelet attachment system
- Anti-magnetic and antishock movement
1/ The first piece we are looking at in detail is the Motors MS620: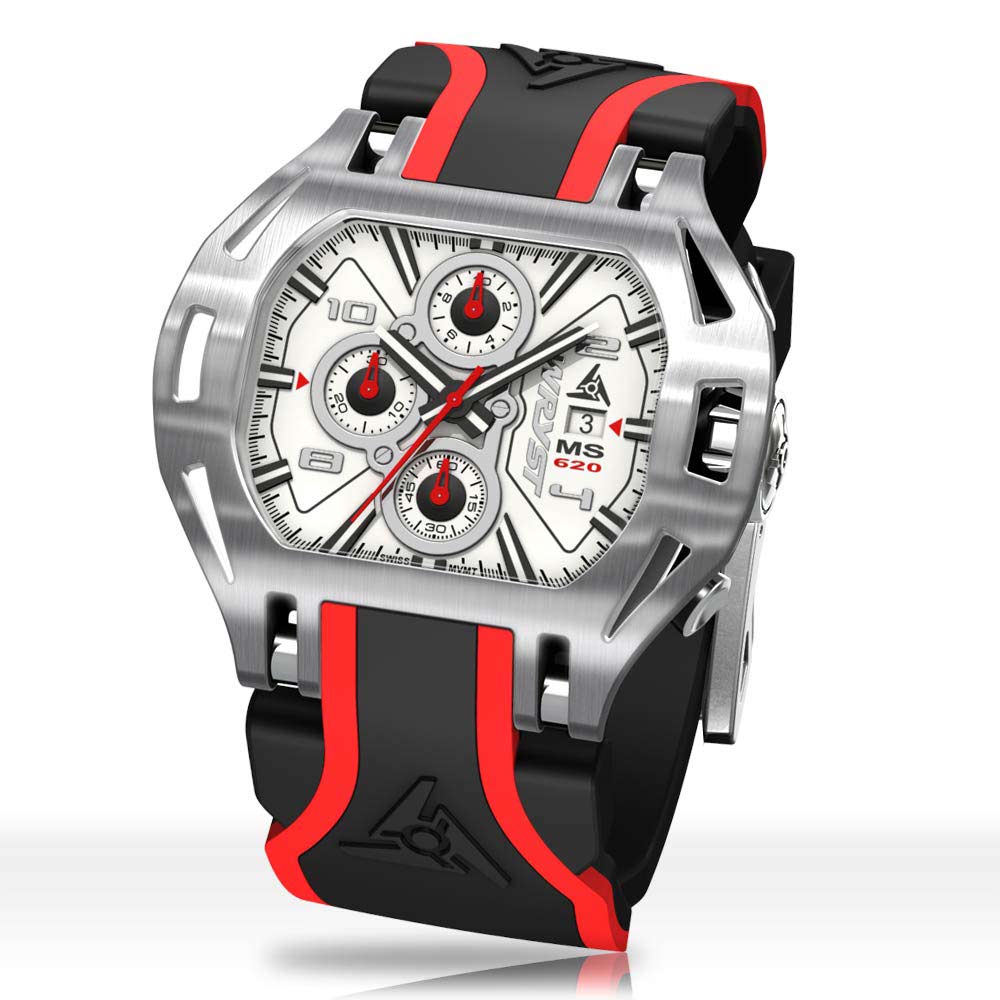 This striking-looking motorsport wristwear has a bright feel thanks to a galvanized silver dial packed with three Chrono subdials, large hands, red sub counters, small hands, and a stopwatch Chrono hand.
A raised central polished nickel guard surrounds all timing functions on the face, while the hands and hour markers are well contrasted in black with luminova details.
The date function is presented in a rectangle guichet at the 3-hour position. The case side reveals the description "MOTORS," and the bold head-turner back of the case has all the engraved details in black, including the unique serial number inscription.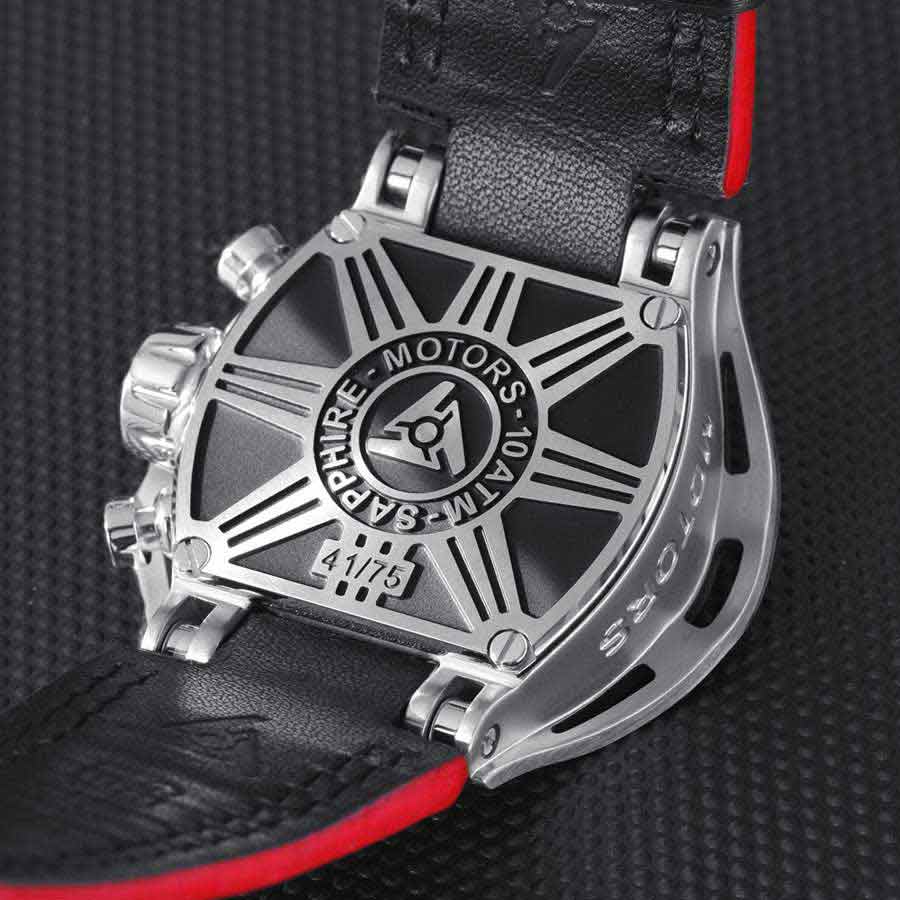 Case Back of the Motors
This specific model is delivered adorned with a black and red double-injection bracelet. The other free bracelet is genuine black leather with dark grey edges and stitchings.
2/ The second reference on offer is the dark face version of Wryst Motors MS630
In contrast, the MS630 with black satin dial color has a slightly darker feel without missing the contrasting details for the comfort of reading.
Looking at all the details, the first noticeable feature that will come to mind is this piece's black and red feel. For many years, black and red have been used in the motorsport industry and are the colors of masculinity and convey a sense of power and virility.
Time your best laps around the track with a precise Swiss chronograph movement. Prominent top and bottom pushers on the right of the case are easy to reach and offer timelapse functions.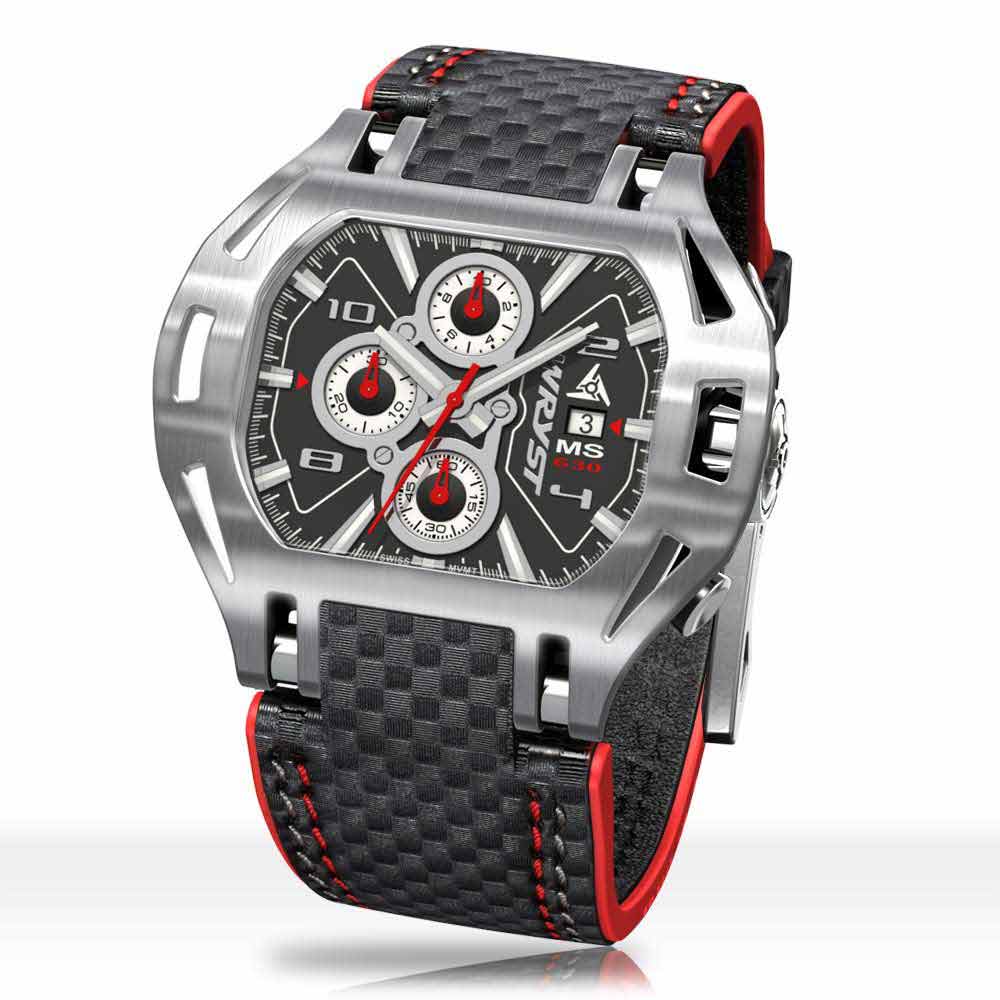 Luxury Mens Watches Motors MS630
A striking bold look on your wrist is ideal for mechanics and preparing the car or motorcycle for the race.
For many years now, Wryst has been chosen as the official partner of the fastest races in the world, and rightfully so. The sleek and dynamic curves of the timepieces feel like they are just as pronounced as the aerodynamic shapes of an Mc Laren race car, a Lotus, or even a Yamaha 1000cc competition motorcycle.
3/ In third, the MS630 with two silicone bracelets
For a more casual feel, the standard double-injection black and white bracelet offers a slightly less aggressive feel. This version of the Motors MS630 is more suitable for an everyday style. The all-black silicone band is also available and will contrast well against the stainless steel casing.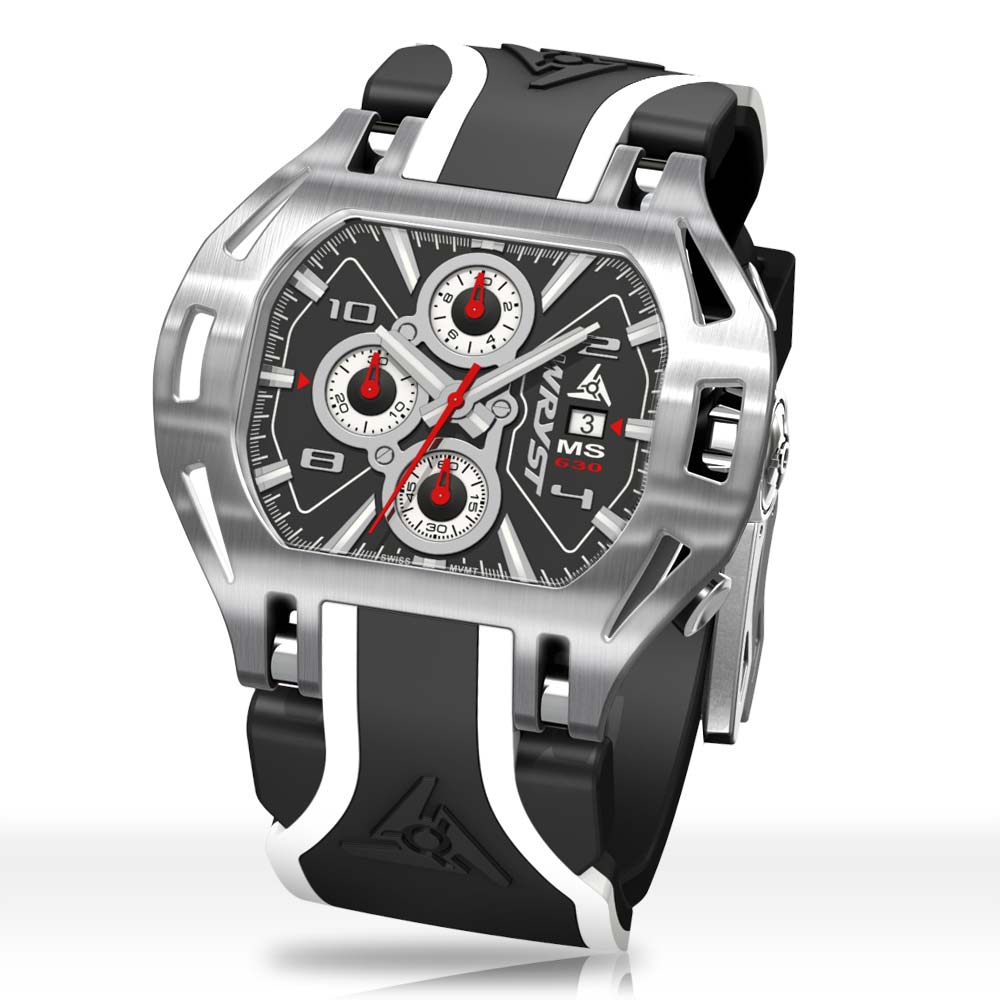 Wryst Racing Chronograph MS630
In conclusion, take the step without further delay and wear one of these robust watches tomorrow, which will only be produced in small limited series.