Sports Watch Wryst design Explained
A Wryst review with complete details about the Wryst design origin
The ultimate Wryst review with full details behind the origins and inspiration of the watch design by Jacques Fournier. Many are talking about the technic and futuristic watch design created by the Swiss watch brand. Today we want to tell the story of the inspiration behind the timepieces. We will explain where this outstanding genius originates.
Reviewing Wryst is an essential aspect of the unalterable DNA of the watch brand. There are several Wryst watch reviews available online. Suppositions about the Wryst design's origin are possible, but none of them are as accurate as our own. We are revealing some crucial facts about the exact details for the first time, which have encouraged all features and different information for this unique and technical design.
There is a lesson to learn from everyone attempting to risk reviewing Wryst through hazardous wristwatch articles. Some aspects of attempts to explain the intent of our creations are genuine and legitimate. Others are adventurous hypotheses and suppositions. At wryst, we take to heart the following statement: "If you're going to do something, do it right or don't do it at all."
Wryst Racer SX4 Automatic Sports Watch
A new and never seen before watch case design
One of the most controversial aspects of the Wryst sports watch is the case's overall shape. Rightfully, there is nothing like the unique curves and shapes of the Wryst timepieces in the watchmaking industry. Firstly, Swiss watch designer Jacques Fournier is at the origin of all watches produced by Wryst until this day. Here we will review all the aspects of the first Wryst Airborne collection released in April 2012. Since then, the same design has inspired other collections. For example, the more recent Wryst Automatic Watches Racer, Wryst Chronograph Force, Wryst Quartz Watches Ultimate, and Wryst Sports Watches Elements.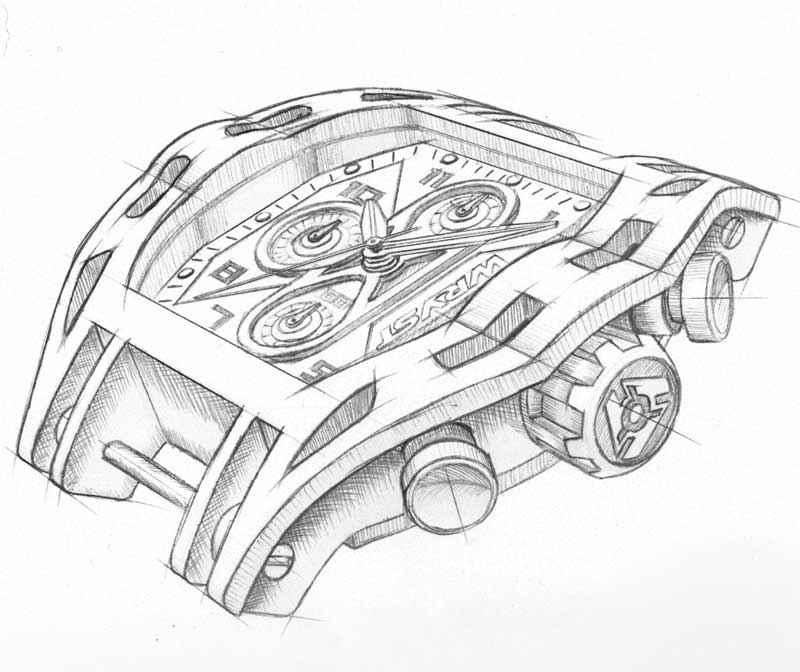 Learn more about the brand and read the newsletters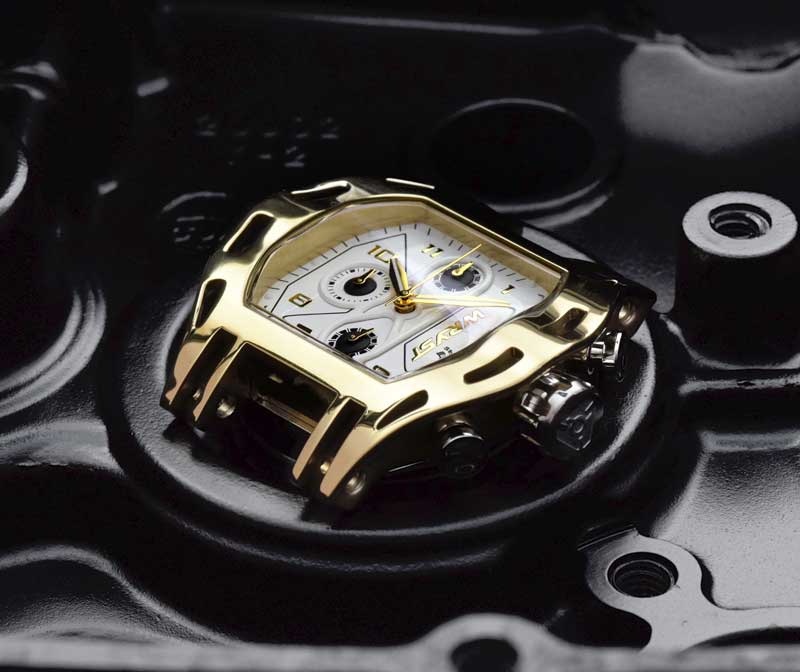 Understanding the inspiration behind the brand DNA
In 2010, strong of long experience designing luxury watches, Fournier decided to launch his brand. His love and fascination for watches were rather frustrating. Young was desperately looking for a watch with a more technical and industrial aspect. At the time, he found most of the timepieces available were too classic and identical in look from one to another. But through the years, designing modern and inspired watches for other brands was not enough. There was a gap in the market that he would fill. Creating a unique and "never seen before" sports watch produced in limited edition made total sense and would fulfill his dreams. In this Wryst watch review about the timepieces, we will look at every aspect of the watch design origin.
Racing car engines offer unlimited creative potential
Action sports and racing oriented, it was logical for the new watch brand to look at engine parts. The watch's body then started slowly to take shape with that in mind. The flank of the case could, for example, reflect the stunning aesthetical look of engine manifold and dented wheels.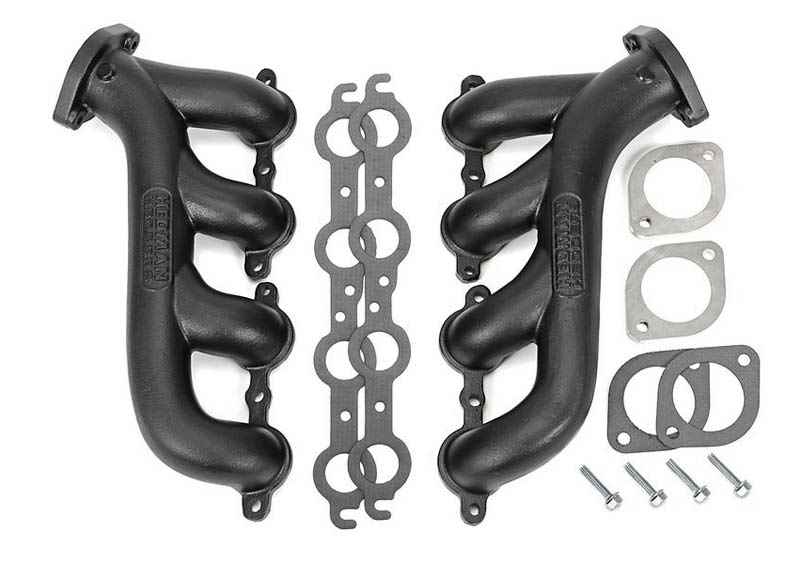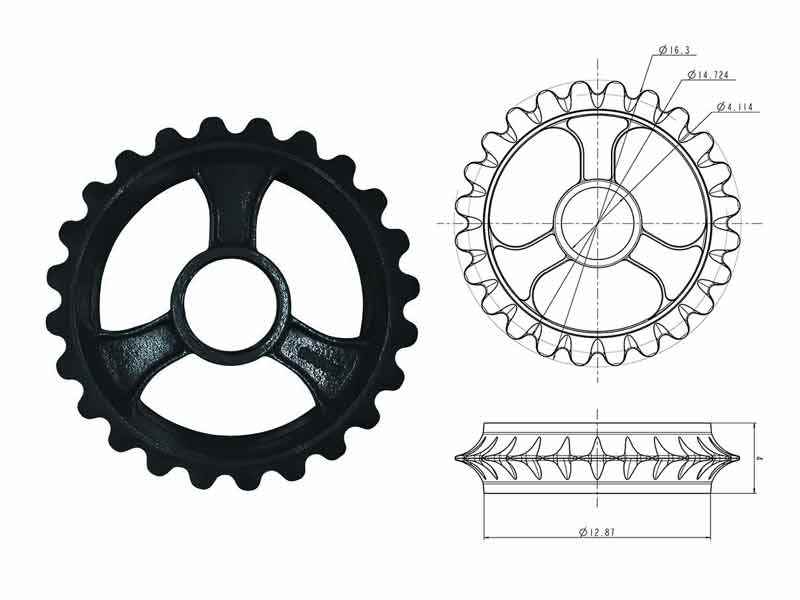 The curves and segmented 'comb' of a six-cylinder V6 or eight-cylinder V8 car racing engine just looked stunning. After a few hand sketches, the 3D CAD construction soon started. Jacques Fournier should use a few design novelties to create innovative features never seen previously in the watch industry.
The integrated bracelet attachment to the body was an essential aspect of the casing. A timepiece accidentally detached from the wrist is something that should never happen. This eventuality could lead to losing the watch unintentionally. Conventional watch case lugs are not precisely safe enough.
Wryst imagined and developed a new way to morph the integrated bracelet between the two body lugs to avoid this being even possible. This ingenuous hallmark consists of four screws and four decorative rings to secure the watch around the arm like never been attempted before.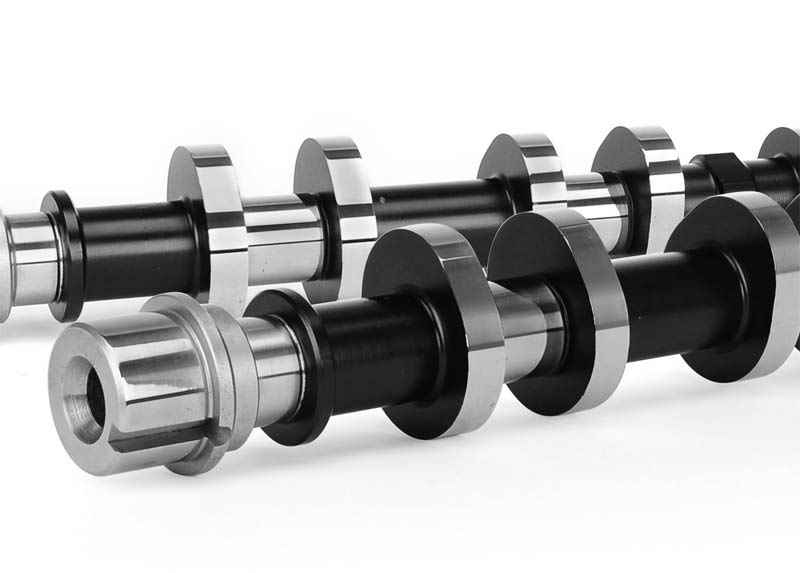 It made sense for the Wryst sports watch to imagine a way to improve this. The technical and secure four-part screw system came to life naturally. A car engine camshaft inspired this particular design. A domed case top and curved crystal also provide unforeseen harmony and comfort around the wrist, which most timepieces are not providing.
Several months of intense work are required to produce an excellent and harmonious aesthetical balance for the watch case design. The choice of Swiss chronograph movement and dial design creation could then start accordingly with this DNA. Most round-face watches use "cold stamped" tooling or "Punch press" techniques. Due to the intricate and sophisticated design of the Wryst casing, CNC machining technology is used (Computer Numerical Control). CNC Machining is a process used in the manufacturing sector that involves using computers to control machine tools. Tooling techniques include lathes, mills, routers, and grinders. Making the Wryst cases is higher than for regular round watches. These skills represent another signature asset for the Swiss brand Wryst.
Numerous facts, realities, and details for this unique review
In this Wryst review, we can also reveal the motto of watch designer Jacques Fournier and his most essential intentions:
"Wryst design represents "THE" unique and atypical timepiece I have always wanted, and I hope it is for many people who see it. My intention was to create a timeless design you can not get bored of. A watch of which people would say: "I have never seen anything like it before…" and targeting a sporty audience with a strong & charismatic personality".
Racing, motorsports, and outdoors are not new sources of inspiration in the watch industry. But Jacques Fournier opted for an objective approach. He wants people to feel like they were wearing part of their machinery for their exalting sensations. For example, we all want to wear a tangible reminder of our passions in life, from buggies of the sandy beach dunes, wingsuits, racing cars, motocross, dragsters, and even snowboards.
Another pertinent approach from the executive owner, founder, and designer at Wryst timepieces:
"Others have ideas and do things very well, but the main focus should be to look elsewhere, where no one has ever looked, be daring and sincere. I think individualism is extremely important, you can be copied, but try not to be compared".
It is another witty statement from Jacques Fournier, who is genuinely inspired and passionate about innovative watches. The original design from Wryst came to life between 2010 and 2012. The Motors chronograph collection's unique racing style is highly noticeable for the Isle of Man government in 2015. The TT races sponsorship management team contacted the brand to discuss official timing partnerships with the world's fastest road racing. Only three years after the first Wryst watches were on the market, the Swiss brand released a unique TT chronograph watch with authorized copyright usage of the TT logo featured on the watch dial and the Isle of Man triskelion emblem engraved in 3D on the case back. This exclusive and highly-collectible timepiece came to life in a special edition after the launch of another design version with a larger 50mm casing. It was similar in style to the earliest Wryst Force and Wryst Racer the following years.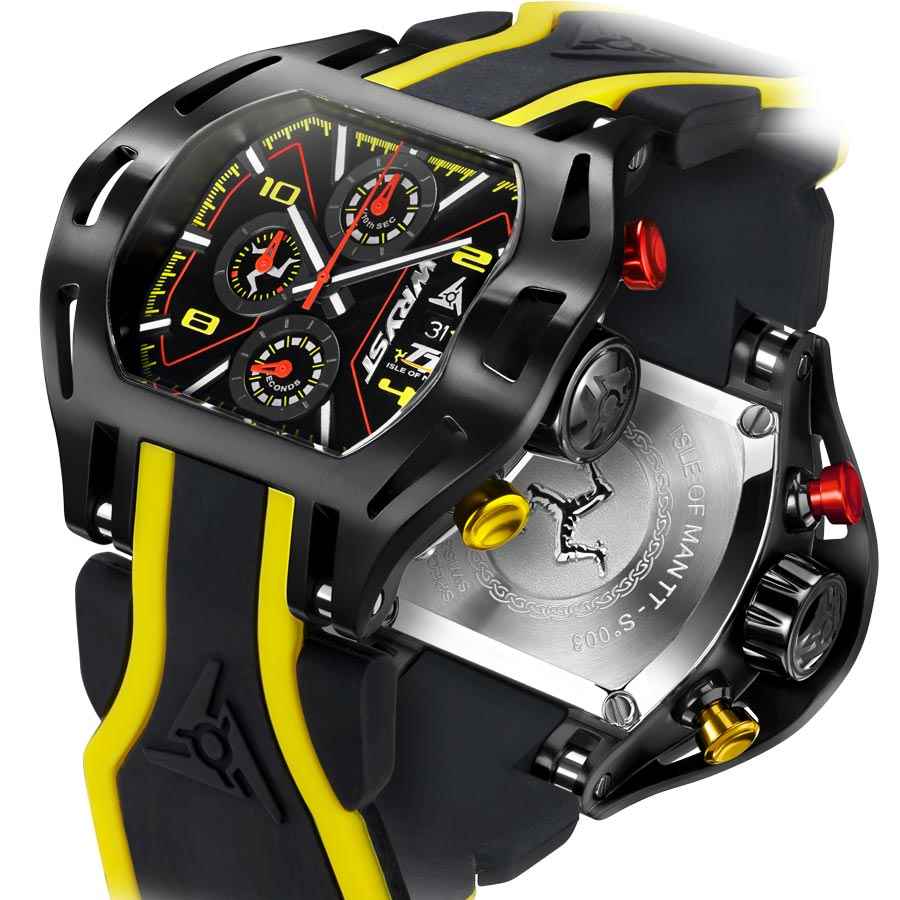 In his interview about the inspiration behind the watch design, Wryst, the creator, also revealed:
"At a young age, I was spending a lot of time looking at luxury timepieces in watch boutiques in Geneva or anywhere I would go. I had only one goal, to find a very unique one which would totally overdo all the other ones, and save up and buy it".
Rightfully, the Wryst is like no other watch ever produced before, and this will most likely still be true forever. The watch case sides resembling oblong race car steering wheels, the large bracelets with double injection in two colors, and many other aspects of the timepieces are merely remarkable.
The watch brand name and logo, one of the most important element
This atypical luxury sports watch brand is Wryst, spelled with a "Y." But the name is pronounced exactly like the word "wrist." A brand name needs to be catchy and also remembered. Therefore this name can be recalled effortlessly. Most noticeably, a Wryst watch is different than any other wristwatch. A manifold inspires the triangular shape of the logo. A manifold is a "collection of points forming a certain kind of set." Graphically, the logo is a repetition of three times one of the arms of the shape, around the central axis: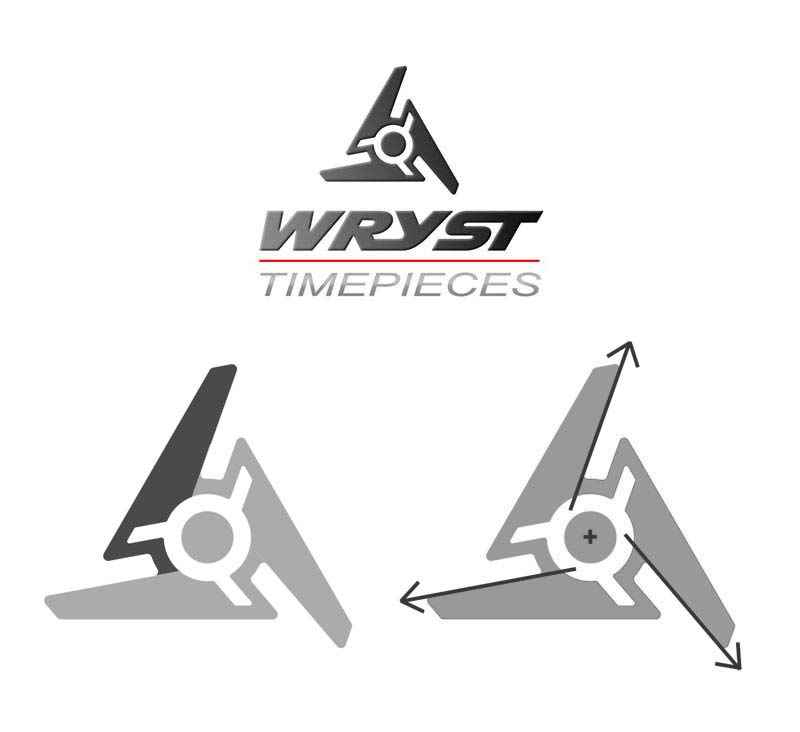 This logo was obtained geometrically within CAD drawing software. It does not represent a Ninja weapon, as many would think. This hallmark also has a story to tell, like every other feature found within the intricate and trailblazing designs created by Wryst.
An automatic watch inspired by race car parts
Concerning the dial of the Wryst Racer SX4, these are some details about the inspiration behind it. We find it apparent that all aspects of the layered automatic watch dial have to be en-par with motorsports. The hour hand resembles a notched wheel. It looks like the dented wheels running the automatic Swiss movement Sellita SW-200 and the ones found in mechanical engine gearboxes. The three openings on the face's left and right sides tribute to six cylinders V6 engines.
You can notice small artworks below "Wryst" and "Automatic" on the dial. These drawings are not the "tribal tattoo decor" strangely mentioned in Ariel Adams's blog review. But instead, they represent flames that can feature on custom drag racing cars: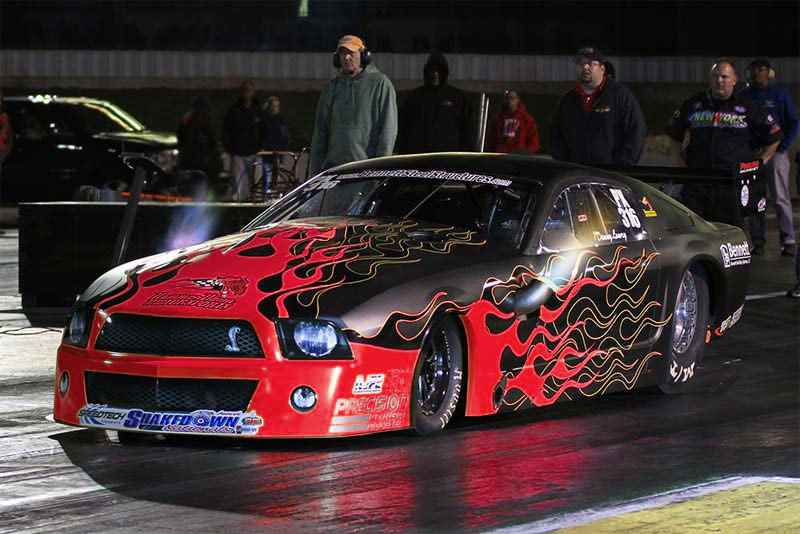 We hope you have learned more about the watch design Wryst and the inspiration that makes the atypical Swiss brand. All declarations from the Wryst brand's founder on this page come from an exclusive interview with Jacques Fournier at Ablogtowatch. Any comment about this review for Wryst timepieces is welcome, and you can contact us at any time if you have further questions. We are always happy to help and give details about the Wryst review and anything else you ever wanted to know.
All references "RACER" with silicone bands:
Steel Self-Winding Wryst Racer SX1
Men's Rose Gold Wryst Racer SX2
Motorsport & Racing Wryst Racer SX4
Luxurious versions with handmade leather bands:
Swiss automatic watch Racer SX1
Black & Carbon Wryst Racer SX4