Reliable and robust adventure watches
A sturdy watch designed to withstand the elements
The best watch for extreme sports, adventure, watersports, and extreme sports, Wryst black watches Ultimate are at the forefront of know-how and benefit of the latest black coating technology. The watch brand offers the strongest, most durable, and most reliable timepieces for the first time at an affordable price. Each reference is also truly exclusive and only produced in small series of 99 pieces.
To date, there are only very few timepieces designed and engineered to withstand rough usages such as watersports and extreme sports — the Wryst Ultimate collection is dedicated mainly to providing durable and ultra-resistant wristwatches. Whether your main outdoor sports are surfing, rock climbing, or water skiing, this collection has all you need to enjoy recreational or professional activities with total peace of mind.
World's most scratch-resistant extreme sports watches
"Trying is believing!". Our customers sometimes find it hard to believe the DLC coating is that resistant. If you have worn a black watch with PVD coating, then you will be positively surprised to see how resilient is the black coat of your Wryst, while wearing it weeks after weeks. Black DLC technology is far much better than poor quality PVD. Wryst is the first Swiss watch brand to commercialize adventure watches with a scratch-resistant black coating. There is only one way to find out if the black surface truly is guaranteed to look uniformly black for the 80 years to come: Take the jump! Most of our customers who have verified this fact purchased another Wryst Timepiece within 12 months after their first initial acquisition. The black coating we provide is harder than steel itself.
Heavy-duty Carbon Fiber Genuine Leather Bracelets
The black carbon fiber bracelets with colored stitches are a new addition to the active watch collection Wryst Ultimate. Here are the latest products added to our selection:
The Black Carbon Fiber fitness watch
The Wryst Ultimate ES40 is also fitted with a soft and flexible black carbon fiber bracelet with yellow stitches. This genuine leather bracelet is also antiallergy. Alternatively, you can also use the all-black black DLC metal bracelet for this reference.
Wryst ES60 Red and Black Carbon Fiber Bracelet, red Stitches
For this more racing-inspired version, the black carbon fiber bracelet stands out with class. The Wryst Ultimate ES60 showcase refined red details on the dial, which are assorted to this genuine black leather bracelet's red stitches. Two other bracelets are also available for this red and black 45mm size sports watch.
A Black on black watch with a black Carbon Fiber bracelet
The comfortable black-on-black genuine black leather bracelet with carbon fiber complements this all-black Wryst Ultimate ES20 scratch-resistant black DLC watch. Black is a mysterious color that is typically associated with the unknown. The inside of the bracelet is also in genuine black leather with black stitches.
In opposition to the gadget watches Suunto core with solar power, the robust Ultimate stylish watches Wryst Ultimate do not provide unnecessary functions like barometric pressure, heart rate, altimeter barometer, and atmospheric pressure. Instead, the outdoor adventure watch with a black dial produced by Wryst has a stainless steel casing, shock resistance, and a battery lifetime of 48 months. The leather strap is also highly resistant and dedicated to being healthy and durable.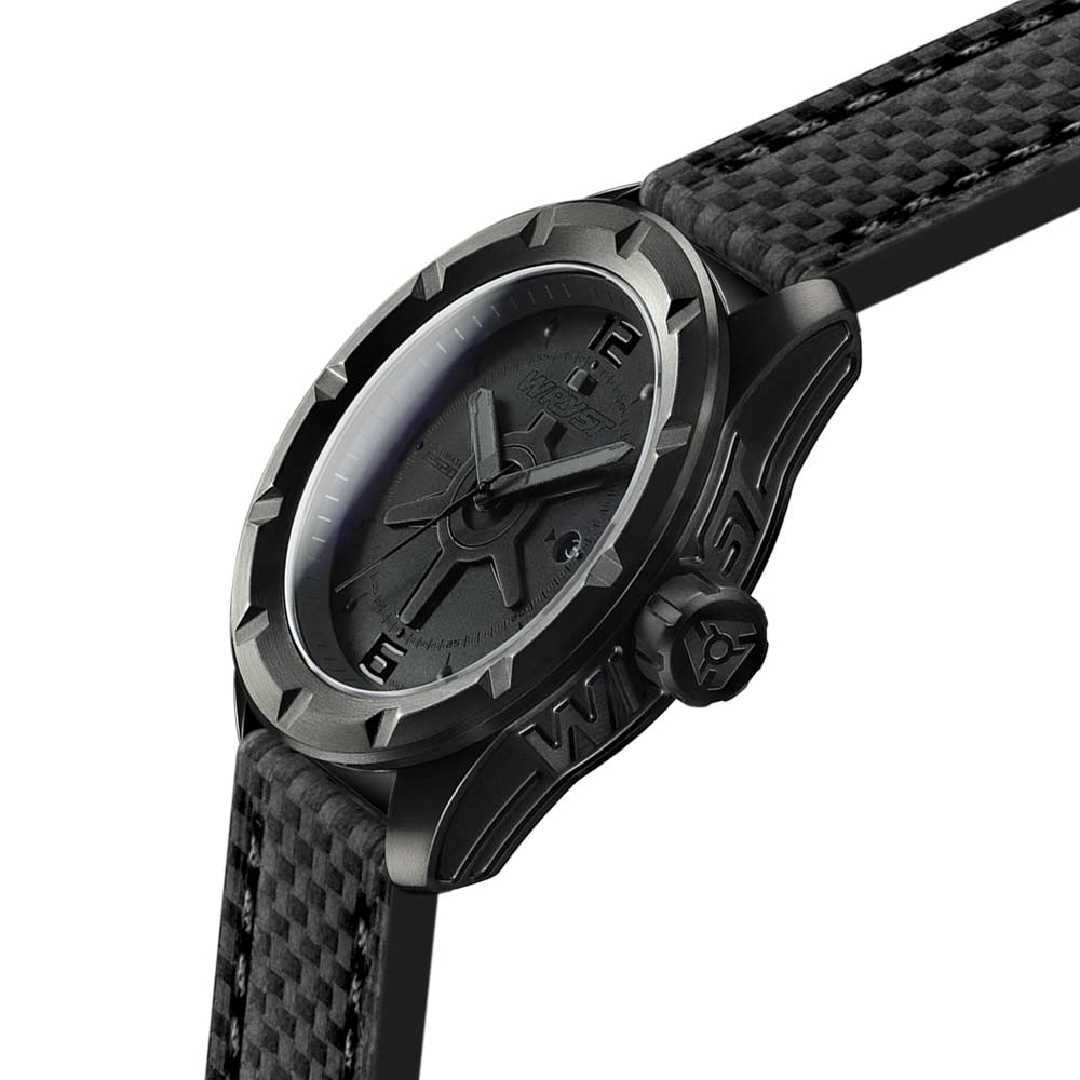 Steel reference Wryst ES50 with slate dial and orange details
The contrast of this reference Limited Edition watch Wryst ES50 limited edition watch with steel casing and black carbon fiber bracelet merely is exquisite. The ES50 is the most successful watch of the ULTIMATE collection. The band's orange stitches are perfectly matching orange details on the hands and hour markers of this extreme sports watch.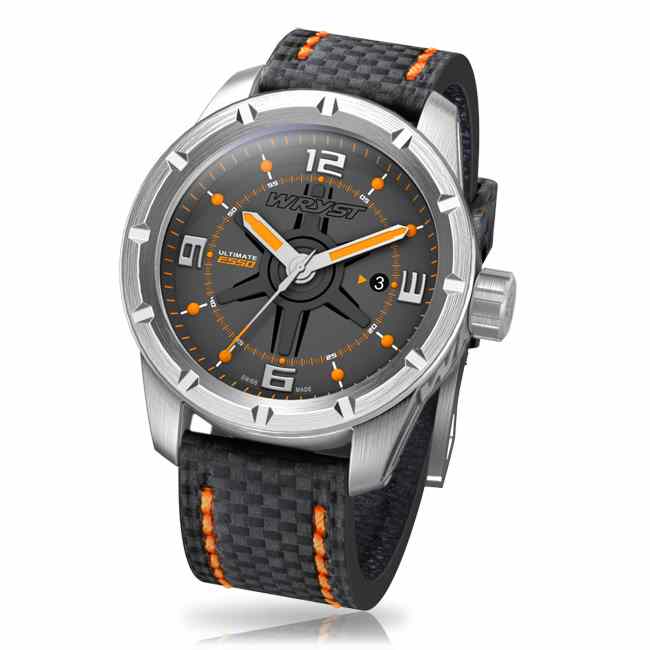 Statistics show that people tend to be more interested in wearing a sports watch with little to no maintenance required. Strap it on when you need it. The battery lifetime of all Wryst Ultimate adventure black watches with Swiss movement is 48 months. No need for recharging, no need for updates. And it does the best of wrist-wear by letting you know how long you have left until your next session of surfing, riding, climbing, rafting, and any other adrenaline activity.
A vast choice of other bracelets available
Wearing an exclusive limited edition best extreme sports watch will make you stand out from the crowd in style. The screwed crown, a screwed case back, is another feature that is only available on much more expensive sports watches. All Ultimate references are 200 meters water-resistant. If the references with black carbon fiber and camouflage genuine leather bracelets are only available with one band, most other references include two different bracelets for a versatile look. For example, the Wryst Ultimate black dial watch ES40 is dressed in a metallic black DLC bracelet and a double injection green and black silicone strap. If you prefer the all-black look, we can replace this green bracelet with a black-on-black silicone upon request.