chronograph mens leather strap watches Swiss Made
Published : 11/08/2019 15:55:53
The striking four new leather chronograph watches
Your style and refinement deserve a brand new look
The latest mens leather strap watches from Swiss limited edition manufacturer Wryst. When Jacques Fournier launched the Wryst brand, he instantly brought in a vital breakthrough in the watch-making history by redefining a luxury sports watch's historical concept. The luxury brand's debut collection was Wryst Airborne. This limited edition Swiss-made quartz chronograph introduced a significant number of critical innovations in the luxury watch industry.

Recently, Wryst added a bolder and impressive new leather chronograph watch collection named FORCE to its product range. Slightly more substantial than the innovative brand's previous models, these new timepieces derive inspiration from the influential and formidable natural forces. These quartz-powered chronograph timepieces are built by CNC machining in a block of grade 516L stainless steel, a high-grade alloy introduced in the watchmaking for the first time.

Bold, prominent, and masculine, the FORCE Swiss Chrono watch steadfastly maintains a case size of 50mm, slightly larger than previous watch models with a 45mm case. Moreover, the watch case became thicker (15mm), and the dial dimensions also increased. The double injection silicone bracelet's width is also enhanced from 22mm to 25mm to fit precisely with the broader aspects of the watch case.

Wryst flagship watch models' significant design highlight is undoubtedly their revolutionary barrel-shaped and curved case with open-worked edges on both sides. This unique design provides the timepiece an ultra-modern appeal and protects the screw-in crown and chronograph-pushers from accidental damages. For the remarkable FORCE collection, Wryst radically redesigned the watch case by reducing the number of open-worked windows of the distinct edges from four to three on both the watch case's visible sides.

The collection consisting of 75 limited edition numbered pieces is now newly relaunched with four new stunning black leather bracelets. The FORCE collection features four distinctive groundbreaking watches: The Force SX230 in polished 516L stainless steel case with a blue dial, the Force SX270 in black DLC case with a rose gold color dial, the Force SX300 in blue IP case with a grey dial, and the Force SX210 model in black DLC case with a black dial.

All these watch models are incredibly comfortable dressed in double injection silicone bracelets. It is relevant to mention that Wryst is the first brand to employ the unique bi-color successfully, twin-layer dual injection silicone watch bracelets. Inside the standard package of every Force watch model, you will also find an add-on silicone strap of a distinct color theme for exploring alternative styles.

Wryst has now upgraded the outstanding FORCE collection by launching four new versions adorned with luxurious leather straps. The Force leather chronograph watch models SX230, SX210, and SX300 are presently available with black leather straps featuring blue or grey details to complement the respective models' color theme. Further, the new Force SX270 variant features a brown alligator leather strap. These revived versions are still only made in a limited edition of 75 valuable pieces per specific model.

The Manufacturing process of these exceptional leather straps requires both modern techniques and manual craftsmanship. Three different layers of quality leather make each strap strong and durable. These are assembled and then reinforced with double stitching in two separate colored threads. The visible edges of the inside leather layer and the inner line of dual thread stitching share a similar color complementing each timepiece model's aesthetic.

The 25mm wide leather straps are large enough to fit precisely with the Wryst Force watches' bold dimensions. These straps are suitable for wrist sizes between 170 and 210mm. Like the double-injection silicone bracelets, the new leather straps offer firm and seamless integration into the watch body, thanks to the uniquely designed lugs and the patented strap attachment system. Meticulously designed to provide optimum comfort around the wrists, these flexible and soft leather straps are also anti-allergic.

Faithfully following the Wryst timepiece models' footsteps, each of these recent four versions from the Force collection has its charisma and distinct personality. Each variant embodies its own set of color themes assigned for diverse activities and aesthetic styles. The add-on double-injection silicon strap shipped with this new Wryst Force leather strap edition graciously allows you to instantly change your watch's exotic look depending on your style and aesthetic preferences.
Wryst Force SX210 with Black and Grey Leather Bracelet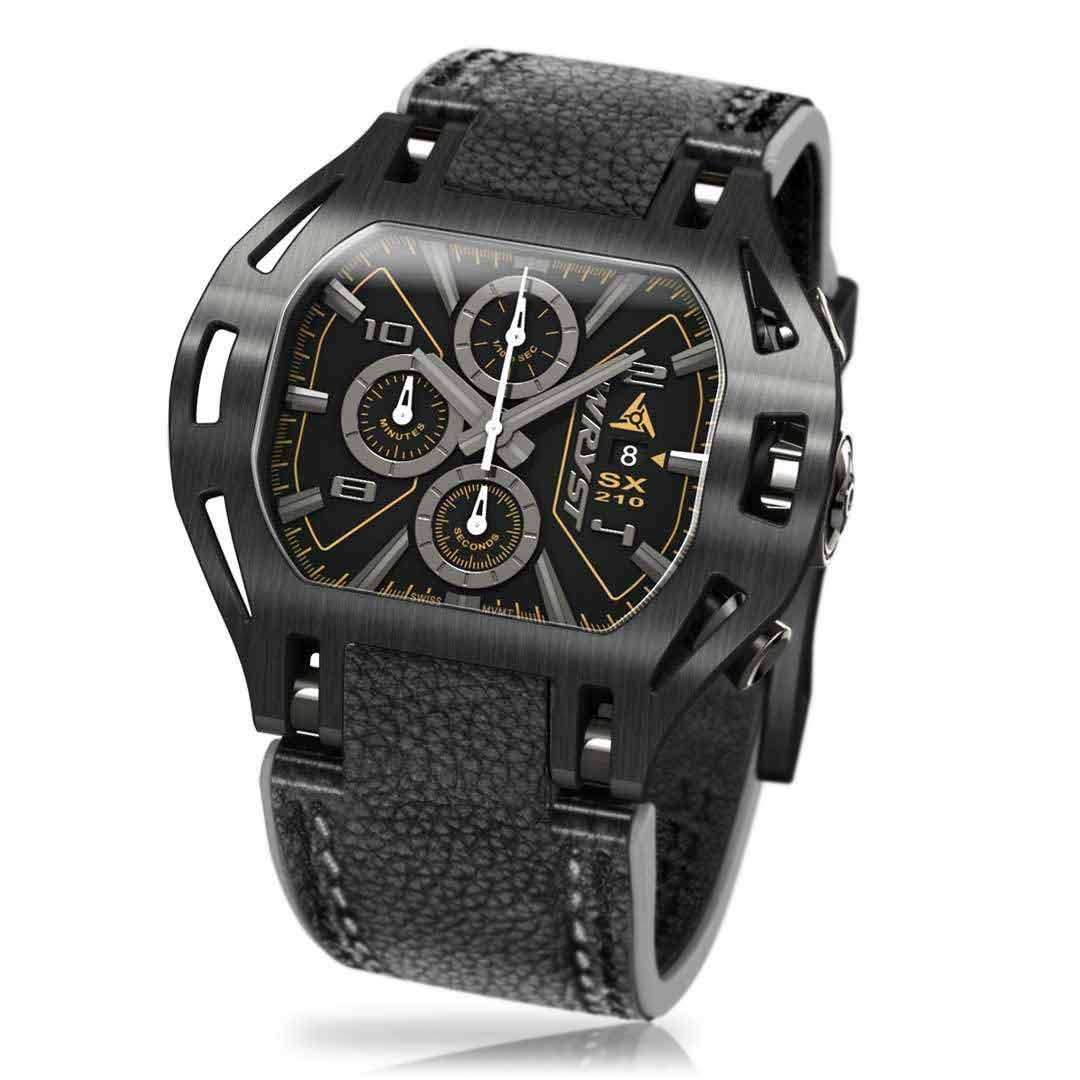 Reinforced with the scratch-resistant black DLC coating, the Force SX210 model features a matching black dial. The brand name, hour markers, sub-dial rings, central hour, and minute hands are finished in shiny gun PVD color in pleasant contrast with this chronograph watch's stealthy nature.

The date indication, chronograph central seconds hand, and the dainty hands of all sub-dials are white. You will equally recognize lively touches of camel color on small indexes, model name, and the brand logo.

In the new Force SX210 variant, the black leather strap with grey details carefully includes a sober touch to the black DLC case. The crown and chronograph-pushers are coated in polished gun PVD.

Devoid of vibrant colors, this all-rounder sports model genuinely enjoys a stealthy character that typically prevents unnecessary attention. The visibility of time display is obtained by careful selection of a color combination of the dial. The hour and minute hands are painted in grey in the center for a more dark and mysterious look.

The color theme of this leather chronograph watch is suitable for specific activities such as exploring deep caves and mighty forests and tactical missions where a neutral color outfit is wisely preferred. On the other side, the newly introduced Force SX210 model with the matching leather strap can also be worn with formal suits.

The additional black and grey double-injection silicone bracelet undoubtedly allows further style possibilities. The retail price of this watch model is $979.00, including taxes.
Wryst Force SX230 with Black and Blue Leather Bracelet
The Wryst Force SX230 model typically features a bold and aggressive design. The new leather bracelet version of this leather bracelet watch is adorned with a black-colored leather bracelet with blue highlights.

Its massive 516L stainless steel case in polished finish houses a mesmerizing blue dial surrounded by a black minute track with white markings. Carefully finished in a sun-ray pattern, the light blue dial features white Superluminova embossed hour markers.

The chronograph 10 hours counter and small seconds sub-dial boast similar color themes: Light blue inner circle and deep-blue outer ring with white markers. The 30-minute chronograph counter features a light blue inner circle and a white outer ring with black markers. The hour and minute hands are in grey and embedded with white Superluminova. The central chronograph seconds hand and all the three sub-dial hands are in grey.

This dynamic model's distinctive color theme is ideally suited for and water sports activities like boating, parasailing, river rafting, kayaking, surfing, sailing, and swimming. Also stylish and glamorous, the Force SX230 with a leather strap will undoubtedly be a perfect lifestyle accessory to be worn comfortably during live events like beachside parties.

This leather chronograph watch model is supplied with an additional black and blue double injection silicone bracelet for exploring alternative styles and aesthetic possibilities. The retail price of this watch model is $953.00, including taxes.
Wryst Force SX270 with Brown Alligator Bracelet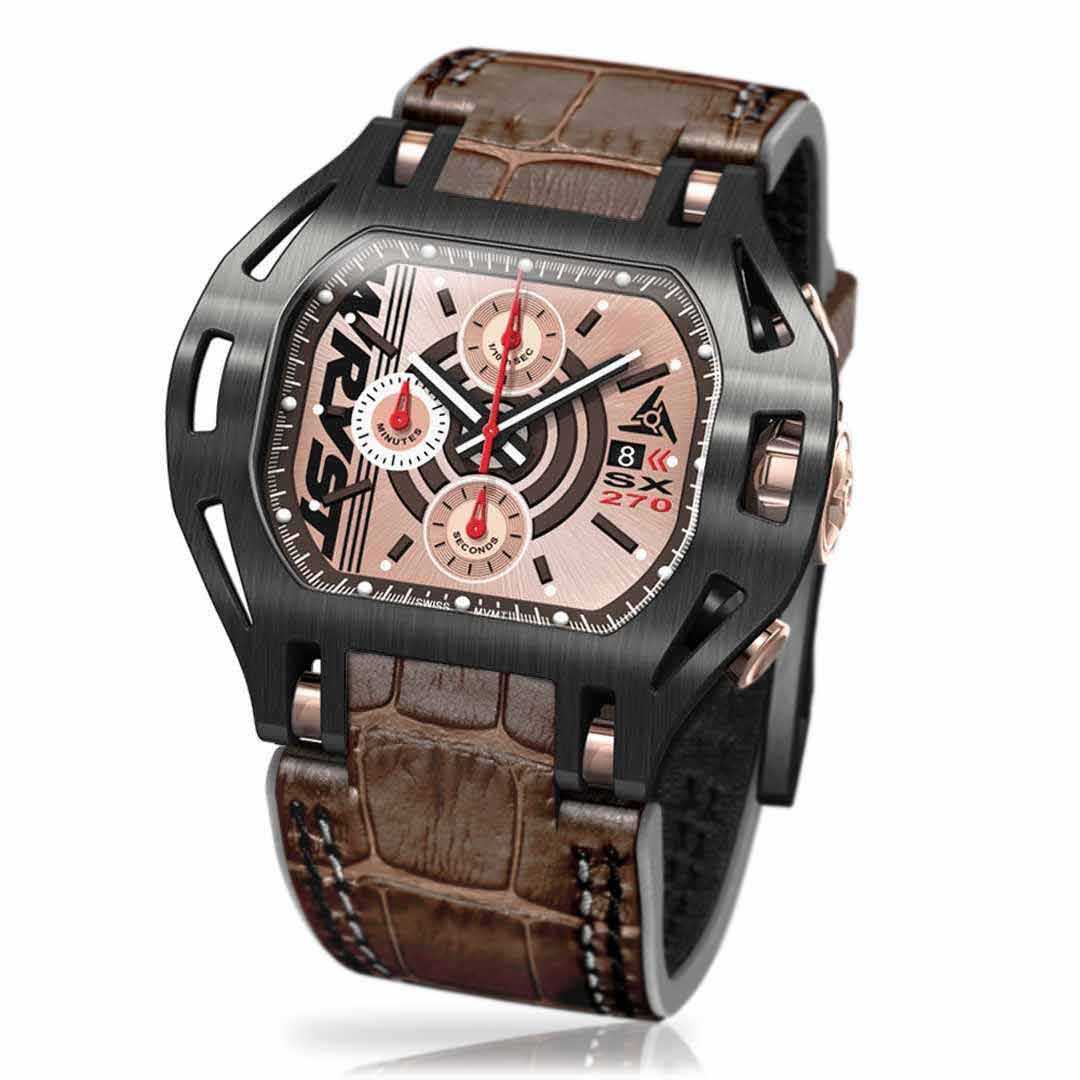 The beautifully designed Force SX270 model has a black DLC coated 516L stainless steel case with a luxurious rose gold-colored dial. The new edition of this model is alternatively fitted with a handmade alligator leather strap with brown color.

In striking contrast to the black DLC the case's brushed finish, the dial features a rose gold background with gentle touches of brilliant red, black, gleaming white, and chocolate colors. The Centre stop-seconds hand and sub-dial hands are in red. Black in color, both the hour and minute hands are embedded with white Superluminova.

The glittering crown and chronograph pushers feature a polished rose gold finish, precisely matching the dial color. Carefully including a masterly touch to this luxurious color theme, the brown alligator strap generously provides comfortable wearing around your wrist, despite its sturdy construction.

This brown leather alligator chronograph watch's color theme is well-suited for bustling activities such as rock climbing, desert safaris in the Middle East, a wildlife exploration in the Sahara, and expeditions to iconic places like the Grand Canyon. Apart from outdoor and sports activities, this distinct version with a brown alligator strap can also be worn on formal meetings, art events, and in your memorable trips to heritage cities and archeological sites across the world.

This specific model naturally comes with an additional brown and white double injection silicone strap to enable the wearer to transform the distinctive appearance of this watch model instantly. The retail price of this watch model is $1,044.00, including taxes.
Wryst Force SX300 with Black and Blue Leather Bracelet
The beautiful blue leather chronograph Wryst Force SX300 watch with a grey dial is presently available with a black leather strap with blue and grey details.

Luxury sports watches in blue cases are rare in the luxury market. Featuring a brushed finish prominently, the eye-catching color of the upper-case structure and the buckle results from ionized blue-plating on the 516L stainless steel. The blue color's principal role is equally visible on the visible edges and stitching on the black leather strap. To counterbalance the blue color's leading role, the crown, chronograph-pushers, strap attachment devices, and screwed case-back feature a shiny polished stainless steel finish.

An eye-pleasing dial powerfully contrasts the blue IP case's vibrancy with touches of grey, black, and white colors. Both the shiny hour and minute hands are embossed with white luminova. The hour marker indices are also embedded with white luminova, and the black minute track around the dial features white details. The second hand and the three sub-dial hands are also in a plain shiny finish. All three sub-dials are carefully finished with a clever combination of grey and white colors.

Apart from the leading role as an all-rounder sports timepiece, this atypical leather chronograph watch boasting midnight-blue color and matching leather strap is also well-suited for your nightlife can also be a great match with your casual outfit or club-wear.

The new Force SX300 watch variant is typically delivered with an additional black and white double injection silicone bracelet to switch between two distinctive styles. The retail price of this watch model is $965.00, including taxes.
_____

Every one of the Wryst Force watches is robust and stylish. The unique aesthetical and 100 meters certifications make them suitable for performing various activities. Feel noticeable during your day-to-day life, extreme sports, outdoors, and relaxed nights out.

The WRYST Force leather Chronograph watches typically feature a three-counter dial design. The dial display central hour and minute hands, center stops second hand, chronograph 10-hour counter at 12'o clock, small seconds dial at 6'o clock, chronograph 30-minutes counter at 9'o clock and a date window at 3'o clock. The watch face also features inscriptions like the brand name, official logo, and model number.

The Force SX230, SX270, and SX300 models also feature a similar dial layout prominently but with various color themes. The Force SX210 has a slightly different dial design without luminova compared to the above three specific models. The dial color theme and typical layout employed by Wryst provide each timepiece a distinctive character of its own without obstructing the excellent visibility of the indications. The white luminova on indexes, hour, and minute hands ensures legibility in poor light conditions.

Carefully engineered, produced, and assembled in the Swiss traditions, each Wryst Force sports chronograph watch typically has its own limited edition serial number engraved on the case-back. Promptly secured to the watch-body with four large screws, the solid 516L stainless steel case back also features the Wryst logo, MODEL NAME, LIMITED EDITION, SWISS MADE, and 100 METERS.

Powering each Swiss Made Wryst Force chronograph watch is a reliable and precise Ronda 3540D quartz caliber manufactured in Switzerland. The stopwatch functions are running smoothly and with precision with the five-jewels gold plated chronograph movement. The luxury sports watch drives primary time display, date, and an incredible precision chronograph with 1/10th of a second precision.

The domed crystal front glass is made of scratch-proof sapphire crystal with an anti-reflective coating for an unobstructed view of dial indications. All Wryst Force Swiss chronograph models can handle water resistance up to 100 meters or 10 ATMs. Wryst generously offers an 18-month warranty for every Force watch model.
Since 2012 Wryst offers watch for men with striking designs. Our excellent online customer service is fast and efficient. You can also use the voucher Free Shipping in your cart at any time. Cut the middle-man as the timepieces are exclusively available only, and there are no supply chains anywhere in the world. There is only one place to purchase the limited edition men's leather watches: The exclusive online shop Wryst.
Add a comment
5 comments